LG SK1 All-in-One soundbar review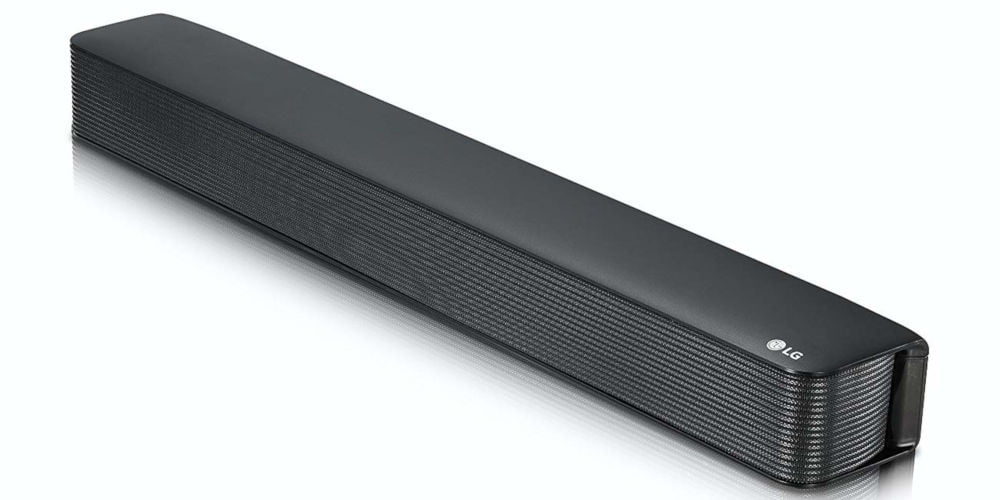 Sporting a futuristic look, the LG SK1 All-in-One soundbar looks fantastic under any TV and is affordably priced.
The SK1 delivers 40 watts of output, plenty whether you're watching TV or a movie, or listening to music. It even has a built-in Bass Blast mode which produces a fuller sound without the need for a subwoofer.
With three inputs (HDMI ARC, optical and mini-jack) and Bluetooth connectivity, it has plenty of options. The soundbar has built-in Sound Sync, which means allows you to control it using an LG TV.
If you don't have an LG TV, you can still use the remote which provides easy access to all of the main functions. The LG SK1 is easy to wall-mount if you prefer that to placing it on a media unit.
A feature that's unique to the LG SK1 is automatic input switching. There's no need to manually change the source as the unit will jump into action and select the right input.
As a compact solution and one of the best soundbars under £100, our score for the LG SK1 All-in-One Soundbar is 8/10.
Pros
Sleek unique design
Easily syncs with LG TVs
Unique Bass Blast and Dynamic Range Control modes
Cons
AUX input is on rear
No optical cable included
No bass and treble controls
Design
From first glance, the LG SK1 looks, unlike any other soundbar. Of course, it's a long thin tube, but it's look is far more unique than most others on the market. Its front grille is iconic yet doesn't subtract from watching TV or listening to music.
At 65 cm long, it's ideal for a range of TV including the LG 43 inch TV. One of the first things you'll notice is the lack of buttons. You'll always need the remote to operate the SK1.
Thankfully the remote is simple to use and contains all of the basic controls such as power on/standby, source buttons, volume up/down, and mute. There are also controls for the Bass Blast and DRC modes.
Moving on the unit itself, the front contains a status LED and Bluetooth LED as well as a remote sensor.
On the rear of this LG soundbar is 2 mounting holes. The connections are split into two sections, on the right is the power cable. The left contains the inputs (optical and mini-jack) as well as a USB port.
Features
The SK1 delivers 40 watts of output, while this is on the small size (half the wattage of many soundbars we've reviewed) it still has enough volume for watching TV and movies and listening to music.
The optical and mini-jack inputs enable you to connect a range of devices. As does the Bluetooth option, which allows you to seamlessly stream music from your smartphone or tablet.
However, the LG SK1 is special as far as Bluetooth is concerned. The soundbar senses audio being played over Bluetooth and will switch itself on. A very cool feature!
The device's two modes make it unique. Bass Blast mode delivers a punchy low-end and fuller sound without the need for a subwoofer. While it doesn't completely replace the need for a sub, it does cover much of the same ground.
While in DRC mode, the unit automatically prevents sudden volume changes and will improve the clarity of the sound at low volume.
As there are no buttons on the unit, the remote is critical. Luckily that isn't the only way to control the SK1. All LG audio/visual products have Sound Sync built-in. By connecting your soundbar and an LG TV using an optical cable, enables you to use your existing TV remote for control.
Set-up
You'll notice as you open the box of your SK1 that no audio cables are included. Luckily optical cables are affordable and you don't need a special one to activate LG's Sound Sync – just as long as you have an LG compatible TV.
Unlike most soundbars which you can get started without the remote, you need it as there's no buttons on the unit. With it  in place, connect the soundbar to your TV using either an optical cable, a mini-jack cable or stereo RCA to mini-jack cable depending on your TV's outputs.
With the LG Electronics SK1 connected to the mains, push the power button on the remote and then source button until the right input is selected. Next, adjust the volume and experiment with the two modes.
You'll notice a difference between the default and Bass Blast modes. While the changes in Dynamic Range Control (DRC) mode will be more subtle. However, you'll notice there's no big volume increases or drops between TV programmes or adverts. Plus everything will sound clearer.
If you want to try the Bluetooth mode, then select this input and pair with your device. You'll find its easier to use Bluetooth mode than having to access the mini-jack input on the rear.
Having experimented, if you're planning to mount it on the wall, now is the time. You'll need to drill two holes and use the included screws. As the inputs and power cables are separated, you may want to feed them into one run either in the middle or at one end as this will look better than lose cables dangling!
Performance
In terms of results, it's a mixed bag. On the one hand, the LG SK1 does improve the sound when compared to some TV's speakers. However, this isn't always the case.
Expecting the Bass Blast mode to magically sound like a subwoofer isn't realistic. That said, it does provide a fuller sound low-end. This is ideal if you live in an apartment and can't use a sub as it's would irritate the neighbours.
As already mentioned, the DRC is designed to be more subtle as it aims to even out the volume between programmes. If this function works, you shouldn't notice any large volume swings and so everything sounds roughly the same.
What the LG SK1 does better than rear-facing TV Speakers, is it throws the sound into the room, making it feel more natural and with more presence. The sound doesn't bounce off a wall and returns into the room.
At 40 watts, it's not the most powerful soundbar we've reviewed but it does have enough volume on tap. If you need more power then we'd recommend considering either the Panasonic SC-HTB8 or the Sony HT-SF150.
Is the LG SK1 worth buying?
The LG SK1 All-in-One Soundbar looks iconic and is affordable. It a good unit with some unique features but some users haven't noticed an improvement over their existing TV speakers.
The SK1 lacks in a few ways. Firstly, having an AUX input on the rear makes no sense as you want to be able to easily connect devices and not have to rearrange your TV system.
Secondly, it has a USB port which is only for updates. This space would be better served by an HDMI input (or even HDMI ARC). Including this input would enable more users to seamlessly integrate the unit into their system.
The optical input as it can be used for control – just as long as you pair it with a compatible LG TV, goes some way to cancelling this issue out. Also, the mini-jack input on the rear is very useful especially if you don't have an optical out but do have a headphones socket.
With no buttons on the LG SK1, you're forced to rely on the remote or connect it to an LG TV and use that remote. For some, this will be a deal-breaker as they'll want to be able to switch it on without having to look for a remote.
Putting all of that to one side, the SK1 does offer an improvement over TV speakers and while it has only 40 watts of power, this should be more than sufficient.
If you have an LG TV which already has Sound Sync or plan to update to one that does shortly then we'd recommend buying the LG SK1 soundbar. If you like the design and aren't irritated by some of the above points, then we'd also recommend it. 8/10