Is the Lightwave app easy to use?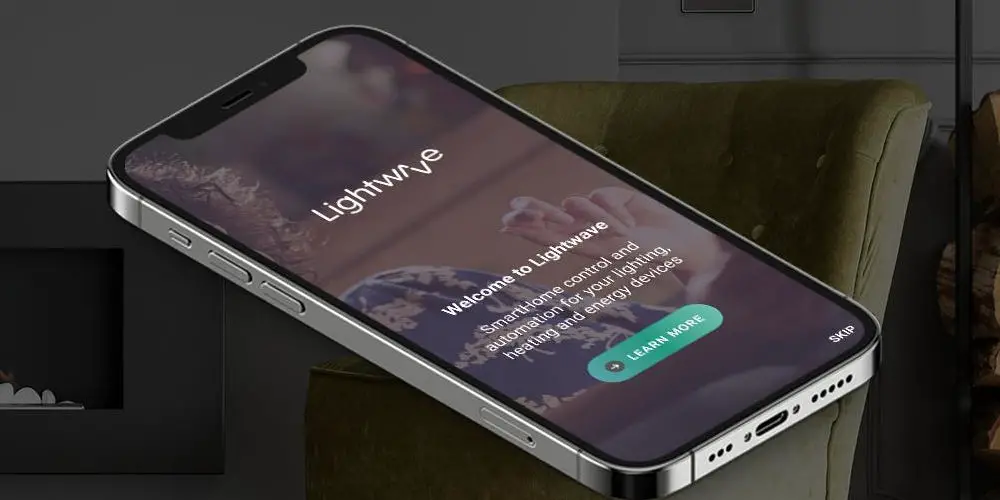 Controlling your Lightwave smart home is easy using the Lightwave app. Available for both iOS and Android devices, the app allows you to control your smart devices, set and schedule activity, and monitor your energy costs in real-time.
The Lightwave app works alongside an online portal, Alexa voice control and IFTTT integration. Together, they provide a comprehensive set of control options that make it easy for you to operate your smart home exactly as you want to and not as the system wants you to.
Let's take an in-depth look at how the Lightwave app can help us better manage our smart home system.
How Lightwave makes life simpler
Having control over your lighting, power, blinds and heating from anywhere is life-changing. Imagine checking if your heating is working and which rooms are warm using your phone while at the office. What about being able to close blinds and turn on lights from your sofa?
The Lightwave smart home system allows you to monitor and control your smart devices from anywhere with Wi-Fi. At the heart of the system is a Link Plus LP2 Hub, which connects to your router. All devices communicate wirelessly, removing the need for any additional wiring.
The product range includes dimmer switches, power sockets and thermostatic radiator valves. The system is DIY-friendly, and many devices are easy to retrofit. You can control the system using an App, Alexa, or an online portal.
Lightwave will save you money through reduced energy usage. It will help keep your home and family more safe and secure. Plus, you can use the system to save time by automating daily processes in your home.
What devices is the Lightwave app designed for?
Lightwave offers both an iOS app and an Android app. So, you can use their app on your smartphone and tablet devices.
Can I still use the online portal?
Even with the app installed, you can still use the online portal. As Lightwave supports two generations of products, there's a separate portal for each. With a first-generation system, you'll want to sign into the Connect Series web app. Otherwise, you'll want to use the Smart Series web app (2nd generation).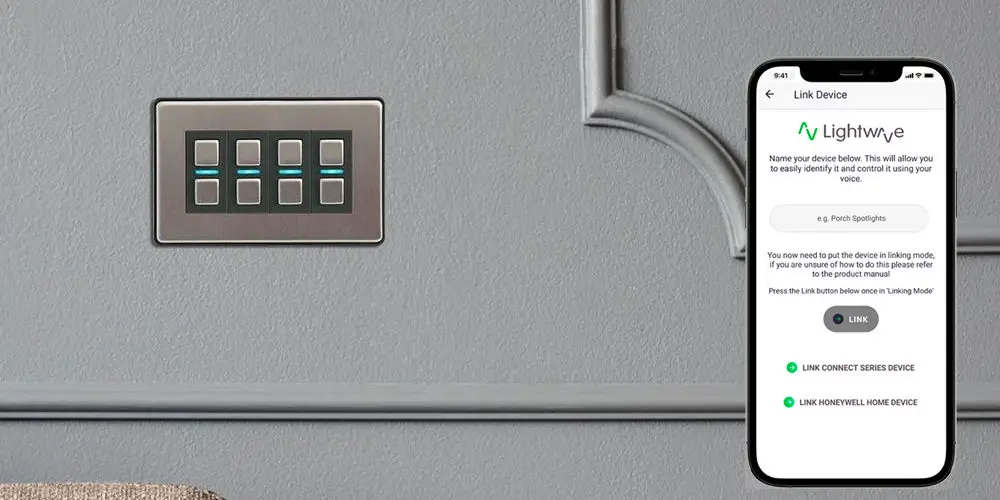 Why use the app?
With multiple control methods, deciding how to control your Lightwave smart home can be tricky. You could turn power sockets and light switches on or off manually. Getting Alexa synced into the system takes a few minutes and allows you to speak your command.
However, the Lightwave app allows you far more options, including:
Set up your Link Plus Hub and products in minutes
Monitor, control and schedule lighting, power and heating requirements by individual room
Define and name Rooms that reflect the layout of your own home
Allocate and name devices within each room
Set Moods by room for lighting and power – for example, fully on for cleaning, some lights dimmed and the TV off for reading, and nice and cosy dimmed lights when watching TV
Build complex events to turn on or off multiple devices across many rooms with one button
Schedule single devices or events to activate at certain times by day, week and month
Automatically link schedules to sunrise and sunset times
Add random delays to events to create that genuine "look like you're at home when you're not at home"
Schedule heating programmes by individual room
Add our energy monitor to see your electricity usage in real-time, and totals so far today and yesterday.
You don't even need to be in the country to do any of these things. As long as you and your automation system have Wi-Fi, you can control and monitor it.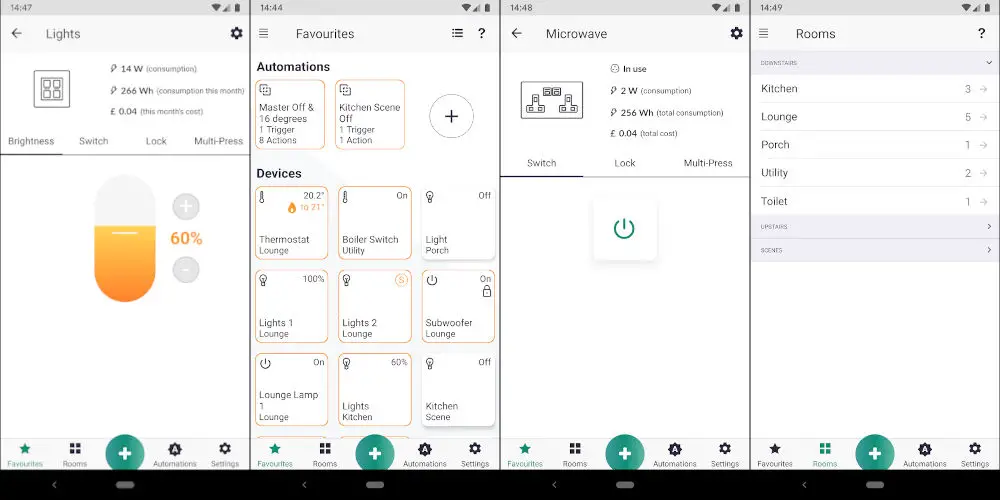 Take control of your home from anywhere
The beauty of the app is that it's highly customisable. It can be as simple or complex as you need it to be. You could want to set up rooms and assign devices to each, allowing you great control over space in your home.
However, you could want your smart home system to run on autopilot with heating, lights and blinds running on different schedules depending on the day. The Lightwave app can handle both of these with ease.
Using the app, you can control up to 80 heating and monitoring devices and up to 256 lighting and power devices around your home. A simple menu system allows you to organise your devices room by room.
From there, you can set up device groups, scene lighting, heating schedules, socket or dimmer locking and programme events. The app also allows you to monitor your energy use and cost.
Better control over your heating system (and bill)
One of the biggest reasons people install a home automation system is to take back control of their energy bills. The Lightwave app has a superb heating section allowing you to monitor, control and schedule any of the Lightwave heating devices.
Using the app, you can also control your heating room by room by setting precise temperatures and scheduling routines to fit your specific lifestyle. If your room or home is too cold, you can adjust the temperature in real-time from anywhere with the app.
Automate events around your lifestyle
If you always turn the living room light on at 6 pm each night, you could use the automated event feature to schedule one or more Lightwave devices to turn on automatically. You can set the system up to repeat actions daily or weekly.
Hate returning to a dark home? Set your porch lights to turn on at dusk (the system geo-locates and knows when this is), every day. You'll never need to use your phone's torch again.
Another useful way to use the automated event feature is for home security. The system will carry on when you're on holiday, making it seem like your home.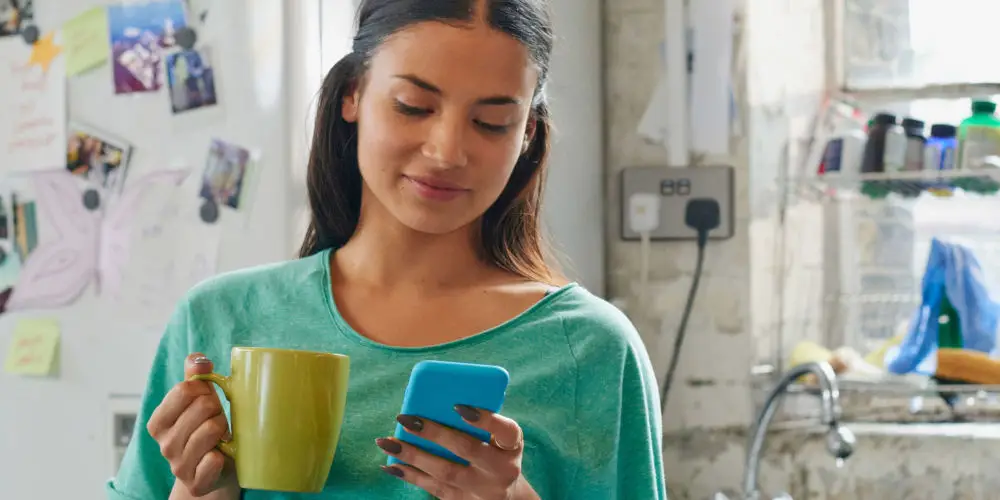 Create scenes that control multiple devices
Another useful feature found in the app is scenes. With a few taps on the app, you can preset multiple devices to act in concert. Imagine having a cinema scene that lowers the blinds, dims the lights and turns up the heating in the lounge. A single click would activate it.
You could set up scenes in your dining room for dining, romantic dinners and working. Again, a single tap of the app could adjust multiple devices, allowing you to get more done without needing to fuss.
You also have the option to tap the 'all off' button and turn everything off for the night once you've jumped into bed.
What doesn't the Lightwave app allow?
Lightwave is simplistic by design. So you'll either need to use IFTTT to control 3rd-party devices or their own apps. Compared to Z-Wave, which offers thousands of devices, covering everything from heating, security, media and swimming pool control, Lightwave is limited.
So if you're expecting the Lightwave app to work with 3rd-party devices or be able to control your TV, you'll be disappointed. That said, as a UK designed home automation system, it covers the basics really well, and they have a fantastic UK technical team.