Makita DRC200Z robotic vacuum cleaner review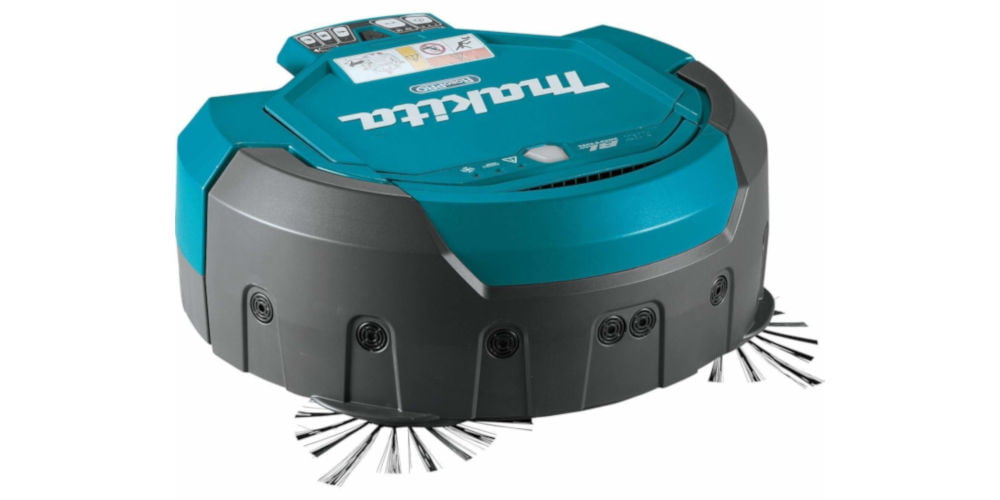 Designed for commercial use but agile enough for use in large homes, the Makita DRC200Z robotic vacuum cleaner is one of the most expensive robotic vacuum cleaners on the market.
While you have to purchase it's two 18V Lithium batteries on top, they charge in around 2 hours and provide over 3 hours of vacuuming when charged.
Using a 3-stage cleaning system, you're able to cleans a wide range of flooring types. The unit features side brushes, main brush and vacuum suction for efficient cleaning.
Controlling is very easy as there are it either follows a set or random pattern and uses ultrasonic obstacle detection to avoid bumping or falling. You can also start the unit using controls on the top or a remote.
As Makita have gone big, the DRC200Z is heavy and massive with a dustbin to match (7 times the usual size!). So it doesn't clean under most furniture.
If you have a large home and only the best will do, then you'll want to consider the Makita DRC200Z robotic cleaner. While it lacks some of the basic features may expect at this price, it's a rock-solid robotic vacuum cleaner which will last for years. 8/10!
Pros
Massive 2.5-litre dustbin
Unique 3-stage cleaning system
Fast charging batteries which provide over 3 hours of cleaning
Cons
Lacks an app or smart home integration
Heavy and bulky
Doesn't automatically charge
Design
Styled in the classic Makita colours of charcoal grey and dark aqua green, the DRC200Z is iconic just like the brand's power tools!
As a commercial unit, it's large and heavy but is still light enough to be moved between floors in a home. Weighing in at slightly under 8 kg, it's nearly 3 times the weight of the iRobot Roomba 671 (which weighs 3kg).
It's almost circular design has a diameter of 46 cm and a height of 18 cm. So, don't expect it to propel itself and clean under the majority of furniture.
In terms of features, the top contains a door to the dustbin, status LEDs and basic controls. A remote does come with this robovac but it's likely the unit has all the controls you'll need.
In the middle of the two battery slots are the necessary controls. Firstly, there's a charge indicator for each battery. Buttons for the timer and modes as well as a power button, which doubles as a start/stop.
Moving down the body, the grey front is a bumper, which protects objects and it also contains 8 sensors. These form part of the navigation system.
Turning the unit over reveals the brushes, wheels and sensors. Two side brushes sweep dirt into the path of the main brush, which passes debris into the cleaning system.
Using 5 wheels for navigation, the unit easily glides over flooring no matter the material. Two of which can move through 360 degrees, making the unit nimble and suitable for a range of flooring types.
Finally, the cliff sensors ensure the unit doesn't fall down steps when it the heat of cleaning!
Features
It's a good idea to start with batteries – or the lack of them. Powering the unit is 2, 18V LXT 5.0Ah Lithium ion batteries BL1850B, which are available to purchase separately (costing another £120 from Amazon).
Unlike the vast majority of robovacs, the DRC200Z doesn't automatically dock and charge. Instead, the batteries need removing to charge. This means you're required to complete tasks more often than with other options.
That said, the batteries charge in 2 hours and provide over 3 hours of cleaning time when charged. This ratio is usual as most robovac provide around 30 minutes of use per hour of charge. 3 status LEDs show how much battery is left for each battery.
Even if your property is 5,000 square feet, a single charge will be more than adequate to vacuum the whole property, albeit with a small intervention from you to move it between floors.
We're unsure just how much suction power the unit puts out, but it's likely to be far superior to vast majority of robotic vacuums on the market.
Its 3-stage cleaning system combines two side brushes and a main brush for efficient cleaning. The onboard filtration system engineered to capture micro dust particulates.
While it doesn't map rooms, it does use 12 ultrasonic and bumper sensors to navigate the pace. These sensors react to objects as well as a change in flooring height and can even sense where steps are.
All of this technology means the DRC200Z calculates the best path to travel while providing a superior clean.
Finally, as you might expect, all Makita Products come with a 3 Year manufacturer warranty if registered with Makita within 30 days of purchase.
Set-up
Getting up and ready for the first vacuum isn't that hard. You'll want to charge the batteries for at least 2 hours. While they're charging, you'll want to attach the main and two side brushes and check the dustbin.
When ready and fully charged, it's best to either close door of rooms you don't want the DRC200Z to enter or use boundary tape to mark where you want to be cleaned.
It's a good idea to watch the first few vacuums. Firstly you can spot items it might bump and move them. Also, you can obverse how it cleans and checks that's performing adequately.
For the first vacuum, we're going to use the control on top rather than remote just to keep things simple. We'll set it up to clean straight away rather than using the built-in timer to delay starting by 1,3 or 5-hours.
Using pattern mode, the unit should start cleaning from the boundary and navigate around the room, covering every square centimetre. After the first vacuum, it's worth checking how much battery charge was used and how full the dustbin is.
As the Makita DRC200Z has a dustbin of a massive 2.5 litres, there will likely be a tiny amount of dust and debris in the bin. It will, however, collect multiple time the amount of dust that a normal vacuum cleaner would.
With the first clean over, you can start to play with the different modes and the timer, to customise the performance for your situation.
Modes
With two cleaning modes, the Makita DRC200Z is relatively simple to use. It also has a built-in timer and two levels of cleaning.
It's two automatic running modes for are Random and Pattern. Depending on what you cleaning, it's easy to select between modes and effectively vacuum a large area.
The built-in timer enables you to schedule when the unit starts working. It operates on a 1, 3 or 5 hours delay. A buzzer and blinking light make it easy to spot when in use.
In terms of clean, two selectable dust collection modes are available. The first is "vacuum plus brush", which is ideal for a deep clean and collects small and large debris.
Mode two is "power brush only" which only collect large debris and is best for covering a large area with a less detailed clean.
Performance
Design for primarily for commercial use, the Makita DRC200Z has more power on tap than you'll ever need in the home. In terms of performance, it's rock-solid and will make cleaning larger homes easier.
It does require you to be on hand to ensure batteries are charged and that it's placed on the floor you'd like cleaned. Unlike most robotic vacuum, the Makita isn't set and forget, with the occasional emptying of the dustbin.
As with all non-mapping robovac, the DCR200Z move in a fairly clunky way using sensors to guide it. Even at this price point, it leaves a lot to be desired from a navigational standpoint.
If your home is full of priceless objects then you'll want to use boundary tape to restrict its movement and block off areas or rooms. Luckily as it's fairly tall, it won't try to clean under objects and so this should lessen the likelihood of it damaging furniture.
In terms of operation, as there's no app or smart home integration, you're quite limited. Of course, you can use the remote and the controls on the unit, but again you have to be in the room. Similarly, the built-in timer probably isn't that useful for residential use.
However, the two modes combined with the additional options, means the result speak for themselves. That said, you'd expect it to be superior, especially for its high price tag.
And while on most robovac it's best to empty the bin after every use, you could easily go months without even looking at the dustbin. This is a real bonus, especially given how much attention it typically requires!
Is the Makita DRC200Z worth buying?
If you have 5,000 square or more to clean, then you'll want seriously consider buying the Makita DRC200Z Robotic Vacuum Cleaner. It is expensive at £800 for the unit and another £116 for the batteries but it's worth it.
Be aware, it's not designed for small homes or as a started robovac. If you have a small property, we'd recommend the Eufy RoboVac 11S as it more affordable, provides a detailed clean and is largely set and forget.
The biggest downsides is the amount of action required by the user. You'll need to remove the batteries to charge them and replace once full. Also, you'll need to move the unit into position and collect it after it's cleaned.
Both of these tasks aren't completed automatically, like with the majority of robovacs. Finally, you'll have to empty the dustbin, but it's unlikely you'll ever completely fill it!
That said, it cleans in a unique way using a combination of the 3 brushes and a 3-stage cleaning system. Its results are excellent and unlike a human, it's happy to vacuum the same spot over and over again.
It does suffer from clunky navigation, like most robovacs. Also, it offers very limited control options including a weird built-in timer.
What the Makita DRC200Z does excel at is cleaning large areas without fuss and with precision. It's a must if you have a large home, with kids and pets. If you have the money to spend, we'd recommend going for it. 8/10!