Optoma HD143X projector review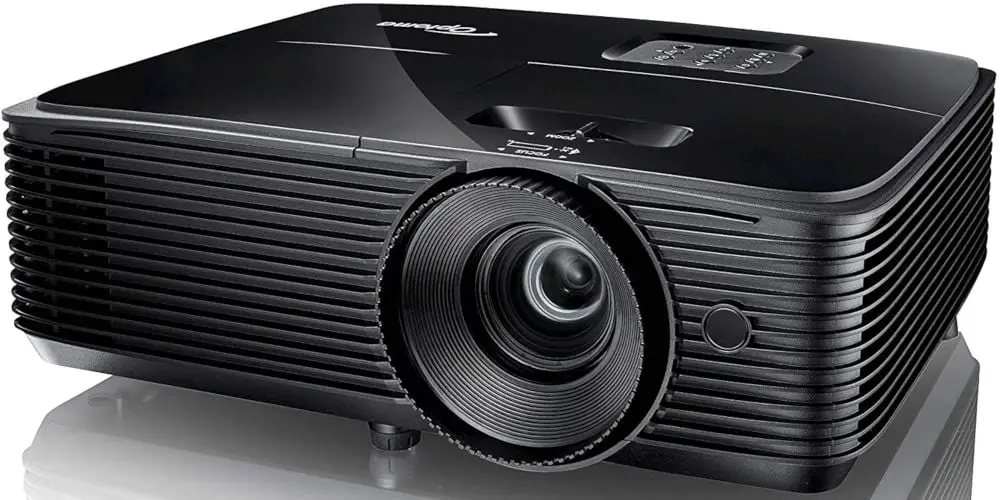 Light, compact and easy to set up, the Optoma HD143X projector is the ideal unit for watching movies, gaming and even watching sports in the garden with a BBQ in summer.
Able to produce images up to a massive 301 inches, the HD143X is ideal, regardless of the room size and with a brightness of 3000 lumens, the Optoma HD143X is bright enough to compete with natural daylight yet comes into its own in a dark room.
The built-in speaker means you don't need to use additional sound equipment. That said, attaching external speakers will provide a fuller sound.
Bright and versatile, the HD143X boasts amazing colour technology and conforms to Rec.709 delivering accurate true to life colours. The impressive contrast ratio of 23,000:1 means it can reproduce the darkest blacks alongside the brightest whites.
Projecting images in 1080p Full HD the Optoma HD143X is a fantastic companion for your Blu-ray player or Full HD gaming device.
Also, it's 24P compatible, so can play films shot at 24 frames per second, just like the cinema. Plus, as a 3D ready projector, enjoy the latest release with your own 3D glasses.
Thanks to good connectivity, you can easily set the HD143X up. The 2 HDMI inputs enable you to connect a computer, Blu-ray player, streaming dongle or games console.
One HDMI socket is also compatible with MHL (Mobile High-Definition Link), enabling you to broadcast from your smartphone or tablet.
As one of the best projector under £500, the Optoma HD143X projector is well worth purchasing. 8/10
Pros
Full HD 1080p pictures
Built-in 10-watt speaker
Impressive 3D mode
Cons
Limited connectivity
No lens cover
Design
What makes the Optoma HD143X ideal is compact and light design, allowing you to easily move the projector around your home or take it over to friends. It weighs just under 3kg and measure 32 cm (w) by 24 cm (d) x 11 cm (h).
Utilising a fairly standard design the HD143X is finished in charcoal grey colour and features an interesting pattern design around the sides. Looking straight on, on the lens and a remote control sensor is visible.
Moving around the unit, there isn't much to see on either side. On the rear a connection panel which includes 2 HDMI inputs, a USB port, and audio out. There's also a 3D sync port and 12V trigger out for external control.
The top of this Optoma home cinema projector contains basic operating controls including power, volume, settings menu and source selection. Surrounding the lens is a focus ring and a zoom control sits just behind.
Turning the unit over reveals pre-drilled holes for ceiling mounting (mount available separately) and 3 adjustable feet which make table projecting painless to set-up.
Finally, the remote is well-designed with sufficient spacing between buttons. As you'd expect it covers a range of options and settings. There are buttons for each of the sources, menu options, volume up/down and basic settings. 3 user preset buttons allow you to store and access custom settings.
Features
Built around a Texas Instrument's DLP chip, the Optoma HD143X offers 3,000 lumens of brightness and delivers crystal clear images with true-to-life colours. Highly flexible, the HD143X can project an image between 28 and 301 inches.
As 1080p Full HD projector, you can enjoy Blu-rays, DVDs and gaming in exceptional quality with sharp images and stunning detail. Even on larger screen sizes, the entire picture remains sharp with no feathering or softening at the edges.
Modelled on the High Definition TV standard, Rec.709, the HD143X delivers the truest possible colour reproduction allowing you to enjoy a fully immersive experience, whether you're watching sports, movies and documentaries.
Optoma's Dynamic Black results in an excellent contrast ratio of 23,000:1. The HD143X offers the darkest blacks alongside the brightest whites.
The onboard gaming mode reduces input lag to a minimum and adjusts the colour contrast to make the entire big screen experience even more enveloping.
As a 3D ready device, the Optoma HD143X allows you to enjoy the latest releases. Simply add 3D glasses for a truly inspiring movie night! Also, as the HD143X is 24P compatible, you can enjoy films shot at 24 frames per second without glitching, just like at the cinema.
The built-in 10-watt speaker means you might not always need external speakers, especially if you're watching sports or a movie outside. Plus with an audio output, you can quickly connect external speakers.
The USB port can be used to power devices such as the Google Chromecast and one of the HDMI ports is also compatible with MHL (Mobile High-Definition Link), allowing you to stream directly from your smart devices.
Finally, the auto power-off feature improves the green credentials of the unit and saves energy when not being used.
Set-up
Getting the Optoma HD143X ready for use is straight forward as it can project from 4 different positions and the onboard speaker means you can quickly start enjoying watching media.
At the most basic, you can set the HD143X to project from a table using the adjustable feet to angle the unit. You can also project from a table behind the screen. If you prefer, you can use the best projector ceiling mount for your room and either project forward on the screen or from the rear.
With the position set, you can start to connect devices. Depending on your set-up, you might be feeding the Optoma HD143X from an AV receiver or straight from a Blu-ray player. You can use the 2nd HDMI port for a game console or streaming device like Amazon Fire TV Stick, which can draw power from the USB port.
If you are connecting a Blu-ray player directly that doesn't have an audio output, then you can use the projector's audio out to 2.1 channel soundbar and subwoofer.
Next, it's time to power up and adjust the basic image. Depending on your intended screen size and unit's placement, you will probably want to adjust the built-in focus and zoom.
Thankfully, there is a built-in test screen which allows you to adjust the basic settings for the best picture quality. We recommend using a test screen over a still as they're quite unforgiving.
After tweaking the zoom and focus, you should be fairly happy with the overall image quality and size. If you're still not happy, using the remote you can adjust the vertical keystone correction (+/-40°).
When you're happy with the size and position of the image, it's worth experimenting the image settings and adjusting the colour, sharpness and contrast settings. You're now ready to enjoy using your Optoma HD143X.
Performance
Any mention of projector performance is worthless without talking about lamps. Firstly, buying Optoma replacement lamps is highly affordable and around half the price of other manufacturers. The other key lamp consideration is life length and as you'd expect, it depends on the mode.
In bright mode, a lamp will last around 3,500 hours. Switching to Eco Mode extends this to 10,000 hours and with Dynamic Black On, the lamp lasts 12,000 hours. If that all seems too abstract, you can happily watch a movie per day for years before the lamp will need changing!
As you might expect, the fan can be quite noisy depending on the mode but this is no different from any projector from this price range. After a short while, your brain will block out most of the fan noise and it'll blend into the background.
The built-in speaker while reasonably good, is only sufficient for smaller spaces or gatherings. That said, as a 10-watt speaker, you shouldn't expect much.
Other projectors we've reviewed falsely claim that gaming mode reduces the input lag. Thankfully, on the Optoma HD143X inn gaming mode input lag is a mere 17 ms, down from an impressive 33 ms. So, if you enjoy playing games with fast action scenes, you'll experience every frame.
What is impressive about the Optoma HD143X is even as a DLP projector, it produces a sharp image from edge to edge and seldomly shows rainbow artefacts. In addition to a superb 2D performance, it also handles 3D well. You can even customise the 3D mode unlike with most projectors.
Is the Optoma HD143X worth buying?
For a little over £500, the Optoma HD143X delivers a lot. It's superb for taking to a friend's house, using the garden or mounted in a dedicated cinema room.
It's not without negatives. Firstly, it only offers 2 HDMI input. There's no VGA port or audio-video composite input. and while it does offer an audio output, it would be nice to have at least one other type of input. Of course, if you're using an AV receiver, this won't bother you that much.
Lamp life and fan noise are two points to bear in mind. In bright mode, while the performance is stronger the lamp life's is significantly reduced and the base noise level increases. That said, Eco mode should suffice if using the HD143X in a cinema room and provides better metrics.
As far as DLP projectors go, the Optoma HD143X handles both 2D and 3D with ease and provides excellent colour depth, contrast and detail. We'd advise using it along with an AV receiver and speaker set-up as this will supply more inputs and far superior sound.
All things considered, we recommend the Optoma HD143X. 8/10