Panasonic DP-UB820 Ultra HD Blu-ray player review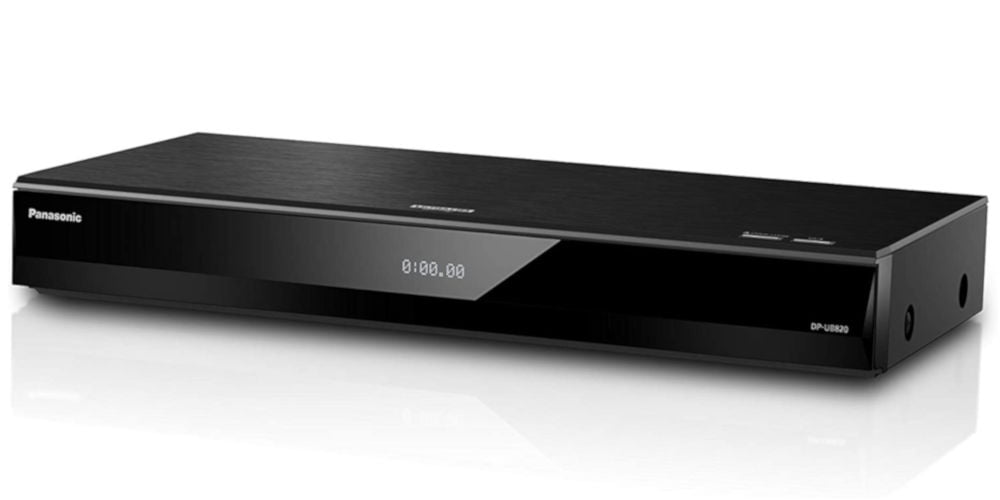 PUBLISHED: 13th February 2021 | LAST UPDATE: 10th July 2023
Under the sleek design, the Panasonic DP-UB820 Blu-ray Player offers true to life colours and texture, onboard 4K upscaling, access to your favourite streaming services and is even voice control ready!
Built around Panasonic's unique HCX (Hollywood Cinema Experience) processor, the resulting picture quality is something very special. Each frame has stunning depth and texture with true to life colour.
As a 4K Blu-ray player, multiple formats are supported including CDs, DVDs, and 3D Blu-rays. There's even support for High Dynamic Range pictures (both HDR10 and HDR10+) as well as HLG (Hybrid Log-Gamma HDR) formats. The DPUB820 is also compatible with Dolby Vision.
In addition to offering excellent picture quality, the Panasonic DP-UB820 is also fantastic with audio. Enjoy Hi-Res music via streaming or using the USB port. You'll discover hidden depths in your favourites tracks.
More than a Blu-ray player, connect the DP-UB820 to Wi-Fi and access your favourite streaming services, a multitude of apps and browser the web. Being connected to Wi-Fi also allows you to control the unit using Google Assistant or Amazon Alexa.
As one of the best Blu-ray Players under £500 currently available, the Panasonic DP-UB820 is highly recommended. 9/10
Pros
Fantastic playback image
Great connectivity
Voice control via Google Assistant/Amazon Alexa
Cons
Limited internet function
Design
The minimalistic look of Panasonic DP-UB820 continues from the front to back. It easily slots into any media unit or home cinema set-up.
You might wonder at first glance, where's the disc tray is. The front panel folds down, revealing the disc tray and a USB socket. The LCD screen is fixed in the centre and stays in place even if the panel is down.
On top, there is a distinct lack of control with only a tray open/close button and a power on/off button. So you'll need the remote handy to operate it.
The rear is slightly busier with a power socket, 2 HDMI ports, a 2nd USB port, and a LAN port. There is also a digital optical audio output as well as phono outputs for 7.1 surround sound.
Finally, the remote, which contains all of the basics you'd expect. There's also buttons for Netflix, internet, HDR setting and for controlling a TV. Unlike the unit, the remote is busy for such a compact device but no different than most remotes.
Features
What makes the Panasonic DP-UB820 impressive is the extensive list of extras. Of course, it can play a range of formats including standard Blu-rays, HD Blu-rays, DVDs, and CDs. But it also supports 3D movies, various image and audio formats including Hi-Res audio via USB memory stick.
Regardless of the original format, the DP-UB820 automatically upscales each frame to 4K (50p/60p) quality, ensuring you enjoy the best possible picture. This technology is coupled with Panasonic's Hollywood Cinema Experience (HCX) chip, which brings further picture enhancements.
If you enjoy watching films in HDR formats, then you'll be relieved to learn that HDR10+ playback is supported, along with Hybrid Log-Gamma (HLG). The UB820 is also compatible with Dolby Vision. These image processing technologies achieve a far superior higher definition than before.
In short, the Panasonic DP-UB820 faithfully recreates vibrant images that encompass the full scope of hues from the deepest blues to the lightest whites. Regardless of what you're watching, colours appear true to life with exciting texture and depth.
Audio has received the same attention as the picture quality. Enjoy listening to various audio formats (WAV/FLAC/AIFF/etc) in high-resolution by simply connecting to your home audio system.
A feature that pushes the DP-UB820 above the competition is the 7.1 surround sound outputs on the rear. While not powered, this feature does away with the need for an AV receiver, allowing you to enjoy audio as the composer imagined.
As a smart device when connected to the internet (either using the onboard Wi-Fi or LAN port), you can enjoy access to the web, a multitude of apps and streaming services. You can even sync with Amazon Alexa or Google Home allowing you to control your Panasonic DP-UB820 by voice.
Set-up
After plugging the mains and using a 4K HDMI cable to connect the Panasonic DP-UB820 to a TV or AV receiver, you're ready to enjoy watching content!
Of course, you can set-up the internet either by using the onboard Wi-Fi or running an Ethernet cable from your Wi-Fi router to the LAN port on the rear. Even if you don't plan to leave it connected to the internet, it's worth downloading the latest firmware updates at the beginning.
If you intend to use the Panasonic DP-UB820 as part of a home media or cinema room, then you can feed audio directly to powered speakers either using the Optical digital output or the 7.1 surround sound phono outputs.
A nice feature that is present in the DP-UB820is the dual HDMI outputs. both offer 4K picture quality and can be used to feed two different devices. You can easily feed a projector in your media room and a TV in the next room.
As part of the set-up process, it's worth experimenting with the various image options to ensure your watching the optimum picture quality for your equipment. If you're hoping to use streaming services or voice controls, then you'll also want to experiment with them during this phase.
Performance
With the Panasonic DP-UB820, even older formats come to life, thanks to the technology onboard. DVDs are given a new lease of life thanks to the onboard upscaling software. While the latest 4K releases are just as rich as if you watched them in a proper cinema.
However, that's just part of the story. Just like an improvement in the picture quality, the audio is equally exceptional. Music has extra depth to it, and speech is crystal clear. You shouldn't need to strain to hear quieter scenes.
Moving on to the internet function. While the picture and sound quality remain consistent, the user interface is slightly difficult to navigate leading to a poor user experience. For some, this won't matter as they probably have access to streaming services (Netflix, YouTube, etc.) already on the TV.
This is of course without mentioning the USB ports, which allow you to enjoy an even wider range of formats including 3D (so long as your TV or projector supports 3D) and Hi-def audio.
Even if you don't use the extensive audio output capabilities, you do have to acknowledge that they are impressive and set the DP-UB820 apart from the rest of the pack.
Is the Panasonic DP-UB820 worth buying?
Offering a fantastic feature set for an affordable price, the Panasonic DP-UB820 is designed to last. And while there are cheaper units such as the Panasonic DMP-BDT180 (plenty of change from £100), nothing quite competes equally with the DP-UB820.
It does suffer from a poor internet browser and apps can feel sluggish, although it does load content particularly fast. Again if you're already using apps on your TV, then these features will probably be obsolete.
Similarly, voice control via Amazon Alexa and Google Home will be quite a novelty unless you're already using them. That said, as more technology is integrating voice control, you might end up using this feature sooner than later.
As with other Panasonic Blu-ray players, it does offer superb picture and audio across a wide range of formats as well as plenty of smart features, which ensure it's future-proof as does it superb build quality.
If you're looking for a Blu-ray player that offers an exceptional picture quality with audio to match, multiple outputs and built-in Wi-Fi, then it's worth investing in the Panasonic DP-UB820. 9/10