Best projector under £500 for a home cinema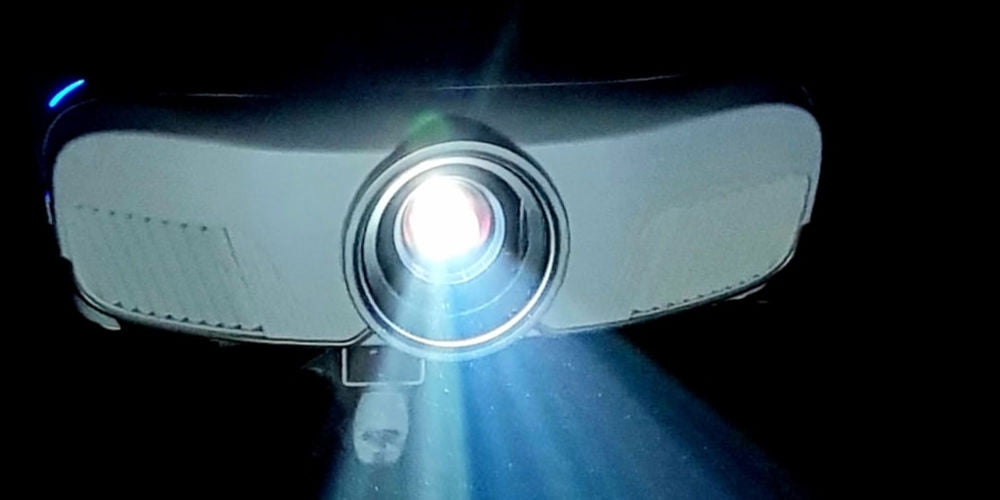 Projectors can make or break a home cinema. The right one will bring movies to life and provide years of enjoyment. Get it wrong and your viewing experience will suffer.
Having researched the current market, we've picked out the best projector under £500, well in fact 6 of them! All are fantastic for home cinema use but you'll need to invest in a projector screen for the best results.
We've purposefully discounted low-power and portable units as you'll need at least 3000 lumens of brightness. Also, you probably aren't overly concerned about weight or size. This does mean you'll need to spend a minimum of £300.
So if you're excited about building a home cinema and want to buy the right projector for you, here are our Best projector under £500.
* Prices correct at time of publishing
Epson EH-TW650 Gaming & Home Cinema Projector
Description
Up first is the Epson EH-TW650 Gaming & Home Cinema Projector which sports a compact design, making it ideal for a home cinema room yet is packed full of features.
Offering full HD 1080p image quality and brightness of 3,100 lumens, you'll enjoy the big-screen experience for years to come.
What makes the EH-TW650 impressive is the onboard Wi-Fi, which allows you to stream media from your smartphone or tablet using Epson's iProjection app. It also has fantastic connectivity including 2 HDMI, 2 USB and VGA ports.
Easy to set-up, thanks to the zoom lens and keystone correction. The Epson EH-TW650 can easily produce an image between 30 and 300 inches depending on your room and screen size.
Offering full HD images, colours are 3 times brighter over DLP projectors and with a contrast ratio of 15,000:1, dark colours are rich and white hues are light. Simply put, the colour accuracy is vibrant.
Ideal for a home cinema, the lamp is designed to withstand daily use for up to 11 years without needing to be replaced (around 8,000 hours).
Finally, the Epson EH-TW650 comes with a two year UK warranty on the projector and one year/1000 hours lamp warranty.
Pros
Streaming from smartphone using iProjection app
Full HD 1080p
Good connectivity (HDMI, USB, VGA, phonos)
Cons
No audio output
Doesn't support 3D
Conclusion
Ideal for home cinema and gaming use, the Epson EH-TW650 is a fantastic entry-level projector. It's easy to get started thanks to multiple inputs and the keystone correction which adjusts the lens to fill the screen.
The full HD picture quality is excellent and while it doesn't support 3D Blu-rays, images appear more vibrant and rich over a standard TV or budget projector. It's bright enough to produce a clear picture in daylight yet it really shines in a dark space.
It does lack an audio out, which might not be a problem if you're building your home cinema room around an AV receiver. However, if you're starting on a tight budget, you'll need a media player with a separate audio out and a soundbar. 9/10 (read our full review)
BenQ W1050 CineHome Projector
Description
BenQ W1050 projector has a short throw, 1080P full HD image quality and plenty of connectivity options. It's one of most expensive projectors on the list.
If you're stuck with a small room, then it's worth considering the W1050 as it has a short throw (1.37-1.64). This means at 3 metres between screen and lens, it projects an impressive 100-inch image.
The native 1080P full HD image quality ensures you can watch all of your favourite movies in stunning detail. The projector supplies 2200 ANSI lumen of brightness and 15000:1 contrast ratio.
Set-up is easy thanks to the 1.2x zoom, vertical keystone, and three adjustable feet as well as holes for a projector ceiling mount. Three dedicated picture modes are also available to choose from: Sport mode, Vivid TV Mode and Cinema Mode.
Depending on the mode, a lamp can last anywhere between 4,500 and 10,000 hours. A single bulb could easily last 15 years.
In terms of connectivity, there are 2 HDMI ports, Video phono, VGA and mini USB. This allows you to connect a range of devices with ease. And, while there is a built-in 2-watt speaker, there is also mini-jack audio in and out.
Finally, the projector comes with a remote (including batteries), power cable, and a carry bag. The projector is covered by a 2-year warranty and 1-year for the lamp.
Pros
Short throw ratio of 1.37-1.64:1
1080P full HD image quality
Three dedicated picture modes
Cons
2200 lumens of brightness
Conclusion
As a short-throw projector, the BenQ W1050 is ideal if you're short on space. That said, it produces a 100-inch image at a distance of about 3 metres, so is impressive.
The basic out of the box settings are pretty good. Of course, there are a comprehensive range of options, if you like to tweak. The speaker lacks power and the audio output isn't strong enough to run headphones. However, this output is fine if your supply audio to a soundbar.
As you might expect, it does produce some noise but not enough to annoy and this depends on the mode. Lamp life also depends on the mode but can last up to 10,000 hours. So it'll be years before it needs changing.
While the BenQ W1050 projector is expensive and is only offers 2200 lumens of brightness, it's highly configurable and offers good connectivity. 9/10
Optoma HD143X Projector
Description
Lightweight and compact, the Optoma HD143X Projector is ideal for use in your home cinema yet practical enough to be set-up anywhere.
Featuring a built-in 10-watt speaker, you only need a DVD or Blu-ray player to get started. Of course, this isn't going to provide the same audio quality as a soundbar, but it's good enough to start with.
While it offers limited connectivity, it does has 2 HDMI ports, USB power, Mini-jack audio out and 3D Sync port. You can easily connect a Blu-ray player, game console and streaming device.
The HD143X displays images in 1080p with a contrast of 23,000:1. Darker colours are rich, while lighter hues are bright. The vibrancy of colours is apparent from the first frame.
At 3,000 lumen, this Optoma projector has plenty of brightness available. The lamp is designed to last an impressive 12,000 hours. Even if you watch a movie a day, the lamp should easily last over 10 years.
A flexible 1.1 x zoom and 1.47 – 1.62 throw ratio enables you to quickly install and optimise the projector to your room. The HD143X can handle screen sizes up to 300 inches.
Finally, the Optoma HD143X Projector comes with 1 year UK warranty on the projector and 1 year/1,000 hours warranty on the light source
Pros
Built-in 10-watt speaker
1 x zoom and 1.47 – 1.62 throw ratio
Full HD 1080p pictures
Cons
Limited connectivity
No lens cover
Conclusion
Optoma HD143X Projector is an excellent entry-level unit. It offers superb 1080p picture quality, reasonable connectivity and fairly powerful speakers yet its lightweight.
Offering clear, crisp and vibrant colours, pictures are displayed in full HD 1080p. It can support 3D images but does require an emitter as it doesn't have one built-in like other projectors.
While it easy to ceiling mount and set-up, the HD1143X only offers vertical keystone correction. For the best results, you need to use a screen, otherwise, you'll notice the white light border around the outside.
The built-in speakers are fairly loud and while they won't match having dedicated speakers, they are good enough if you can only afford to buy the projector. Finally, the backlit remote is very useful. 8/10 (read our full review)
WiMiUS P20 Video Projector
Description
As one of the cheapest unit on our list, the WiMiUS P20 Projector is also one of the brightest displaying 6,200 lumens.
Compatible with a range of media device thanks to its 2 HDMI ports, 2 USB ports, 1 AV and VGA port. You can easily run an Amazon Fire TV, Blu-ray/DVD player and xbox. There is also an audio output, useful for connecting headphones or speakers.
This WiMiUS projector can display image sizes up to 300 inches in full 1080p HD and is also 4k ready. With a brightness of 6,200 lumens and contrast ratio of 7000:1, the built-in technology provides an exciting, immersive movie-watching experience.
For the price, the built-in stereo 3-watt speakers are a fantastic feature and have an even frequency response with a punchy low-end. If you already have external speakers, the mini-jack audio output allows seamless connection.
Getting set-up is simple thanks to the electronic keystone correction and zoom function. While the new Dynamic Enhancement feature makes videos smoother when during game play.
The LED lamp has a reported life of 70,000 hours and WiMiUS Provide professional customer service and technical support for life.
Pros
Brightness of 6,200 lumens
70,000 hours LED Lamp
Can display images up to 300 inches
Cons
Limited connectivity
No remote batteries included
Conclusion
If you're looking for an affordable projector for your home cinema it's worth considering the WiMiUS P20 Projector. You can easily connect Blu-ray and DVD players, game consoles and streaming devices.
Supporting 1080P resolution, the P20 produces a sharp, detailed picture. Setting the projector up is simple thanks to its zoom lens, 16:9 / 4:3 ratios and the electronic keystone correction.
While the built-in speakers have a punchy low-end, the onboard EQ settings allow you to fine-tune the sound. The fan is a little noisy but your ears quickly blocked out.
As budget projectors go, the WiMiUS P20 Projector holds its own against other more expensive units. 8/10
ViewSonic PX701HD Full HD Home Cinema Projector
Description
Providing vibrant colours and full HD images, the ViewSonic PX701HD is a featured-packed projector.
Offering 3,500 ANSI lumens of brightness, the PX701HD provides stunning details regardless of the room's ambient light. It projects full HD 1080P images on a screen up to 300-inches in size and is also 3D ready.
Using Viewsonic's SuperColour Technology, the wide colour range ensures a true-to-life colour performance in both bright and dark environments without sacrificing image quality. There are even 7 picture modes to choose from and these can be adjusted to suit your room.
Couple this technology with the SuperEco+ mode to ensure lamp longevity of up to 20,000 hours. You could easily watch a film a day for the 15 years and still be using the original lamp!
The range of connectivity includes 2 HDMI, 1 USB, VGA and more. And while there's a built 10-watt speaker, there are also audio in and audio out. You can easily connect most media players, game consoles, smartphones device and computes.
The built-in 5V/1.5A USB port can be used to supply power to HDMI wireless dongles, eliminating the need for separate power adapters when streaming.
Setting up the ViewSonic PX701HD is simple thanks to built-in zoom and factory presets. Along with the projector, the package contains VGA Cable, Power Cable and Remote Control with batteries.
Pros
3D ready
3,500 ANSI Lumens of brightness
Good connectivity
Cons
Doesn't support 4k
Speaker sound tinny
Conclusion
Overall the ViewSonic PX701HD provides an excellent picture quality at an affordable price. You'll notice how bright it is, even in daylight yet the quality stays the same.
Adjusting the throw ratio and the angle of the device is easy as is connecting a range of devices. Although you'll want to avoid using the built-in speaker as it sounds thin and so distracts from how detailed each picture appears.
While there are adjustable feet on the bottom that enable you to adjust the projector's angle, oddly, there are only on three corners. So you'll need to prop up the projector to ensure it is safely positioned.
Even in most eco-friendly mode, the fan is can get loud and is often always on. While some fan noise is to be expected and not noticeable after a short time, ViewSonic could replace this fan with something quieter.
Another issue is while it plays media in full HD, it struggles with 4K content and doesn't support 3D. For some, this will be a deal-breaker. That said, overall it's a superb projector. 8/10 (read our full review)
Acer X128H Projector
Description
The Acer X128H projector is a lightweight unit that excels at producing vividly detailed text and images. Its XGA resolution brings sharp details and fine print into focus.
While primarily designed for business use, the X128H offers many features that make it a good entry-level projector for a home cinema. It offers 3,600 ANSI lumens and an XGA native resolution (1024×768) as well as WUXGA (1920 x 1200) resolution.
It has an impressive contrast ratio of 20000:1 and it onboard ColorBoost technology is optimal 3D Blu-rays as well as bringing films to life with stunning picture depth.
In terms of connectivity, it has a VGA port, HDMI port and mini-jack audio input. So you can easily connect a media player and games console. Plus, with a built-in 3-watt speaker, you can enjoy movies straight away.
Setting the unit up is easy as it has a wide throw ratio (1.94 – 2.16:1) and 2x digital zoom. It also has built-in vertical keystone correction. Simply put, you can plug-in and start enjoying your favourite films or games.
There are three power modes and depending on which is selected, the lamp can last up to 10,000 hours. You could watch a movie a day for at least 10 years on the original lamp!
Pros
High contrast ratio
3,600 ANSI lumens
ColorBoost technology
Cons
Not full HD 1080p resolution
Quite limited connectivity
Conclusion
The Acer X128H leaves us feeling mixed. It's well built with a good specification. However, it lacks connectivity and doesn't offer full HD image resolution.
It offers many superb features including a wide contrast ratio, digital zoom and large throw ratio. While it has an impressive 3,600 lumens of brightness, it doesn't offer 1080p HD resolution. This means movies won't be reproduced in the stunning quality they deserve.
The connectivity options are very limited. This might be fine if you only plan to watch movies or feeding it from an AV receiver. But if you're hoping to run a few media players and a game console, you'll be disappointed.
Also with no audio out, you're limited to the onboard 3-watt speaker. Overall, as your first projector, the X128H is a reasonably good option. 7/10
What's the best projector under £500?
Overall, there is a good choice when it comes to buying the best projector under £500 for your home cinema. It's best to avoid the super cheap as they won't have the features or brightness you'll require.
In terms of our top picks two stand out.
The Epson EH-TW650 Gaming & Home Cinema Projector is a well-designed unit that superb out of the box. It offers HD 1080P images, a good range of connectivity and using an App, you can stream from your smart devices.
Ideal for small spaces, the BenQ W1050 CineHome Projector may lack the brightness delivered by other units. However, it has a short-throw allowing it to fill a 100-inch screen from 3 metres. It also offers 3 dedicated picture modes, good connectivity and impressive lamp life.