Panasonic DMP-BDT180EB 3D Blu-ray player review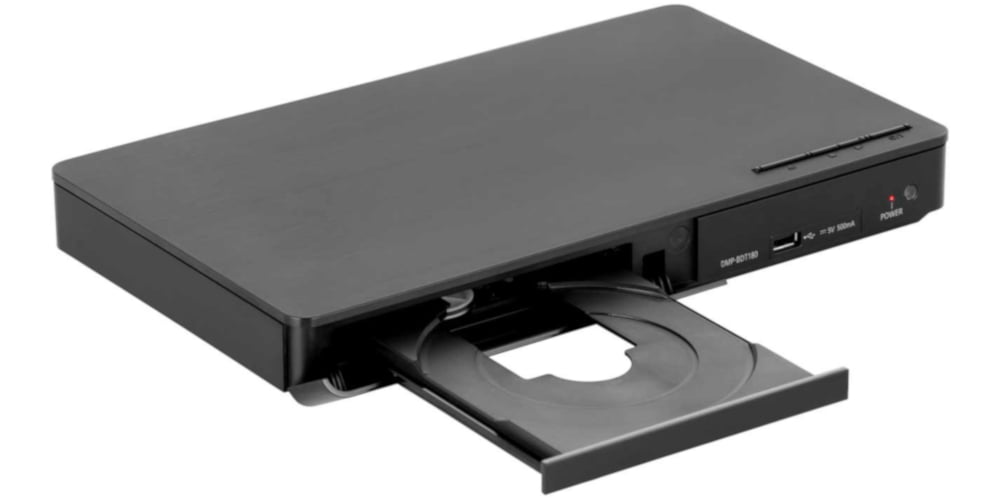 PUBLISHED: 10th February 2021 | LAST UPDATE: 10th July 2023
More than simply a media player, the Panasonic DMP-BDT180EB 3D Smart Blu-ray Player is packed full of features and is highly affordable.
Designed to play a range of media including 4K and 3D films, audio CDs and more using the front-loaded USB port. You'll experience high quality pictures regardless of the format.
The audio of the Panasonic DMP-BDT180EB is equally impressive as it uses Dolby Digital/True HD and Dolby Digital Plus.
As a smart device, once connected to your Wi-Fi you then have access to a wide variety of online content and internet apps. Also, you can share content with other connected devices within your home.
While there are controls on the unit, the remote is well designed and easy to use. Plus, you'll even find a Netflix button on the remote of this Panasonic Blu-ray player!
For what is a supposedly entry-level product, Panasonic DMP-BDT180EB 3D Smart Blu-ray Player offers tremendous value for money and is one of the best Blu-ray players on the market. 8/10
Pros
Built-in Wi-Fi
2D to 3D software
Fantastic value for money
Cons
Lacks a range of connectivity
Some users have experienced the unit freezing
Design
The sleek design coupled with a small footprint means the Panasonic DMP-BDT180EB easily slots into any TV set-up. Measuring 4cm high by 31 cm width, it doesn't take up much space and can replace a DVD player with room left over.
The top features buttons covering the basics, such as power on/off, play, stop and disc tray open/close. While their placement might make them obsolete, especially if you plan to place the unit on a TV stand, they are useful.
Moving on to the front, where the paired-back design continues. In addition to the disc tray and power LED, there is a USB port which can be used to play a range of media either by memory stick or hard disc.
The rear is just as sparse with only a power input, a LAN port for wired internet and an HDMI output.
Finally the remote, where most of the action takes place. There are buttons covering all of the basics such as play/pause, skip, standby/on and for disc menus. Also, the remote has buttons to control a Panasonic TV, instant access to Netflix and options to fine-tune the picture and audio.
Features
For an entry-level unit, the Panasonic DMP-BDT180EB is packed full of useful features which enhance the viewing experience.
Playing media in 4K resolution is a sight to behold. Each image appears sharper with deeper detail and more texture. You'll feel like you're at the cinema. Even if you don't yet have a 4K or UDH TV, the software enhances each image.
In terms of formats, it's safe to say that the DMP-BDT180EB can play a long list including CDs, standard Blu-rays, DVDs and 3D Blu-rays as well as images. Plus you're not limited to disc as the front-loaded USB port enables you to play media from a variety of devices.
Audio files are reproduced to studio-quality thanks to the Dolby Digital Plus drivers. The audio quality matches the depth of images, creating a superior viewing experience.
Connect to the internet via the Ethernet port and browse the web using the built-in web browser. Easily access a range of apps, catch-up TV and on-demand services including BBC iPlayer, YouTube and Netflix.
You can view videos or images from your smartphone, tablet or PC. Freeview Play is also pre-loaded and therefore you can watch all of your favourite terrestrial shows in high resolution.
Set-up
The basic set-up is incredibly straight forward as there's not that much to connect. In addition to the power cable that's included, you'll need to supply an HDMI cable and Ethernet cable if you want to connect to the internet.
Once the power and HDMI cables are attached to the Panasonic DMP-BDT180EB, you're able to enjoy watching DVDs, Blu-rays and CDs as well as media from your phone or tablet.
There are two ways to connect to the internet. You can use the onboard wireless, however, this can easily drop out. It's best, therefore, to run an Ethernet cable from your router to the LAN port on the DMP-BDT180EB.
Out of the box, the basic settings are quite good regardless of whether you're using a 4K/UHD TV or not. Of course, there are a load of adjusts you can make to fine-tune both the picture and audio quality.
When you're happy with the basic set-up, it's a good idea to connect your Panasonic DMP-BDT180EB to the internet and download any updates. It's worth doing, even if you don't plan on using the internet capabilities.
Performance
With a range of features, the Panasonic DMP-BDT180EB 3D preforms well across different media as well as streaming content.
Some previous version of this model is known to freeze. However, this seems to be resolved. Of course, Panasonic offers a generous warranty and so you should be covered if your unit develops any issues.
The viewing experience is excellent as the 4K upscaling software brings images to life with vibrant and deep colours. While the Dolby Digital/TrueHD and Dolby Digital Plus ensure superior audio.
The onboard Wi-Fi does occasionally drop out and so it's worth hardwiring the Panasonic DMP-BDT180EB into a router. Once wired in, it's easy to enjoy all of favourite streaming and catch-up services.
While 3D Blu-rays are growing in popularity, it's exciting to see an entry-level unit support this format.
Is the Panasonic DMP-BDT180EB worth buying?
With an impressive range of features and an affordable price, the Panasonic DMP-BDT180EB 3D Smart Blu-ray Player is worth considering if you're looking for your first Blu-ray player or a second device for a bedroom or dining room.
The image and audio quality is fantastic both on standard TVs and on the latest 4K TVs. It performs better than other units that have a much higher price tag.
Able to play a range of formats including 3D Blu-rays, this device is future proof. In addition to playing a range of disc formats, the USB port and smart functions means you can cover a lot of ground with this Blu-ray player.
Like many entry-level Blu-ray players, one of the big negatives is lack of connectivity options. The single HDMI output while sufficient for most doesn't allow connection to a soundbar or 5.1 AV receiver as well as a TV.
While having onboard Wi-Fi is a nice feature, it can drop out or pick up interference. It's worth hardwiring the device into your router to ensure a solid connection.
The sleek design is pleasing to look at and while the buttons on top might be hard to access if the unit is placed within a media unit, the remote is more than enough. We also like the Netflix button and function.
Overall, Panasonic DMP-BDT180EB 3D Smart Blu-ray Player offers fantastic value for money. 8/10