Panasonic DP-UB820 vs DP-UB9000 Blu-ray players compared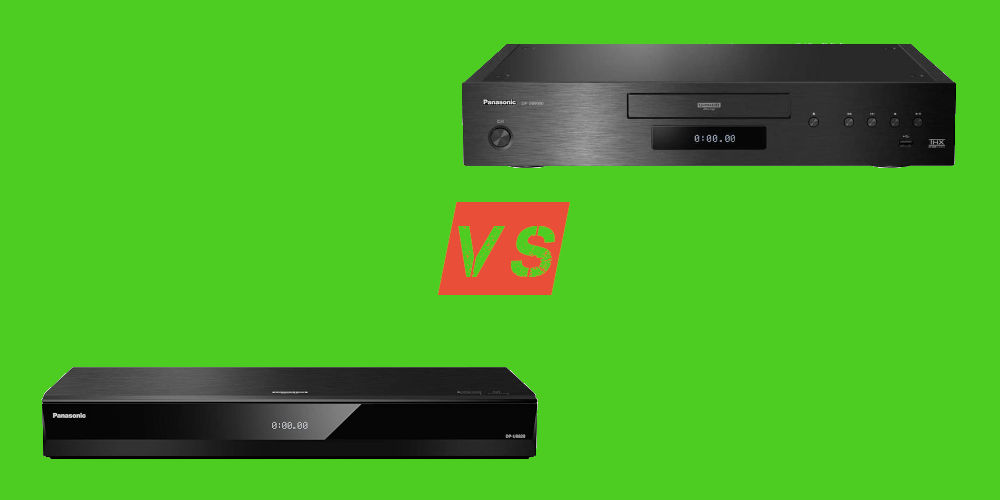 PUBLISHED: 21st February 2022 | LAST UPDATE: 10th July 2023
When most of us consider buying a new Blu-ray player, the Panasonic brand is typically on our list. We might not yet know the ideal model, but we know they build some superb units. So, comparing Panasonic DP-UB820 vs DP-UB9000 Blu-ray player makes a lot of sense.
The two share a lot of similarities. Both use the Panasonic HCX (Hollywood Cinema Experience) processor to produce 4k images regardless of the starting resolution. You can enjoy watching multiple formats, including Blu-rays, DVDs, and CDs, with both.
Both have built-in Wi-Fi, allowing you to stream content directly or use the web browser and onboard apps. Also, they both have fantastic connectivity options, allowing you to bypass needing an AV receiver.
However, at nearly three times the price, the DP-UB9000 is suitable for serious home cinema rooms. That said, the DP-UB820 is an excellent mid-priced Blu-ray player, ideal for the home and your media room.
Come with us as we compare the Panasonic DP-UB820 vs DP-UB9000 Blu-ray player.
Panasonic DP-UB820 Blu-ray player overview
Under the sleek design, the Panasonic DP-UB820 Blu-ray Player offers true to life colours and texture, onboard 4K upscaling, and access to your favourite streaming services. It's even voice control ready!
Built around Panasonic's unique HCX processor, the result is excellent picture quality. Each frame displays stunning depth and texture with true to life colour.
As a 4K Blu-ray player, you can play CDs, DVDs, 3D Blu-rays, 4k Blu-rays, and more. The unit also supports High Dynamic Range pictures (HDR10, HDR10+, and Dolby Vision) and HLG (Hybrid Log-Gamma HDR) formats.
The Panasonic DP-UB820 also produces fantastic audio. Enjoy Hi-Res music via streaming or using the USB port and discover hidden depths in your favourite tracks. Plus, with 7.1 phono outputs, you can run a powered surround sound system.
As more than a Blu-ray player, connect the DP-UB820 to Wi-Fi and access your favourite streaming services, a multitude of apps, and a web browser. Also, when connected to Wi-Fi, you to control the unit using Google Assistant or Amazon Alexa.
Panasonic DP-UB9000 Blu-ray player overview
Built for home cinema enthusiasts, the Panasonic DP-UB9000 4k Blu-ray player delivers an experience worthy of a Hollywood cinema. As a THX-certified media player, it faithfully recreates image and sound.
Using Panasonic's HCX processor to ensure stunning picture accuracy with life-like colours and contrast. As a versatile disc player, the DP-UB9000 plays 4K Blu-rays, 3D Blu-rays, regular Blu-rays, and DVDs. It also handles audio CDs.
Offering support for HDR, HLG (Hybrid Log-Gamma) and Dolby Vision formats, you can enjoy an immersive experience worthy of a cinema.
Connect to Wi-Fi using the onboard wireless or Ethernet cable. The DP-UB9000 has a web browser and apps, including streaming services, and is compatible with Google Assistant and Amazon Alexa.
The unit offers excellent connectivity with twin HDMI ports, XLR balanced outputs for the highest quality sound and twin USB sockets. Another bonus is the analogue 7.1 RCA output, which allows connection with older high-end AV receivers that may not have an HDMI interface.
The heavy and rigid construction minimises vibrations, letting the electronics work to their optimum ability for the highest quality sound and vision. Truly built to last and for a near-silent operation.
Design
It's easy to dismiss both units as unimaginative, design-wise. And while that would be a fair comment, they each have many subtleties in their designs.
There's a massive difference in build quality between the Panasonic DP-UB820 vs DP-UB9000. The latter uses a heavy and rigid construction that minimises vibrations and ensures longevity. The DP-UB820, on the other hand, feels more budget.
The front panels are widely different, with the one on the DP-UB820 hiding the disc tray and USB port behind a moving panel. Plus, there are only limited controls on the unit, so you'll need the remote handy.
Everything is visible on the DP-UB9000, and there are also more controls on the unit, making operating it even easier.
Both units have very busy rear panels with multiple HDMI ports, audio outputs and UBS ports. While the DP-UB820 is slightly less busy, it's still highly flexible.
Both come with remotes that have buttons for the basic controls and a multitude of other settings. Again, as the DP-UB900 offers more features, its remote is far busier, allowing you to quickly access them.
Winner: DP-UB9000
Features
Both units use Panasonic's HCX processor to deliver a 4k image. They handle a range of file formats, including Blu-rays, 3D Blu-rays, DVDs, CDs, and image and audio formats stored on a USB memory stick.
You can enjoy multiple HDR options on both units, including Dolby Vision, HDR10+, and HLG (Hybrid Log-Gamma HDR) formats. These options ensure they both faithfully recreate vibrant images with true to life colours with exciting texture and depth.
The audio processes on both units are equally impressive. Enjoy listening to various audio formats (WAV/FLAC/AIFF/etc.) in high-resolution by simply connecting to your home audio system.
Both units offer 7.1 surround sound outputs on the rear, with the DP-UB9000 including options for multiple audio zones. While these outputs are passive, requiring you to connect powered speakers, removing the need for an AV receiver.
As smart devices, you can connect both to the internet (either using the onboard Wi-Fi or LAN port), allowing you to access the web, a multitude of apps and streaming services.
No one truly enjoys using a remote. Thankfully, both units have a solution, Voice control using Amazon Alexa or Google Home.
Winner: tie
Connectivity
Usually, Blu-ray players have quite limited connectivity with one or two HDMI ports, a USB port and optical audio output. What makes comparing the Panasonic DP-UB820 vs DP-UB9000 difficult is they both have a range of options.
Let's start with the basics. Both have a power input, dual HDMI ports (video/audio and audio only), dual USB ports (front and rear), and an Ethernet port (if you prefer to use this over the built-in Wi-Fi).
The DP-UB820 offers 7.1 phonos audio outputs and an optical audio output. While the DP-UB9000 has 7.1 phonos audio outputs, stereo audio outputs (both XLRs and phonos), and two digital audio outputs (coaxial and optical).
Hopefully, you can see both are highly versatile units that can be easily connected to a range of devices and powered speakers.
Winner: tie
Set-up
As both offer plenty of connectivity options, you might only need an HDMI cable to connect your new Blu-ray player. At the other end, you could be wiring in multiple speakers, an Ethernet cable and an HDMI cable.
The simplest set up with both units is to connect an HDMI cable from your TV to the Blu-ray player. You'll be up and running in minutes. If you want to get a little more complicated, you could add a soundbar or external speaker using the optical audio output.
As both units offer passive outputs for a surround sound speaker system, wiring up and positioning powered speakers can be trickier. Again, it depends on your set up and requirements.
If you enjoy streaming content, you might decide to use a hard-wired internet connection over the built-in Wi-Fi. That said, both units have excellent Wi-Fi capabilities.
Both have dual HDMI ports. So, you could connect the first HDMI port to supply video to a TV or projector and the second HDMI port to feed audio to an AV receiver, which powers a surround speaker system.
Winner: DP-UB820
Performance
Regardless of the starting resolution, both bring the pictures to life with more vibrant colours and greater contrast; and all in 4k quality. You'll feel like you're watching movies in a proper cinema, albeit without the expensive popcorn and sweets.
They both have a few limitations due to the chipset. Neither unit supports DVD-Audio or SACD file formats.
Both have fairly clunky web user interfaces, with some menus feeling a little redundant. You might prefer to stream content using a Chromecast or Fire TV stick or if possible, use your TV's apps.
Thanks to a range of connectivity options, both units painlessly slot into any room and can be easily adapted to your existing equipment yet is flexible enough to grow with you.
One difference between them is the DP-UB9000 remote has a backlight, making it easy to use, even in a darkened room. That said, you probably want to use Alexa or the Google Assistant to operate your unit, whether you have the Panasonic DP-UB820 or DP-UB9000.
Winner: tie
Panasonic DP-UB820 vs DP-UB9000: Which is better?
Comparing the Panasonic DP-UB820 vs DP-UB9000 Blu-ray players is tough. Both are excellent units. However, unless you have plenty of cash lying around or are building your dream home cinema room, the Panasonic DP-UB820 will be sufficient.
While it's not as well built as the DP-UB9000, the DP-UB820 has many features offered by the more expensive unit. In our opinion, the missing features are worth the extra cash for the average user. Of course, if you're building a high-end cinema room, then buy the DP-UB9000.
You could use the money you'd save by buying the DP-UB820 to invest in a better screen, speakers, or even a projector. If you're using the best Blu-ray player available with a cheap projector, you'll notice. The opposite is also true.