Top 10 smart appliances for kitchens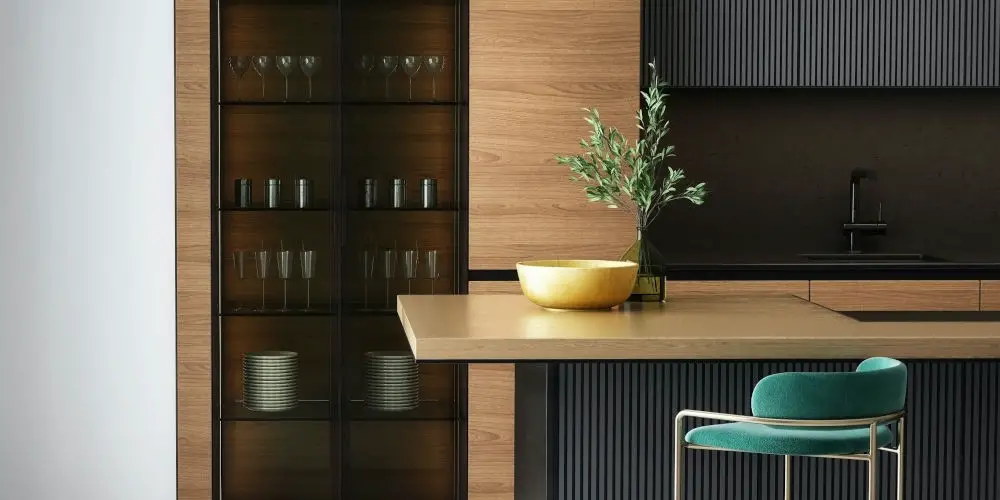 The average kitchen is the most technologically advanced room in our homes. Our counter tops are full of gadgets and gizmos and yet we're slow to fully embrace the smart kitchen. Thankfully there are plenty of smart appliances for kitchens that help make cooking fun and easier.
Kitchen smart tech has come a long way from digital scales and mixers with an LCD display. Today's smart appliances for kitchens are innovative and genuinely helpful. They improve our culinary experience by using technology and so make life better.
Many of us venture into our kitchens at night after a long day at work and decide to cook a safe dish, which we've done a hundred times before. Yet smart fridges can suggest new dishes and provide the recipe.
You can buy coffee machines that use a smartphone app and voice-activated kitchen taps that can fill that baby bottle in a few minutes. Today's connected kitchen saves you time and effort by making light work of tasks.
We've selected 10 of the best smart appliances for kitchens, allowing you to quickly add new connected gadgets to your home. You'll soon want to automate your entire property and fully embrace smart home technology.
HAUSWIRT Food Stand Mixer with Digital Display
The HAUSWIRT Food Stand Mixer with Digital Display delivers everything you need in a smart kitchen appliance. It comes with three standard mixing accessories: whisk, dough hook, flat beater with a removable splatter shield meet your all needs. Plus, other attachments are available.
An digital display shows the operation time and gear speed setting, allowing for a convenient adjustment. With smart timing, you can easily complete other prep work while kneading the dough. You'll find the built-in timer highly useful too.
The 1000W high-performance pure copper motor ensures long service life. It offers 8 different speeds that provide freshness and smoothness of food for you. Easily set the speed according to your need. Pulse mode can reach the highest speed in a second, used to knead at short intervals.
HAUSWIRT have designed this mixer to be very easy to operate and clean. The dishwasher safe and removable 5-litre bowl provides enough space for bigger batches of baking, ideal for all the family.
WEEKETT Smart Kettle
The stainless steel WEEKETT Smart Kettle works with Amazon Alexa, Google Home and mobile app. The kettle that's ready whenever you are. Plus, you can switch the kettle on from anywhere!
There's nothing worse than a lukewarm cup of tea or coffee. Temperature matters a lot. Thankfully with this WEEKETT smart kettle, you can brew the perfect cuppa by choosing the right temperature between 40°C and 100°C.
A one tab baby milk programme is ideal for new parents. Using this setting to heat water to 100°C, cool naturally to 70°C and keep warm for up to 1 hour. Easily schedule the kettle to boil at the time you want.
CLICK & GROW The Smart Garden 9
You don't need a large garden to eat fresh food. You can grow herbs and veg inside using hydroponics. Rather than using soil, plants grow using a special formula solution. If you haven't tried hydroponics before, you'll want to buy a starter kit from Click & Grow.
As an innovative self-growing garden, the Smart Garden 9 allows you to grow 100% organic produce, free from GMOs and pesticides. The kit comes with all you need to get started, including a Complimentary set of plant capsules (3x tomato, 3x basil, 3x lettuce).
There's even an Click & Grow app that will help you become a plant expert in no time. When you catch the hydroponic bug (sorry!), they'll be no stopping you from building your own mini garden indoors.
Samsung RS8000 Family Hub American Style Fridge Freezer
View what's inside your fridge anywhere with the Samsung RS8000 American style fridge freezer. Internal cameras allow you to see what foods are in your fridge, meaning you can plan meals with ease, whether you're at the office, shopping or sitting on the sofa.
The large touch panel display takes on numerous roles. It can show you recipes based on the food inside. Use it to plan that week's meals. And you can even save your food shopping list and either send it to your favourite online food retailer or view it in store using the SmartThings app.
But that's not all this smart fridge freezers offers. As a SmartThings devices, you can easily control thousands of smart home products with your voice or just a touch of the screen. You can build a fully automated home.
Offering 609 litre capacity, it holds 32 bags of food shopping and is perfect for storing all your favourite groceries. The built-in frost free tech circulates cool air inside to stop ice building up, meaning you'll never need to manually defrost again.
A salad crisper drawer makes it easy to keep all your fruits and vegetables organised and in good condition. Finally, an ice maker on the front door, allows you to make ice cubes in minutes, perfect for hot days when you want a cold drink.
Burfam Countertop Pure Drinking Water System
As a portable reverse osmosis filter, the Burfam Countertop Pure Drinking Water System requires no plumbing. It produces four different water temperatures for coffee, tea, warming baby milk, and for cool drinks.
As a stand-alone machine, you can place it anywhere within your home or office without worrying about plumbing. It reduces 99.99% of contaminants using reverse osmosis and carbon filter. While an Ultraviolet (UV) chamber sterilises the water, ensuring safe drinking quality.
It easily produces a range of water temperatures making it easy to brew coffee or tea, for cold drinks and to warm baby milk. A digital display guides both in using the unit and alarms (both audible and visual options available).
As a stand-alone unit, it takes a few minutes to set up and comes complete with an operating video to help and explain. It uses easy to replace filter cartridges that last for up to 6 months.
Melitta F85/0-102 Barista TS Smart Coffee Machine
If you can't live without your morning coffee (or three before 10 am), you need the Melitta F85/0-102 Barista TS Smart Coffee Machine! Sporting a compact design, the unit is made in Germany and is designed to last.
21 different pre-set coffee options are available, and all are customisable using the Melitta Connect app. Use this bean-to-cup coffee machine to make Espresso, Café Crème, Cappuccino, Latte macchiato, and hot water for tea and hot chocolate.
An airtight double-bean chamber offers a steady rotation of coffee flavour. The machine's Whisper Grinder is quiet and highly efficient. It ensures beans are correctly ground for the perfect coffee. There's also a separate hot-water access for tea service and a pre-ground coffee chute.
Able to produce one or two drinks at once, depending on your needs, you should need to wait. Plus, the milk container is removable and easily fits any refrigerator.
Easy to clean, the removable brewing unit is dishwasher safe. The TS Smart Coffee Machine has built-in automatic cleaning and descaling features. It works with the Melitta Connect app, allowing you to control it remotely.
MisterChef Digital Kitchen Food Scale
Don't be fooled by first appearances! The MisterChef Digital Kitchen Food Scales are Sophisticated and modern. Made from stainless steel, the unit comes with a detachable bowl (2.15L), adding further versatility.
Features tare and auto-zero functions for easy compatibility with other containers. Easily measure in a mug, plate, or different sized bowl with dependable and hassle-free accuracy.
With a 5kg capacity and a division of 0.1oz/1g, the high precision strain gauge sensors ensure trustworthy results every time. A vivid white backlit display allows for clear readability with low battery and overload indication.
As a multi-function unit, it also includes an ambient temperature sensor and kitchen timer, allowing you to accomplish more tasks quicker and with less clutter. A built-in 2 minutes auto-off function ensure the batteries last longer.
Sage Smart Oven Air Fryer
Using super convection heating, the Sage Smart Oven Air Fryer Fry reduces cooking time by up to 30% and delivers crispy air fried foods. Enjoy guilt-free French fries, chicken wings and so much more.
Using an Element iQ System, which delivers top performance and versatility, allowing you to air fry and choose from 10 cooking functions. The cooking system uses five independent quartz elements combined with smart algorithms that create the ideal cooking environment.
As a super versatile counter top oven and air fryer, you can easily: Toast, Crumpet, Grill, Roast, Warm, Pizza, Air Fry, Reheat and Slow Cook. Plus, a digital PID temperature control eliminates cold spots for precise and even cooking.
The large interior capacity has plenty of room for 6 slices of bread, 30cm pizza, roast chicken, a 9 cup muffin tray, and more. An integrated oven light automatically turns on at the end of the cooking cycle to help you see inside and can be turned on at any time to see your progress.
Revolution Cooking R180 High-Speed 2-Slice Smart Toaster
There are toasters, and there are smart toasters. The Revolution Cooking R180 2-Slice Stainless Steel Smart Toaster is the latter! The 2-slice brushed stainless steel toaster with powdered matte black finish.
It uses an exclusive, ultra fast and efficient InstaGLO® Heating System to ensure whatever you're toasting is cooked to your exact requirement. Use the R180 with six food types, including bread, English muffin, bagel, waffle, and toaster pastry.
There's even a panini mode, designed to work with the Revolution Panini Press accessory (sold separately). Choose from three different toasting modes (fresh, frozen, reheat) and up to 7 toasting shades per selection.
Trust the smart toasting algorithm with temperature sensor and real-time adjustments to deliver the perfectly cooked item. The auto lift and lower system, ensure your food is correctly inserted into the toaster.
The screen can display either an analogue or digital clock sleep screen. Easily adjust the screen's brightness and chime volume. A countdown timer will ensure you can eat the moment your food is cooked. The system will display a "time to clean" crumb tray reminder.
MEATER Original 10m True Wireless Smart Meat Thermometer
Using Bluetooth and Wi-Fi connectivity, the MEATER Smart Meat Thermometer is a wireless unit that's ideal for the oven, grill and BBQ. 100% Wire-Free: No wires, No fuss. It's even dishwasher safe!
As the first truly wireless smart meat thermometer, you can easily monitor your cook using the FREE app available for iOS / Android smartphones and tablets. You can also use Alexa or the MEATER Cloud for the best wireless range.
The probe contains dual-sensors, allowing you to monitor internal meat temperature up to 100°C and ambient/external temperature up to 275°C simultaneously.
The Guided Cook System helps you every step of the cooking process to guarantee perfect and consistent results. You can also set up custom alerts/notifications based on temperature and/or time. Cook meat exactly as you like it done, consistently.
The system uses an Advanced Estimator Algorithm that accurately estimates how long to cook and rest your food to help plan your meal and manage your time.
Our favourite smart appliances for kitchens
There are plenty of smart appliances for kitchens you can invest in and make life simpler. Out of the ones we've covered, our favourites are the CLICK & GROW The Smart Garden 9, Melitta F85/0-102 Barista TS Smart Coffee Machine, and Revolution Cooking R180 2-Slice Smart Toaster.
While these are our favourites, we'll be investing in every item in our list of smart appliances for kitchens. Hopefully, you found at least one smart kitchen device you'll be adding to your home soon.