5 Smart gym equipment basics for better home fitness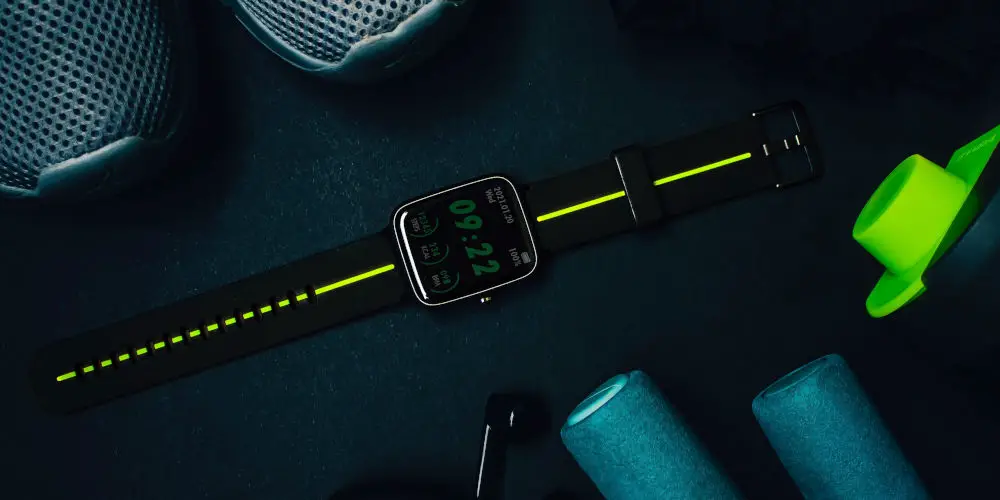 Many homeowners see building a home gym as an essential feature. And more are choosing to incorporate digital fitness technology and smart gym equipment in their home that allows for the best at home workout.
Exercising has many benefits. You could enjoy some cardio or resistance training daily and look forward to your workout session, regardless of how brief it ends up being. And yet many are scared by the idea of joining a local gym.
If going to your local gym fills you with dread, not to mention the membership fees, having space and equipment to work out at home is the best solution. Plus, working out after the evening meal is far easier than driving somewhere.
Building a home gym can be cheaper in the long run. You can invest in smart gym equipment and digital fitness technology that best aligns with your exercise goals. Also, you'll be able to workout whenever suits you and not when the local gym is open.
Why invest in smart gym equipment and digital fitness tech?
Some people don't feel comfortable going to a traditional gym to exercise. Others can't justify the cost of gym membership as they just want to workout once a week and not daily. Investing in smart gym equipment means you can exercise at home, whenever and for as long as you want.
You'll still be able to work with a personal trainer as many are mobile or run online workout sessions that you can join for a couple of quid per week, allowing you to work out with them in real time. Good news, if you're trying to stick to strict fitness goals!
The global digital fitness market continues to grow rapidly and is currently estimated to be worth $1 trillion according to Yahoo finance. They estimate that by 2028, the market will be worth an impressive $2.6 trillion. That's a lot of fitness equipment in any currency!
In the last decade, we've seen an explosion in wearable fitness tech, including the Fitbit and Apple Watch. Samsung, Adidas, and other brands also contribute to the trend thanks to increasing sales of smart clothing, smart shoes and wearable tech.
These products barely scratch the surface of what tech we can add to our home's smart gym. You'll quickly forget about visiting a local gym once you explore the world of digital fitness tech. And we're yet to mention the thousands of fitness apps available.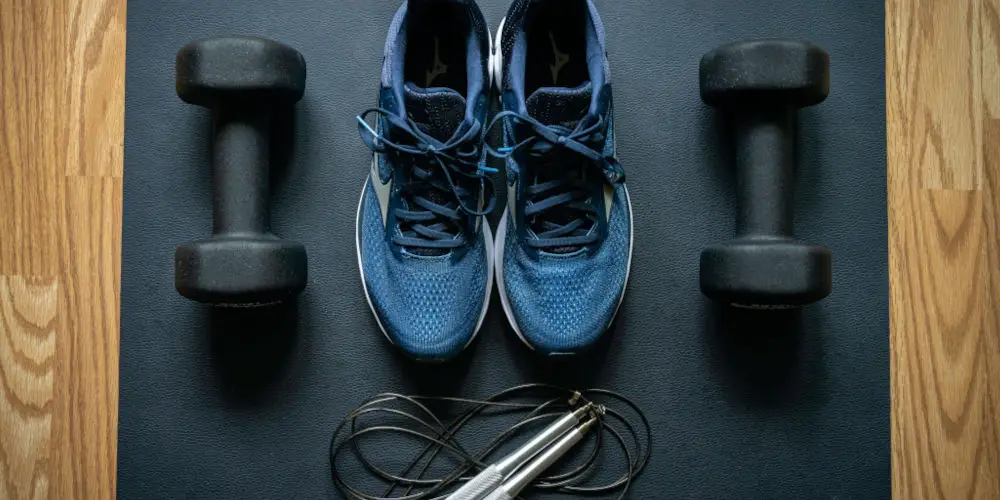 #1 JAXJOX DumbbellConnect
As the first digital dumbbell, the JAXJOX DumbbellConnect set offers adjustable weights ranging from 3.6kg-22.7kg. You can easily sync your pair to the JAXJOX App to track reps, sets, average power, and workout duration.
Replace an entire rack of weights with the DumbbellConnect digital weights. At the push of a button, and within seconds, you can increase or drop weight in 3kg increments. Ideal for storing anywhere in your home or smart gym.
JAXJOX's AI-powered performance tracking allows you to see your performance during an on-demand workout. It uses real-time metrics, including reps, weight, sets, time, average power, and total volume.
Also, JAXJOX uses a proprietary machine-learning algorithm to calculate your FitnessIQ score. The JAXJOX FitnessIQ keeps you informed on your overall progress and regularly measures multiple data points to ensure you're on the right track.
#2 Peloton – Yes, the bikes, but so much more!
Unless you've been living under a rock for years, you'll have heard of Peloton. Many think of them only as an exercise bike manufacturer, but the truth is, they are a holistic fitness company that offers a range of smart gym equipment.
They offer highly affordable access to online exercise trainers and on-demand classes that cover a wide range of options from spinning (hence, the bikes!), resistance, yoga, and more. And as you don't have to leave home, you can turn your living room into a smart gym in minutes!
Peloton is well known for their next-generation home exercise bikes. These stationary bikes have a built-in computer and tablet that allow you to track your goals and join real-time exercise classes led by trained instructors.
A Peloton bike starts from £1,345 and comes with a one-year warranty, delivery and professional set up. If you have the budget, you can add extras, such as specially-designed Peloton shoes, weights and headphones.
They also offer Tread, a digital treadmill for those who prefer running to cycling, which costs £3,345. Again with your purchase, you get access to online fitness classes. A range of extras are also available.
There are plenty of Peloton alternatives that offer something very similar for cheaper. Good news if you're not overly excited by the Peloton brand!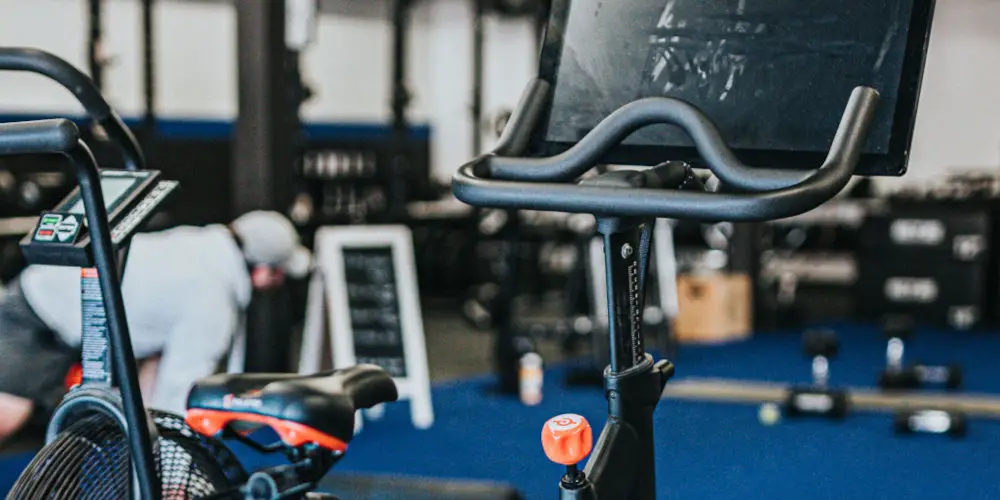 #3 VAHA Fitness Mirror
You no longer need a room full of smart gym equipment to stay fit and healthy, especially if you invest in VAHA, the UK's first interactive fitness smart mirror. Experience hundreds of live and on-demand classes with the world's best trainers. No matter your favourite exercise, VAHA has a class.
They currently offer two options. The VAHA S Fitness Mirror costs £1,295 and is complete with a 32-inch Full HD touchscreen with 30W speakers and a brushed aluminium finish. It comes with a 2-year warranty. 
The VAHA X is an award-winning fitness mirror with an interactive 43-inch touchscreen with 65W speakers. Costing £1,995, it comes with a 2-year warranty. Both options are available on monthly finance plans.
As with Peloton, you need a subscription to access VAHA classes after the first month. So unroll your workout mat and load one of the hundreds of guided workouts.
#4 WaterRower Ergatta Rower
Rowing is a total-body workout and great for strength training. After exercising on a rowing machine, your major muscle groups in your arms, legs, and core are stronger, and your cardiovascular endurance is increased.
If you're building a smart gym, you should consider investing in the WaterRower Ergatta (price £2,495), a connected rowing machine offering game-based workout challenges, races, and guided training programs. 
Unlike most rowing machines, WaterRower units feature a water drum, that simulates real-world conditions. You'll feel like your rowing in a lake, just without the cold, travel, or expense of buying a boat!
With an integrated 17.2" high-definition touch screen, Ergatta rowing workouts are calibrated to your fitness level and goals. Each is handmade and designed to be sleek, elegant, and easily moved and stored.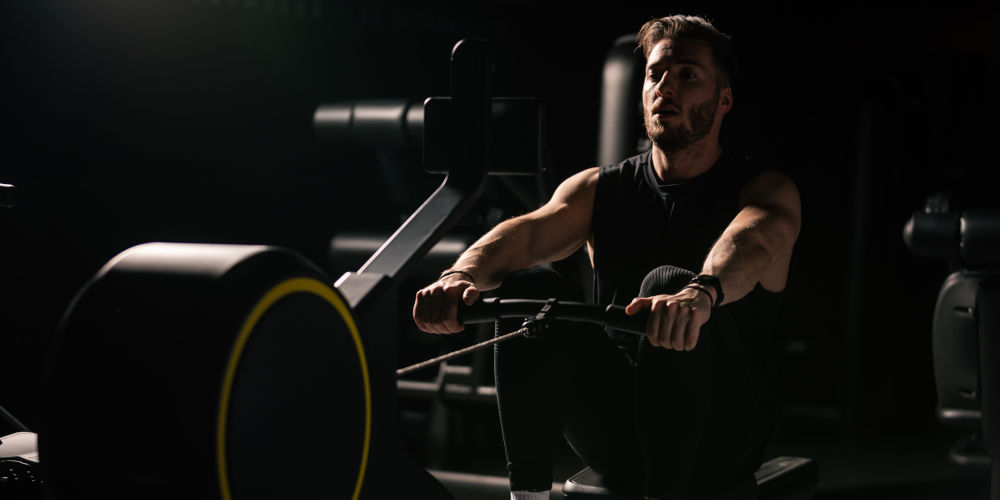 #5 Multi-Room AV
It might seem a little strange for us to suggest investing in AV equipment in an article about smart gym equipment. However, having music or being able to watch a movie or the latest headlines can be the motivation that helps you keep going when exercising.
While you could use any old Amazon Echo dot, having a proper AV system will ensure you can create the ideal environment for working out. You'll might even look forward to exercising!
You could invest in several Sonos speakers, allowing you to link them together and play tunes throughout your home. Another option is to install a Control4 or Crestron system. Both allow you to install in-ceiling speakers. Also, you can move audio and video around the home as you do.
By installing a home automation system, you can turn your home smart and control features, such as the heating, curtains/blinds, lighting, and home cinema. Plus, you can control all of these features effortlessly via an app on your smartphone while working out in your home gym.