Can you use Savant and Sonos together?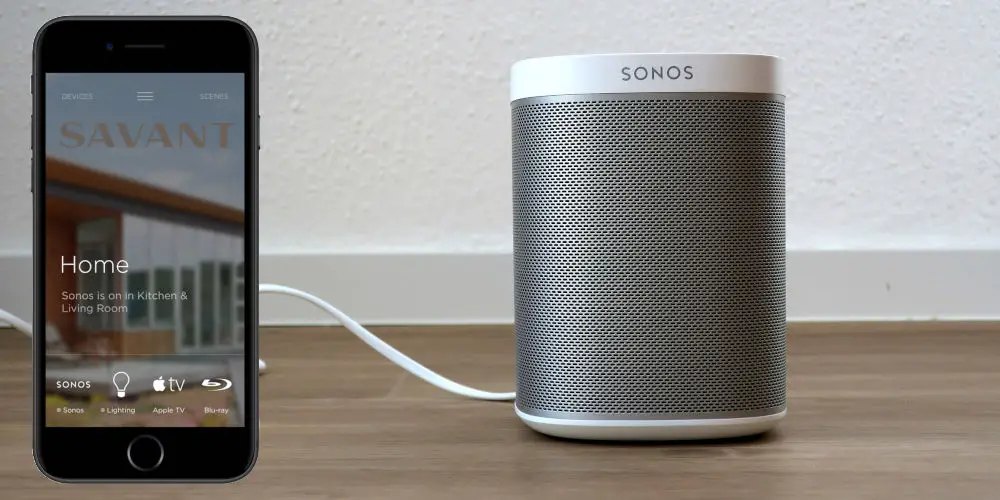 Savant and Sonos are popular options for building a complete smart home experience. Savant is well-regarded home automation systems, while many consider Sonos to be the best wireless, multi-room speaker system on the market today.
Both systems make life more enjoyable by allowing painless control over different aspects of your home, from your heating, lighting, AV, and more.
While they are different systems, they can work together seamlessly, providing homeowners with an unparalleled home entertainment experience. Great news if you're about to install a Savant system and already have and like using Sonos smart speakers.
In this article, we'll take a closer look at Savant and Sonos, their features and capabilities, and how you can use them together to create the ultimate home entertainment system.
Can you use Sonos smart speakers with Savant?
Sonos smart speakers can be used with a Savant home automation system. When you integrate Sonos with Savant, you can control your Sonos speakers from the Savant app, making it easy to play music throughout your home.
To use Sonos with Savant, you need to ensure that your Sonos system is connected to your home Wi-Fi network. Next, you need to configure your smart speakers to work with Savant. Once you've done this, you can use the Savant app to control your Sonos speakers.
Benefits of using them together
There are several benefits of using Savant and Sonos together to create a smart home entertainment system.
Multi-room audio
Savant does offer multi-room audio as part of their AV suite. However, you need rack space for amps and cables for the speakers. All of which quickly adds up. Plus, there are installation costs too. As Sonos speakers are wireless and powered, you can install them in minutes.
With multiple Sonos speakers, you can play your favourite song across all of them or use them as separate speakers that can play different music in different rooms. 
After linking Savant and Sonos, you can control your speakers from the Savant app either individually or as groups.
Easy Setup
Both systems are user-friendly, and integrating Savant and Sonos is straightforward. So, you can quickly set up your home entertainment system and enjoy your favourite music.
Seamless integration
As Sonos seamlessly integrate with Savant, you can enjoy a more powerful audio experience. By integrating Sonos with Savant, you can control your Sonos speakers from the Savant app, making it easy to play music throughout your home.
You can create a fully automated home entertainment experience tailored to your specific preferences.
Customisable scenes
Another benefit of using Savant and Sonos together is the ability to create customisable scenes. You can create Savant scenes to automatically turn on your Sonos speakers and start playing your favourite music.
Ideal for when you return home from work or wake up. You can also set up custom scenes for parties or other special events, making it easy to set the mood for any occasion.
Voice Control
Control your music with voice commands, as both Savant and Sonos are compatible with voice assistants like Amazon Alexa and Google Assistant.
Setting up Savant and Sonos to work in harmony
To control Sonos speakers with Savant, you need to add the Sonos system to the Savant app. You can do this by navigating to the Audio section of the Savant app and selecting "Add Audio Device".
From here, select Sonos as the audio device you want to add. The Savant app will then scan your home network for available Sonos speakers and add them to the app.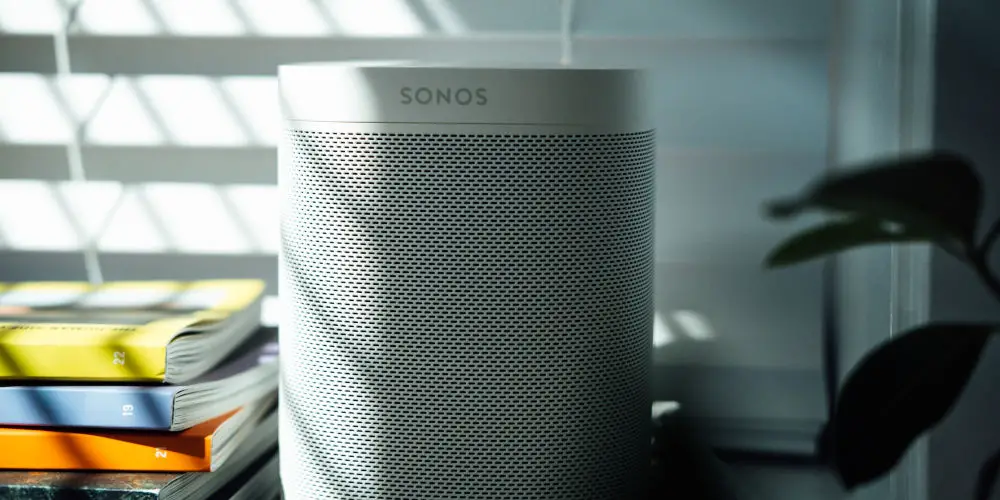 Using Savant to control Sonos speakers
After adding your Sonos speakers to the Savant app, you can control them like any other audio device in your Savant system. You can use the app or a Savant remote to select the music you want to play, adjust the volume, and even group speakers together to play music in multiple rooms at once.
Savant's Sonos interface is designed to give you fast access to your favourite music. You can even add them to existing scenes or create news around your Sonos speakers.
Creating custom scenes for your home
There are unlimited options for creating Savant scenes, including ones for morning, evening, leaving home, romance, and more. You might already have some that you now want to update to include your Sonos gear.
Creating a new scene is easy in the app. Start by opening the Savant app. Next, go to the "Scenes" section and select "New Scene." Name your scene and select the room where you want to use it.
In the "Devices" section of the new scene, select the Sonos speakers you want to use. You can choose one or multiple speakers.
In the "Actions" section of the new scene, select "Audio" and choose the music or sound effect you want to play on your Sonos speakers. You can also adjust the volume, bass, treble, and other settings for your Sonos speakers.
After configuring your scene, click "Save" to save it to your Savant system. You can then activate your scene from the Savant app, a Savant remote, or through Alexa or Google Assistant.
Use these steps to create custom Savant scenes that incorporate your Sonos speakers and enhance your home entertainment experience.
Troubleshooting common issues
Why can't I see the Sonos speakers on my Savant Remote?
When adding a Sonos, the Savant App allows you to choose a room for the Sonos device. For the Savant Remote to control your Sonos devices, there must be at least one Sonos in the same room that the Savant Remote is configured to. 
If you mistakenly added a Sonos speaker to its own room, simply delete it from the Savant App and re-add it to the correct room. Another option is to move the Savant Remote to the room the Sonos is in. 
Start by navigating to the Remote under the Devices panel. Select Settings, then change the Location to the room the Sonos is located in and press Done. Doing this will also move Savant Remote and any services it controls to the new room.
What are the maximum Sonos streams/zones/rooms I can add to my Savant system? 
The Savant system supports up to four independent streams/zones/rooms. Adding more than four is not supported or recommended. If you need more than four, consider using the Savant AV product line.
However, if multiple speakers are configured as a pair, group, or cinema room, they will count as one stream/zone/room in the Savant App.
I'm having trouble adding my Sonos device. What should I do?
If the Savant App says it is connecting to my Sonos device, but it just continues loading and never connects, you have a problem. The connection could be taking longer than expected as your Savant system is syncing with your Sonos music library. 
Depending on the size of your media library, this sync process can take some time. Please allow this process to run until completion.
Enhancing your home entertainment experience with Savant and Sonos
By using Savant and Sonos together, you can create a home entertainment experience that is truly immersive and enjoyable. Whether you're watching a movie, listening to music, or entertaining guests, Savant and Sonos can help you create the perfect atmosphere for any occasion.