Should you install a Savant home automation system?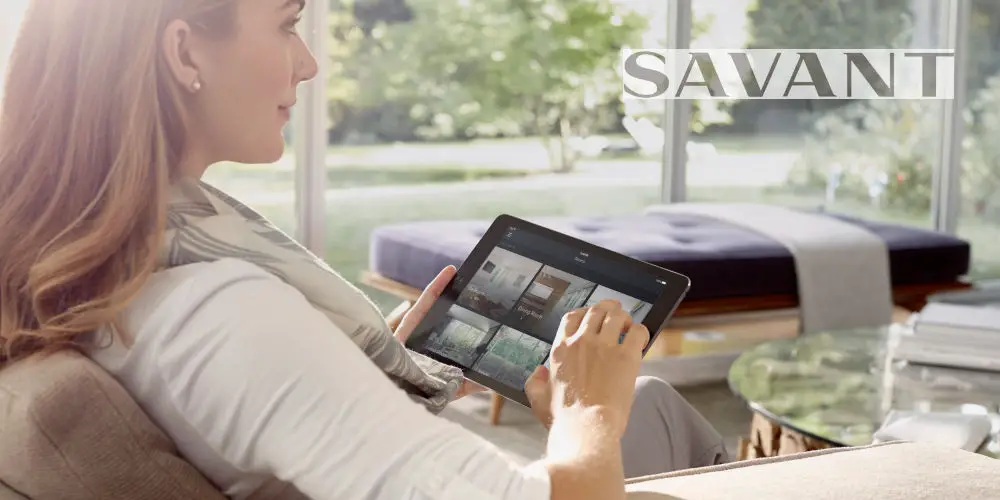 When considering high-end home automation systems, three brands instantly pop to mind: Crestron, Control4 and Savant. The latter may be the new kid on the block, but it's well respected, nonetheless. The Savant home automation brand is an exciting option for numerous reasons.
Much like Crestron and Control4, you can only buy Savant products using a dealer. However, they are much slicker looking and operating, with many comparing the system to Apple computers.
Each custom-designed system mixes wireless and wired devices to form a complete home automation experience. Another difference between a Savant home automation system and others, is they design easy to update devices. So you don't always need to call the dealer.
If this brief taste of Savant has got you excited, you'll enjoy reading our introduction to the brand. So, let's get started with covering Savant home automation!
What is Savant home automation?
As a relative newcomer to the market, Savant was founded in 2005. Their mission remains unchanged. Savant still aims to design a technology foundation that could make all homes smart, all without the need for expensive, propriety, custom solutions that quickly become obsolete.
Available through a global dealership network, over 2 million homes are powered by Savant technology with integration and connectivity across nearly 10,000 unique protocols, devices and leading music streaming services.
Savant offers solutions that are inventive, easy to use, and designed for longevity. Their products are designed to serve all of the home while providing a superb user experience.
Also, Savant Systems, Inc. is focused on intelligence and energy efficiency across light fixtures, light switches and bulbs. Since acquiring GE lighting in 2020, the brand has heavily invested in lighting technology.
Exploring the basics
At the heart of every Savant home automation system is a hub, or as they call them a Host. There are 4 different types of Hosts. The one you'll use will depend on your requirements.
For smaller systems, there are built-in Hosts that can operate one or two rooms of automation equipment and up to four rooms of audio.
The next step up is Smart HOST, which is ideal for controlling a range of devices within a property and looks like a Wi-Fi router.
For larger homes, Pro Host is the best option as it provides a higher degree of customisation.
For complex installations, Super Pro Host is a rack-mounted hub that offers the highest levels of smart home technology.
After selecting your ideal Host, you can begin to add devices that control every aspect of your home from lights, blinds, audio/video, and more.
Automating the whole house
Lighting
Savant has the edge when it comes to lighting options. Having acquired GE Lighting in 2020, they offer a complete end-to-end solution. The combination is lighting that offers modern design, intuitive control, and outstanding performance.
With the most intuitive interface for colour control, Savant allows you to set the perfect mood or have fun experimenting with the possibilities. The app is simple to use yet offers a world of options. Savant's Ascend Keypads are minimal, beautiful, and incredibly powerful.
These highly configurable keypads enable instant access to an unparalleled home experience for music, climate control, scenes and more.
Blinds/curtains
Savant Shades are custom built with a modern design aesthetic and meticulously crafted to exacting detail. Shades integrate directly into the Savant Pro system for full automation and control.
Audio
Listen to the music you love from your favourite music streaming service using cross-service searching and a personalised dashboard. Easily connect any source to any speaker using Savant's networked IP Audio.
Working in partnership with Artison speakers allows Savant to deliver premium entertainment solutions with seamless control from the Savant app. Enjoy music exactly as the composer intended.
The speaker range, includes bookshelf units, soundbars, subwoofers, and in-ceiling options. You can easily add audio to any room using the flexible speaker range.
Video
Savant's network IP Video makes it easy to deliver exceptionally high-resolution video from any source to any display. Designed for both small- and large-scale video distribution with integrated controls.
Connect video and audio from any source and make it available across your network with lossless video quality. The AV system can grow with you while remaining highly flexible and user-friendly.
Heating
The Savant Multistat combines intelligent automation and overall property climate control. You can easily operate the comforts of home with a touch. Combining several climate relay modules enables the Multistat to manage multiple heating and cooling systems within the same space.
Home security
Built for security, the system works with Ring cameras and the Savant two-way intercom and also features an alarm feature. You can view live footage or watch a video recording from when someone pressed the keypad, or when motion, noise or tampering has been detected.
Regardless of where you are, your home will be protected by the various security systems.
Operating system (OS) and Control
The Savant Host is the core intelligence of the platform. It manages the technologies used within any smart home. With four levels of options, it's built to easily scale. Plus, the Savant Host is regularly updated with the latest technology and features.
From door locks to lighting, shades, and security systems, your Savant Host will be tailored to the way you live and work. And yet provide simplistic control from remotes, touchscreen, keypads, and the app.
Can a Savant home automation system be used with…
Z-Wave?
Sadly, Savant doesn't work with Z-Wave. In 2015, Savant announced that they were developing a Z-Wave bridge that would plug into any of their Host hubs and add allow you to use both protocols in a single system. While a great idea, it doesn't seem that such a device was ever released.
Apple Homekit?
It won't surprise you, given their fondness for iOS, that Savant works with both Siri and Apple Homekit. So you can use your iPhone, iPad, or HomePod to communicate with your system.
Voice control (including Amazon Alexa and Google Assistant)?
With easy integration of Alexa and Google Assistant, you can control your system using voice commands, giving you an alternative to remotes.
Other smart home products?
Sadly Savant hasn't invested in making their system widely compatible, in the way that Crestron and Control4 have. So you might find you need to replace certain devices or find a workaround as they can't be integrated into your Savant home automation system.
Where is the best starting point?
Unlike Z-Wave, Lightwave or Fibaro, Savant is designed to be installed and configured by an experienced engineer, much like Control4 and Crestron. You can't buy products off the shelf and attempt to install them yourself. Instead, a dealer will design your custom system.
The average Savant home automation system costs around £50,000. But they can range from a few thousand to over six figures, depending on your requirements. While the equipment is relatively affordable, installing and programming account for the lion's share of the budget.
Compared to DIY options, such as Fibaro, which might cost a couple of grand, Savant is a serious investment intended for million pound plus properties.
If you have the budget, the best next step is to find someone who already has a Savant home automation system in their home and ask them for a tour. Otherwise, take some time to visit a few dealers. Most have impressive smart home showrooms which expertly illustrate the system.
Don't be afraid to get multiple quotes from several dealers and compare them. You might find you can save money by playing two dealers off each other.
Are the products reliable?
As the system uses wired and wireless devices, there is the potential for Wi-Fi drop out or dead spots to affect it. So while the devices are well-designed and built, you'll need to work with a dealer to ensure you won't encounter any of these issues.
That said, as your dealer will design, install, and configure your Savant home automation system, they will handle finding and solving any issues. It's therefore worth using a local dealer who can return if you find any problems.
As a company, they invest millions of dollars each year into developing products and rigorously testing them to ensure they can seamlessly integrate with the existing product range. 
Savant equipment comes with a two-year warranty, which is the industry standard, but nothing too exciting. Vivint, for example, offers lifetime warranties on every device.
How good is the customer support?
While considered the new kid on the block, Savant has built a strong reputation for excellence. They and their dealers deliver excellent support and customer care.
Many dealers work only on referrals. So, if they didn't look after their customer, their business would dry up overnight! You'll receive unparalleled customer service, advice and aftercare from any Savant home automation dealer, regardless of where you live in the world!
How does it compare to other smart home brands?
To fully understand if Savant is the right system for your lifestyle and home, it's worth considering both DIY and professional-level options. Doing so enables you to have clarity. You'll know how the system works and any quirks it might have.
The top three professional-level options are Crestron, Control4, and Savant. All require a highly trained engineer to install and configure the system. None of these options are cheap, nor are they DIY-friendly.
Comparing Savant vs Control4 is tricky as they excel at different things and have their own unique feel. Savant is sleeker, some might even say it's very Apple-esque so if you're used to iOS, it might be a better option. Also, Savant is more modular than control4 with several hub options.
Our conclusion is similar when  comparing Savant vs Crestron. While the Savant is very sleek, Crestron is highly flexible and built for commercial applications, meaning in the home, the system is very robust.
It's also worth comparing the system with DIY options. You can start with Savant vs Fibaro. While cheaper overall, with Fibaro, you are left to install and configure the system yourself. So you might spend a lot of time problem solving or researching.
For most, trusting a dealer to deliver the project is far easier than dealing with the headache and time required of a DIY system.
What is next for Savant?
Savant will likely continue to pursue a hybrid model of wired elements mixed with wireless devices. This strategy will further differentiate it from Control4 and Crestron. As Savant is just getting started in the UK market, we'll hopefully see the number of dealers grow from the current handful.
Over time, it'll be exciting to see how they handle electric cars and integrate charging points into the system. Also, as more appliances become smart, it'll be interesting to see how you can incorporate them into your Savant home automation system.
Whatever the future brings, they will continue to offer excellent products and customer service that dramatically enhance the user's life.