ViewSonic PX701HD home cinema projector review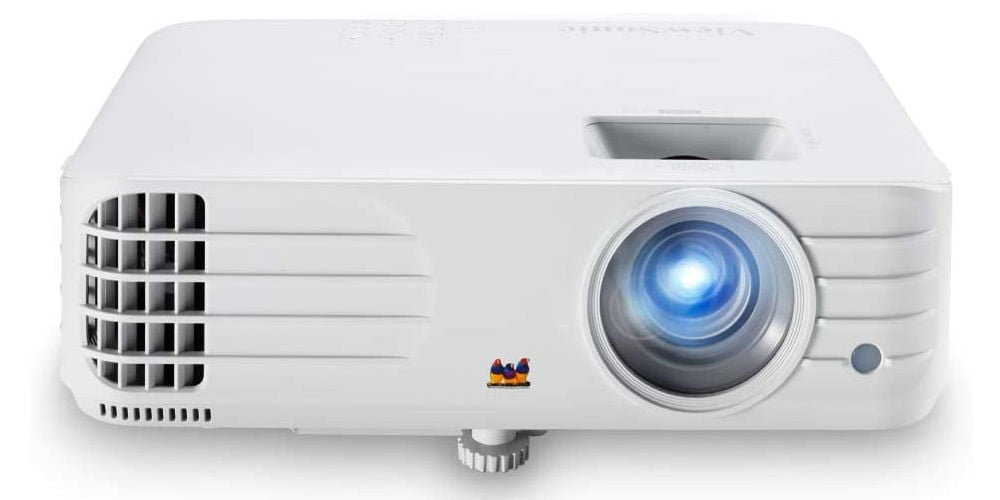 Ideal for home and business, the ViewSonic PX701HD projector offers 3,500 ANSI Lumens of brightness and 1080p Full HD resolution. Pack full of features, the PX701HD is a flexible and affordable projector.
ViewSonic's proprietary SuperColor™ technology displays a wide colour wheel, ensuring true-to-life colour performance in both bright and dark environments without sacrificing image quality. Offering 3,500 lumens of brightness, even in daylight, the PX701HD still produces a strong, vibrant image.
Another unique feature is the vColorTuner, cloud-based colour profile exchange, which allows users to create and share their own colour profile. This system also allows users to download other profiles and fine-tune them as their own. Save up to a total of 7 colour modes.
A concern with budget-friendly projectors is lamp life. Using the latest technology, in SuperEco+ mode, the PX701HD offers an average lamp life of 20,000 hours and automatically dims when not in use.
With superb connectivity including Dual HDMI ports, you can easily connect a range of devices and enjoy the big-screen experience at home. There's even a built-in 5V USB power output, ideal for powering dongles.
In addition to displaying images in Full HD resolution, the PX701HD is also capable of projecting 3D content directly from 3D Blu-ray players and other devices.
With a built-in 10-watt speakers, within minutes of unpacking, you can enjoy the PX701HD without needing any additional equipment.
As one of the best projectors under £500, the ViewSonic PX701HD Home Cinema Projector scores 8/10.
Pros
3,500 ANSI Lumens of brightness
Good connectivity
3D ready
Cons
Speaker sound tinny
remote not backlit
Design
Finished in matt white, the ViewSonic PX701HD projector weight just over 2kg and measures 31cm (w) by 22 cm (d) by 10 cm (h). Thanks to its size and weight, it's ideal for moving around the home and garden, and taking to friends' houses to enjoy.
Starting on top, there is a control panel at the bottom right, which cover the basics. There are controls for power, volume +/-, menu, source selection and 3 status LEDs. Moving toward the front, over the lens is a focus ring and zoom ring.
Looking at the unit, front on, you'll notice the lens, a few vents and a remote control sensor. Each side of the unit features a vent, ensuring constant airflow which keeps the PX701HD cool.
Turning over this ViewSonic home cinema projector, reveals 3 feet, one of which is adjustable as well as pre-drilled mounting holes for a ceiling mount (sold separately).
The rear panel, which is packed full of options and a power input. There are audio in/out mini-jacks, 2 HDMI ports, USB power, Computer In/out and RS-232 control port.
Finally, the remote which is fairly basic yet covers the major functions without feeling overly compact. There are buttons for each source, volume controls, menu buttons and test pattern screen, amongst others.
Features
Even as a budget-friendly projector, the ViewSonic PX701HD includes a few unique features. At the heart of the PX701HD is a 3,500-lumen bright lamp. In normal mode, the lamp lasts around 5,000 hours. You could watch a film a day for almost 7 years before it needs changing!
In SuperEco mode, the lamp's life extends to 15,000 hours (a movie per day for 20 years!) and activates the power saving features. After 5 minutes of inactivity, the PX701HD dims by 40%, increasing the lamp's life even further.
You'd likely end up upgrade to a newer projector before the lamp needs changing! Plus running and maintenance costs are cheap.
Displaying images in Full HD 1080p resolution, the lamp's inherent brightness means the projector is capable of producing a strong, vibrant image even in daylight. You could quite happily watch sports while cooking a BBQ without the picture becoming washed out.
ViewSonic's proprietary SuperColor™ technology ensures you enjoy a true-to-life colour performance regardless of the environments and without sacrificing image quality.
The ViewSonic PX701HD uses vColorTuner which is a cloud-based colour profile exchange. Easily share and download profiles while fine-tuning them to your set-up. A total of 7 colours modes, including 2 user presets, can be stored, so you can experiment with the unit's performance.
Able to project an image between 30 and 300 inches, the ViewSonic PX701HD offers an impressive 12,000:1 contrast ratio and displays 1.07 billion colours. The PX701HD is also capable of projecting 3D content directly from 3D Blu-ray players and other devices.
Use the built-in 5V USB power output to seamlessly add a streaming stick (such as Fire TV or Chromecast) without needing external power.
Finally, the 10-watt built-in speaker enables a quick set-up, making the ViewSonic PX701HD ideal for garden use or enjoying at a friend's house.
Set-up
As with any projector, the ViewSonic PX701HD will take some time to correctly set-up and while you can point it at a screen and get a decent result, it's worth investing the time getting it set-up.
Positioning
Offering 4 projecting positions, depending on your room and set-up, how you end up using the ViewSonic PX701HD can be flexible. You can front project onto a screen from a table or the ceiling or rear project from behind the screen either from a table or the ceiling.
If projecting up from a table, the front adjustable foot allows you to find and set the right angle. While the pre-drilled holes enable you to quickly mount the unit to a ceiling mount (sold separately).
As it can project an image up to 300 inches, depending on the size of your room, you should be able to fill a 100-inch screen at a distance of just over 3 metres. The inbuilt zoom enables you to fine-tune the picture size to your room.
Connecting it
With your ViewSonic PX701HD mounted, next, you'll want to connect the power and inputs. If you're feeding the projector from an AV receiver then this will be as simple as connecting an HDMI cable.
If you're not running a home cinema set-up, then connect the PX701HD to your Blu-ray player, DVD player, or computer and. You'll still be able to use a streaming dongle and power it! The audio output allows you to easily connect external speakers, a great alternative to the one built-in.
Adjusting settings
Next, with the unit turned on and find the test pattern button on the remote and press it. This will bring up a black and white image on the screen, allowing you to make key adjustments including the focus and zoom controls.
Don't try to adjust the basic image using a still or coloured image as it won't produce the best results, instead use the built-in test screen. After adjusting the ViewSonic PX701HD projector for the best image for your set-up, it's time to relax and watch a movie, sports or enjoy gaming.
Performance
You'll probably notice how quiet the ViewSonic PX701HD is. In normal mode, it produces a background noise of 31dB and this is even less in Eco mode, only 27dB. If you're upgrading from an older projector, this difference could be massive.
It offers an input lag of 16 ms, making it ideal for gaming as it's fast and responsive. That said, it struggles on fast-action scenes in movies and sport with slightly blurring. Overall, 2D movies appear bright with good colour contrast and details.
The bright lamp creates a rich and vibrant picture and can easily compete with ambient light without images being washed out. This makes the ViewSonic PX701HD ideal for watching sports or TV in a living room or the garden. In a home cinema, it comes to life with stunning picture quality.
It won't surprise you that the built-in speaker leaves much to be desired. Only putting out 10 watts, it produces a thin sound that doesn't matter the image quality. It's worth buying a soundbar or best 2.1 channel soundbar and subwoofer as this will provide a noticeable audio upgrade.
Watching 3D content is superb, although no 3D glasses are included. Also being able to power a streaming dongle make watching a range of services easy. The remote, while not back lit, which is a shame, makes changing sources simple and adjusting the projector's setting painless.
Is the ViewSonic PX701HD worth buying?
If you're looking for a super-bright projector with plenty of featuring and for an affordable price, then consider the ViewSonic PX701HD projector.
It's easy to set-up and allows both front and rear projection. With a fairly short-throw ratio, the PX701HD is ideal for smaller room yet can produce an image size up to 300-inches given enough distance between the projector and screen.
Overall, it's very bright and virtually silent. Plus even in standard mode, the lamp will last for years before it needs replacing. Switching into SuperEco mode and you'll be able to upgrade projectors long before it needs a new bulb.
Thanks to its unique onboard software, it's Full HD 1080p resolution produces crisp lines and a wide colour range with superb depth. Even 3D content looks superb. The tiny input lag is ideal for gaming yet doesn't seem to improve fast-moving action scenes.
Its good connectivity means it's versatile whether you're using it as part of a home cinema set-up, with a soundbar or as a standalone unit in the garden. That said, we'd advise not using the onboard speaker!
The remote has well-designed and includes good functionality, even if the off button is green! Oddly, the on button is red. Weird! Some will dislike that the remote is not backlit, but this is a minor point.
On balance, we recommend the ViewSonic PX701HD Home Cinema Projector as it's affordable, bright and packed full of features. 8/10