Sony UBP-X500 4K Blu-ray player review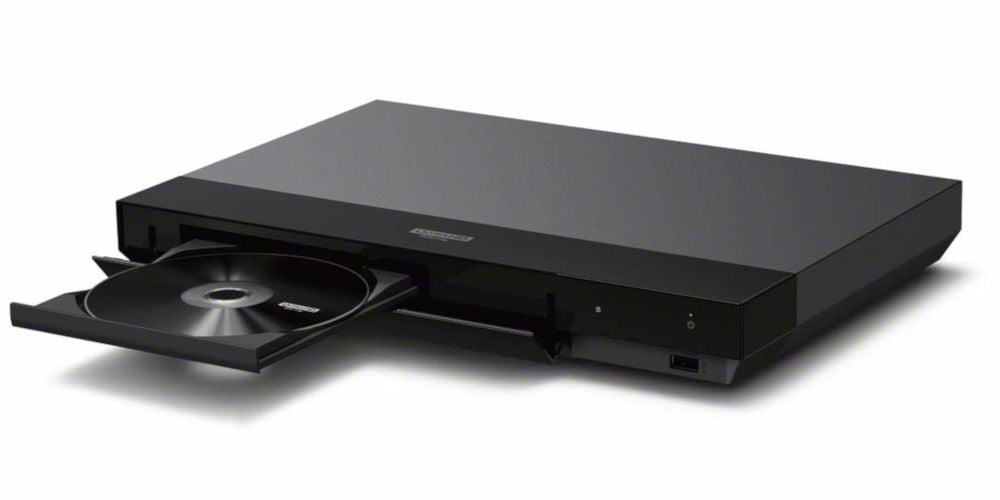 PUBLISHED: 15th June 2020 | LAST UPDATE: 10th July 2023
As one of Sony's most affordable Blu-ray player, the Sony UBP-X500 4K Ultra HD Blu-ray player is capable of playing a range of audio and video formats in stunning 4K.
Like other Sony Blu-ray players, the UBP-X500 is packed full of features just without the high price tag. It's ideal as a first 4K Blu-ray player or for the bedroom, play room or kitchen.
The Sony UBP-X500 can play Blu-ray discs, DVD, and CDs. And as you may expect, the list of audio and video formats is pretty long but is missing Dolby's HDR picture format, Dolby Vision.
As a 4K player, the onboard technology upscales all formats to the highest possible quality. Even DVDs look richer with more vibrant colours.
It's sleek, modern design is paired with only the essential connectivity, allowing you to be up and running within minutes.
As one of the best Blu-ray players under £200 on the market, the budget-friendly Sony UBP-X500 4K Ultra HD Blu-ray Disc Player scores 7/10.
Pros
Plays wide range of formats (DVD, Blu-ray, mp3, Wave)
Superb onboard technology (including Dolby Atmos and DTS: X, and 4K upscaling)
Excellent picture quality
Cons
Lacks a range of connectivity
Updates over LAN (has no built-in Wi-Fi)
No apps
Design
Sporting a minimalist look, the Sony UBP-X500 has a slim design, measuring 32 cm width by 4 cm high. It will slot in on any media unit, under the TV or on a bookcase and look chic, even if you're lacking space.
The front panel includes the disc tray, which is hidden behind a door. A USB socket enables you to play media from a phone, hard disc or tablet.
Finishing the front panel is a disc tray release button and a power on/off button. Due to the sleek look, the unit lacks any real controls, making the remote critical.
Turning the unit around, the rear is just as sparse with a power socket, LAN port and HDMI output.
The remote has that classic Sony look, which feels very 80s. Unlike the unit, the remote is packed full of controls including tray open and power on as well as play/pause/skip controls.
There are also buttons which allow you to fine-tune the display and sound to your preference. If you have a Sony TV, you might be able to link it with the remote and control basic functions such as on/off, source and volume.
Features
Even as an entry-level Blu-ray player, the Sony UBP-X500 supports a range of media and formats. Regardless of the format, the unit delivers an ultra 4K HD viewing experience. DVDs appear as rich and vibrant as the latest Blu-rays.
In addition to DVDs, CDs and standard Blu-rays, the UBP-500 can handle 4K Ultra HD Blu-ray discs. Sadly it doesn't support 3D Blu-ray discs or Dolby's HDR picture format. Unlike the LG BP250, it also doesn't support image files.
The front-mounted USB interface allows you to enjoy a wide range of video and music files stored on your USB device. Compatible music and video formats include DSD, FLAC, ALAC, WAV, AAC, XVID, WMV, AVCID, MPEG2, MP3 and MPEG4.
Designed to work with HDR TVs, the unit will automatically adjust the quality to your TV whether it's HDR or not. This smart algorithm ensures you experience the widest possible range of colours. The darker shades are deep, while the brighter hues are rich.
The on-board audio technology is equally as impressive, with Dolby Atmos and DTS: X, as well as True HD audio support. While TV speakers will produce a clear sound, the audio can be further enhanced with a soundbar.
Set-up
Getting started couldn't be simpler. Plug in the power cable and connect an HDMI cable from your TV to the Sony UBP-X500 and you're pretty much done. While you'll need to buy an HDMI cable, the remote does come with batteries.
With all that plugged in, you can enjoy movies or music. It's really that simple! You'll probably spend more time looking for suitable Blu-ray to watch than getting the unit ready!
Of course, depending on your set-up, you can fine-tune the picture and audio quality. There are several layers of menus, which allow you to adjust a wide range of settings.
If you plan to use a soundbar or surround sound system, then as there's only a single output, you'll need to connect the UBP-X500 to a TV and use one of its outputs to feed your sound system.
A feature we've haven't yet covered is the LAN port on the rear. While not essential, this port enables you to connect to the internet using your existing Wi-Fi hub (no Ethernet cable is included). Once connected to the internet, you can download software updates and access the BD-Live™ Service.
If you don't fancy having to run wires from your Wi-Fi hub, then you can update the Sony UBP-X500 using a USB drive.
Performance
As a basic Blu-ray player, the Sony UBP-X500, you'll see a noticeable difference in quality over DVDs. The unit can handle a range of formats with ease but doesn't offer support for 3D Blu-rays. However, for the price, this is a minor negative.
Even with a lack of controls on the unit, the classic Sony looking remote provide access to more options than you'll need. The remote also allows control over the basic functions of a Sony TV, while nice, we can't see how this would be that useful.
While you can adjust a myriad of settings, if you don't fancy wasting time tweaking, you can easily plug-in and play. Of course, it's a good idea to have a go at tweaking it to your set-up.
Sony recommends updating it every few months, which can prove a challenge. That said, the Sony UBP-X500 doesn't have Wi-Fi built-in, so you either need to download the update to a USB memory stick or connect an Ethernet cable.
Also, the lack of Wi-Fi means there are no apps. If you enjoy Netflix or Amazon Prime Video (30-day FREE trial), you'll need to use your existing method. For the price, this is another negative, albeit a small one.
Is the Sony UBP-X500 worth buying?
If you're buying your first Blu-ray player or purchasing another one for the bedroom or kitchen, then consider the Sony UBP-X500. It's fairly small and so will fit right in!
While other Blu-ray players offer more outputs or 3D support, at £139.00, it's highly affordable and is a noticeable upgrade over the humble DVD. Plus it'll transform all media to the highest possible quality.
We'd like to see some more controls on the unit as adding another remote to the pile isn't the best idea. That said, the remote is well designed even with it's classic Sony look.
What does let the Sony UBP-X500 down is its outputs or lack of them. With only one HDMI output, if you want to run audio separately, you can't. Another problem is the lack of built-in Wi-Fi. So, you'll need to apply updates via USB or using an Ethernet cable.
Also, we're baffled by the lack of HDMI cable as Sony could quite easily provide the unit with a high-quality one. It's worth ordering one when you buy the UBP-X500, so you're not waiting around.
The 4K picture quality is worth the price alone. Equally impressive, the audio quality adds to the experience. Of course, we'd recommend treating yourself to a soundbar or a 2.1 sound system as this will be a massive upgrade over the TV's speaker.
On balance, the Sony UBP-X500 4K Ultra HD Blu-ray Disc Player Review scores 7/10.