Zemismart Z1 Central Remote Control review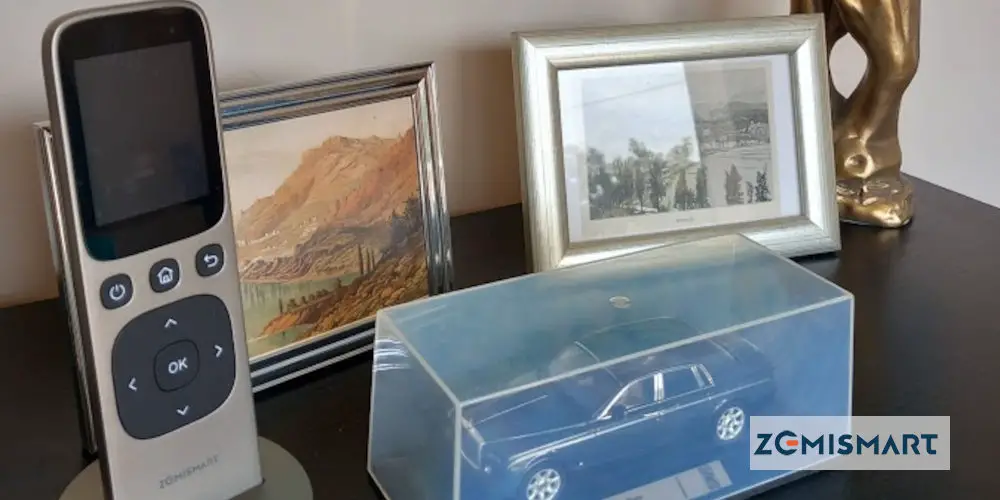 Our home is full of remotes, many of which have little use other than their primary function. So replacing several of them with a single Zemismart Z1 Central Remote Control is very appealing. And while they sent us this device for free, here is our honest opinion.
After a quick count of the remotes in our lounge, our total is 5. There's one for the TV, another for the Blu-ray player, 2 for set top boxes, and a final one for the projector. No wonder why our coffee table looks like a mini electronics shop!
We dare not think how many remotes we have lying around the house. The figure is likely to be double digits. Not great when you consider most only operate a single device.
Thankfully, the Zemismart Z1 works with several different protocols, meaning it can replace all of the remotes in the lounge and more. In fact, it's far smarter than that, but hopefully, you get the idea.
As an exclusive for our readers, you can save £14 ($18) when you buy direct using the code ZMZ118.
Aren't remotes a bit old school? We're all using apps now!
While you can control many devices using apps, the remote control still has its place in our homes. The majority of remotes only operate a single device. So you end up with a pile of them. And if you're like us, we can never ever find the right one in time!
Sometimes it's easier to find the remote than look for your smartphone or tablet, and have to endlessly swipe to find the correct app. Or you might have visitors who prefer remotes due to their age!
So while more and more we're using apps or voice commands with a virtual assistant, remotes are here to stay. Well, for the time being, at least.
What protocols does the Zemismart Z1 work with?
It'd be hard to get really excited if the Zemismart Z1 only replaced our TV, Sky, and Blu-ray remotes. The market is full of Universal Remotes. What makes the Z1 attractive is that it works with Zigbee, Bluetooth, Wi-Fi, and Infrared (IR) protocols.
So, you can control your smart home devices, electronic items, and even your Zigbee system. If this sounds a little theoretical, here's an example to pique your interest.
Imagine, you have a Tuya devices or a Zigbee system that controls your lights and curtains. It would take you about 5 minutes to build a movie scene that closes the curtains and dims the lights. All pretty standard stuff.
You then want to control your TV and Blu-ray player to complete the home cinema set up. With other systems, you'd have to find a way to integrate these devices into the system as they use IR. If you're lucky, you might find an existing solution or apps you can install.
As the Zemismart Z1 works with both Zigbee and IR protocols, you can transform your living room into a cinema with one click, and without hours of tedious programming or needing special devices.
Unboxing the Z1 remote control
Opening the box, you'll see the Z1 first. The silver and black colour combination is pleasing to look at without being too bold or creating too much of a distraction.
Next in the box and underneath the remote is the base, a USB cable, and a manual. You'll need to supply your own 3-pin mains plug to USB adaptor. While this is annoying, you likely have several lying around!
Looking at the remote for the first time, you'll see a large touchscreen that makes controlling your devices easy. Below the touchscreen are buttons for power, home, back, OK, and up/down/left/right arrows. Both the buttons and screen are soft to the touch yet responsive.
At 18 cm tall by 5 cm wide, the Z1 is easy to hold without feeling massive. Zemismart has done a great job of using space between the elements to create a layout that doesn't feel too busy or cluttered. The buttons are a decent size, which is also very nice.
A micro USB port is located on the bottom, and connects with the base, allowing the remote to charge. The base station means you can always find the remote as it is visible and doesn't blend into the sofa or furniture. You'll need to power the base using the included USB cable.
How to use it with other control options
Before you can use the Zemismart Z1, you need a Zigbee Hub and the Tuya Smart Life app installed on your phone or tablet. The app allows you to build scenes and find a range of devices you can control with the Z1 or the app. The two instantly sync, providing seamless control.
Connecting your TV, lights, dimmer switches, blinds or curtains, and Bluetooth speakers with the Z1 is easy. Within an 30 mins, you'll have your various devices linked with the system; and be up and running.
You can then control Zigbee and Tuya devices, including the Zemismart SPM01 Energy Monitor using the touchscreen or the buttons. It's easy to use, and when the remote is in the base station or not in use, it displays a clock and the weather.
It's best to see the Z1 as another control option. And not the ultimate solution. You'll want to use the app to edit scenes (as there's no other way to do this) or play with a device to find the ideal setting.
For activating scenes quickly, nothing beats Alexa or the Google Assistant. But you can't edit anything with them! Also, trying to control multiple devices with voice commands can be frustrating!
So the Z1 won't replace the app on your smartphone or Alexa, but it will give you another easy option for controlling your Zigbee smart home system and many other electronic devices.
Would we recommend buying the Zemismart Z1 remote control?
If you're using a Tuya Zigbee system and want another control option that isn't Alexa or an app, consider the Zemismart Z1 remote control. Again, it doesn't replace having the app, especially as it syncs with it, but gives you more options for controlling a wide range of devices within your home.
You can easily replace multiple remotes with the Z1 while at the same time adding control over your smart home system. The Zemismart Z1 is a powerful device. It reminds us of the Control4 remotes, just at a fraction of the price and without needing a dealer to configure it for you.
We hope Zemismart brings out a Z-Wave version, as that's another system that's lacking a remote like the Z1. But for now, it's a powerful remote that will help better automate your home while simplifying how you control devices.
We're hoping Zemismart release Z-Wave and Matter versions of this helpful device as it's something missing from both ecosystems.
Remember, you can save £14 ($18) when you buy a Zemismart Z1 Central Remote Control direct using the code ZMZ118. It's an exclusive to reader of My Dream Haus.