What is Zigbee home automation?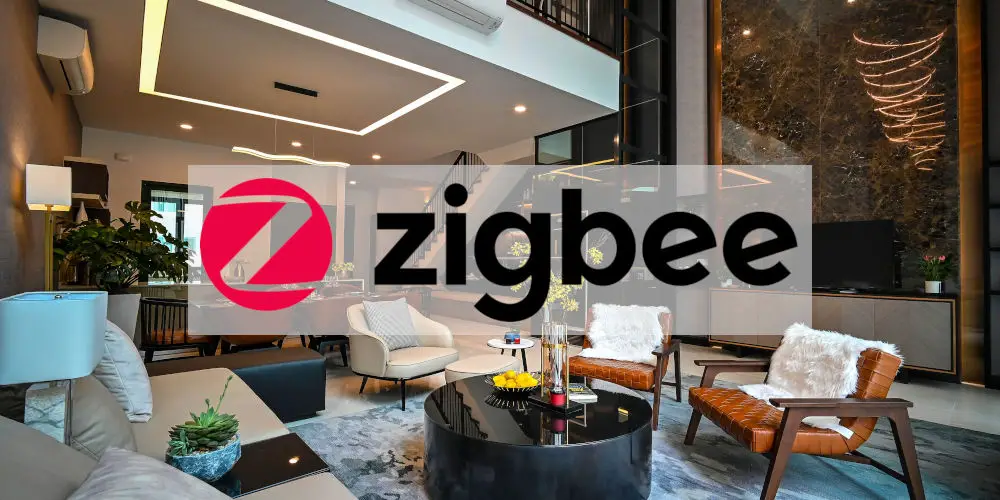 Three protocols have dominated the DIY home automation market for over a decade. Namely, Z-Wave, Wi-Fi and Zigbee. Many reasons that make Zigbee home automation an exciting prospect.
The technology is found in thousands of devices, these products are highly affordable and it's easy to get multiple protocols working together in harmony. For example, you can use voice commands via Alexa to control your Zigbee devices.
Many household names use the technology, with brands such as Honeywell, Samsung, Bosch and Panasonic amongst the list. So, it's easy to conclude that Zigbee home automation is still just getting started. The technology will only continue to grow from here.
History
Named after the waggle dance of honey bees after their return to the beehive, Zigbee was conceived in 1998, standardized in 2003, and revised in 2006. Zigbee is a low-power, low data rate, and short-range wireless ad hoc network that uses the IEEE 802.15.4 specification.
The idea behind the Zigbee specification is to provide technology that's simpler and cheaper than other wireless personal area networks (WPANs) such as Wi-Fi and Bluetooth.
Due to its low power consumption, transmission distances are limited to 10–100 meters line-of-sight. Zigbee devices can transmit data over long distances by creating a mesh network of devices that repeat signals to reach more distant ones.
128-bit symmetric encryption keys secure every Zigbee network and data flow at a defined rate of 250 kbit/s, which is best suited for intermittent data transmissions from a sensor or input device.
In addition to using the technology in a smart home system, other applications include traffic management systems; and consumer and industrial equipment that requires short-range low-rate wireless data transfer.
System overview
As with other DIY home automation systems such as Lightwave, Z-Wave and Fibaro, Zigbee uses a hub as a central controller. It's this brain that sends and receives signals from devices. These devices include light bulbs, thermostats, relays and smartphones.
To get devices to work with the Zigbee hub, we need to pair them together. Once paired, the hub can communicate with the device by sending and receiving messages. Thanks to two-way communication, you can easily see the status of every device in the network.
The beauty of the Zigbee protocol is that hundreds of manufacturers use the technology in thousands of products. You can easily build a home automation system that operates a range of functions rather than being limited to a single manufacturer's idea of what a system should control.
For example, you can use a Samsung SmartThings hub as the brain with Philip Hue light bulbs and a few Aqara Security Cameras.
Compared to systems like Control4 or Lightwave, Zigbee is highly flexible.
Selecting the ideal hub
Every Zigbee home automation system needs a hub. Unlike branded smart home systems, you have plenty of options.
One option we've already mentioned is the Samsung SmartThings Hub. It's easy to use and programme, and can handle a system made up of a few hundred devices.
You could use the SONOFF ZBBridge Hub, which works with both Wi-Fi and Zigbee protocols. The SONOFF hub works with a wide range of devices including their own product range. In addition to an app, you can control the system using Alexa or the Google Assistant.
The MoesGo Tuya Zigbee Hub is another great option that also allows control using an app and voice commands. It is designed for quick and easy set-up with absolutely no wiring or technical skills required. The MoesGo Tuya Zigbee Hub can handle up to 50 devices.
If you need a more advanced hub, consider the Aqara Smart Hub M2, which handles up to 128 devices. The M2 supports Alexa, Google Assistant, Apple HomeKit and IFTTT. You can schedule devices and build scenes using the Aqara app or control devices remotely over Wi-Fi.
Starting simple
If you're new to home automation, our best advice would be to buy a starter kit. Sadly, none are currently available. While not currently available new, you might be able to find a Samsung SmartThings Starter Kit on eBay as that system uses Z-Wave and Zigbee protocols.
So, our best advice would be to start with one feature in a single room and build from there. For example, pick a hub that provides the flexibility you're looking for. Next, start by upgrading your bulbs or a few light switches in your living room to Zigbee devices.
When you're comfortable using a single feature in one room, you can expand lighting control to the whole house by using either; smart bulbs or DIY retrofittable dimmers.
It's a good idea to grow slowly, giving yourself time to test new features and functions. By building your smart home slowly, you can easily solve problems and save yourself from a massive headache!
Building your Zigbee home automation system
Now it's time for a bit of fun as we're going to build a system around the affordable Aqara Smart Hub M2. It can handle up to 128 devices and can be controlled by an app or using your voice (Alexa and Google Assistant).
We'll start with the basics of lights, power and heating.
Power
Currently, only plug-in-and-play devices are available. Typically these range from £20 up to £40. Plug-in-and-play devices don't look as aesthetically pleasing as retrofitted sockets. However, they do allow instant control without needing any DIY or tools.
Our top two picks are the meross Smart Plug and the Candeo Zigbee Dimming Smart Plug.
Another great Zigbee device that can help you save money is the Zemismart SPM01 Real-time Smart Energy Monitor that plugs into your main switch consumer user.
Lighting
Many lighting options are available, including bulbs, dimmer modules, plug-in-and-play lamp holders, and retrofittable light switches. The choice is seemingly endless!
You could swap your current bulbs for Cskyzk Zigbee Smart Light Bulb as they easily sync with our system. If you'd prefer to upgrade your light switches and don't mind doing some DIY, consider using the Xenon Smart Zigbee Light Switch.
Another option is to install a Yagusmart Smart Light Module in the backbox of your current light switch. It takes a few minutes to install as you need to rewire your existing light switch but does allow you to keep your current bulb and switch.
Heating
Depending on how sophisticated you want your heating system to be, there are multiple options. You could buy one of the many Zigbee enabled thermostats available, which offer affordable yet basic control. One option is the VISLONE ZigBee Intelligent Thermostat.
If you're looking for control over each room, there are a few TRV options on the market, including the Sandy Beach Smart Heating TRV and the MOES Tuya Smart Radiator Actuator Valve.
Basics covered
So with the basics covered, what else can we control?
Blinds/curtains
No one truly enjoys opening and closing blinds. So, why not use Zigbee to automate your blinds. Thankfully you can buy roller blind motor modules that enable control over your blinds from anywhere.
Home security
Keep your property safe with a wide range of home security products, including cameras, motion sensors, doorbells and door locks. So you can leave your home knowing that it's safe while being able to check in real-time what's happening.
Home Cinema and Media
Sadly, Zigbee lacks any products for building a home cinema. So if you have a media room, you might want to look at SmartThings as you can easily build an impressive audiovisual set-up with that technology.
Control
Several apps are available. That said, your best option will depend on the hub you choose. Aqara, for example, has an excellent app that's easy to use and programme; and works on smartphones and tablets.
You can also buy physical controllers, including the Zemismart Z1 remote that allow you to save/recall scenes. These devices are great for controlling lighting, for example, or as a way to turn everything off on your way out.
Common issues with Zigbee
As an open-source protocol, it doesn't take much effort to hack a Zigbee home automation system or even, a single device. And while there is a constant stream of new security patches and updates, there will always be inherent vulnerabilities.
You can protect yourself by buying the latest version of any device and keeping firmware up to date as this helps to protect your smart home from hackers.
As a wireless mesh network, devices pair with each other. Some users have experienced devices randomly unpairing with the system. And while we haven't seen many of these issues, it's worth rigorously testing every new device you add. Of course, this could also be a software issue that an update fixes.
Another issue with wireless networks, in general, is wall thickness. Your 16th-century barn conversion with metre thick walls will probably cause connectivity issues. Thankfully, repeaters are available that should solve this issue.
Can I use …?
Regardless of how amazing the available product range is, it's also worth considering how other protocols work with Zigbee to create a fully connected home.
Lightwave
As Lightwave devices use their unique protocol, you need an additional bridge to get the two working together. Thankfully, you can use either the Homey Bridge or Athom Homey Pro as both allow the two systems to communicate.
Read our comparison of Lightwave vs Zigbee to learn more.
Apple HomeKit
Apple's core iOS is a closed system, meaning they control which devices work with it. The Apple HomeKit system is the same. HomeKit and Zigbee aren't currently compatible. You'll need to use a hub such as the Aqara Hub M2, Aqara Hub M1S or Zemismart MHK-01 that works with both systems.
IFTTT
Sadly, IFTTT (If This Then That) doesn't work directly with Zigbee. However, the system works with SmartThings, which uses Zigbee and Z-Wave protocols.
Sonos
As Sonos smart speakers have Alexa-enabled technology, they already have a built-in Zigbee hub. You can control your sound preferences using voice commands and also ask your Sonos speakers to adjust your LED strip lighting.
Amazon Alexa / Google Home
You can connect your Zigbee-based smart devices to Alexa using the Zigbee hub built-in to the Echo Show 10 and Echo Dot (4 gen), or by using another Zigbee Certified hubs such as those from SmartThings and Wink.
It's a similar situation with the Google Assistant, you need a Zigbee hub to bridge the two systems. Again, the SmartThings hub works with both.
How does it compare to other smart home systems?
While Zigbee is a popular method for automating a property, it's one of many options. So, it's worth considering other systems, including DIY and professional-level options. By understanding both types, you can assess if Zigbee is your best option.
Savant, Crestron, and Control4 are just some of the leading professional-level smart home systems available. All require a highly trained engineer to install and configure the system. That said, none of these options are cheap or DIY-friendly.
One benefit of working with a dealer is they turn your list of requirements into a fully customised system. You don't need to spend any time wiring, programming or configuring your system. Nor will you need to solve any compatibility issues you might encounter with Zigbee.
Fibaro is a fantastic alternative to Zigbee that's highly flexible and affordable. Another option is Samsung SmartThings, which uses both Z-Wave and Zigbee protocols. SmartThings allows you to integrate thousands of smart home devices and Samsung appliances into a single system.
The future of Zigbee home automation
As one of the dominant protocols in the DIY home automation arena, Zigbee home automation will continue to grow and be adopted by more brands. It's unlike the technology will be implemented as strictly as Z-Wave, which will be welcome news for some.
Likely, we will still see multiple different protocols well into the future as customers prefer choice over a single protocol. That said, as more devices are released, it will become easy to build a smart home that rivals a professional-level system, albeit without the cost or programming difficulty.
The entry price of a Zigbee home automation system is affordable, and as it's DIY friendly, there are no expensive installation costs. We recommend starting by searching eBay. Remember to start with one feature in a single room and build from there.