Are smart door locks worth it?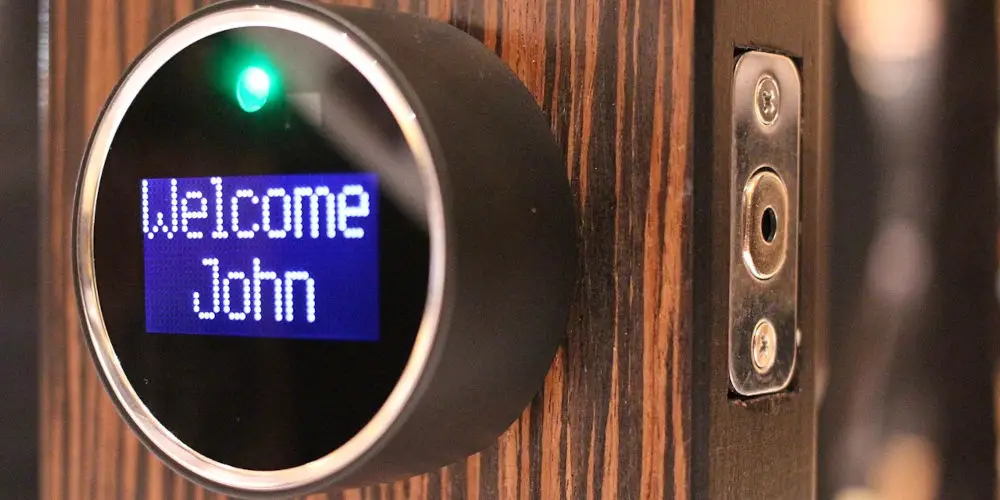 Home security is probably the biggest concern of any homeowner. You might consider upgrading your door locks to automate them, allow control from anywhere. However, you probably wonder, are smart door locks worth it?
It's only natural to second guess when leaving home and worry about leaving a window open or forgetting to lock the back door. Yet smart home technology provides a solution that's affordable, safe and secure.
So, should you invest in the best smart door lock for your next home project? Let's take a look at how a smart door lock can help secure your home and processions. Plus we'll consider are smart door locks worth it.
From a personal perceptive, smart door locks are worth it despite their high cost. They do cost a few hundred pounds but will provide a superior level of security and control over your current standard lock. They ensure peace of mind, regardless of where you are in the world.
Do smart locks make your home more secure?
Installing a smart door lock removes the stress and worry of not knowing if you locked the door. As it automatically secures itself when you leave and can often be doubled-check using your smartphone, you can have total confidence.
When you return or activate it remotely, your door unlocks, allowing you access to your home. You no longer have to worry about being "locked out" or if your home is unsecured. Similarly, you'll be alerted if someone has tried to and failed to gain access to your home.
Most smart door locks offer multiple access methods. You can still use a key but most work with pin codes. Some even allow you to trigger unlocking the door using your phone as it can sense when you're within two meters using a technology called geofencing.
As you can give visitors a pin code, there's no need to hand out keys or remember who has one. You can simply programme a time-sensitive pin code, which the system will automatically delete after. Plus as you can track when a code is used, you can ensure the cleaner showed up!
In short, a smart door lock ensures peace of mind in a way that a traditional lock and key simply can't, making the investment worth it.
Do all smart door locks look the same?
A problem with some home automation products is that they only are available in silver or PVC white. And while this might be fine, it's quite unimaginative. Thankfully, a range of colours and options are available.
For example, The Yale Keyless Connected Smart Door Lock is available in three colours (chrome, satin nickel and polished brass). Whereas the Nuki Combo 2.0 Smart Lock retrofits around your current door lock, adding a range of smart features.
Many smart locks are available in black including the Ruveno Slim Smart Door Lock with Touchscreen, allowing you to blend them into your existing door without making them obvious!
There's also flexibility in the style of smart lock you get. You might imagine they all have keypads and nowhere to use a key. However, that's not the case. Many do include a keypad as the central way to control the lock. Some work with keys, keyfobs, Bluetooth and even over Wi-Fi.
There are even some units that convert your existing deadbolt lock into a smart one. With a range of options, if you want one without a keypad, a solution with multiple methods of unlock/lock or control from anywhere with a Wi-Fi connection, you can easily find a device that matches your demands.
Can I integrate a smart door lock into my home automation system?
You don't need a home automation system to install a smart door lock as they can all operate alone. That said, most are compatible with a range of smart home eco-systems.
If you've already invested in a Z-Wave home automation system then you can easily incorporate a smart lock into your existing door.
Similarly, there are products available that integrate with Apple HomeKit, Google Home, Ring and Amazon Alexa. So whether you're looking at automating key tasks or are already well on the way to building a smart home, a smart door lock can seamlessly integrate with other devices.
Are there any safety concerns with smart locks?
The majority of smart locks simply add technology to the existing deadbolt system, allowing you more options to lock/unlock your door. They don't change how your door is secured and so smart locks are safe and can be trusted.
That said, if you don't consider deadbolts secure, adding a smart lock won't change your opinion.
That said, by adding a smart lock to your door, you haven't made it less secure than a traditional key. There is still the potential that a burglar could break the door down or pick the lock.
Installing a smart door lock does remove the option of someone finding a spare key and granting themselves access to your home. Also, it removes the chance of you accidentally leaving your front door unlocked.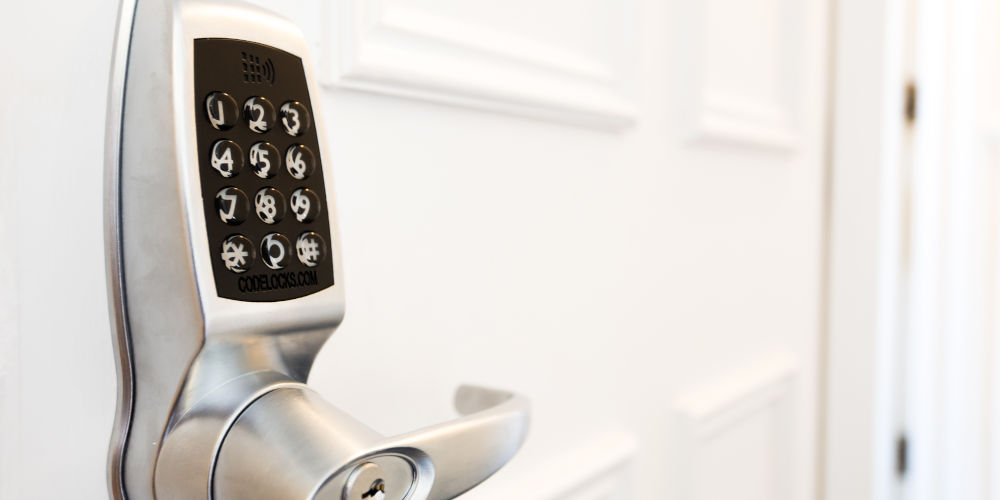 It is possible to hack a smart lock connected to Wi-Fi?
Any smart home device can be hacked, especially if they operate using Wi-Fi. However, this is rare and there are steps you can take to ensure you protect your smart home from hackers.
The best way to reduce the risk of having your smart device hacked is to keep apps and software up-to-date, and change passwords regularly. Without these steps, your devices are vulnerable.
Should a pair a smart door lock with cameras and alarms?
You don't necessarily need to turn your home into Fort Knox complete with the best outdoor wireless security cameras and alarm system but you do have that option. Of course, you would want to install devices that can communicate with each other, allowing you peace of mind.
Bear in mind that a smart lock increases your convenience of unlocking and locking your door while providing you with a hassle-free way to go keyless.
Are there any issues with smart locks?
The biggest issue with a smart lock is ensuring your door is compatible. You might find in an older property that the deadbolt doesn't perfectly align, making it impossible to use a smart lock. If the door isn't properly aligned, the motor contained in the smart lock might cause damage.
You might have to adjust your door to ensure you can correctly install your new lock before you can fit it. If you lack DIY skills, then you'll need to hire a locksmith.
Another issue is smartphone apps. Some locks require you to activate them using a touch-based operation and not with a keypad on the device. Without the app, the lock won't work. So you'll need a smartphone.
If you plan on giving access to a cleaner or family member for example, then they'll need to download the app or be sent a code via text message. Depending on the person, this could cause you some stress!
Finally, some brands limit the number of pin codes you can generate to 8 at once, others allow up to 100 codes. While rare, some brands require you to pay for a digital key per download.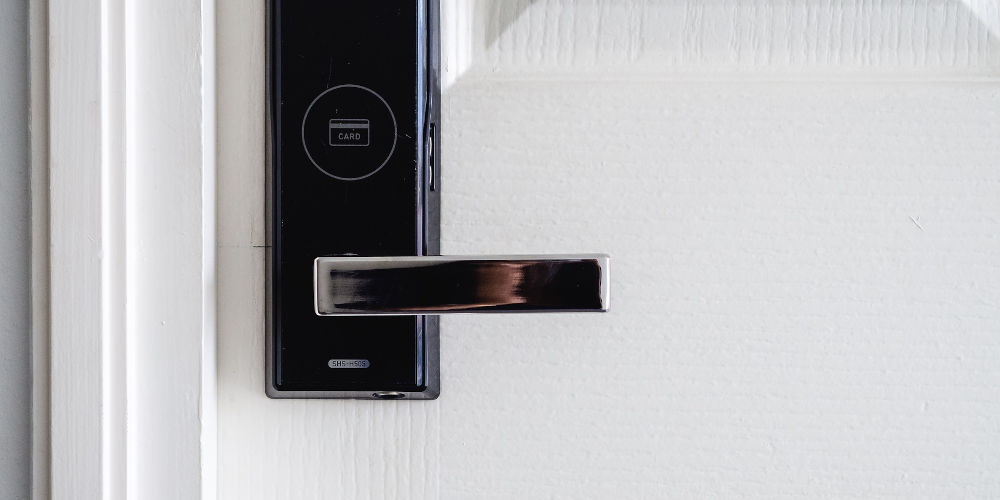 Any other features that make life easier?
Some smart door locks allow you to use the app to set specific windows of access. Meaning a user of the app can only enter during a range of hours on certain days. This can be a good feature if you have a weekly cleaner or a plumber coming when you're at work.
Of course, you can also allow unlimited access to others when needed. If you're using a Wi-Fi enabled device, then you can open the door remotely from wherever you are and then close it a few minutes later. You no longer need to hide a spare key in your garden!
If you're expecting a delivery, you could give the courier a one-time use pin code, which expires after it's been used. Of course, you'd want to be using cameras to be able to check they did their job and left without taking any valuables.
So, are smart door locks worth it and should you install one?
While not completely life-changing, smart door locks afford a level of convenience that's hard to live without once you have them installed. They don't drastically improve your home security. However, they do reduce some of the risks of traditional keys.
If you're wondering are smart door lock worth it? The answer is yes, especially if you can afford the investment. They help you keep track of who's coming and going, add another level of deterrence to would-be-burglars and mean you no longer need to track your house keys.