What is a smart door lock and do you need one?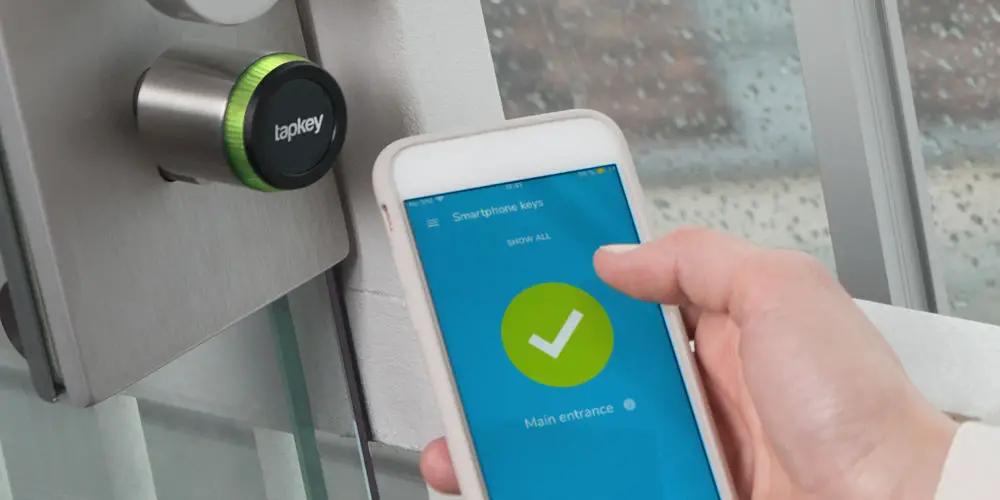 Opening your front door with a physical key is a thing of the past, thanks to smart door locks. You don't even need to be at home to control your doors anymore. Come with us as we explore what is a smart door lock.
Gone are the physical keys, replaced by an app on your smartphone or pin code. Smart door locks will also let you know when someone tries to access them. So you're always in control, regardless of where you are in the world.
As they fit into the same slot as traditional door locks, upgrading yours is very simple and usually takes less than an hour to install and configure. Not bad when you consider that the benefits are massive.
If you're on the fence about smart door locks, we'll help you better understand the topic and decide if this element of home automation can better protect your home.
So, what is a smart door lock?
The majority of smart door locks use the traditional 5 Lever Mortice Deadlock as their foundation. Most UK front doors also use this type of lock. They then add the latest technology on top. By combining these two elements, you have a secure lock that's also smart.
Combining technology with a tried and tested door lock, allows you the flexibility you could only dream of.
For example, if you have a cleaner, you might wonder have they turned up? With a smart door lock, you can give them a specific code and check when it was used. So you can keep tabs on who is coming and going from your property without having to be there.
Another popular use for smart door locks is for kids. Children are notorious for losing or forgetting their keys. Yet with an access code, they can enter your home. Once the code is used, you can get a notification on your smartphone, putting your mind at ease.
With a smart door lock, you can see and decide for whom, when, and for how long the door will be open. You can easily add a new key without needing a locksmith. Plus deleting codes is just as simple!
How does a smart door lock work?
Smart door locks make entering your property easier without compromising your home's security. By using technology to operate your door lock, you have better overall control and peace of mind.
Several types of smart door locks are available, each with their own set of features and capabilities. Some common types include:
Keyless entry locks: You enter a code to unlock the door, rather than using a key.
Fingerprint locks: These use fingerprints to grant access to the home.
Proximity card locks: Use a card or fob to unlock/lock your door.
Biometric locks: These use a combination of technologies, such as fingerprints and facial recognition, to grant access to the home.
As you don't need to carry a key with you, you can access your home at will using a pin code. If you decide to carry a keyfob and it gets lost or stolen, you don't need to worry, you can deactivate it in seconds.
If you have a guest popping over, but you're stuck in traffic, you can text them an access code or open the lock for them remotely. You can also do this with deliveries, ensuring your post is always securely indoors.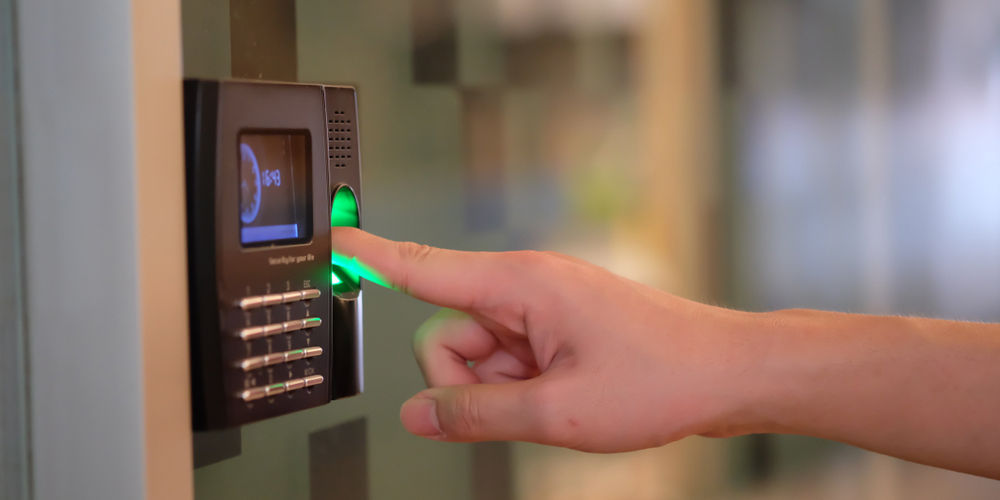 What to look for when buying one
There's an extensive range of smart locks available. We have covered the best smart door locks in the past, so have some insights to share if you're looking for your first one.
Start by defining how you'll use your smart door lock. Do you want keyless entry as your kids keep forgetting their keys or you're always waiting for deliveries? Or do you want a way to remotely monitor who enters your home and when?
Some fairly smart locks are available that are simple to use and allow you better control without having a ton of features you won't use. Other units will sync with home automation systems, such as Z-Wave and Zigbee, allowing you to trigger scenes when activated.
You can find smart locks that work with Alexa and Google Assistant, meaning you can open them using a voice command.
So start by considering how you'll use your smart door lock and what features you need and don't. Also, think about how you might use technology in the future.
For example, there's no point spending £200 on a lock only for you to install a Fibaro automation system next year and need to replace the lock to work with the system.
How much does a smart lock cost?
A variety of options are available with a wide range of price points. So, depending on your budget and requirements, you should be able to find a few options.
Yale offers a basic smart lock for £99, that's ideal if you're after something simple. For a more feature rich smart door lock, such as the SwitchBot Wi-Fi Smart Lock, expect to pay at least £200.
The price will be much higher if you want a lock with built-in Wi-Fi, Bluetooth, and a fingerprint scanner. For example, the Ultion Nuki Smart Lock Kit cost over £400 but includes several elements.
Are smart door locks worth it?
You can improve your home's security and make it easier to monitor who comes and goes with a smart door lock. They make it painless to send guest codes out and delete them after someone uses them. You can also open your door remotely to the postie if you're expecting a parcel.
Plus, as they offer several ways to operate them, you'll always be able to get entry to your home, even if your keyfob gets stolen or misplaced. Not to mention how cool is it to open your door using your voice (with a little help from Alexa!)
As with any smart device, there is a risk that someone might hack it. However, this isn't something that happens often or easily. And most cyber criminals look for easy to hack devices. So yes smart door locks are worth it.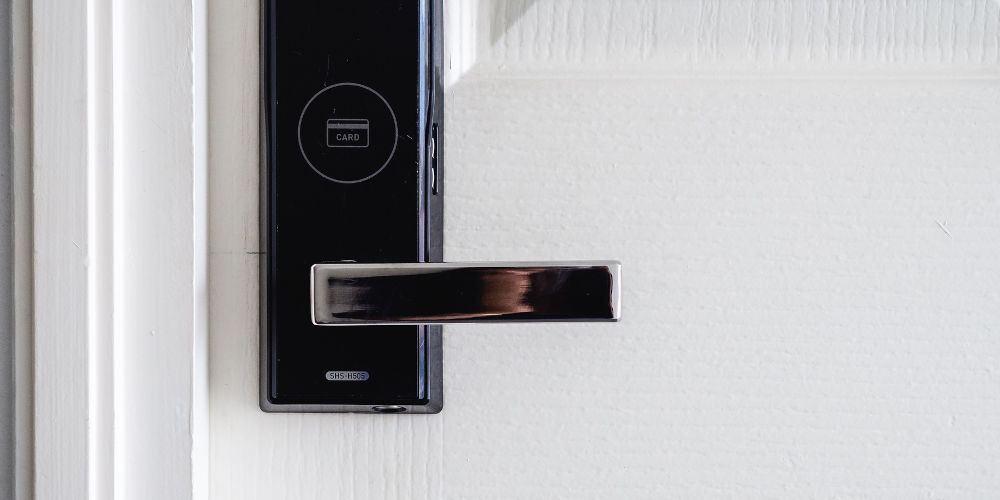 Are they safe?
As a smart door lock uses a regular deadbolt, they are as safe as any other door lock. It's worth changing your Wi-Fi password often and keeping devices updated with new firmware. Don't install a smart door lock and consider it a job done.
Hackers might try and compromise your smart door lock, but they'll give up if you have kept the firmware up to date and changed the default password. The majority of hackers and burglars are looking for easy entry. If they can't hack a device within a few minutes, they'll move on.
Using a smart door lock as part of an integrated home automation security system will ensure a great level of protection over the individual parts.
Basic installation guide
Changing a door lock requires having a few tools and about an hour. Here are the basic steps you should follow:
Install the latch, determine the depth of the backset (either install directly or rotate the latch 180 degrees, then adjust and extend the length)
Fix the latch
Fix the latch bracket into place
Install the front lock
Determine the depth of the door hole (you can remove the spacer or install it directly)
Ensure the lock cylinder is correctly aligned
Install the mounting plate
The screw of the mounting plate must align with the screw of the latch
Install the back lock
Scan the QR code with your Smartphone
Follow the setup instruction in the app
After finishing the setup using the app, install the cover and the rubber plug
Install the rubber plug at the end
Installation is complete.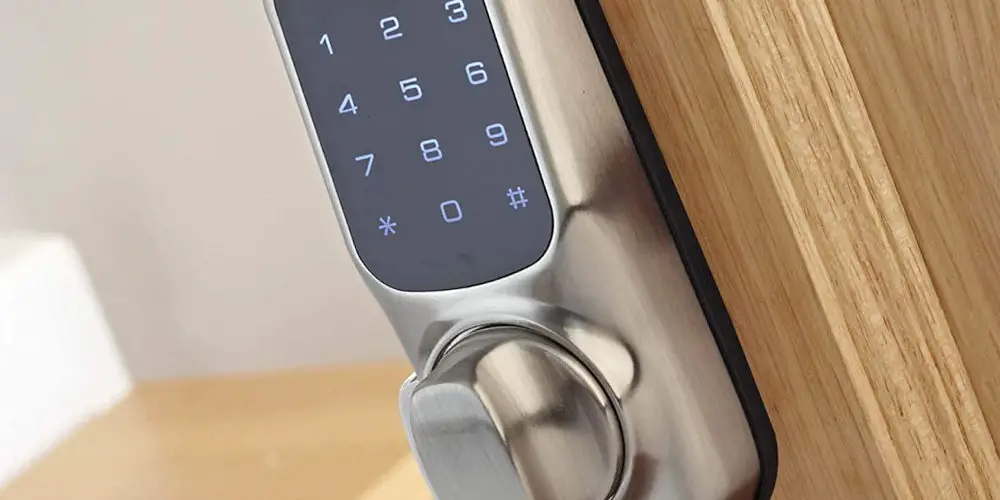 Can someone hack a smart lock?
There's a risk of being hacked with any smart device. However, we can make it harder for hackers by keeping firmware up to date and changing default device passwords to something unique.
It's also worth keeping an eye on the market and upgrading when new technology becomes available, and older devices aren't supported anymore.
Hackers are looking for easy wins. So do the basics well and make it harder for them as they'll soon move on to the next potential target.
If your smart door lock uses entry codes, it's best to keep track of who has what code and regularly update the ones used by the people who live at your property. Every few months, delete all extra codes you can't account for.
Also, you should delete guest codes after they are used. Your guest doesn't need to be able to access your home after this occasion. So delete their code straight away.
Should you invest in one?
Now you better understand what is a smart door lock, you can make an informed buying decision. They are just as safe as regular deadbolt locks. However, they are far more versatile as you can operate them from anywhere with a Wi-Fi connection.