Epson EH-TW5650 gaming & home cinema projector review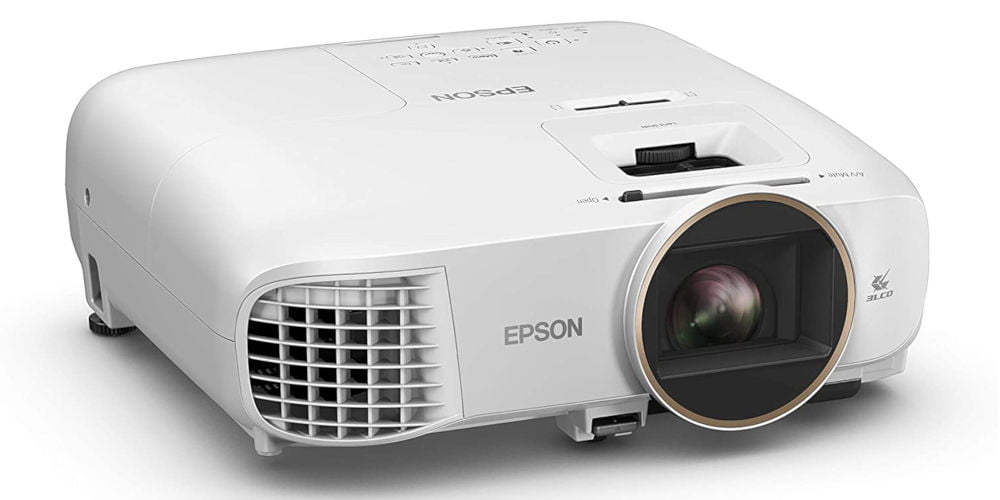 As full HD, 3D ready projector, the Epson EH-TW5650 creates a fantastic cinema experience at home on a budget. Able to produce an image up to a massive 300 inches in diameter, it's ideal for most home cinema set-ups.
Offering a resolution up to 1080p Full HD and 2,500 lumens of brightness, this projector is ideal for watching movies and gaming in a wide variety of lighting conditions.
Incorporating several high-tech features, the Epson EH-TW5650 produces inspiring images with excellent colour depth and a 60,000:1 contrast ratio, ensuring deep blacks and sparkling whites. The onboard frame interpolation technology suppresses blurring even on fast-moving scenes.
You could easily watch a movie for the next 11 years without needing to change the bulb, thanks to its 4,500-hour lifespan (which increases to 7,500 hours in Eco Mode). A built-in 10W speaker enables you to enjoy movies straight away without needing an amplifier or separate speaker.
The built-in Wi-Fi means you can easily stream media from all of your favourite places including from your smart devices with the iProjection app. Connect wirelessly with Miracast compatible smart devices.
Getting set-up is painless thanks to the 1.6x zoom and built-in lens shift, both of which allow you to optimise the projector for the room with ease. And as a 3D ready unit, the Epson EH-TW5650 allows you to enjoy the latest releases like never before!
The Epson EH-TW5650 is one of the best projectors under £1,000 on the market and scores a healthy 8/10.
Pros
Up to 300-inch image
1.6x zoom
Built-in Wi-Fi
Cons
Limited connectivity
Onboard speaker isn't the best
Design
The sleek white casing ensures the Epson EH-TW5650 seamlessly slots into any home cinema set up.
Starting on top, at the top left is the lamp cover. Next to this are the basic controls which include buttons for power, source, menu and speaker volume. There are also LEDs which indicate if the Wi-Fi is activated, the lamp needs replacing and if the internal temperature is too high.
Moving toward the front, there are controls for adjusting the focus, zoom and lens shift as well as a Horizontal keystone adjuster. Finally directly above the lens is an A/V mute slide lever, which opens/closes the lens cover.
Looking at the Epson EH-TW5650 straight on, in the centre sits the lens and the lens cover. To the left is an air vent and below the lens is an adjustable foot, used when projecting from a table to set the height. There are a further air vent and air filter cover on the right-hand side.
On the rear is the connection panel which includes 2 HDMI ports, 2 USB ports, PC port, a mini-jack audio output and a power socket. Turning the unit over reveal three feet (including the front adjustable one) and ceiling mount holes.
Finally, the remote contains buttons for the basics such as power, input sources, track controls and volume. There are also buttons for menus and projection option including 3D, Mute, colour mode and pre-sets.
Features
Built using 3LCD Technology, the Epson EH-TW5650 is ideal for watching movies, sport and TV, as well as gaming and viewing photos.
Producing 2,500 lumens of brightness, it can handle some ambient light without colours washout, making it ideal in the living room or a media room. In normal mode, it's quiet, only producing 37 dB of noise. The baseline noise falls to 27 dB in ECO mode, meaning it's virtually silent.
In terms of image size, the Epson EH-TW5650 can project onto any screen between 30 and 300 inches, allowing you to easily enjoy a big-screen experience!
The brightness combined with a 60,000: 1 contrast ratio, means colours are displayed in true to life hues with natural shadows. While the built-in Detail Enhancement and frame interpolation technology ensure every frame is faithfully reproduced without any blurring.
As a Full HD 1080p projector, even old formats have a new life and depth to them, while newer releases appear with stunning colours and texture. Plus as a 3D ready projector, simply add some 3D glasses and enjoy the latest 3D releases.
With built-in Wi-Fi, you can stream directly from any smart device to the Epson EH-TW5650 using the iProjection app. You could use one of the HDMI ports to connect a streaming stick. Also, you can connect wirelessly with Miracast compatible smart devices.
The long-lasting lamp means you can view a movie a day for up to 11 years before it requires changing. In normal mode, the lamp life is 4,500 hours. This increases to 7,500 hours in economy mode.
As you might expect, the onboard 10W speaker is handy whether your watching sports or TV outside and don't fancy moving speakers. It's also ideal if you haven't yet invested in an AV receiver and the best 5.1 speaker package.
Set-up
Setting up the Epson EH-TW5650 is straight forward. It only projects forward and so you can't use it for rear projection. That said, it does support two positions. You can place it on a table, and use the adjustable front leg to angle it up towards the screen or use the best projector ceiling mount.
Connecting the EH-TW5650
Depending on your set-up and intended use, these two distinct positions allow for flexibility. When in place, you'll want to connect the Epson EH-TW5650 to the power and start adding devices to the inputs.
If you haven't invested in an AV receiver and speaker set, the inbuilt speaker will be good enough to start with. So you'll want to connect your Blu-ray player directly to the EH-TW5650. You can use the audio output to connect to speakers or pair the unit with Bluetooth enabled speaker.
If you have a full cinema set-up then using an HDMI cable, connect the projector to your AV receiver and use that as the brain. Even though there are basic controls on the unit, it's worth putting the supplied batteries in the remote and configuring the projector using it.
Correct positioning
To fill a 100-inch screen, you'll need to place the projector between 3 and 4 metres from the screen. With it positioned at a suitable distance, next activate the test pattern screen by pressing the "Patten" button on the remote.
Adjusting the image quality
We advise using a test pattern over a still image or paused frame as it will allow you to honestly adjust the projector for the best results. Next, adjust the focus and Keystone and if needed, the zoom. It may take some time and tweaking to find the ideal settings for your room.
Finally, select the most suitable colour mode for your room. You'll want to use Dynamic mode if you're in a room with some natural light. Whereas the basic Cinema mode is ideal for most specifically designed rooms. There's even a selection of 3D modes.
Keep tweaking
If you're not completely satisfied after this basic set-up, then experiment with the various options to adjust the colours, brightness and saturation. Thankfully, the Epson EH-TW5650 has plenty of options to tweak and adjust ensuring you can tune the picture quality to your preference.
Performance
What makes the Epson EH-TW5650 stand out from other 3LCD projectors, is how bright it is. For example, if you're watching sports with the curtains drawn, some natural light will be present. Often this will lead to colour washout resulting in a sub-par viewing experience.
This Epson home cinema projector, on the other hand, is bright enough to compete with some daylight while still producing a clear, crisp picture.
Of course, the Epson EH-TW5650 performs excellently in a dark room whether for movies or gaming. Plus with an input lag of 26 ms, it's very reactive when gaming.
Older 3LCD projectors soften the edges, which can lead to them look slightly distorted. Thankfully, even up close, images look crisp across the entire screen. Each frame is sharp and effortlessly displays a full range of colour hues from deep blues to sparkle whites.
Activating the automatic Iris mode improves the colour contrast further and provide performance close to that of a DLP projector. That said, it not overly aggressive, instead, it adds another level of contrast, creating an even wider range of colours.
If you enjoy gaming or watching movies with fast-moving scenes, then you'll want to experiment with the frame interpolation function, which has 4 levels (from off to strong). In brief, the software adds additional frames to reduce the likelihood of blurring or jumping.
The built-in Wi-Fi is useful for streaming content from any smart device or laptop. And while you could attach an Amazon Fire TV stick or Google Chromecast, having onboard Wi-Fi allows you to quickly enjoy content from several sources as well as allows you to control the unit using Epson's iProjection app.
Is the Epson EH-TW5650 worth buying?
For what is essentially a budget projector the Epson EH-TW5650 punches above its price with some excellent features, good connectivity and onboard Wi-Fi.
There are a few things that would improve it. Firstly we'd like to see the inputs and outputs expanded, even slightly. If you're just starting your home cinema journey you might not have the budget to invest in a speaker set-up and AV receiver.
Having another HDMI port and an optical audio output would help you as you expand your set-up allowing you to upgrade from the built-in speaker, which isn't the best to something more suitable for movie or TV watching.
Putting those issues to one side, it does provide an exciting picture quality with a fantastic range of colours out of the box. And as we've demonstrated the basic set-up is painless with plenty of tweakable options available.
The Wi-Fi function is highly useful as is the Bluetooth, especially if you already have Bluetooth speakers or headphones. Activating the Wi-Fi allows you to control the EH-TW5650 using Epson's iProjection app which is great if you prefer an app over a remote.
If you're just starting to build a cinema set-up or upgrading from a cheap and cheerful projector, then you'll enjoy using the Epson EH-TW5650 for years to come. 8/10