What's the best Sony soundbar?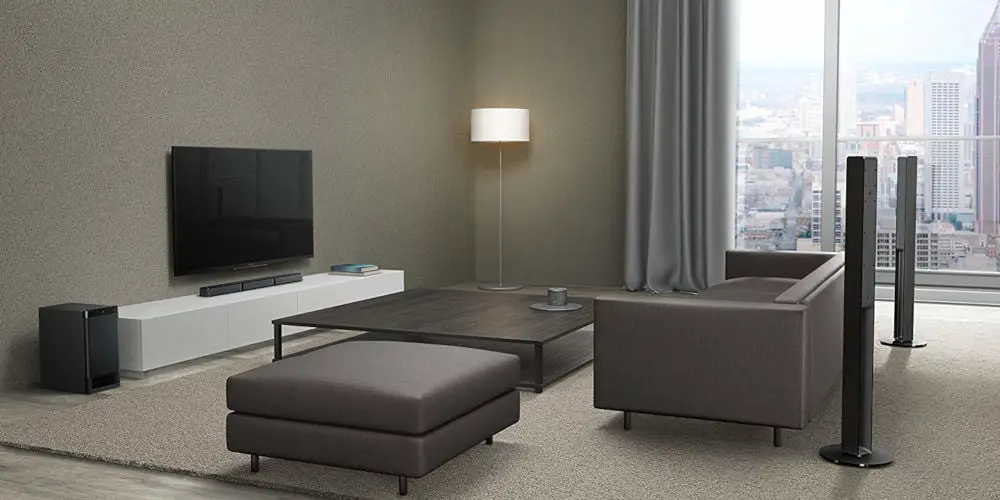 With 11 soundbars in its range, Sony offers several solutions to improve poor TV audio. But which is the best Sony soundbar for you?
As TVs have slimmed, their audio quality has declined. Speakers no longer have enough room to push air. Also as most TV speakers are rear projecting, the sound has to bounce the wall before being reflected into the room. Thankfully, both of these issues are easily fixed.
Enter the soundbar. This piece of kit offers a better audio experience as it split the signal by frequency and then reproduce the audio using multiple speakers. These front-facing speakers push the air into the room creating a more dynamic and richer sound.
The current Sony soundbar range contains 11 solutions and ranges from a single tube speaker, all the way to a multiple speaker set-up. Since they only arrive with a power cable, you'll need to check what cables you need before ordering to avoid disappointment.
In addition to covering each option, we'll highlight why you might want to consider it and enable you to make a smart buying decision. If you haven't purchased a soundbar yet, start with our guide to what size soundbar is best for your TV or our soundbar buying guide.
Sony HT-SF150 2ch Single Soundbar with Bluetooth®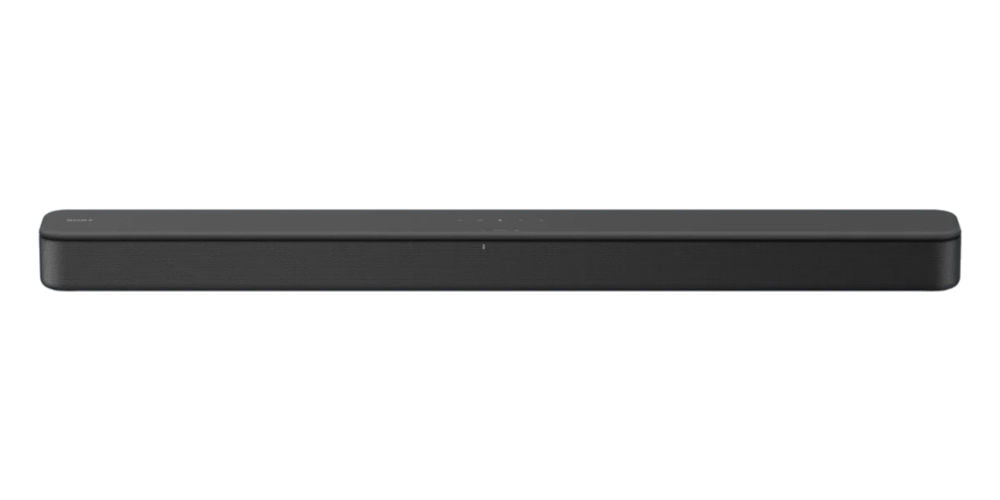 Starting the list is an old favourite, the Sony HT-SF150. This 2 channel single soundbar is easy to set up and looks fantastic under a TV or mounted on a wall.
Providing 120 watts of output and using Sony's S-Force virtual surround sound technology, you'll enjoy a rich, even frequency response complete with a punchy low end.
With several inputs, connecting the Sony HT-SF150 into your existing set-up is simple. Pair with your TV using the HDMI ARC input and control the soundbar using your TV remote.
It also has a USB port and Bluetooth allowing you to enjoy music from a smartphone or MP3 player. Very easy to control, there are basic controls on the unit's top and it comes with a well-thought-out remote.
Ideal for those who want to improve their TV's sound but don't need or have space for a separate subwoofer.
If this interests you, then read our full review of Sony HT-SF150.
Sony HT-SD35 2.1ch Soundbar with wireless subwoofer and Bluetooth®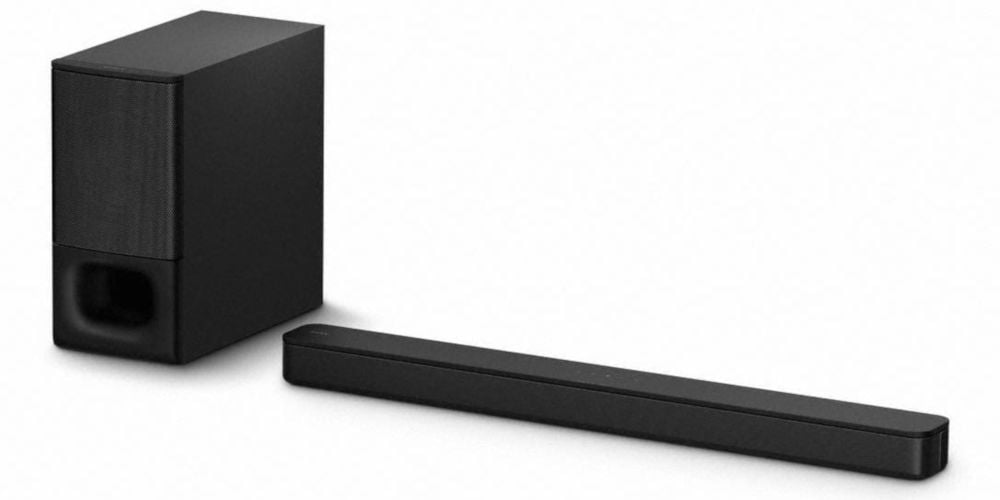 Delivering rich, detailed sound, the Sony HT-SD35 comprises of a soundbar and wireless subwoofer, which produce an impressive 320W of power output.
The onboard audio drivers produce crystal clear mid and bell-like highs, while the wireless subwoofer completes the sonic picture with rumbling lows. Designed using the S-Force Pro Front Surround sound, which faithfully replicates the big screen experience, right in your living room.
Its unique approach to audio processing means it recreates a 5.1 channel sound without the need for rear speakers or miles of cables. You'll feel like your on the movie set, watching the action up close.
Getting started is simple thanks to several inputs including HDMI ARC and optical. Plus with Bluetooth audio playback, you can easily stream music from your smartphone or tablet.
Its sleek design means it effortlessly fits into any TV set-up. Ideal for if you enjoy movies more than TV and want a fuller, richer audio experience.
Interested? Check prices
Sony HT-X8500 2.1ch Dolby Atmos®/DTS:X® Single Soundbar with built-in subwoofer
If you love sports or movies, the Sony HT-X8500 was designed for you! As a sleek soundbar, it vastly improves your viewing experience with its immersive sound.
It's clever vertical surround engine places you at the centre of the drama on the big screen. The onboard software upscales the audio to 7.1.2 audio and supports Dolby Atmos and DTS: X. So, while it won't replace a proper home cinema system, it does sound fantastic.
With no subwoofer, you might think that it sounds thin or lacks weight. Thankfully, the HT-X8500 includes a bass speaker which fills the audio out while adding a nice low end to the sound.
If you enjoy listening to music but don't have room for a separate Hi-Fi, then you'll enjoy the Bluetooth connectivity. In seconds you can enjoy your favourite songs and podcasts, simply by connecting your phone or tablet.
The remote, while clunky-looking, is easy to use and allows you access to a range of presets which fine-tune the audio to the setting.
With a clear and well-balanced sound, this soundbar is great for movies and gaming. You'll be able to hear every word of dialogue and enjoy the natural dynamics in music.
Interested? Check prices
Sony HT-MT300 2.1ch Compact Soundbar with Subwoofer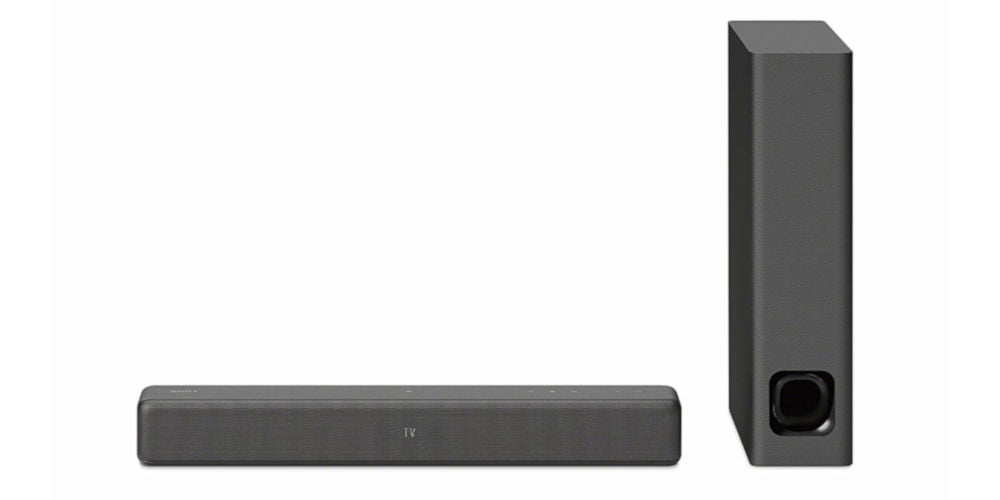 Whoever said good things come in small packages, clearly was referring to the Sony HT-MT300!! It features a compact design, wireless subwoofer and rich, cinema-quality sound.
Getting started couldn't be easier as you only need to connect power and an audio cable from your TV. The ultra-slim wireless subwoofer can be placed anywhere and instantly brings any audio to life.
With Sony's S-Force Pro Front Surround sound technology built-in, you can easily recreate that cinema feeling. While the dedicated sofa mode enables you to enjoy a punchy low end.
Perfect for enhancing everyday TV and movies, the soundbar instantly links to your smartphone via Bluetooth. You can enjoy listening to your favourite music from your device.
In terms of control, the remote is well designed and easy to use. You can also use Sony's SongPal app to change settings and control playback from your phone.
If you have limited space or are looking to upgrade the sound of your second TV, then the Sony HT-MT300 is an affordable solution.
Interested? Check prices
Sony HT-XF9000 2.1ch Dolby Atmos® / DTS:X™ Soundbar with Subwoofer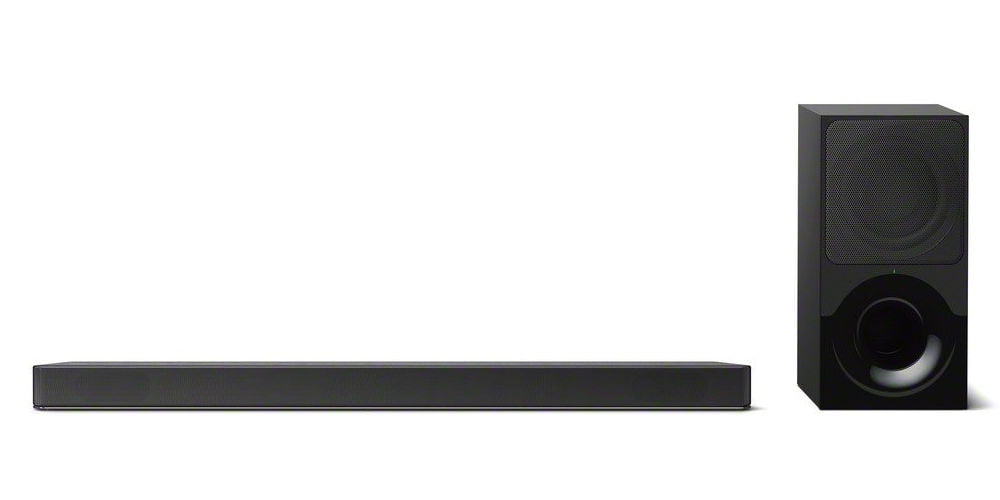 Sony HTXF9000 2.1 Ch Soundbar with Subwoofer enables you to immerse yourself in 3D sound with Dolby Atmos and DTS: X. It's the ideal match for the Sony BRAVIA KD-XF90 TV series.
Regardless of the room, its two front speakers reproduce "vertical" audio, creating virtual surround sound that seems to come from all around you. Everything upscaled close to 7.1.2Ch and so you can enjoy 4K movies with sound to match.
Faithfully reproducing the audio, high frequencies are crisp and the bass is strong and punchy. The Dolby Atmos mode creates a cinema-like feel without the need for rear speakers and while not perfect, it's close.
With a range of setting including individual volume settings for the subwoofer and soundbar, you can tailor how it sounds to your preference.
As a mid-priced unit, the Sony HTXF9000 performs well, producing a crisp, clear sound for TV programmes and a rich experience for movies.
Interested? Check prices
Sony HT-RT3 5.1ch Home Cinema System with Bluetooth®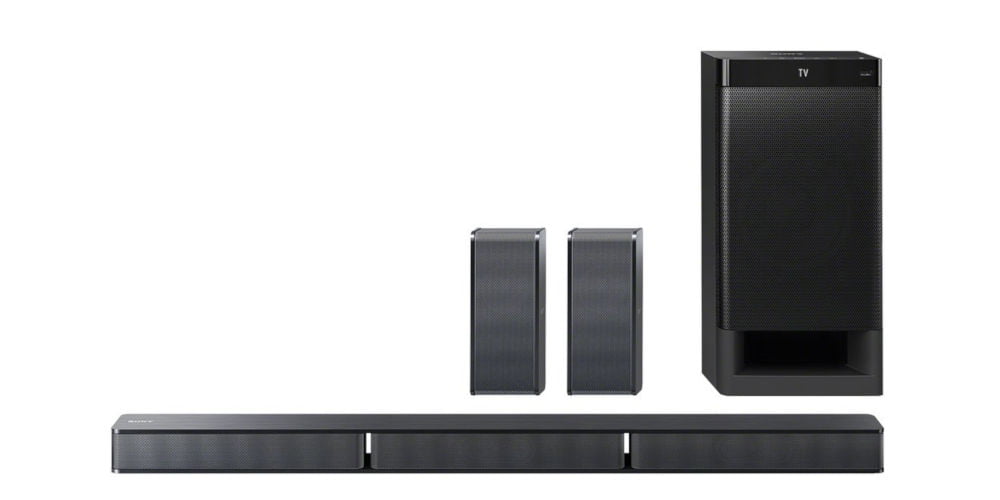 If you're aiming to recreate cinema sound at home, then you'll want to consider the affordable and compact Sony HT-RT3 5.1 Sound Bar. The package includes a soundbar with 3 speakers, wired subwoofer and two rear wired speakers.
Several connections are available including HDMI ARC, USB and Bluetooth. So whether you enjoy streaming the latest songs, watching movies or want to improve your TV experience the HT-RT3 accomplishes all of this and more.
The S-Master digital amplifier creates refined, clear sound quality which can enhance your entertainment, whatever you happen to be watching. Plus with 600 watts of power, you'll uniquely experience any audio.
As a wired system, setting up takes a few extra minutes as you have to run cables. While some will prefer a wireless system, being wired means there's no chance of drop-outs.
Interested? Check prices
Sony HT-ST5000 7.1.2 Dolby Atmos Soundbar with Wi-Fi/Bluetooth®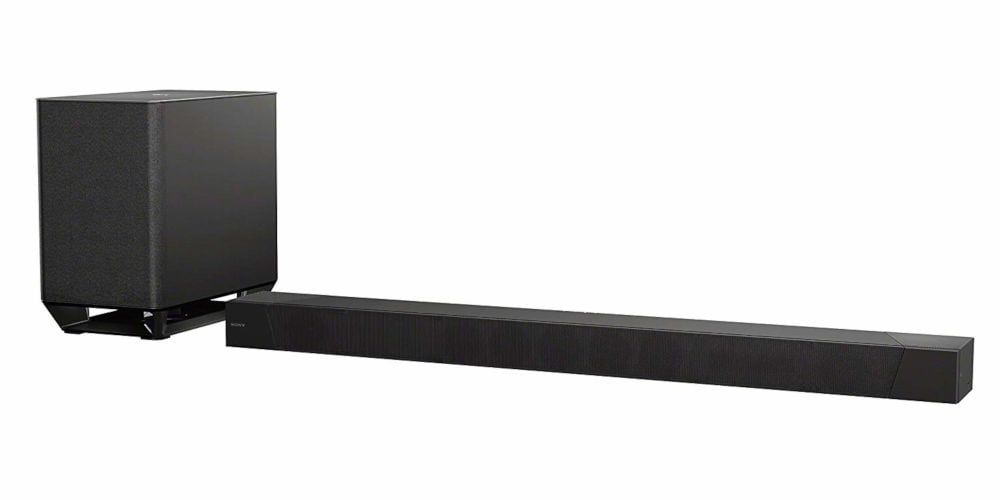 At the top of Sony's soundbar range is the HT-ST5000 which provides 800 watts high-resolution audio using 7.1.2 channels. The soundbar and wireless subwoofer produce 3D cinematic audio.
The system uses Dolby Atmos enables speakers which bounce sound off the ceiling adding a unique depth. These are combined with Sony's S-Force PRO Front Surround technology. Together these emulate a natural, three-dimensional sound field, all from a single soundbar and subwoofer.
In terms of connectivity, the HT-ST5000 includes a range of analogue and digital inputs as well as offering Bluetooth and Wireless streaming, thanks to a built-in Chromecast. The handy USB port allows you to enjoy music from a range of sources.
Use the Song Pal app to group multiple Sony soundbars and wireless speakers together, then stream from your favourite music service or from your TV via HDMI, optical or analogue.
Interested? Check prices
Sony HT-ZF9 3.1ch Dolby Atmos®/ DTS:X™ Soundbar with Wi-Fi/Bluetooth®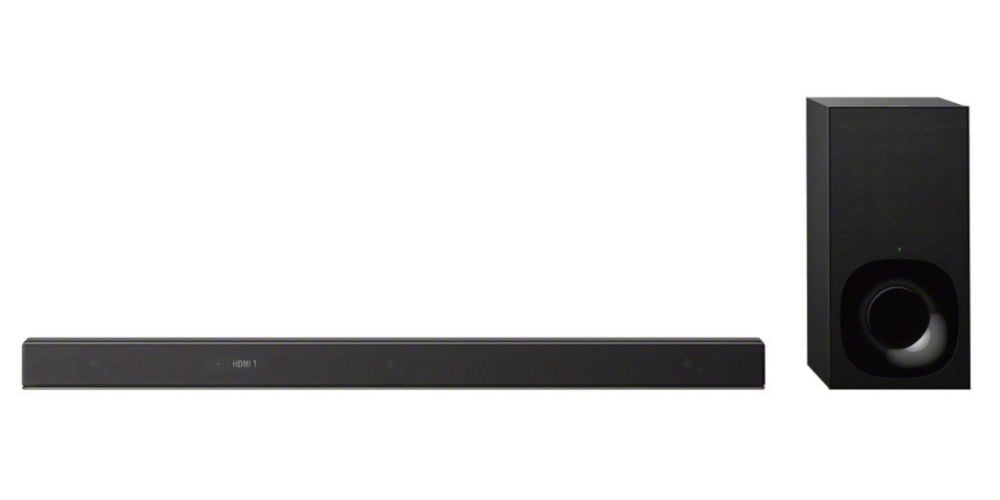 The mid-priced Sony HT-ZF9 has built-in Dolby Atmos and DTS X as well as Amazon Alexa. The 7.1.2 channel soundbar and subwoofer combination enables you to hear sound from all directions.
The soundbar's three front speakers use Sony's S-Force PRO Front Surround software to create virtual surround audio which seems to come from all around you. While the wireless subwoofer completes the picture with a punchy low-end.
With 4 distinct modes, whether you're watching TV or a movie, enjoying gaming or cheering on your favourite sports team, you can use the in-built modes to create a more immersive experience.
Use the built-in Wi-Fi to stream all of your favourite tunes and enjoy the subtlest nuances of studio-quality sound in higher than CD quality with High-Resolution Audio.
Connect via HDMI, Wi-Fi, USB, Bluetooth and more to enjoy music and movies from different sources. Working with both Google Assistant and Amazon Alexa, the HT-ZF9 soundbar enables you to control it using voice commands.
Interested? Check prices
Sony HT-SF200 2.1ch compact Single Soundbar with Bluetooth®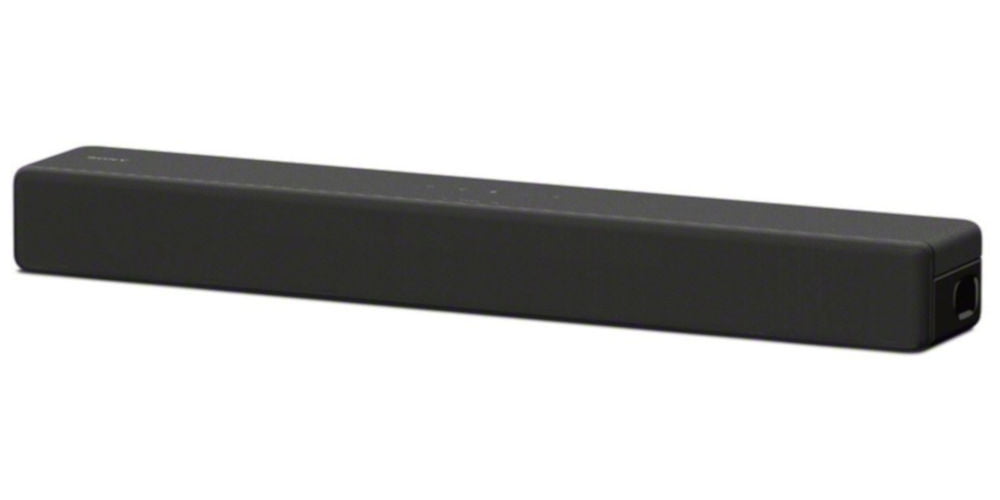 The compact design of the Sony HT-SF200 matches your room perfectly. Highly affordable, it's a fantastic soundbar for your main TV or the bedroom. You'll notice an improvement in your audio quality straight away.
Using a single cable into the HDMI ARC port, you can connect your soundbar to the TV. You can control both with just one remote, connect wirelessly to the latest Sony Android TV. You can also stream from your phone or tablet using the built-in Bluetooth capabilities or play music via the USB port.
Sony's virtual surround sound technology coupled with the Dolby Digital decoders means you'll feel right at the heart of the action with cinema-style surround sound.
The two front-facing speakers deliver strong, clear top and mid-range tones, while the built-in subwoofer delivers resounding bass. Dialogue is clear and music sound rich.
Interested? Check prices
Sony HT-RT4 5.1ch Home Cinema Soundbar System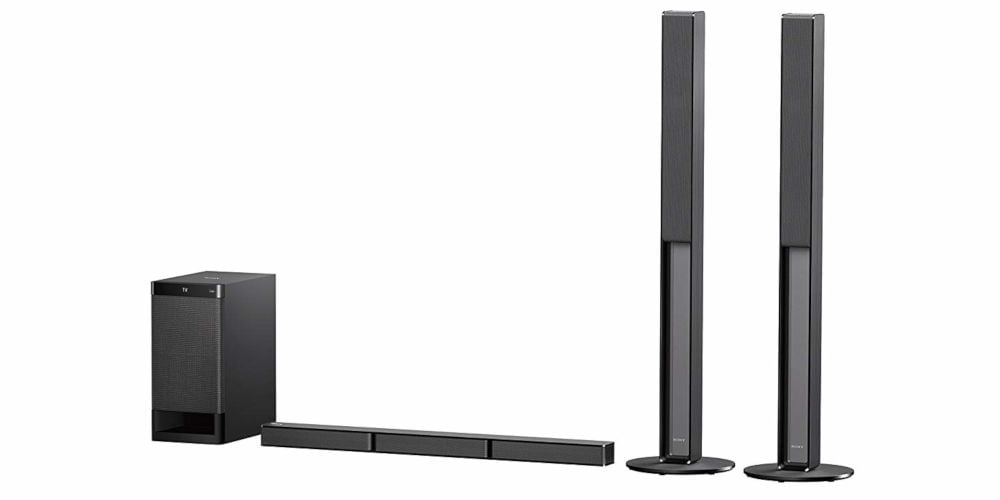 Feel every scene with the Sony HT-RT4. Offering 5.1ch surround sound, get the best seat in the house with an authentic cinema sound. Comprised of a soundbar, subwoofer and dual rear speakers, the system places you right at the heart of all your favourite movies.
As a compact, wired solution, it takes only a few minutes to set-up. Each speaker uses colour-coded connections and all your cables run into the subwoofer. So you can keep things neat and tidy.
Connect to your TV using HDMI ARC or stream from your smartphone using Bluetooth. However you connect, the Sony HT-RT4 allows you to enjoy high-quality surround sound from 5.1 separate audio channels with Dolby Digital.
If you're looking for an affordable way to replicate the cinema at home, then consider the HT-RT4. It makes audio come alive by creating a 3D sound field with crystal clear highs, warm mids, and a punchy low end.
Interested? Check prices
Sony HT-RT5 5.1ch Home Cinema System with Wi-Fi/Bluetooth®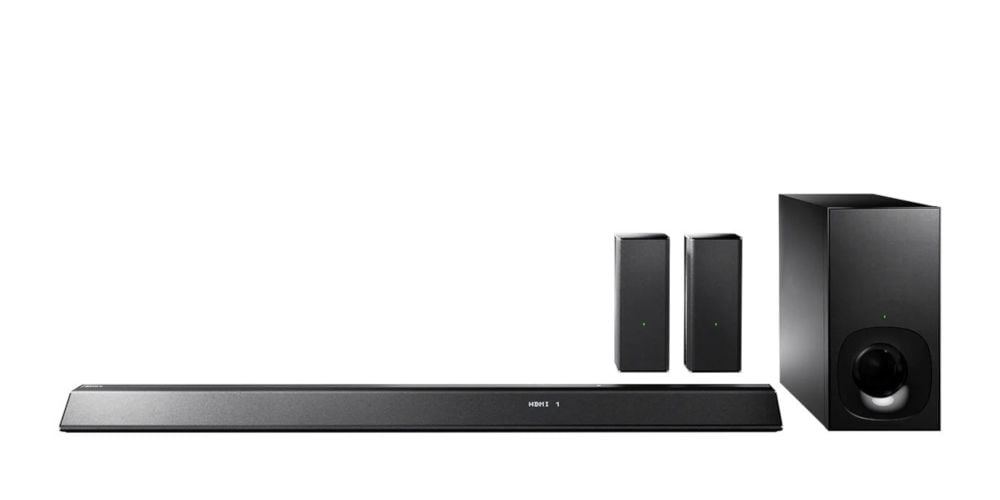 Experience real surround sound with the Sony HT-RT5. It's 5.1 channels of immersive audio combine a three-channel soundbar, wireless subwoofer and two wirelessly connected rear speakers.
These six speakers work in concert to provide you with detailed, full-frequency sound. Plus with built-in Dolby TrueHD and DTS-HD, whether you're watching TV, a movie or enjoying gaming, you'll experience an immersive, full-frequency sound.
In addition to multiple inputs (HDMI, USB and optical), The HT-RT5 supports a wide range of wireless technologies and music streaming services. Easily listen to all your favourite songs.
Sony's SongPal app enables the music to follow you around the house. Also, as a Google Home device, you can control the unit using voice commands. The built-in Chromecast enables access to a wide range of streaming services directly to your TV.
Interested? Check prices
All images by Sony