Bose Smart Soundbar 300 review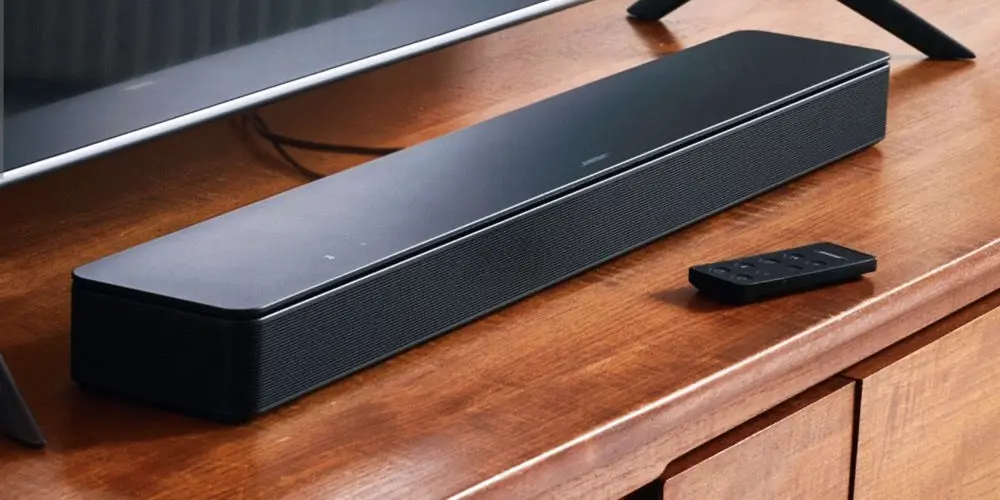 Delivering spacious sound with exceptional clarity, the Bose Smart Soundbar 300 is sleek, easy to use, and has Amazon Alexa and Google Assistant voice control built-in. At just over 5 cm tall, this wireless soundbar is discrete and easily wall mounted.
Under the metal grille is five full-range speakers that together, deliver a wide, clear sound, which is ideal for TV, sports, movies, games and more.
The Bose Smart Soundbar 300 uses cutting edge software to analyse what you're watching, elevating the dialogue to ensure you hear every word and don't miss a thing.
If you hate always needing to find the remote, you'll be eager to use the built-in Amazon Alexa and Google Assistant. Both allow hands-free voice control and much more. Plus, the exclusive Bose Voice4Video technology expands your Alexa capabilities to control multiple devices.
With a range of digital and wireless inputs, you can use this Bose soundbar to enjoy more than just TV. There are HDMI and Optical inputs for your TV or Blu-ray player. Plus, you can stream your favourite music using Bluetooth and Apple AirPlay 2 or Spotify Connect with Wi-Fi.
If you prefer using an app, the Bose Music app (iOS and Android) makes it easy to browse your music in one place and jump between stations, playlists, and other services. It's yet another simple way to personalise your experience.
The most exciting feature is how expandable the Bose Smart Soundbar 300 is. You can create a superb surround system by adding the Bose Bass Module 500/700 and Bose Surround Speakers 700. Even just adding the subwoofer will provide added depth. 8/10
Pros
5 full-range speakers
Alexa and Google Assistant built-in
Works with the Bose Music app
Cons
Basic remote
No controls on unit
Design
Designed for longevity, the Bose Smart Soundbar 300 features a plastic body and metal grille. At just over 5 cm tall by 70 cm long, it's ideal for placing below projectors and 32-inch TVs. If you have a larger screen, it will fit snug underneath it and look superb.
There are no control buttons on the top, meaning you'll always need the remote or app handy to operate. A feature we dislike as sometimes, it's easier to hit a button or two than searching for a remote. That said, there is a mic for voice control and a status LED.
Beneath the black metal grille is five strategically placed speakers that cover the entire frequency range, producing a balanced sound.
On the rear, the connectivity panel consists of a power input, HDMI ARC and optical ports, and a USB service port. Completing this panel is two mini-jack sockets for IR (external remote control) and bass.
A remote is included but is quite basic. It has buttons for power, volume up/down, and mute. Also, there are buttons for the Bluetooth function, Play/Pause track control, a TV button and a Bose Music app button.
Features
Beneath the sleek, minimalist exterior of the Bose Smart Soundbar 300 are five strategically placed speakers that push sounds around the room rather than creating a directional sound.
Another benefit of having five speakers is that the centre driver handles dialogue, exactly as in a 5.1 surround sound system. The built-in software boosts dialogue, ensuring you can hear every word with ease.
In addition to HDMI and optical inputs, the Bose Smart Soundbar 300 can be used in conjunction with the Bose Music app, allowing you to access Apple AirPlay 2 or Spotify Connect. As you might expect, it also works with Bluetooth for seamless streaming from your smartphone.
Also, the app allows you to create presets. Your favourite music is just one touch away. And multiple users can personalise their experience and content.
Use the app to connect the soundbar to your Wi-Fi, choose your voice assistant and access future software updates. The Bose Smart Soundbar 300 has both Amazon Alexa and Google Assistant built-in. So, you can control it using simple voice commands.
Both Alexa and Google Assistant provide many benefits. Using Alexa, you can make calls to other Amazon Echo devices using the Drop In feature. It's completely free and simple to set up.
The Exclusive Bose Voice4Video technology expands Alexa's capabilities. Control multiple devices (such as a soundbar, TV and media player) with a simple voice command.
An exciting feature is the Bose SimpleSync™ technology, which allows you to add additional wireless speakers to the soundbar or use wireless headphones. You can also use this technology to create a multi-room audio system. Compatible products include rear speakers and subwoofers. So you can easily build a wireless surround sound system.
Set-up
As there are no controls on the unit, after unpacking the Bose Smart Soundbar 300, you'll want to find the remote and add the supplied batteries. Even if you plan to wall mount your soundbar, we'd advise you to get it working and explore it, before drilling holes.
So with the Bose Smart Soundbar 300 on a table or the floor, you'll want to connect the power cable to the mains and the unit. You'll notice the light on the soundbar glows amber.
Next, attach an audio cable from your TV or media player. An optical cable is supplied, but you might prefer to use an HDMI cable, which you'll need to buy. Using an HDMI cable is probably your best option, whether you're using this soundbar with a projector or placing it below your TV.
For the most painless operation, you'll want to download the Bose Music app and follow the app instructions. It will help you connect your soundbar to your TV, add a voice assistant and ensure your soundbar is up to date. If it's not, it will download any updates and ensure you're using the latest firmware.
It's worth spending some time experimenting with the app to ensure you get the best from your soundbar. When you're happy, try using either Alexa or the Google Assistant. Also, have a go using the Bluetooth function.
Finally, you can mount the soundbar on the wall. Sit back and enjoy the clarity of sound that the Bose Smart Soundbar 300 provides.
Performance
Delivering clarity over a punchy low-end, the Bose Smart Soundbar 300 is an improvement over a TV or projector's built-in speakers.
Most soundbars use front-facing speakers that deliver a focused sound when sat directly in front of the screen. If you're sitting at an angle to the soundbar, you'll notice the audio is slightly muffled and isn't as full.
Bose have solved these problems by spreading the speakers around in the Smart Soundbar 300. With a speaker at each end and three facing the user, the sound is evenly distributed around the room. Plus, a centre speaker ensures dialogue is easy to hear.
What it lacks for low-end can be easily fixed with a Bose wireless subwoofer. Using one with your soundbar is another improvement over the built-in TV speakers. Plus, they take seconds to install. You can also add wireless rear speakers for the full surround sound experience.
The other issue that isn't as easy to solve is the lack of additional modes. Other than a dialogue mode in the app, you don't have access to different preset for movies, sports or TV. You also don't have Virtual Dolby Atmos or Virtual DTS:X or something similar from Bose.
So while being able to control using an app or voice commands are both good features, they don't make up for the lack of different sound options. Some might find it hard to justify spending so much on a soundbar knowing some of these features are missing.
A piece of good news is that in January 2022, the Bose Smart Soundbar 300 will be automatically updated to support Chromecast built-in, enabling you to stream music and podcasts to your soundbar.
Is the Bose Smart Soundbar 300 worth buying?
Overall, the Bose Smart Soundbar 300 does a great job of creating an exciting sound that's far superior to a TV's speakers and is ideal to use with a projector, if you're just starting to build a home cinema room.
It lacks different sound modes, including a virtual surround sound. The soundbar alone doesn't produce a punchy bass, so you'll need to add a subwoofer if you want lots of low-end.
A final negative is the lack of controls on the unit, the LED changes colours depending on the mode, but this isn't enough. Of course, the idea is that you set up Alexa or Google Assistant and use voice commands instead. However, we'd like more options.
It offers many benefits, including access to a wide range of streaming services and a Bluetooth function. If you're streaming Netflix from your phone to the TV, you'll enjoy having an app for control rather than the simplistic remote.
Despite the lack of sound modes, expanding the Bose Smart Soundbar 300 is painless as Bose offer both wireless subwoofers and rear speaker sets. It takes virtually seconds to pair either with the soundbar and get them working as a larger system.
If you're looking for a cheaper option that provides more options, consider either the Samsung HW-Q60T (soundbar with subwoofer) or the JBL Bar 5.0 MultiBeam. That's not to say that the Bose Smart Soundbar 300 is substandard, just that better options are available. 8/10