What is Control4 4Sight and is it worth the money?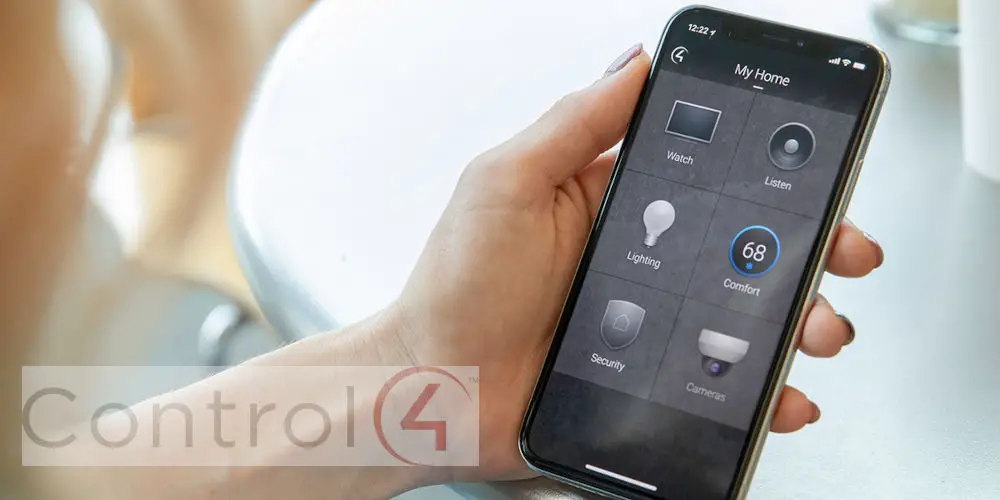 A Control4 smart home system alone is incredibly powerful, allowing you to control every aspect of your home. But by adding Control4 4Sight to your system, you can turbocharge it and access a range of additional features.
By using Control4 4Sight, your system can securely connect to the Control4 cloud. Once connected, you can use additional features such as remote access, voice integration, When >> Then homeowner personalisation, Intercom Anywhere, and much more.
If you've recently had a Control4 system installed, you likely already have 4Sight. However, if you are about to install Control4 or see a notification that you need to renew your 4Sight subscription, you'll want to know more about the software before purchasing it.
Let's uncover what Control4 4Sight offers, the price, and consider if you should purchase it or not.
Remote access to your Control4 system
Before Control4 4Sight launched, you could only operate your smart home system using the remotes, touch panels and switches in your home, or using presets that were activated by timers.
However, as most of us now carry a smartphone in our pocket, Control4 realised that there is a need for an app that could operate a system remotely and securely.
4Sight allows you to use your smartphone or tablet to control your home automation system from anywhere with Wi-Fi. You can easily check the status of locks and cameras, control lighting, media, and other smart devices, and much more while you're in your home.
But that's not all. You can also receive alerts, view cameras, lock doors, adjust thermostats, and turn on/off/manage lights with just a few taps whether you're at work, shopping or on holiday.
Operate your system using voice commands
The invention of Amazon Alexa and Google Assistant changed the game. You no longer need a remote or your smartphone, simply say a command and have the system react.
While neither replace traditional control methods (such as remotes), they make it easy to operate the basics of your smart home system. 4Sight is the glue between Alexa or Google Assistant and your Control4 system.
You can use voice commands to turn on lights, turn up the temperature, and even launch entire scenes. You say: "Alexa, turn on kitchen lights" or "Okay Google, close the garage door", and your system actions these commands.
Sadly, it doesn't enable you use Siri with your Control4 smart home system. There is a solution to get Control4 working with Apple HomeKit and Siri.
When >> Then homeowner personalisation
Even after a highly trained engineer designs, installs and configures your Control4 system, you might want to adjust how the system works. And while you can pay more money for the dealer to send an engineer back, you might want to tweak it yourself.
With a Control4 4Sight subscription you have access to When >> Then homeowner personalisation that allows you to add scenes, tweak schedules, adjust playlists, and more. So there's no need to call your dealer to make every tiny system adjustment.
Using a simple-to-use web page (no coding knowledge needed), it's as simple as picking a WHEN, like "WHEN the sun goes down" and a THEN, like "THEN turn on the porch lights." It's a simple way to customise your smart home system further.
If you do need a dealer's help, using 4Sight, they can access your system remotely and make the required adjustments or apply firmware updates. As your dealer can work remotely, you don't need to be home, and most charge less for remote jobs.
View your video intercom from anywhere
If you're frustrated by missing deliveries and wish you could view your video intercom from anywhere, then 4Sight can make this a reality.
Using Intercom Anywhere, you can communicate with and see guests at the door. But it also allows you to unlock the door or gate, turn on the entryway lights, and then lock the door. And you can do all of these from the same app.
So if your friends arrive early or you're not home to receive a delivery, Intercom Anywhere means you can still give them access to your home, regardless of where you are.
What is the cost of Control4 4Sight and how can you install it?
4Sight works with every Control4 system, whether you have a few connected devices or a complete home system. It typically costs around £100 per year; or roughly £8 per month. So, it's highly affordable.
As with everything else Control4, you can only purchase 4Sight from a dealer. However, you're free to shop around and find the best price (as some dealers mark it up).
If you haven't used 4Sight before or it's been a few years since you purchased a subscription, then ask your Control4 dealer for a free 90-day trial. After using it for a few weeks, you'll have a clear idea of whether you need it or not.
Should you buy Control4 4Sight?
While the idea of having to spend more on your Control4 system might make you groan, £100 per year is very affordable. To put this in perspective, £100 is far less than the hourly rate you'd pay a Control4 dealer to work on your system.
We'd argue, the cost of 4Sight is worth it as you can have a dealer work remotely on your system reducing the amount of time you need to spend waiting around at home. Plus, the dealer is likely to charge less as it costs them less to work remotely on a system.
As we use our phones more, the ability to control your smart home system remotely will become essential. Not to mention how exciting it is to use voice commands via Alexa or Google Assistant to control your Control4 system.
If you're still unsure about Control4 4Sight, call your nearest dealer and ask for a free 90-day trial. You'll know in a week or two if you can live without it or not.