Will Control4 work with Apple HomeKit?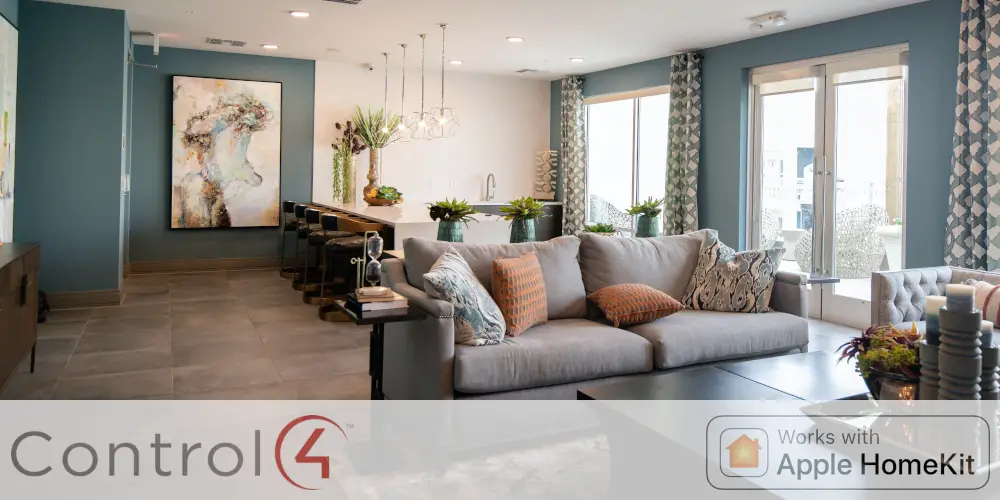 Ask anyone with a Control4 home automation system, and they'll tell you how reliable it is. However, there's one big thing missing for many, and that's direct integration to Apple's home automation ecosystem, HomeKit. But will Control4 work with Apple HomeKit?
Of course, you can use the Control4 app, but that doesn't offer seamless integration. Plus, it's not accessible from the lock screen or control centre. You can't control it with Siri. So, we need to find a driver that allows us to bridge the gap and use Apple HomeKit with Control4.
Will Control4 work with Apple HomeKit? Yes, but you'll need to work with your dealer to install an additional drive. From there, you're able to explore and programme the system yourself.
Why HomeKit when you already have Control4?
You might wonder why do you need Apple HomeKit when you already have Control4. It's a fair question to ask. However, HomeKit works with Siri and allows you to quickly programme your system using your iPhone, iPad or Apple Watch.
Siri, much like Alexa or the Google Assistant, simplifies how you control your smart home system. Rather than needing the Control4 app, you can say "bedroom light on" or "lock front door", and your system will respond accordingly.
Of course, a voice assistant won't replace needing tablets, smartphones, computers or other control devices as you'll still need them to programme how the system works. But they will speed up controlling the basics.
The issue is that Control4 doesn't support HomeKit. They might in the future. But they currently don't support an external API yet. And, so we need another route that will enable them to work together as a single system.
Bridging the gap between HomeKit and Control4
Just as Control4 use a propriety protocol that allows devices to communicate, so does HomeKit. The Apple iOS contains a database that holds all the information about the devices.
After you populate the database, any application, including Siri can access it. Some of your devices will have native support for HomeKit. Those that don't, require you to create a link between them to allow communication using the iOS protocol.
So we need to create a bridge between HomeKit and Control4.
Control4 Driver
The best starting point is with Control4. We need a method that allows us to run commands on devices in Control4 using an API. The best solution is to use a driver that sends commands to it and runs commands on the Control4 side.
The best solution we've found is from Finite Labs LLC, who offer the Home Connect for Apple Home. You'll be able to control supported Control4 devices through the Apple Home app and Siri.
Another option is the Siri Voice Module by home automation specialist DTI Automation Pvt. Ltd., which allow you to control all Control4 devices via Apple's native Home application.
For this driver to work, you need to create a Homebridge server, which is free. The Homebridge server Emulates the Control4 devices as HomeKit-enabled Devices. You can install a Homebridge server on a wide variety of devices and Platforms.
Once set up, the Siri Voice Module will allow you instant access of Control4 devices from the Apple Home app and Control Centre. There is free remote access through Home App (iPad, Hompod, or Apple TV as hub Required). The system allows two-way feedback and Geo-Fencing.
Plus, it integrates with Apple's iOS Automation Application. The driver can monitor changes in the project and the Homebridge setup. You shouldn't encounter any issues with rogue devices in Homebridge that you have already deleted or renamed in Control4.
The Siri Voice Module supports the following devices:
TV
Switches
Dimmers
Advanced Lighting Scenes
Fan Speed Controller
Thermostat
Blinds
Garage Doors
Door Locks
Security System
Motion Sensors
Contact Sensors
Custom Commands (Events)
Other driver options are available, including a DIY approach from C4Drivers and the Varietas Software's Control4 driver. Both will work with a different range of functions and devices and may require some effort to get them to work as you envisage.
The downside of using HomeKit with Control4
The main downside to HomeKit is that it only handles a subset of Control4 devices, mainly lights and sensors. It doesn't work with AV equipment. Of course, it's nice having the option of saying "Hey Siri, Living Room lights on", but using HomeKit with Control4 isn't life-changing.
Again, it doesn't replace having the Control4 app on your smart devices, nor will it mean you can bin your Control4 touch screens or remotes.
Should I work with a dealer?
Unlike installing a Control4 home automation system where you have to work with a dealer, usually at a great expense, you should be able to install the drivers and configure them yourself.
However, it's worth working with a local Control4 dealer as they will make the process of getting Control4 working with Apple HomeKit painless. They understand how to get the two systems working in harmony and without issues.
Will Control4 work with Apple Homekit?
It is possible to integrate Control4 with Apple's Homekit using third-party drivers like Homebridge or Varietas HomeHub OS. However, we recommend working with a Control4 dealer as the process can be complex and prone to issues.