What Crestron lighting control options are available?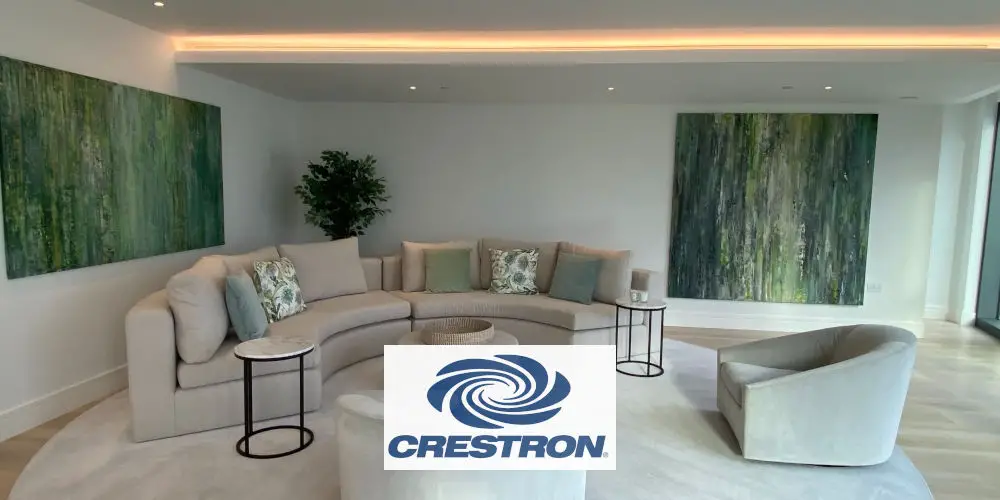 When you think about Crestron, superior lighting control could be your first thought! Many install a home automation system to control key functions such as lights, blinds, and heating. What makes the Crestron lighting control solution interesting is that it offers unlimited flexibility.
The range consists of wired and wireless lighting control solutions, allowing virtually unlimited configuration, expansion, and flexibility. With Crestron lighting control, your home feels more comfortable and is easier to control. All at the touch of a button or using a voice command.
But that's not all. You can build scenes and automations that allow you to control multiple devices with a push of a button. Having total control over your home is actually very freeing!
Most people start with lights and blinds when dreaming about their Crestron smart home. So, let's explore what Crestron lighting control options are available.
Crestron lighting solutions
Wireless Lighting
With Crestron wireless dimmers, it's easy to enhance your lighting controls without rewiring or compromising reliability. They install like ordinary wired dimmers, allowing you to set "scenes" on a keypad and control lights using your existing wiring.
Crestron offers easy-to-install wireless solutions for automating and controlling LEDs, track lighting, incandescent, floor/table lamps, sconces, spotlights, and even outdoor lighting.
Once set up, you can adjust your lights from your smartphone or Crestron touchscreen.
Wired lighting options
The Crestron DIN rail lighting control range is huge and allows dimming and control of any type of light fitting from a simple downlight to colour changing LED strip lights.
The DIN rail range is extremely scalable, allowing you to build lighting systems from a single room up to homes which span multiple buildings. These systems can be designed with remote lighting enclosures, minimising mains wiring requirements and allowing complete scalability.
As with the wireless options, you can control any wired light using the app, wired and wireless keypads and touch screens.
Combining wired and wireless solutions
With Crestron, you can integrate wireless and wired elements into a single system. With this mix-and-match approach, you can integrate lighting, shades, thermostats, audio, video, and controllers.
You can design a complete home lighting system today and then add retrofit wireless solutions later in the future as your requirements evolve. Of course, the opposite is also true. Whichever route you choose, the result is a solution that controls everything.
Choose the brightness, or even the colour, of every individual bulb in your home. Not only does this reduce your energy bills, but it also increases your bulb's life.
The Crestron Lighting Control range comes with a lifetime guarantee.
Flexible control, from anywhere
One of the main benefits of a Crestron system is the level of control it offers. You can adjust your home's lighting remotely from the comfort of your iPhone, iPad or Android device.
You can even enjoy the convenience of preset "scenes". For example, you can set a "wake" scene, which gradually wakes you in the morning by raising the blinds, turning on the lights and adjusting the thermostat.
Another example of preset scenes is for movie night. Imagine, with a touch of a button, the lights dim, the projector switches on and the screen lowers, and your movie begins to play. You can easily see how Crestron lighting control can transform your life.
You could also have a "leaving" scene that turns everything off and turns down the heating. You could hit the leaving button as you walk out of the door, safe in the knowledge that you haven't left your bedroom light on or wasting money heating your entire home.
Precise control with Crestron keypads
The Crestron range of lighting keypads is huge, enabling you to match them to your interior design. Both wireless battery-powered and wired keypads are available. Each keypad is very simple to use, meaning even visitors with no prior experience can control a room's lighting.
Multiple lighting keypads can be ganged together, allowing you to control several areas from one position. For example, a keypad at the bottom of the stairs can control lights in hallways, stairs and the landing.
As a fully custom element, keypads can be custom engraved, making it obvious what each button does. Plus, a single keypad can control blinds and curtains too.
Other controls, including motion detectors, light level sensors, and time clocks, can be incorporated into the lighting control system, ensuring it is intuitive and straightforward to use in daily life.
Crestron lighting control can improve your home security
Many install a home automation system to improve their home security and not solely for the additional level of control such systems offer. So whether your priorities lie in security, energy management or improved control, there's a Crestron lighting control solution available.
Crestron also offers a range of motorised blinds and curtains. These window treatments are easy to operate, quiet, and allow convenient access to natural light. Plus, they can mimic your action when you're away.
You can painlessly control Crestron blinds and curtains with a tap of a button, from a lighting keypad. They can open and close on a schedule or in response to changing light levels.
Closing blinds in reaction to high light levels can also lower the temperature in the room, reducing the use of air conditioning. Plus, rooms with multiple blinds can be grouped to open/close in unison with individual control possible via a Crestron touch panel.
The range of Crestron window treatments compares favourably to the tried and trusted Lutron blinds, as noted in our comparison of the two.
Crestron lighting is fast and reliable
As with other elements of a Crestron system, the lighting products are built for commercial application, meaning they are more than sufficient for residential use. They are highly reliable, fast to react and easy to programme. A Crestron lighting control system is ideal for every luxury property.