What does Crestron cost to install in your home?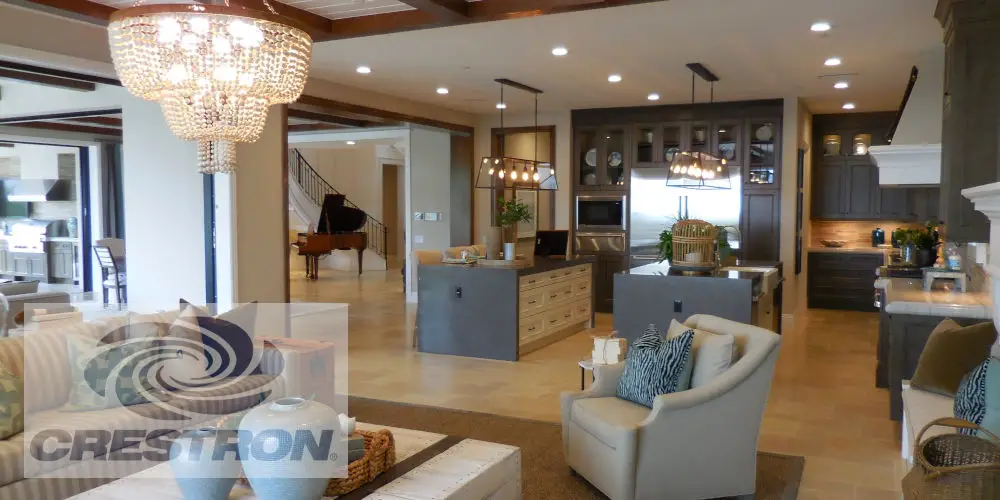 If you've read our introduction to Crestron home automation, you'll probably spot that one key piece of information is missing, the cost. As you can't see a price list, it's difficult to calculate what Crestron costs to install.
Buying the equipment is only part of the solution. So, some might argue that seeing a price list alone could be misleading. On top, you also need to pay for installation and configuration.
As a wired smart home system, you need an engineer to lay specialist cables in your property. Next, you need someone to configure and programme the system. You should remember these three elements when trying to calculate what Crestron costs.
Using a global dealer network, Crestron can be highly selective about who can sell their equipment to ensure the best customer experience.
As the Roll-Royce of home automation systems, Crestron demand that the end-user receives the best possible care and attention, and a home automation system that matches the exact requirements of the client.
That said, after some research, we have uncovered a few examples of a Crestron price list [PDF], including one from the US government [PDF], that gives us a rough idea of the basic cost. So if you're wondering what does Crestron cost, we'll try and help you answer your questions.
Disclaimer (of sorts)
It has been difficult to verify prices, and so any figures can only be considered a rough idea. Your local Crestron dealer is likely to have room to negotiate equipment prices based on the number of devices you require.
Typically, we'd look at the secondary market (eBay, gumtree, etc.) as they can give an indication of current prices. Generally, used items generally sell for around 50% of the retail price. However, very little Crestron gear is available on these marketplaces, making it hard to estimate current prices.
With all of these caveats in mind, you should be able to calculate the rough cost of your Crestron system using our data.
Does Crestron cost a small fortune?
Considering the cost of equipment alone is misleading when installing a Crestron home automation system as you can't install or configure it yourself, and so have those costs as well.
If you have a budget of a few thousand pounds and are happy to DIY install, then a Fibaro home automation system will be a better option.
Many looking at installing a Crestron home automation system have a budget of at least £50,000. Some will spend over six figures and have a list of requirements to match!
With a budget under £25,000, you'll have to be creative with your Crestron dealer to build a system that offers some smart home capabilities and may need to search the Crestron Application Market for software solutions rather than calling your dealer.
The system you install will depends on how you finance it and if you borrow money or only pay cash. So it's worth doing research before you visit a dealer!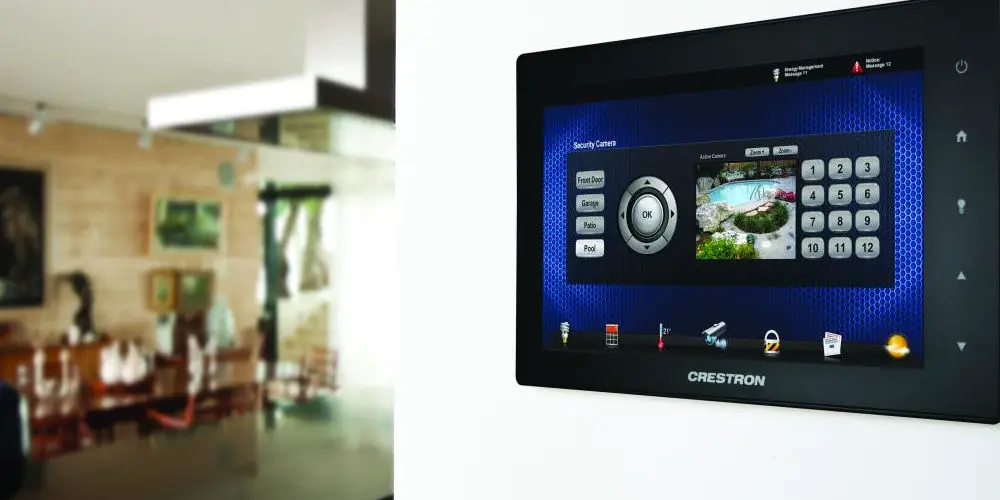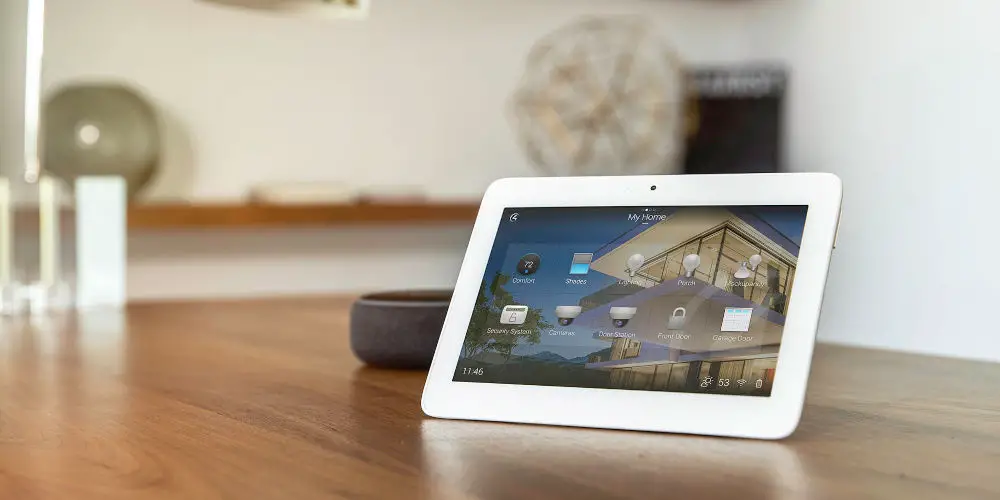 Essential Crestron home automation components (and their cost)
At the heart of every Crestron home automation system, is a rack with a few essential pieces. These act as the brains of the system and send or receive signals from connected devices. Once set up, you can begin to programme functions you want to control using your home automation system.
Controller: £1,800 – £2,800
Every Crestron system uses a 4-Series Control System (such as CP4-R), which devices connect to, allowing you to operate them from a single remote.
Gateways and Expanders: £370 – £550
A gateway enables an entire wireless network of devices to communicate with a Crestron control system.
Touch screen: £1,100 – £3,000
Several touch screen options are available, including in-wall and freestanding, and in three screen sizes (5-inch, 7-inch, 10-inch). These control surfaces allow you to operate your Crestron system and connected devices.
Smart remote: £400 – £1,000
If you prefer a physical remote over a touch screen or app, then two options are available HR-310 and TSR-310. Both are fantastic for instant control rather than having to navigate menus, apps or other distractions.
Outlets: £190 – £250
Crestron offers several power sockets that replace your current ones for a more seamless look, meaning you can easily control the device plugged in.
Total
The total cost of must-haves: £5,450 – £32,150
Crestron Cost: lighting products
With the brain in place, you can start to automate essential functions within your home, making life easier. Top of most people's list is automating their lighting.
Wired dimmer switches and keypads: £280 – £360
Access different "scenes" or options using a Crestron keypad. Two ranges are available (Cameo and Horizon) and they can be customised to your home. Your options range from simple dimmer switches to keypads with buttons for shades, lights and morning sequences.
As a custom product, these are available in a range of sizes (1 to 4 gang) and colours.
Total
The total cost of lighting: £1,000+
Blinds and curtains
Imagine never having to open a curtain again. Life-changing! Crestron offers options to control both curtains and blinds, both as a stand-alone feature and as part of a scene.
Motorised blinds: £60 – £700
Crestron motorized shades feature exclusive Digital Quiet Motor Technology (QMT™) for virtually silent operation. While you can buy the hardware to use with your existing blinds, Crestron also offers made-to-order blinds in a range of colours and thicknesses.
Total
The total cost of lighting: £4,000+
Crestron thermostat
While air conditioning might be a foreign concept to us Brits, a smart thermostat can still provide many benefits.
Smart thermostat: £500
The Crestron Horizon® Thermostat is a slim, attractive device that learns and anticipates how you live yet is simple to control, delivering ideal comfort and efficiency.
Total
The total cost of climate control: £500+
Crestron home security system price
A popular reason for installing a smart home system is security. Crestron understands this and has invested heavily in its home security products. Wherever you are, Crestron will keep your home safe.
Smart locks: £160
Several well-known brands, including Yale, produce Crestron compatible smart door locks that can be opened or closed from anywhere in the world.
In partnership with ekey biometric systems, Crestron has developed a biometric system, allowing you to unlock your front door with the swipe of a finger.
Video doorbells: £700 – £1,500
Crestron and 2N® have partnered to develop a range of video intercom door stations to enable you to feel safe and secure at home. You can set up the 2N intercom to call all Crestron TSW-x60 and TSW-x70 series touch screens.
Security camera: £300 – £2,000
Many third parties offer compatible security cameras (including Lilin and Axis) that painlessly integrate with the system and are viewable from anywhere.
Garage: £500
Use an INET-IOEX-RYIO device to control your garage door, and never worry again if it's open or closed. And as you can check the status of the device, you can close or open it remotely.
Total
The total cost of home security: £3,500+
Pricing a Control4 Entertainment system
Thanks to on-demand streaming, we no longer want to wait for content to be available for broadcast. Crestron offers a range of AV products that allow you to distribute audio and video to multiple rooms while remaining in full control. Easily build a home cinema or a multi-room audio system or take the TV show with you as move around your home.
Be warned complete home AV systems are not cheap and can easily add up to five- or six- figures. These features could easily make your Crestron costs rise exponentially but are worth every penny!
Speakers: £380 – £680
With a range of in-celling and in-wall speakers available, you can easily add audio to any room. Several soundbars and subwoofers are also available.
Amplifiers and receivers: £4,200
DM NAX is the native Crestron Home audio distribution system that offers unmatched flexibility, scalability, and performance. Both the DM- NAX-8ZSA and DM-NAX-16AIN amplifiers provide the capability for whole-home audio with plenty of volume on tap.
Video distribution: £800 – £4,000
Simplify your AV equipment with Crestron DigitalMedia™ technology. As the best available video processing and distribution platform, enjoy 4k video quality, smoothest channel and source selection, and field-tested reliability.
Total
The total cost of an entertainment system: £5,000+
Working with a professional installer can dwarf equipment cost
Buying the equipment is only part of the Crestron cost. As a professional-level home automation system, you need to work with a highly trained engineer to install and configure your system.
Depending on the complexity of your property and the level of control you'd like from the Crestron system, the labour cost could dwarf the amount you end up spending on equipment.
For example, London based Creston and Control4 dealer Smart Space Group charge £120 per hour for maintenance, £85 per hour of Crestron programming, and a day rate for installation of £500.
These basic figures allow you to begin to calculate just how expensive installing a Crestron system can be.
How to maximise your investment in Crestron
Unless you design and install home automation systems for a living, it's best to work with a dealer. They can help you maximize your budget, explain the different options you have and design a system that works for your lifestyle.
Let your Crestron dealer worry about getting your Sonos smart speakers or Google Assistant integrated into the system and focus on your family and business!
When your Crestron system is installed and configured, you'll enjoy how painless and seamless it is to use. Crestron will transform your life.
Hopefully, you now have a better understanding of how much Crestron costs to install in your home.