Dyson 360 EYE™ review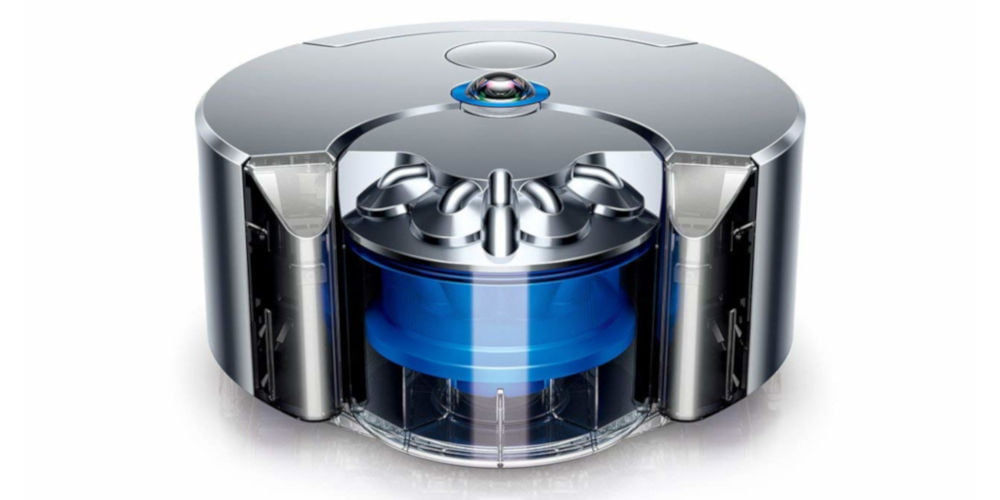 Jumping on the robovac trend, the Dyson 360 EYE™ is a completely different breed of machine.
Look at any it's marketing material and you'll quickly realise Dyson has made some bold claims. The most audacious: "Superior cleaning with twice the suction of any robot vacuum".
We aim to evaluate these claims and benchmark it against other robotic vacuum cleaners. We'll also try and assess whether the nearly £900 price tag is worth it.
Known for their unique cyclone technology and innovative design, Dyson has created in the 360 EYE™ a product which stays true to their design philosophy.
The unit uses a V2 spin motor which provides the same suction when empty as it does when full. So while other robovacs lose power over time, the Dyson doesn't.
Unlike other robovac which use sensors to navigate, the Dyson uses a 360-degree camera (hence the name!) as well as IR sensors on the sides. This allows the unit to clean the maximum amount of floor in the least possible time.
If all that excites you, then you'll be disappointed to know it's dustbin is tiny – only 330 ml. Given that it is quite tall, this is a major negative and will mean you spend more time emptying it than you'd like.
When fully charged it only provides 45 minutes of vacuuming time, which isn't great especially as it takes two and a half hours to charge. That said, it automatically dock and recharge when running low.
In terms of control, only the Dyson App is available. That said Dyson have rolled a few app updates out as well as software updates for the Dyson 360 EYE™. 6/10
Pros
Smart navigation
Powerful and picks up plenty of dust
Works via Wi-Fi and an App
Cons
Incredibly expensive
Only a Dyson app is available. Doesn't integrate via IFTTT or any smart home system
Tiny battery life of 45 minutes
Design
The Dyson 360 EYE™ has a unique design and colour styling. It blends subtle tones of Blue and Nickel to great effect.
As robotic vacuum cleaners go, it's tall – 12 cm high. This means if you're looking for a robovac that will glide under most furniture, then you'll be disappointed. It's also fairly wide with a diameter of 24cm yet is just under 2.5 kg.
Delving into the design, the sleek top features the navigational camera, cyclone pack release button and power button.
Moving down the unit, to the front is the removal cyclone pack which is made up of a cyclone, cyclone shroud and clear bin (0.33 litres capacity). The rear contains a removable HEPA filter, which a USB port sits behind. Finally, there is a handle on each side, which makes it easy to move.
Turning the unit over, the first thing you'll see is the full-width brush and the unique look wheels. There are the charging points as well as several sensors, used for navigation.
It's also worth mentioning the uniquely styled charging base that accompanies the unit. Looking unlike any other, with its pure white styling (albeit with 4 tiny black squares) and open folder like appearance.
Features
With many unique features, it's worth exploring the 360 EYE™ is detail. We'll cover how it navigates, the battery and its cleaning mechanism.
Navigation
What makes the unit unique is how it navigates. Like most robotic vacuums it uses sensors. However, that's only part of the picture.
Located on the top is a 360-degree camera, which continually photographs it's surrounding to build up a panoramic picture of the area. The unit then calculates the best cleaning pattern and starts to track where it's been and what's left.
Battery
A Lithium-ion battery power the unit and charges in 2 hours 45 minutes but only provides 45 minutes of cleaning when fully charged. We'd imagine the navigation system uses most of this battery power, hence the poor charge to use ratio.
The 360 EYE™ does compensate slightly for this as it remembers where it finished. It then auto-docks and recharge before travelling to the last point, where it restarts.
Suction power
One of the main claims Dyson make is that the 360 EYE™ has "twice the suction of any robot vacuum" and puts out 22 air watts of suction thanks to it's V2 digital motor.
However, even a rough conversion to pascals (the standard suction measurement for robovac) gives us a figure of 2000 Pa.
Putting this into context, this is the same as the Neato Botvac D6 and many others. So while the Dyson might not lose power (an important point), it's hard to conclude it offers double the suction.
How it cleans
Another unique feature is how it cleans as the unit uses a single, wide brush. As there are no side brushes, all the motor power is directed into this one brush, which affords a deeper clean, whether on carpets or hard floors.
If the battery life disappoints, then you'll be shocked by the dustbin capacity. It's a measly 0.33 litres, and while that is comparable to other robovacs, as the largest unit on the market, it's tiny.
Operation
You can operate the 360 EYE™ using the controls on the unit and the Dyson Link App, which is available for Android and iOs. There's no integration with leading smart home systems such as Z-Wave or even IFTTT.
Warranty
Finally, this Dyson robotic vacuum comes with a 2-year warranty and online and phone support 7 days a week.
Set-up
Getting the Dyson 360 EYE™ ready for the first clean is quite simple. First, you'll want to set up the dock. Open it to 90 degrees and placing it against a wall. Next, plug in the power cable to either side of the dock and look for the blue light. Finally, you'll want to ensure there's nothing within a 50 cm radius of the dock.
With the dock set up, it's time for the first charge. Place the unit with the bin facing the wall. It will light up and pulsate until fully charged when it will turn solid. Now you'll have to wait for it to charge.
While it charges, it's worth walking through your house and clearing any small objects that may get sucked up. Also, make sure that any drops are clear and so that the infra-red sensors can detect them.
It's worth watching it first clean and starting it using the controls on the unit. So to get it working, you'll need to press the power button. Your 360 EYE™ will start to clean and will dock when it needs to recharge or is full. It will automatically recharge or bleep until someone empties it!
Modes
The App offers two levels of power and two different cleaning modes. The default is the Max Power Mode, which has a 45-minutes runtime and is louder than the Quiet Power Mode.
With nearly double the runtime, Quiet Power Mode offers a less thorough cleaning at a lower noise level.
As well as the two power setting, there are two cleaning modes. The first, Automatic Recharging Mode is where the Robovac cleans all accessible space, recharging at its dock when required.
While the other setting is Single Charge Mode. This is where Dyson 360 EYE™ unit cleans the accessible space it can reach on a single charge only.
Performance
While you can quite happily control the unit using the power button, for the best results you'll want to download the Dyson Link App.
Available from both the App Store and Google Play, the Dyson Link App enables you to schedule cleans, view maps of previous cleaning sessions, diagnose faults and automatically update software.
The level of vacuuming is very high and easily adjusts to different flooring types and heights. However, it does take it's time to scan each room and then plot what it considers to be the best route.
It can get stuck under taller furniture and will give up, recharge and try again. Of course, it'll track what it's covered and what's left to do, then attempt to have another go.
Two elements that do let the Dyson 360 EYE™ down are the battery life and bin size. A single charge probably isn't enough to cover a single floor in the level of detail that the 360 EYE™ can. So your robot vacuum cleaner will likely want to recharge mid-way.
Of course, you'll need to move it between floors and may even need to dock it manually and then restart it roughly where it left off.
When the dustbin is full, it will continue to bleep until it's emptied. And as it's 0.33 litres, you'll get used to the bleeping, unless you empty it while it charges. Again for the price and the brand, we'd expect a bigger capacity.
Another feature that is lacking is a suitable solution for is blocking out spaces. You can, of course, shut doors which is a fairly simplistic solution. However, the unit doesn't work with virtual walls or magnetic tape. Again a let-down, especially for the price tag.
Is the Dyson 360 EYE™ worth buying?
There are much to love about the Dyson 360 EYE™ robot vacuum cleaner, however, overall it's slightly disappointing.
Firstly, it doesn't offer double the suction of other robot vacuum cleaners. In actual fact, it's very similar in terms of suction to many other units. What it does offer is consistent suction. This might seem like a minor point, but it's very important.
It does have the most advanced navigation system of any robovac by far. Coupling cameras with Infra-red sensors is highly unique. That said, there's no way to restrict it from room or spaces.
The battery department is lacking as it requires far more time to charge than runtime. And while it can auto-dock and recharge, having a slightly longer battery runtime would be nice.
The most disappointing feature is its height. As a tall unit, the 360 EYE™ can't clean under furniture. Even the cheapest robovacs offers this feature (including the £85 Mamibot ProVac Plus2).
The dustbin is tiny and with no discernible reason. While this might seem like a minor point, remembering to empty your robovac is pretty low on your do-to list.
As the App is well designed, using it is simple and can even handle software updates. However, there's no way to ingrate the unit into a home automation system.
If it was cheaper, we'd be inclined to rate more highly, but as one of the most expensive modes out there, a low score is justified.
Of course, if you're a Dyson devotee it'll likely you'll purchase the 360 EYE™, regardless of our or any review. That's fine. We're not trying to convince devotees to experience an awakening!
However, if you're not. We'd recommend looking at the iRobot Roomba 671 or Neato Botvac D6. Both are far cheaper and offer more features.
Should an updated version make it to market that addresses some of these issues, we'll take a look. Sadly, the current Dyson 360 EYE™ scores 6/10.