Can the Fibaro Flood Sensor prevent untold damage?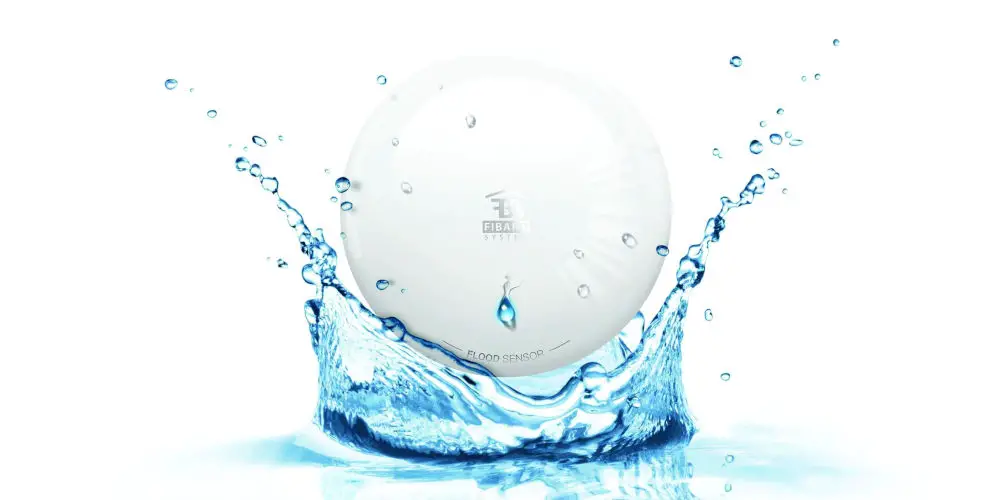 A leaking pipe will spell eventually disaster unless caught early. It's impossible to check your pipework daily. So, you'll need another method to catch any leaks, early. Thankfully, the Fibaro Flood Sensor is an affordable, Z-Wave Plus device that can save the day.
According to the Association of British Insurers, water damage from a leak or burst pipe is one of the most common reasons for home insurance claims, with insurers in the UK paying out almost £2million a day.
Using a unique floating design, the Fibaro Flood Sensor detects water to alert for floods. It also has built-in tilt and temperature sensors. An integrated siren and RGB LED indicator to ensure you're quickly alerted, preventing unimaginable damage.
Once you add one of these Flood Sensors to your smart home system, you'll wonder why you didn't invest in one sooner. In this review of the Fibaro Flood Sensor, we'll find out what makes them so powerful and useful.
What is the Fibaro Flood Sensor?
The FIBARO Flood Sensor is a universal flood and temperature sensor. With two operating modes, you can use it either as a flood/temperature sensor or just a temperature sensor to monitor the room's ambient temperature.
As a Z-Wave Plus compatible device, it can be powered using a battery, DC power supply or both. Designed to be placed on the floor or mounted on a wall (using additional wire to extend probes),  the 24K gold plated telescopic probes work on both flat and uneven surfaces.
The flood alarm is signalled by sound, a visual indicator (LED), and sent to the Z-Wave network devices. It can be wired to any external system by opening an NC contact using the external power supply.
In addition, the sensor is equipped with a tilt sensor that reports any instances of tilting or movement to the main controller. If someone moves the sensor from its original location, you'll be notified, allowing you to continually check you're protected.
The FIBARO Flood Sensor is sink-proof, meaning it drifts on the water surface and keeps on sending an alarm signal in case of substantial inundation of water. As a Z-Wave Plus device, it has a built-in network range tester and can be wirelessly firmware updated.
Will you need a Fibaro or Z-Wave hub?
As a Z-wave device, you can use the Fibaro Flood Sensor with any Z-Wave hub or gateway. You don't necessarily need to use it with a Fibaro Home Center hub. That said, you'll get the best performance from using one of their hubs.
For example, if you already have a Samsung SmartThings hub installed in your home, you can use this control device with it as SmartThings is compatible with both Z-Wave and Zigbee.
Does it work with Apple HomeKit?
Fibaro are primarily known for using the Z-Wave protocol. However, they have released an Apple HomeKit version of a few products, including The Button (read our review) and the Flood Sensor.
Whether you're using Z-Wave or HomeKit, you can purchase a smart water sensor designed for whatever system you're using and ensure you detect the first signs of flooding in your home.
That said, you can't connect the Flood Sensor to other ‌HomeKit‌ products for trigger purposes. Currently, there is no way for you to automatically turn off power to nearby appliances when water is detected.
Can you install it yourself?
The beauty of Fibaro is all products are DIY-friendly and easy to install. Once you have a Z-Wave or Fibaro Home Center hub set up and an app installed on your smartphone/tablet, you're ready to go.
Before using the Fibaro Flood Sensor, you need to open it and remove the battery blocker tape. Even if you plan on wiring the sensor using a power supply, it's still worth correctly installing the battery for backup.
Adding the sensor to your Z-Wave network takes a few steps. First, open the cover and place it within the direct range of your Z-Wave controller. Set your hub/main controller in add mode. Next, quickly, three times press the TMP button and wait for the adding process to end.
When successful, you'll see the device displayed in your app. As the Flood Sensor has two built-in sensors (flood and temperature), in the Home Center controller app, it appears as two devices.
When it detects water, be it a drop or two or a large puddle, you'll receive a push notification, and the alarm will sound. Thankfully, this is loud enough to hear from the next room. That said, you might not hear it if you're upstairs or watching TV. But that's where the app comes in handy.
Using the app, you can quickly and accurately see the room's temperature. The tamper alert never failed to sound when the sensor was picked up and moved from its location.
How can the Flood Sensor prevent damage in your home?
There are plenty of places within the home that have the potential to suffer from water damage. So, being able to catch a leak before it has the chance to do any harm is critical. Thankfully, the Fibaro Flood Sensor is small enough to fit under sinks, the bathtub, or in the laundry room.
As a relatively inexpensive way to avoid expensive water damage repairs, this device not only sends an alert when water is detected, but also tells you the current room temperature, and lets you know if it's been tampered with.
Just imagine how much money it could save you and your insurer just by being installed in your home. The figure could be thousands of pounds. Yes, there are more affordable options, but none connect to your smartphone for remote alerts.
You can also use this flood sensor along with the Motion Sensor and Door/Window Sensor to make your home truly smart and run automated sequences without you needing to lift a finger.
Should you add Fibaro Flood Sensor to your home automation system?
Hopefully you can see from our Fibaro Flood Sensor review, that it's ideal if you're using either a Z-Wave home automation system or Apple HomeKit.
The sensor is easy to install and works as expected. It offers an easy way to catch water leaks before they can do serious damage.
We like that the offers two modes, allowing us to monitor both flooding and room temperature with ease. While the battery is reported to last over 2 years, we'd still try to wire it in, just to be on the safe side.
As with other Fibaro devices, this is an innovative device that's a necessity for every home. So, if your home has a Z-Wave smart home system, you should consider buying a Fibaro Flood Sensor. It's as essential as having smart smoke detectors within your home.
You might, also want to add a Fibaro Smoke Sensor (read our review) to your home to protect it further.