What is the Fibaro KeyFob and how can we use it?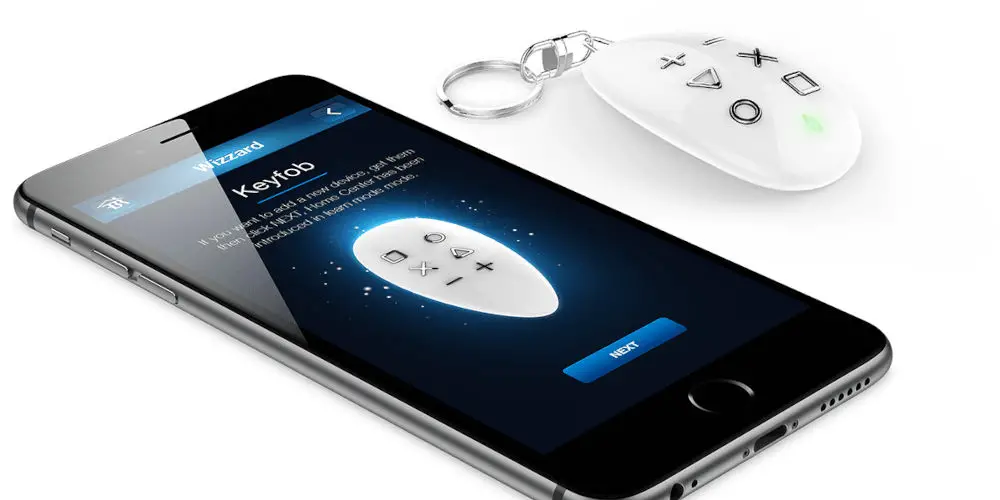 Unassuming, the Fibaro KeyFob is a powerful device that offers up to 30 different actions from its 6 buttons. With these possible 30 actions, you can control every element of your Fibaro smart home system. Turn on the lights, adjust the music, close the front gate, and so much more.
As a Z-Wave device, the Fibaro KeyFob controls more than just Fibaro products, you can use it with any device with the Z-Wave chip. Pretty powerful for what looks like your basic key fob!
The KeyFob works with AES-128 encryption, a pin lock to stop unwanted use and a built-in LED, which confirms an action has taken place. It's fantastic alternative to fixed controller such as The Button and Walli Controller.
What is the Fibaro KeyFob?
Ergonomically designed to perfectly fit in your hand and pocket, the battery-powered Fibaro KeyFob is a Z-Wave Plus compatible remote control. Its six raised buttons allow you to control any Z-Wave device or run various pre-build scenes for your FIBARO System.
What makes it powerful is you can configure different actions depending on how many times you click each button (one, two, three clicks and holding it down). That's a total of up to 24 possibilities.
As with the Fibaro Swipe, you can combine actions into sequences that control multiple devices. Easily create up to six sequences that use a combination of 2 to 5 buttons. Combining these two methods gives you a total of 30 possible actions.
With a fully configurable, automatic pin lock, KeyFob protects against accidental clicks or unauthorized use. Great news if you have small children who love to click remotes!
What can I use the KeyFob to control?
You can control pretty much any Z-Wave compatible device using the Fibaro KeyFob, meaning you can choose from thousands of smart home devices. Also, you can activate pre-set scenes.
Within your smart home, you could be using multiple Z-Wave brands. You might use Fibaro products for your heating, lighting, blinds and power. Around your home, you're using the latest Samsung products with built-in SmartThings (Z-Wave enabled devices).
Outside, you have a smart watering system that's Z-Wave comparable and a 5-bar gate controlled by a Fibaro relay. All of these devices and more can be controlled seamlessly using the Fibaro KeyFob.
You could be running a morning scene, which gently wakes you by raising your blinds, turning on your lights and starting your coffee machine. Many use a leaving home scene, which turns everything off as you walk out the door. KeyFob can activate both of these scenes and more.
Plus, as the device supports protected mode (Z-Wave network security mode) with AES-128 encryption, your home is safe and secure, stopping potential hackers in their tracks.
How to add the KeyFob device from your Z-Wave system
Getting the KeyFob to work with your Fibaro system is painless. Start by following these steps:
Install battery in KeyFob
Place it nearby your main Z-Wave controller hub
Set your Z-Wave hub to (Security/non-Security Mode) add mode (see the controller's manual)
Click any button three times
LED will pulse white during the adding process
Wait for the device to be added into the system
Successful adding will be confirmed by the Z-Wave controller's message and green LED colour.
Creating associations
Controlling devices directly involves creating associations (linking devices) within the Z-Wave system network. For example, opening your external gate, turning on the hallway light, and raising the lounge blinds.
It is not recommended to associate more than 10 devices in general, as the response time to control commands depends on the number of associated devices. With more devices, you might see a delay in system response time.
Otherwise, you can use the KeyFob to activate pre-built scenes that are stored in your Z-Wave hub. While this doesn't allow you to control individual devices directly, it does help you action complex sequences.
Expanding possibilities using sequences
You can expand the number of possible actions by creating sequences of two to five buttons Every sequence sends the corresponding Scene ID to the Z-Wave controller with the attribute "Key pressed 1 time".
Activating sequence introduces a delay in single, double and triple click actions for the first button in the sequence.
Rules of creating sequences:
Maximum of six sequences
Each sequence must be unique
Sequence can consist of two to five button pushes
Sequence can contain multiple clicks of the same button.
How do I know my button press worked?
The Fibaro KeyFob has a multi-colour LED that changes colour based on pushing buttons, sequences, menu position and status of the device. There's no need to worry about what happens after your push a button.
Compact yet powerful control
Overall, the Fibaro KeyFob is a little tricky to set up and programme. But once you've got your head around how to get it working, it's a powerful device that's ideal for any Z-Wave system and not just Fibaro.
Thanks to the six multi-touch buttons, you have access to 30 different control options. You can trigger scenes, operate devices, and even control features.
There are two downsides to be aware of. Firstly, it uses a CR2450 battery that's very common. However, we'd prefer a built-in battery that is USB chargeable. Of course, the battery life depends on how often you use it.
The other little snag is the key chain. Some users have reported it breaking after a few weeks of use. So be mindful that it might not be best attached to your key chain but placed in your pocket or wallet.
That said, the Fibaro KeyFob is an excellent and discrete way to control your smart home without needing to find your smartphone or add ugly controls to your wall. If you have a Z-Wave system, you should buy a Fibaro KeyFob.