Can the Fibaro Walli Dimmer help build a smarter home?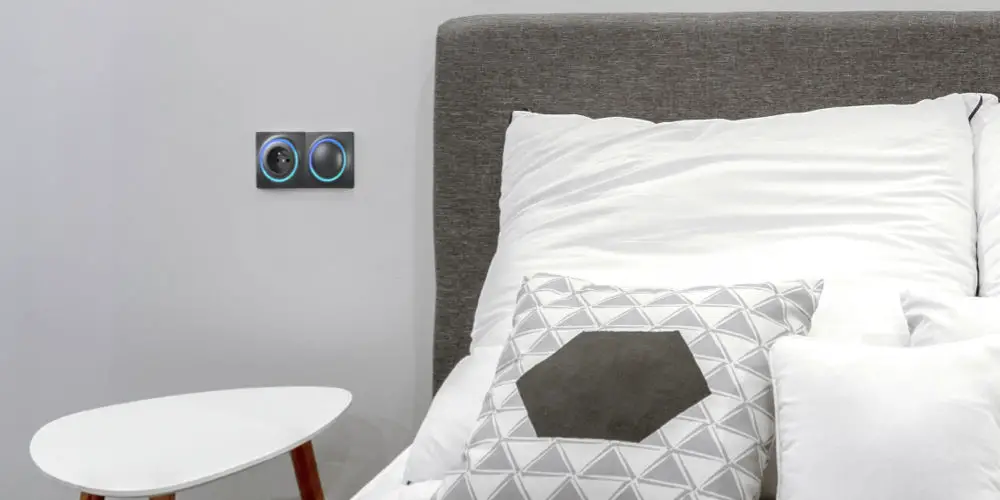 If you want to show the smart tech in your home, the Fibaro Walli Dimmer is ideal. As part of the Walli range, they combine the modules Fibaro is well-known for with an attractive front panel.
So rather than having to provide your own switch, the Fibaro Walli Dimmer is built-in. You'll see it has many similarities with the Dimmer 2, such as the ability to control a range of lighting types and built-in energy monitoring. It also has a multi-purpose LED ring and is easy to install.
Those are just a few of the reasons why this Dimmer is different and why it could be a superb addition to your home. Come with us as we explore the Fibaro Walli Dimmer.
What does the Fibaro Walli Dimmer do?
The Walli range is an answer to many consumers' concerns about installing smart devices in the home. While some will prefer to keep their existing switches and sockets, wanting to hide the smart technology in the backbox, some want a more modern look with the tech built-in.
With its modern look, the Walli Dimmer is more than a combination of a dimmer module and a switch. In fact, it's a smart switch that offers you far more control than your traditional light switch.
You can use it with conventional incandescent and halogen bulbs, LED bulbs, and dimmable light sources using Fibaro Bypass 2. It can switch a range of lamps and bulbs and offers several different operating modes.
The Walli Dimmer has built-in active power and energy consumption metering. So you can view your usage in real-time. And with its LED ring, you are informed about the current energy consumption.
It is easily installed using two and three-wired configurations and automatically calibrates to the connected light source. As a Z-wave Plus device, it offers improved range, wireless updates, and also acts as a signal repeater to enable you to build a stronger mesh network.
Will you need a Z-Wave or Fibaro hub?
You'll need a Z-Wave hub or gateway to use the Fibaro Walli Dimmer in your home. But that doesn't mean you have to  use a Fibaro Home Center hub as plenty of Z-Wave gateways are available.
SmartThings, for example, is compatible with Zigbee and Z-Wave. So, if you already using a Samsung SmartThings hub (either a stand-alone hub or one built-in to an appliance), this device will work with your system.
As a Fibaro device, we'd recommend using one of their Home Center hubs to ensure the best performance and options.
Can you install it yourself?
As installing the Fibaro Walli Dimmer requires rewiring some electrics, you need to be DIY competent or hire someone who is. It's not worth the risk of trying to install it, especially as electrics can be deadly.
Unlike some Fibaro devices that are plug-in and play, including  the Smoke Sensor, The Button and Motion Sensor, this module isn't. That said, as a mains powered device, it acts as a repeater helping to build a stronger Z-Wave network.
Installing the Fibaro Walli Dimmer requires you to disassemble it. The manual shows you four different ways to wire it in, depending on the current wiring and your intended use.
Before you can wire it in, you need to pull the switch button out and remove the cover plate. Next, follow one of the wiring diagrams in the manual. Check the connections and tighten the terminal screws using a screwdriver.
With it wired, you need to add the mounting frame and secure the frame with mounting claws and screws. Next, snap the cover plate in place and replace the switch button. It should look exactly as it did when you removed it from the package, only fixed to the wall.
As it's fully assembled, you can switch back on the mains. If the LED ring lights up, the device is powered. Next, wait for the calibration process to end. Light may blink, and the device will be switched off once the process is completed. You can now add the device to any Z-Wave network.
How can you use this Fibaro device?
What makes the Walli Dimmer different is it's not a single switch. In fact, it has two switches, matched with clever programming that can interpret single, double, and triple clicks. It's far smarter than it may appear.
You can set it up so that clicking the top button turns the light on. Set the light to 100%, by clicking the top button twice. Pushing the lower button will turn the light off.
If you want to increase the brightness, simply hold the top button, and your light will brighten. Holding the bottom button will dim the light down. You have access to a range of functions with a few clicks.
You can set it up to perform a range of actions using one of the buttons, including activating a preset scene. Plus, the LED ring can act as a night light, providing low-level lighting for those midnight toilet trips.
When using the Walli Dimmer with a Fibaro Home Center hub, you can access real-time data on energy consumption, allowing you to keep your bills down. Plus, with a Fibaro hub, you can control your device remotely using an app, voice control (Alexa/Google Assistant) or an online portal.
Should you add the Fibaro Walli Dimmer to your Z-Wave smart home?
As more than a pretty dimmer switch, the Fibaro Walli Dimmer will allow you better control over your lights. You could also use it as a scene selector.
Fibaro has yet again, created a fantastic device that's easy to install, highly useful, and offers more than using one of their Dimmer 2 modules. Of course, some will prefer to keep their existing light switches. So, we recommend installing their Dimmer 2 Modules.
However, if you're after a more modern look and crave better functionality, you should consider buying and installing at least one Fibaro Walli Dimmer. You'll enjoy the added control and features that the device offers.