Will the Fibaro Smoke Sensor protect your love ones?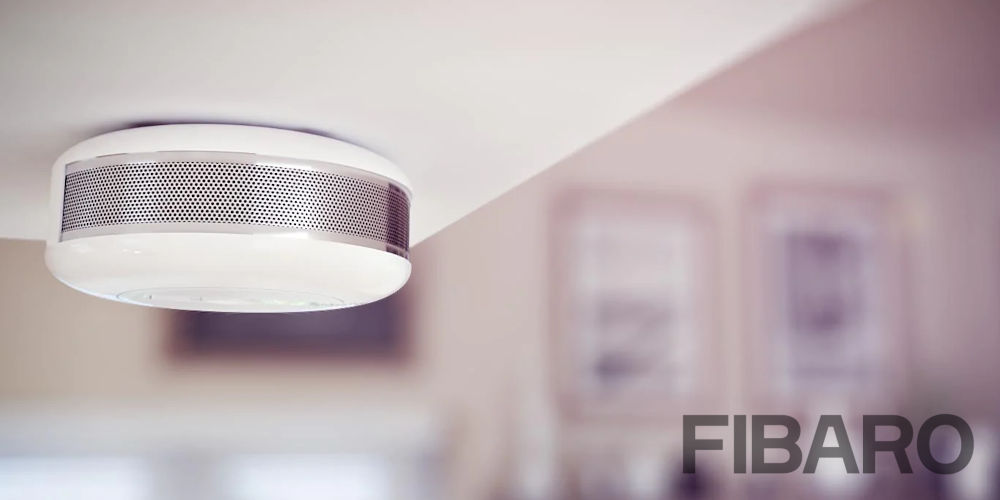 The majority of smoke detectors are quite unimaginative. Thankfully, Fibaro has produced a more attractive unit than the rest. The Fibaro Smoke Sensor is a fantastic Z-Wave Plus device that will protect your home and family.
It detects Smoke and Heat, allowing you to prevent your home from being damaged or enabling you to get to safety before a fire could harm you. It's easy to install this Fibaro device. And as a battery-powered unit, it even works during a power cut.
As a Z-Wave Plus Certified device, it offers many benefits over the standard Z-Wave devices, including wireless updates, improved range and longer battery life.
The Fibaro Smoke Sensor has a built-in sensitivity calibration feature. It alerts you when it discovers a threat with a multi-colour RGB LED and built-in sound siren. Installing this device in your home could save a life.
What is the Fibaro Smoke Sensor?
The Fibaro Smoke Sensor is more than a smart smoke detector. It can pick up smoke and change in temperatures, as it has a built-in temperature sensor. Some materials burn without smoking, making this device even more powerful.
The majority of smoke detectors on the market are designed to be functional, not beautiful. And as we typically install smoke detectors on the ceiling, they are still visible. Fibaro decided to combine uncompromised safety with functionality and a beautiful design that fits in any interior.
The Fibaro Smoke Sensor will let you know of a discovered threat with a multi-colour RGB LED and built-in sound siren. While the grille adds to the overall aesthetic, it also lets in the smallest amount of smoke, allowing for a quicker reaction.
You can decide what action your Home Center takes in case of fire, flood or break-in. The Fibaro Smoke Sensor offers advanced options for configuring sensor sensitivity, allowing you to ensure maximum protection.
Ensuring your smoke sensor works is extremely important. That's why the Fibaro Home Center hubs check every hour that your device is working. If it discovers an issue, it will notify you immediately. It also has a built-in tamper prevention function, alerting you if someone touches it.
Will you need a Z-Wave or Fibaro hub?
For your Fibaro Smoke Sensor to work, you'll need to pair it with a Z-Wave hub or gateway. And while you don't necessarily need to use it with a Fibaro Home Center hub, using one ensures the best user performance.
For example, SmartThings is compatible with Z-Wave and Zigbee. So, if you already have a Samsung SmartThings hub (either a stand-alone gateway or built-in to an appliance) installed in your home, this sensor will work with your system.
Does it work with Alexa?
If you have an Amazon Echo device in your home, you can link it with your Fibaro system, allowing you the possibility to control devices and scenes using your voice. There's no need to reach for your smartphone when you can use Alexa.
Simple, use your voice to activate and command Alexa and it'll tell your Fibaro system exactly what to do.
Can you install it yourself?
As with all other Fibaro devices, the Smoke Sensor is very easy to install and set up. The first step is to remove the rear cover, allowing you access to the battery. Next, remove the battery blocker strip to allow the battery to power the device.
Install the sensor's cover in the desired location. See the manual for tips on where best to place it. Screw the Smoke Sensor device into the cover to complete the installation process. Next, set your Z-Wave hub into the adding mode and quickly press the B-button three times.
Finally, you need to test your Fibaro Smoke Sensor's operation by performing a self-test. Simply, press and hold the B-button. You might also want to test the Z-Wave network range to ensure the device is within range.
How can this Fibaro sensor make your home safer?
It'd be easy to state the obvious here as we're all comfortable with what the basic smoke detector does. Yet most rarely check if the smoke detector in their home has a working battery, putting their family and possessions at greater risk.
Fibaro have taken the basic idea and added several features that increase the level of protection your home and family can benefit from. All of these could save a life.
Some materials burn without smoking. By the time you see the flames, it could be too late. The solution is to add a temperature sensor to aid in early discovery. Rapid temperature change or rises above 54C degrees will trigger a system notification.
Combining a temperature and smoke sensor into a single package creates a powerful device.
As a smart device, you can decide what action your Fibaro system will take when the smoke sensor is triggered. For example, it could open blinds, garage doors, or windows, while illuminating a safe escape route.
You can also manually activate a safety scene, performing life-saving actions at a touch of a button on your mobile phone or tablet.
As we've already mentioned, many homes have smoke detectors with a dead battery, increasing the risk of harm to the home and family. Your Fibaro hub will test every hour to see if the sensor is working. If it detects any problems, you'll immediately receive a notification.
As a Z-Wave Plus device, it automatically downloads and applies software updates. So, you can rest assured that the device is up to date and provides you with the maximum safety. In the app and online portal, you can view a history of when it was triggered.
A hidden benefit is using it in the kitchen! It can help you ensure food is perfectly cooked and alert you if you forget to turn off the gas. You'll never burn food again!
Should you add the Smoke Sensor to your smart home?
If you want to build a fully automated home, the Fibaro Smoke Sensor is a necessary device, along with their Door/Window Sensor, Flood Sensor, and Motion Sensor. Fibaro have invested time to ensure they provide suitable products that keep your home and family protected.
And for the £50 price tag, the return could be saving a life. So, it's worth buying at least one of these sensors for your home. Just remember to check the system once per day to ensure you change the battery on time.
Remember, people die due to dead batteries. It takes 2 seconds to change one. But, with Fibaro, this doesn't need to be the case. Don't risk it. Install a Fibaro Smoke Sensor.