Flymo Glider Compact 330AX lawnmower review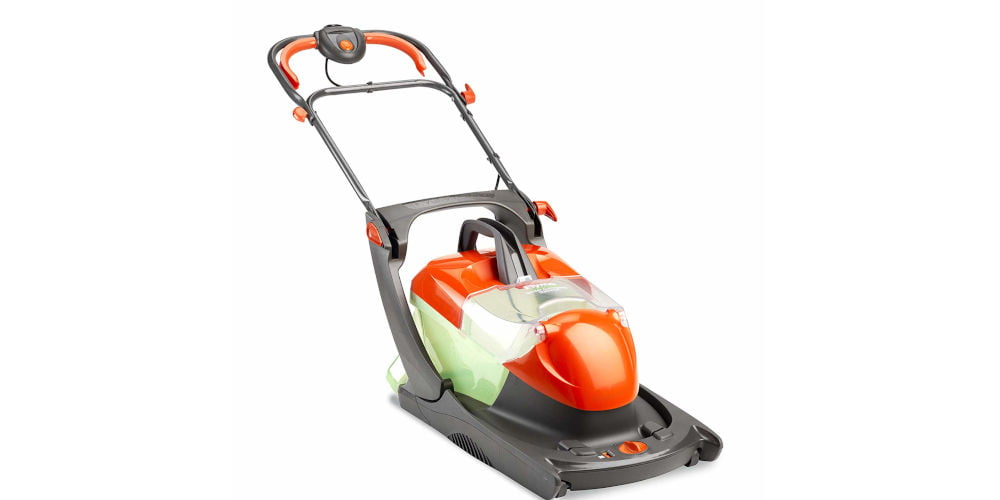 The Flymo Glider Compact 330AX Lawnmower blends the classic Flymo colours with a unique design. As an updated version of the Flymo Glider Compact 330VC, the two shares many features.
As a hover mower, the powerful 1700 watt motor creates an air cushion, which it glides on. The single metal blade trims the grass as it propels itself.
At 33 cm wide, this blade cuts with precession and can be easily adjusted to any of the 4 positions.
Unlike the typical hover mower, Flymo Glider Compact 330AX collects trimmings. A top-loaded grass collection box is it's most unique feature and speeds up cutting a lawn.
The two-part handle folds down, so requires minimal storage. A 12-metre power lead means you can cover most small gardens without needing an extension.
Overall, the Flymo Glider Compact 330AX Lawnmower has many good points but equally some bad ones. Our Score is 6/10.
Pros
Powerful 1700 Watt motor
Easy to adjust cutting height
Folds down for easy storage
Cons
Complex assembly
Collection box is tiny (22 Litres)
Small 33 cm blade
Design
Sporting the classic Flymo colours of grey and orange, the Flymo Glider Compact 330AX Lawnmower has a distinctive look.
The words hover mower might make you picture a slim yet sleek design with only the essential features included. The 330AX is, however, a completely different animal.
The first element you'll spot is the bulker design. As the grass collection box sits on top of the mower, it's quite a tall mower. This design limits its ability to handle tight spaces or under bushes. Both elements are typically positives of hover mowers.
Unlike the vast majority of rear-mounted collection boxes, having this element on top allows for better grass collection. The box also clips in place more securely, meaning fewer trimmings settle on the lawn.
Another unique element is the frame. Traditionally, the handle screws into the lawnmower body. However, with the Flymo Glider Compact 330AX the motor, blade and collection box sit on a frame.
The plastic frame also forms the bottom part of the handle. The top half is metal and has a smaller top section which allows the user to fine-tune the angle of the controls.
Again the frame and handle design are unique yet it doesn't offer any improvement in terms of ease of navigation over the traditional design.
Features
At the heart of the Flymo Glider Compact 330AX is an impressive 1700 watt motor. This is larger than most lawn mowers in our top 10 mowers under £100.
With significant power on tap, you'll find mowing easier and quicker. The motor power both the fan and blades. The fan blows air downwards creating a self-propelling motion, allowing the mower to glide over the lawn.
A small 33 cm metal blade trims the grass. While this cutting width is fairly small, the 330AX uses a single blade across this distance. This provides more precision over multiple tiny blades.
The blade can be set at 4 different cutting heights between 1-3cm and adjusting between settings requires no tools.
Along with the small blade, the unique grass collection box is a tiny 22-litres. Typically collection boxes average 40-litres and while size is important, it's also relative. This smaller box could be ideal for your small lawn.
A 12-metre power cable ensures you'll be able to cover most small and medium gardens without needing an extension.
Finally, the Flymo Glider Compact 330AX with a 2-year standard warranty, which can be upgraded to 5 years for an additional cost.
Set-up
Sadly, getting started to fairly difficult as the box contains 27 parts which slot together to form the Flymo 330AX. This is by far the most complex of any lawnmower we've reviewed.
Flymo has tried to make this process easier by describing it using both text and diagrams in the manual as well as using videos on their website. However, you'll need at least 30 minutes to put it together.
With the frame assembled and the mower and collection box in place, it's time to set the cutting height for the first time. Unlike most hover mowers which require adjusting with a tool, the 330AX has a knob at the front.
We'd suggest selecting the 2nd or 3rd positions for your first mow. Either will provide a good basic cut that's not too drastic yet will allow you to get a feel for the mower. You can then adjust the cutting height depending on your preference or season.
As you know how to mow your lawn, you can instead watch the collection system at work. While only tiny 22-litres, you can see the collection box fill up in real-time as there's a viewing window on top.
Getting starting is straightforward. Simply, power up and hold down the safety bar and push the on button. As expected, you'll need to keep the safety bar depressed for the lawnmower to continue working.
Performance
Most associate Flymo with long-lasting, robust products that perform well. Sadly, the 330AX doesn't live up to the brand reputation.
Firstly, it doesn't handle damp grass well. While many mowers struggle with damp grass, they don't refuse to work after covering a short distance. The 330AX, sadly falls short on this account.
On dry grass, it cuts with an even result regardless of the cutting height. As the 4 positions range between 1 and 3 cm, they don't provide a wide enough difference. It would have been better to offer 3 positions as at least they would each be useful for different seasons.
That said, adjust the cutting height is very simple and uses a knob on the front. You don't need any tools to change it, which is unlike most hover mowers.
At 9.4 kg, it's a fairly heavy beast and therefore is unlike most hover mowers. This is due in part to the collection box. So isn't ideal if you have back problems or are advancing in age.
Another element that isn't ideal is the collection box. If you have a small garden, this probably won't matter that much. It will be full by the time you've cut the lawn. However, on medium-sized lawns, you'll notice this lack of capacity as you'll need to make more trips to empty it.
There are a few elements we like. The long 12-metre cable. You'll be able to cover more lawn without having to waste time setting up extension cables.
After the painful set-up process, operating is really simple. Set the cutting height, power and push go.
Is the Flymo glider compact 330AX worth buying?
The Flymo Glider Compact 330AX lawnmower is a mixed bag. Flymo has designed a unit that's unique. Praise is, therefore, due – regardless of whether you appreciate the design or not.
Sadly, Flymo has developed a product that's complex to assemble and therefore suffers structurally if not accurately put together. Unlike most Flymo products, we can't see the 330AX lasting for 20 or more years.
As a unique design, the 330AX combines a hover mower with a collection system. However, this creates a unit that's far heavier than the traditional hover mower. Case in point, the Charles Bentley Electric Hover Mower is under 5 kg and costs half the price.
It does feature a super powerful motor, which provides plenty of power. Changing the cutting height is easy but again we'd like to see a wider range of heights available.
While affordable, given the choice, we'd buy the Charles Bentley or the Flymo TurboLite 400 Electric Hover Lawn Mower. While neither collects trimmings, we'd also invest in a garden vacuum to tidy cuttings and other debris.
The idea of buying two units rather than one might not appeal. However, you should be able to get change from £100 and select two lightweight products that are built for longevity and offer a level of flexibility that the 330AX doesn't.
As the Flymo Glider Compact 330AX Lawnmower scores 6/10, we'd advise looking at other Flymo products or hover mowers.