10 Garden lighting ideas to make your outdoors glow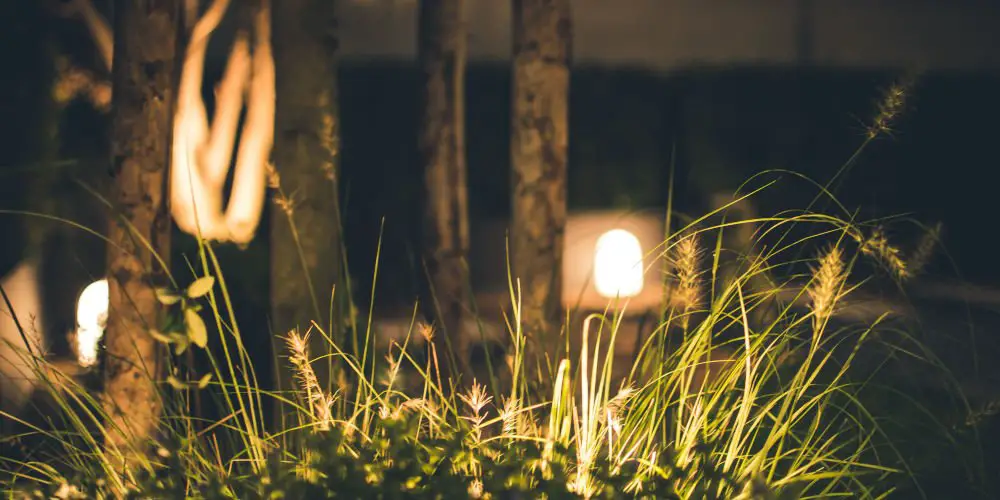 As summer's around the corner, it's time to revitalise your outdoor space in time for those long balmy summer nights. One way to instantly improve your outdoors is to add some smart garden tech and experimenting with some garden lighting ideas.
You probably already have a list of tasks, from mowing the lawn, trimming bushes and sorting the shed, so the ideal of adding even more items to the list, might be the last thing you want.
Regardless of your space or budget, here are 10 garden lighting ideas you can use to make your garden useable for more hours of the day. If your enjoy entertaining and long BBQs then we have some great ideas for you.
The basics
If you haven't lit your garden before, it can be tricky to know where to start.
It's a hard balance to strike. Use too much light and your garden will look like a Christmas tree. However, too little and you won't enjoy using the space as much as you could.
Let's start with the features you have already, such things as hedges, walkways, decking, ponds and trees. You can light all of these by night, but,  you'll want to be more selective.
A good starting point would be to connect a spot or floodlight to a long extension lead. With this in hand, walk around the garden at night and experiment.
For example, placing the lamp directly under a statue will bring it to life. Try placing the lamp to the left. You're lighting a wider area and creating a bigger shadow.
You could up light a fencing panel to create a sense of space and warmth, or maybe, try lighting the walkways.
By experimenting with light within your space, you can easily establish how many fitting you need and where to run cables. Remember, it will be too late once you've laid all the cables.
Consider experimenting with different beam angles and wattages. Even a tiny 3w LED lamp is surprisingly bright at night.
If you enjoy smart technology, you could even automate your outdoor lighting. There's nothing quite like smart outdoor lighting that you can operate from anywhere!
#1 Layers
After experiencing with a spotlight, it's time to solidify a plan.
Lighting a living room and a garden is quite similar. For example, in your living room, you'll want to have spots which work for everyday use. Plus reading lamps and maybe lights in front of paintings.
This translates quite well to the garden. You could use lo powered spotlights to mark walkways and path, as this creates a subtle backdrop.
Then you could higher powered lamp to light dining or sitting areas. The two levels of lights combined create a relaxing environment.
If you have statues, water features or plan to uplight an array of fencing, then you can layer these on top using low powered lights.
By having these three elements, you have many combinations, which you can play with to set the mood. And, of course, you can add additional lights for special occasions.
#2 Solar
In addition to hardwired lights, you can use solar lights in a number of ways. They're great for marking pathways, lawns and decking.
Solar lighting has evolved over the last few years and is now available in a range of styles. These include stake lights that stand alone to illuminated stepping stones. There are even solar string lights available!
Solar lights are fantastic as they absorb and store sunlight by day and then slowly release their energy once the sun goes down.
Some solar lights come on automatically when the light level falls. While others can be switched on/off. Others run on timers.
Our favourites at the auto variety as they can be paired with other lights on a home automation system.
#3 Water features
Combining water and light can have a magical effect as the light creates unique refraction patterns on the surrounding area.
If you have a pond or swimming pool, then consider adding a simple underwater spotlight. For a pool, add lights at both ends and enjoy late night swimming!
On a water feature, a single light can be used to create interest, especially if placed under water flow.
You can also use fibre optics within water jets to create an enchanting effect. If you want to mirror the stars in the sky, then set fibres into the base of your pool.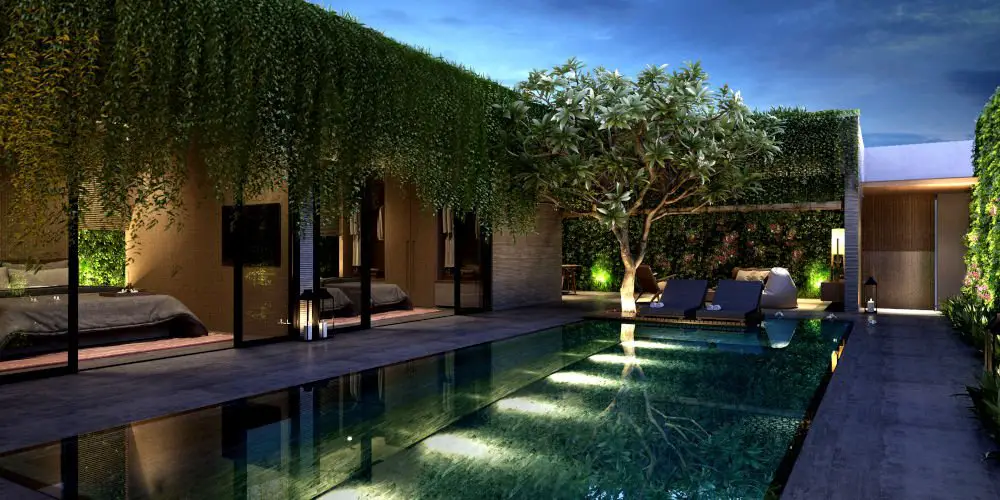 #4 Consider colours
Getting lighting to blend into your garden can be tricky, especially if the lights you want only come in black.
So if you can, use lights in an olive green tone. Copper tones also blend in much better, especially as they develop a greener tone with age.
#5 Hide your gardening lighting
Using spotlights under the seating and decking is a fantastic way to create a seamless look yet brighten up the specific area.
You can even create a faux fire look. Create a cut out in a bench, then place lights at the back. Place stones around and in front. Then finish with some clear acrylic
#6 Candles
This may seem like a weird suggestion, after-all as we are talking about garden lighting ideas. However, candle both the real kind and the battery-powered versions, are excellent for adding depth to an area.
Candles are also fantastic for bringing life to small gardens and balconies.
Since there is no right way to use candles, it's best to experiment. One of our favourite ways is to use a few different height candles on a plate. Then use these plates to mark seating area or on a table.
If you already have some hurricane vases with candles in, then consider using them outdoors as well.
#7 Create a canopy
Get that festival look by adding festoon lights or string lights. You can drape them through trees and hedges, or suspend them over a dining area with poles.
Either is a simple way to add a canopy of light and relive those festival vibes.
If you don't have any trees, experiment with draping them over fencing panels, trust us it'll look just as good.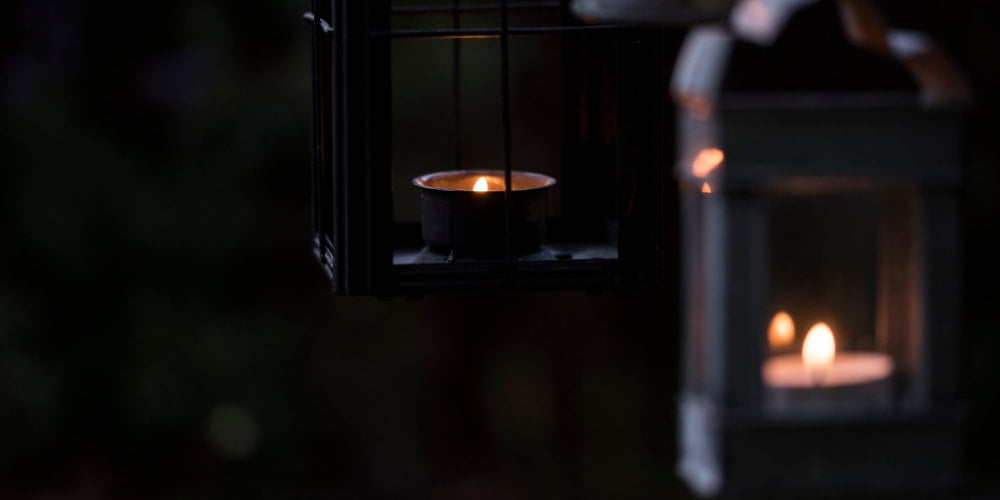 #8 Paper lanterns
If you don't quite have the budget to lay lights in your garden, use LED tea lights and paper lanterns to light pathways. Simply place a lantern at each end of the step. Your steps will be illuminated in a unique way.
Paper lanterns with tea lights also work great on balconies.
If you're feeling adventurous, buy plain paper lanterns and cut your own shapes into them.
In terms of lights, while you can use normal tea lights, try to purchase some LED solar powered ones. This way you don't need to maintain them or worry if someone knocks one off.
#9 Entrances
Lighting can help you to create a great first impression. So it's worth thinking about lighting your driveway and entrances.
We've reviewed a number of porch lights before, and at least one will work for you. Adding external lights to your front and back entrances is a fantastic way to warmly welcome guests.
If you do plan to use a porch light as part of a garden lighting scheme, purchase one with a sensor. This way as people approach your home, the light will come on. However, it won't distract from your overall scheme when not needed.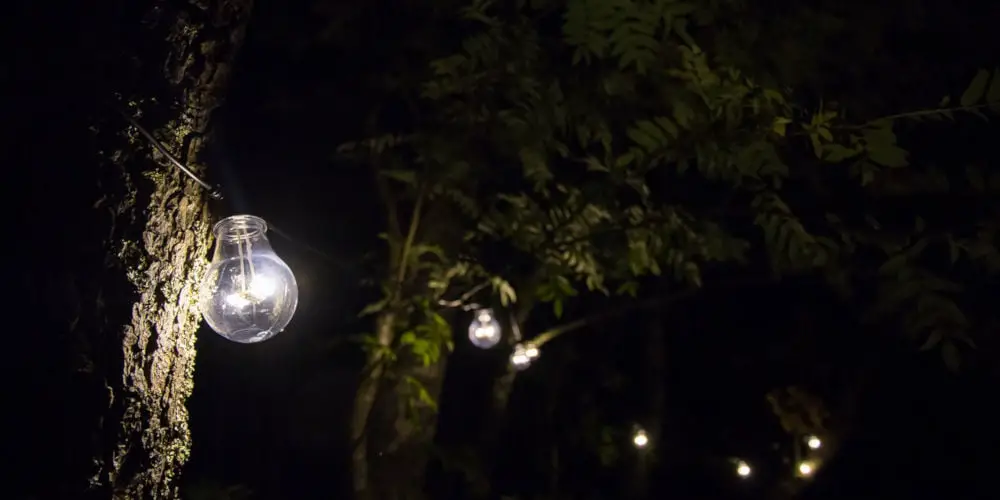 #10 less = more
At the top of our list of garden lighting ideas is less is often more! Filling your garden with lots of lights is pretty much the worse thing you can do, especially if you have a small garden.
There's no need to overcomplicate. So think simply and use fewer lights to greater effect.
#11 Bonus idea – Sheds
Sheds can easily descend into chaos when not regularly sorted. One of the main reasons why people don't keep on top of their shed is a lack of light.
You can quickly solve this issue with some LED strips. Having power in your shed makes the process easier. If you don't, then simply add some solar panels.
Before purchasing LED strips and solar panels, check that it's safe to use them how you intend to. It might be worth refelting the roof first.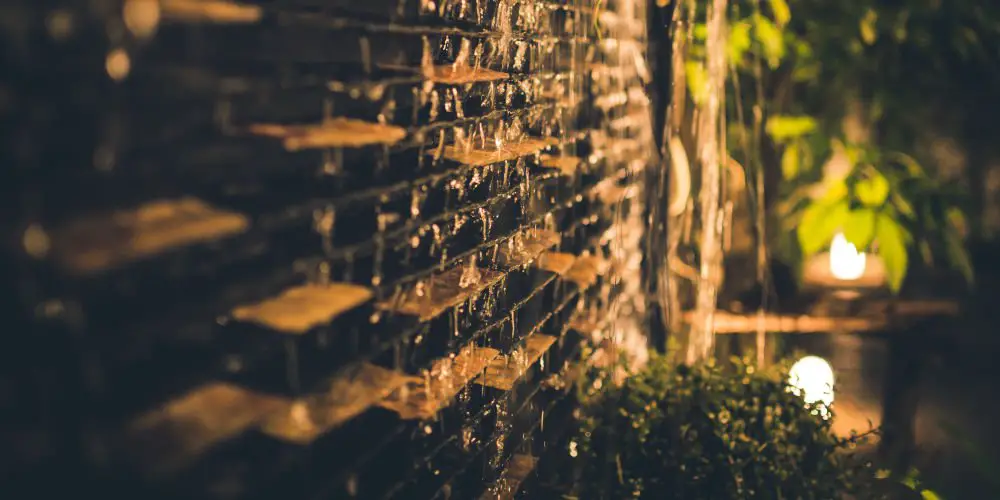 Top garden lighting ideas
Lighting your outdoor space is pretty straightforward. Hopefully, you're now armed with lots of new garden lighting ideas. You might even consider adding some Sonos Smart speakers to your outdoors space to allow you to enjoy listening music.
When adding lighting to any space, experiment first. Don't install and then realise none are in the right place. It's costly to move already installed cables, particularly if you've hired a handyman.
Experiment with how different lights interact with each other and with the existing features. The more garden lighting ideas you try, the better your results.
Keep the main lighting simple and use candles and solar-powered lights to add depth and interest. Moveable lights are superb in winter as you can easily move them closer to the house and create a more intimate feel.