LG BP350 Blu-ray player review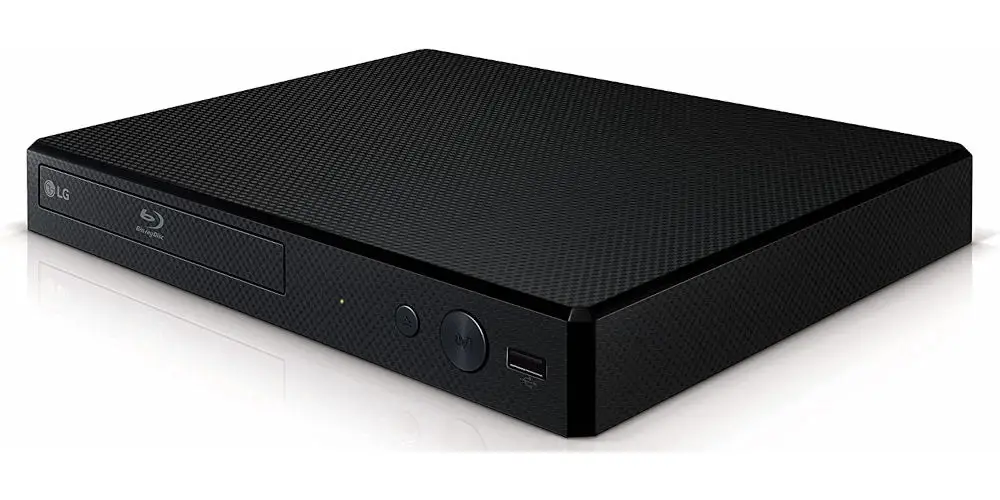 PUBLISHED: 10th February 2023 | LAST UPDATE: 10th July 2023
Slim and compact, the LG BP350 Blu-ray player allows you to enjoy both Blu-rays and DVDs in 1080p. It delivers an exceptional picture quality and incredible high-definition sound. The onboard upscaling software ensures you view the best picture, regardless of the media's starting resolution.
The LG BP350 comes with built-in Wi-Fi and is pre-loaded with several apps. These include Netflix, YouTube, Facebook and more. So you can access even more content without needing additional equipment.
Access even more content from your sofa using LG's wireless Smart Share technology that allows you to stream content from a compatible Smartphone, tablet, PC or USB onto your TV. No cables needed.
Connect the LG BP350 with your multi-room speaker system and transmit audio from your CD or USB all over the house. Listen to your favourite tune in every room or streaming different songs around your home.
As part of the LG Blu-ray player range, the BP350 is a superb budget-friendly option that's ideal as a second unit for the bedroom, kitchen, or travelling. 8/10
Pros
Compact and portable design
Built-in Wi-Fi for streaming content
Full HD 1080p picture quality
Cons
Basic user interface
No 4K video playback
Limited number of streaming apps
Design
Sporting a sleek, textured design the LG BP350 Blu-ray player slots right into any media unit. Measuring 27 (w) by 19 (d) by 4.5 (h) cm, its compact design makes it ideal for even the smallest of spaces.
The unfussy front panel only contains the essentials. You'll notice the disc tray, a USB input, an open/close button and a power button. So you'll want to keep the remote handy.
The rear is just as minimal with a power socket and HDMI out. Getting the LG BP350 set up and ready to go, takes seconds! Plus, LG have included an HDMI cable in the box!
Unlike the unit, the remote has plenty of buttons and comes supplied with a battery! The remote contains essential controls such as power on/standby, open/close disc tray, play, pause, stop and skip buttons.
There are buttons for navigating disc and BD-ROM menus. Also, the remote has TV controls, allowing you to link them together and use a single remote.
Features
Even as a highly affordable Blu-ray player, the LG BP350 offers many fantastic features. Enjoy watching Blu-rays, DVDs, and plenty of other file formats using the USB port on the front, all in Full HD 1080p quality.
The built-in upscaling software will ensure you watch the best possible picture quality, regardless of the starting resolution. So, while the unit doesn't offer 4k images, it does provide a noticeable improvement to colours and contrast for older formats.
On top of the ability to play discs and media stored on a USB drive or hard disk, the LG BP350 connects to the internet using Wi-Fi. So you can enjoy an even wider range of content.
With Netflix and YouTube apps already installed, you can enjoy your favourite shows, movies, and content without the hassle of needing additional equipment or cables. Plus, the remote make it easy to access these services.
Another great feature is LG's Smart Share, which makes it easy to watch your favourite media from your PC, laptop, tablet or smartphone directly to your TV.
There's even multi-room connectivity built-in. Simply, connect to your multi-room speakers and listen to music from your CD or USB all over the house.
Set-up
As there's little to connect, you'll be up and running in seconds. Connect the power and HDMI cables, find a suitable home for it, and you're ready to enjoy DVDs, Blu-rays and CDs.
If you're using an AV receiver, you'll want to connect the LG BP250 to that unit first. Next, use the visual output on your AV receiver to supply your TV or projector.
To use the LG BP350 with a soundbar, you'll need to connect that to your TV. Sadly, the LG lacks a separate audio out.
The basic settings provide a good starting point. But there is a multitude of display configurations and options to experiment with. As you'd expect, changing these settings involves negotiating through several menus.
After watching a few DVDs and Blu-rays, it's a good idea to try using the USB port on the LG BP250 to play media from a phone, tablet or hard disc.
If you have an LG TV that's SIMPLINK enabled, try syncing them together and using a single remote to control both units.
Performance
The LG BP350 is very similar to the LG BP250, which we've already reviewed. The BP350 is essentially a BP250 with built-in Wi-Fi.
Even with a quick glance, you'll notice the cases are identical from the textured finish, to the front and rear panels. We feel safe assuming that the internal hardware isn't vastly different between the BP350 vs BP250.
Having built-in Wi-Fi provides you with several features, such as streaming from DNLA servers on your network and access to Netflix and YouTube. BD-Live content also works. However, Prime Video does not appear to be supported.
As you can't connect the unit directly to your router using an Ethernet cable, only using Wi-Fi, you need a solid internet connection. The streaming feature works quite well but will warn you every time that the playback quality might suffer due to it using Wi-Fi, not a hard connection.
And while this might seem ironic, it is the situation! LG does offer Blu-ray players with a LAN socket on the rear, allowing you to hook the unit to your router and have a much stronger Wi-Fi connection.
There are limited apps installed and no option to add or remove them. The apps are quite buggy, with Netflix crashing often. The only way to bring it back to life is to disconnect and reconnect the power cable. The control app is a complete disaster, so you'll want to stick with the remote for now.
On the remote, it's busy and clunky. You'll find it's highly directional, meaning you have to maintain a line of sight with the sensor for it to properly work. It does a while to get used to where things are on the remote.
Is the LG BP350 Blu-ray player worth buying?
Currently, the LG BP350 Blu-ray player is available for cheaper than the LG BP250! Even though the BP350 has more features and functions. So even if you don't plan on using the Wi-Fi, we'd still buy the unit!
As we've said all along, it's an entry-level unit that is best for occasional use. So while you might want to use another Blu-ray player in your lounge or media room, the LG BP350 is a great option for the bedroom, kitchen, or as your first unit.
It offers a superb picture quality across different types of media. You can play a range of file formats and stream content using the unit. With limited connectivity, it's very simple to set up and easy to use. 8/10