LG BP250 Blu-ray player review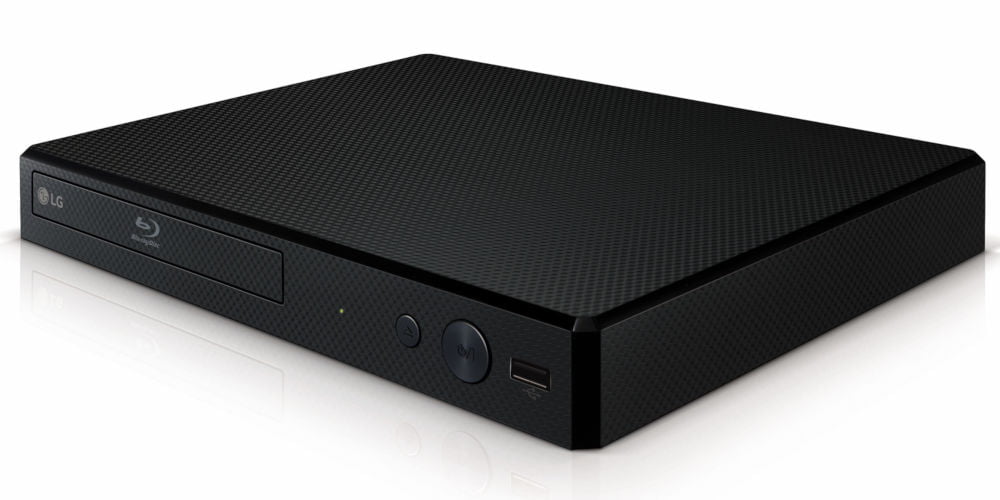 PUBLISHED: 23rd March 2020 | LAST UPDATE: 10th July 2023
The LG BP250 Blu-ray and DVD Disc Player is an exciting entry-level unit. Beneath the sleek exterior is a fantastic disc player that uses exciting technology to play all your of favourite movies in stunning high definition.
The device automatically up-scales media to the highest quality. So whether you enjoy watching DVDs or Blu-rays, there's little difference between the two in terms of quality. Also as a disc player, you can enjoy all of your favourite music that you already own on CDs.
An interesting feature of the LG BP250 is the USB port on the front panel. This socket enables you to play media using an external HDD or media player.
The sleek and minimal design continues on the rear. As there's only a power socket and HDMI out, you'll be up and running in seconds.
Complimenting the unit, the remote has far more buttons than you'll ever need! It's simple enough to use yet provides access to several unique features.
In terms of output, multiple aspect ratios are available including the standard 16:9 and 4:3. It can also be set to deliver in a range of resolutions including 720p and 1080p.
The BP250 features SIMPLINK technology (HDMI-CEC), which allows it to be paired to most major TV brands with the remote to enable power control over your TV.
As one of the best Blu-ray Players Under £200, LG BP250 is a fantastic entry-level unit. 6/10
Pros
Sleek design
Plays a range of formats including DVDs and CDs
Constant software updates
Design
Sporting a sleek, textured design the LG BP250 will fit right into any media unit. At just over 4 cm high, it's minimal design means you won't need to rearrange your TV set-up.
The front panel features only the essentials. In addition to the disc tray, there's a USB input. There's an open/close button and a power button. So it's likely you'll need to keep the remote handy.
The rear is just as minimal with a power socket and HDMI out. And so setting up this LG Blu-ray player takes seconds!
Unlike the unit, the remote has plenty of buttons and comes supplied with a battery! The remote contains essential controls such as power on/standby, open/close disc tray, play, pause, stop and skip buttons.
There are buttons for navigating disc and BD-ROM menus. Also, the remote has TV controls, allowing you to link them together and only need a single remote.
Features
Even as an entry-level Blu-ray player, the LG BP250 is packed full of features.
The best place to start is having a brief look at types of media it can play. Handling a wide range of formats, the long list includes image files (e.g. jpg, gif), Audio files (e.g. mp3, wma) and video files (e.g.mp4, avi). Sadly, it doesn't support 3D Blu-rays.
You're also not limited to discs, as you can play media from your phone, tablet or hard disc using the USB socket. If all this sounds like techno-babble, rest assured the BP250 can play all of your DVDs, Blu-rays and audio CDs.
Regardless of the input, the onboard technology uses HD up-scaling to ensure that you always view media in the highest possible definition. It's unlikely that you'd notice the little difference between watching DVDs and Blu-ray discs.
The list of output aspect ratios and screen resolutions are just as impressive. If you don't like the default 16:9 aspect, you can easily select from 4:3 Letter Box, 4:3 Pan Scan or 16:9 Full. The many resolution options include auto, 576p, 720p,1080i and 1080p available.
Again, if this is all too technical, don't worry as the default settings offer a fantastic, clear image and will bring all your of movies to life in stunning detail.
In terms of audio, the LG BP250 offers an impressive range of decodes including DTS, DTS HD and Dolby True HD. Even with the most basic TV speakers, your DVDs and Blu-rays will sound richer and fuller.
As an LG product, the BP250 works with the SIMPLINK technology which allows you to pair most major TV brands with the remote to enable power control over your TV.
Finally, the unit comes with a 12-month warranty.
Set-up
With a single HDMI output, getting started takes seconds. While it comes with a power cable, you'll need to supply your own HDMI cable. After you've connected the cables and found a suitable home for it, you're ready to enjoy DVDs, Blu-rays and CDs.
If you're using a 5.1 AV receiver, you'll want to connect the LG BP250 into that unit first. Next, use the visual output of your receiver to supply your TV or projector.
Want to use a soundbar with it? You'll need to connect that to your TV as the LG lacks a separate audio out.
While there is a multitude of display configurations, the basic settings are adequate to start with. As you'd expect to change these settings involves negotiating through several menus.
After watching a few DVDs and Blu-rays, it's a good idea to try using the USB port on the LG BP250 to play media from a phone, tablet or hard disc.
If you have an LG TV that's SIMPLINK enabled, it's worth syncing the two together as this will allow you to control both using a single remote.
Performance
As far as no fills Blu-ray players go, the LG BP250 performs well. You can enjoy a range of formats with DVDs being upscaled to 1080p HD. You'll never want to watch a movie at lesser resolution again!
While you can use it straight out of the box, there are many options for you to experiment with including audio quality, resolution and aspect ratios. So your inner geek will appreciate the depth of options!
It's worth pointing out that some units have died within 18 months. Not great news at all. However, this could be a problem with a batch. If you do purchase a LG BP250, cross your fingers and hope that if it's going to die, that it does within the warranty period!
The remote is easy to use and well-sized. You can ignore most of the buttons and use the functions you actually need. Plus the unit features the major controls if remotes aren't your thing.
Is the LG BP250 worth buying?
If you're looking to buy your first Blu-ray player or are after an affordable unit for a second TV, consider LG BP250 Blu-ray and DVD Disc Player. It's worth just over £50 you'll spend. For a more advanced unit, consider the LG UBK90 Blu-ray player.
The most disappointing aspect of the BP250 is its single output. It would be nice to have an optical out for audio or two HDMI ports. Even one of these would make it easier to connect it with TV, soundbars and surround sound systems.
As an entry-level unit, it plays a superb range of formats in the highest possible quality. It doesn't support 3D Blu-rays, but for the price, that's forgivable.
The remote is well laid out and can be used to control your TV as well. The on-screen menus are easy to follow and allow you to make changes quickly.
Overall, the LG BP250 is well worth purchasing especially if you're new to Hi-def media or adding a second Blu-ray player for a bedroom or kitchen. 6/10