How to use the MCO Home touch panel switch range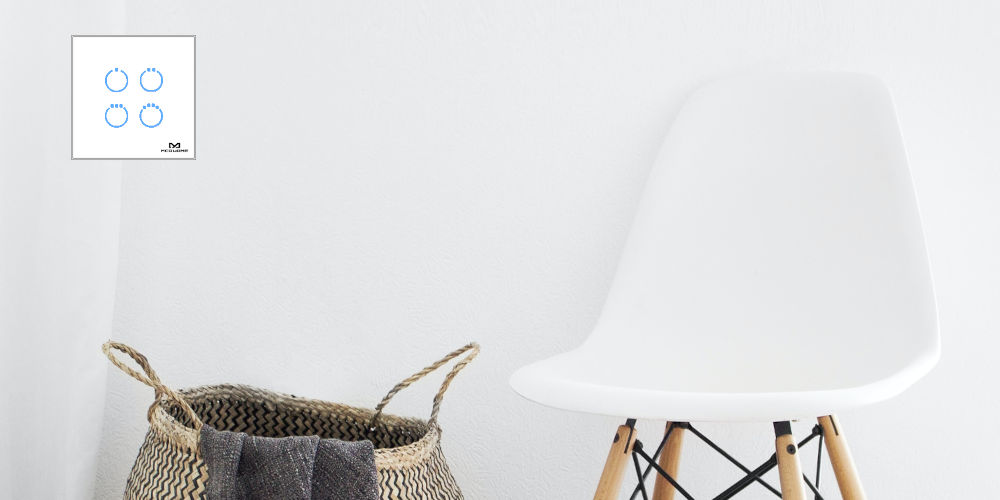 You probably don't want a wall full of switches to control your many smart home devices, nor do you want to have to train everyone to use Alexa or an app. There is a solution, namely the MCO Home touch panel switch range.
Able to control devices and trigger scenes, MCO Home offers several switch options, making it easy to use them in your home. They fit in the standard backbox and wire into your electrics. So, they also act as Z-Wave repeaters.
Hopefully, you can spot a few reasons why the MCO Home touch panel switch range is exciting and should be top of your list when automating your home.
What devices are in the MCO Home touch panel switch range?
You might know about the MCO Home brand as they offer a wide range of smart home devices, including their popular MH7H-WH Thermostat and MH-D220 Micro Dimmer. Both are Z-Wave devices.
But they also offer a range of Z-Wave touch panel switches that are dual-purpose and are available in black or white finishes.
Available in 1, 2, and 4 button configurations, they allow you to control devices or scenes. Depending on the configuration, you can control a 5A load per circuit.
The MH-S311 is a single button switch. You could use it to control a lighting circuit and add it to your Z-Wave network, allowing remote control. You could use the MH-S311 to activate a scene, such as "all off".
If you want two switches, you'll need the MH-S312. It works exactly as the single button switch, just it has two switches and circuits.
No surprise that the MH-S314 has 4 switches and circuits. You can control up to 4 x 5A loads or activate up to 4 scenes.
How can we use them to control devices and scenes?
We can use any of the MCO Home touch panel switches in two ways. The first is as a Z-Wave on/off switch. You can wire your devices, such as a fan, light, or TV into the unit and control them using the buttons or remotely as part of your Z-Wave home automation system.
But a much cooler option is using them to activate scenes. But why?! Preset scenes allow us to control multiple devices and settings with a single tap without having to remember what's happening.
For example, you could set up a TV scene that dims the light to 65%, turns on the television, lowers the blinds by 25%, and turns the heating up by 5 degrees. Having to remember and action all of these instructions isn't fun. But we can build a preset scene that does all this automatically!
You probably can create between 2 and 4 scenes per room that cover the majority of everyday situations and mean you don't have to remember a load of different settings. You can then use a touch panel switch from MCO Home to activate these scenes. Powerful stuff!
There is one slight issue. They need a neutral wire to work. You can't swap them with your standard light switch and be done. Don't worry there's a simple solution.
Up in the ceiling rose is a neutral wire. You can easily wire this to reach the switch's location. So instead of having a live wire and switch live wire, you have a live wire and a neutral wire. Changing the wiring takes a few minutes but can be easily switched back if needed.
You need to make this change whether you use the MCO Home switch to control scenes or devices. And if you want to use devices with the switch, you'll also need to wire them in.
Why use an MCO Home switch vs other options?
We've covered multiple Z-Wave controllers, including Fibaro The Button and HeatIt Z-Push. Both are superb but are battery-powered. So at some point, you'll need to change the battery, which could mean disassembling the unit and wasting time ordering batteries online.
Another issue with battery-powered Z-Wave devices is they act as an endpoint. Yes, they send and receive commands but can't pass them on. Building a strong Z-Wave network requires repeaters that are mains powered.
The good news is any Z-Wave device that plugs in also acts as a signal repeater, making the network stronger. So, you'll want to ensure your home automation system includes plenty of mains-powered devices.
The MCO Home touch panel switches are simple, only allowing you to turn devices on/off or activate scenes. They aren't the smartest switches available but are well manufactured.
Compared to Fibaro The Button or HeatIt Z-Push, they are very simple. The Fibaro and HeatIt devices allow for different options depending on how many times you tap them. You could set either up so a single tap turns on the light, a double tap turns off the light, for example.
Another key difference from many other Z-Wave controllers is the MCO Home touch panel switches is they have a glass front and aren't 90% plastic.
Is there anything we dislike about them?
We don't like how big the logo is on the faceplate and feel it's unnecessary. If they wanted to include their logo, it'd be much better if it was smaller!
Also, we don't like how they have used different amounts of LEDs for the various buttons. While this is a personal preference, like with the logo issue, it does feel a little over the top.
If you have thin walls, installing any of these switches might be tricky, as they need a backbox that's at least 60 mm deep. The three switches in the range are 44 mm deep. Plus, you need some clearance for cabling on top.
If you are considering changing your switches for these MCO Home devices, you might want to get them engraved with what scenes or the device each switch controls. Sadly, doing this will void the warranty.
We wish MCO Home would offer a personalisation service as this would encourage more people to use these Z-Wave Plus devices in their homes. Plus, engraving them makes each switch more user-friendly. Not a major problem as a local engraver can customise them or use sticky labels!