How to use Fibaro Block Scenes in your home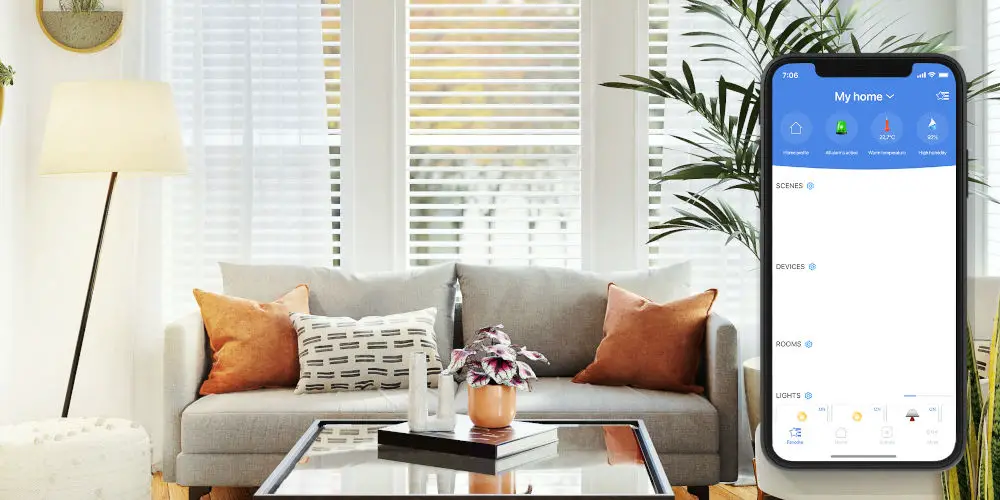 We recently covered how to create Block Scenes in the Fibaro online portal. It's simpler than you might think. You can build scenes in seconds using drag and drop blocks. But we didn't cover how to use Fibaro Block Scenes and some ideas of automations you might like to try.
If you found the first article a little theoretical, don't worry, as this post will help you get started. We'll look at the most common rooms in a home and describe what scenes we'd create and how we'd use them.
By moving beyond using single devices and learning how to use Fibaro Block Scenes and automations, your life will change.
A brief overview of Fibaro Scenes
If you didn't read the previous article, here's the recap! Fibaro's online portal allows you to create two types of scenes: Block and LUA. The simplest option is to create Block Scenes, as you can drag and drop elements and build automations in a few minutes.
LUA is a computer programming language that can be difficult to get your head around. Unless you fancy a challenge, it's best to stick to building Block Scenes and work with a Fibaro dealer or computer programmer who can create LUA scenes for you.
Scenes allow you to control multiple devices at once using a single trigger. Let's take a look at some examples.
You could use a motion sensor (trigger) to turn on a light (device) when it detects movement. Ideal for the garage or downstairs loo. 
Another popular scene is movie night, where the curtains close, the light dims, and the TV turns on. You simply hit the movie button in the app or use a controller such as the HeatIt Z-Push or Fibaro The Button, and the system does the rest.
Finally, a wake up scene. As part of setting your Fibaro Home Center 3 or 3 Lite, your hub syncs with your time zone. So you can use time as the trigger. Imagine at 7:30 every morning, your bedroom curtains open as your bedroom light gets brighter.
Hopefully, you can see the power of creating scenes. Don't worry if this seems a little theoretical as we're about to discuss what scenes to build and how to use them in each room in your home.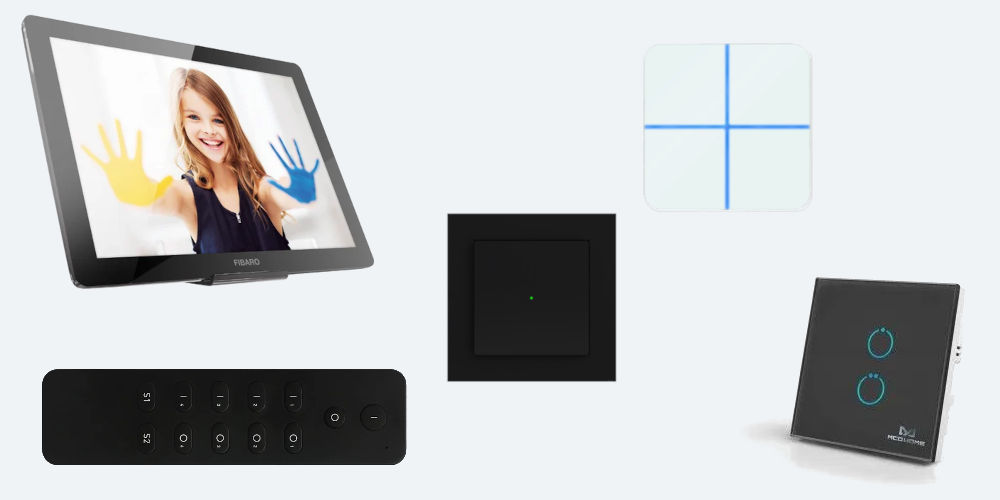 A few assumptions we've made
To make this article helpful, we've made a few assumptions. Firstly, you need access to the Fibaro online portal and are happy to try building Block Scenes. It might take you a few tries before you feel comfortable using the Fibaro software, but it's well worth it.
Secondly, you're happy to use the app, a voice assistant (Alexa/Siri/Google Assistant), or a controller to activate your scenes. You can build automations that use some form of logic to trigger it, but more on that in a bit.
There's no point in building scenes if you don't plan to use them or have the hardware to activate them. You could use Fibaro KeyFob, Heatit Z-Push, or Fibaro The Button, all are battery-powered. MCO Home sells a range of touch panel switches (1/2/4 buttons) that are wired.
Finally, you might need to think about how to apply what we'll show you to your home or situation. It's best to see what you'll read in this piece as a starting point. With a bit of creativity, you'll be able to build and use Fibaro Block Scenes in your home.
All off scene
We're massive fans of creating an all off scene, which allows you to turn off every device in your system with a single click or tap. You can use this scene when you leave home or go to bed. 
If you'll assign this scene to a controller, it's best to use a double tap to stop people from accidentally shutting everything down by pushing a button. We stole this idea from Art of Smart, but it makes a lot of sense!
Kitchen scenes
If you have a galley-style or small kitchen, you might want to avoid building scenes as you'll only have one or two devices. It might be overkill to build several Fibaro Block Scenes to control the light and automated blinds. 
If you have a large open-plan kitchen with multiple lighting circuits, you might want to build an all on scene that turns all of the lights on and another one for cooking when only the food prep area is fully lit and the rest of the lights are dimmed. You might call this the cooking scene.
It could be worth creating a dining scene that dims the light in the cooking area and turns on the lights above the table. You could easily switch between these two scenes.
Take time to play with the different dimmers within the space. You'll quickly be able to create scenes you'll use. But don't worry, you can always tweak devices in the app and make the changes permanent by using the online portal.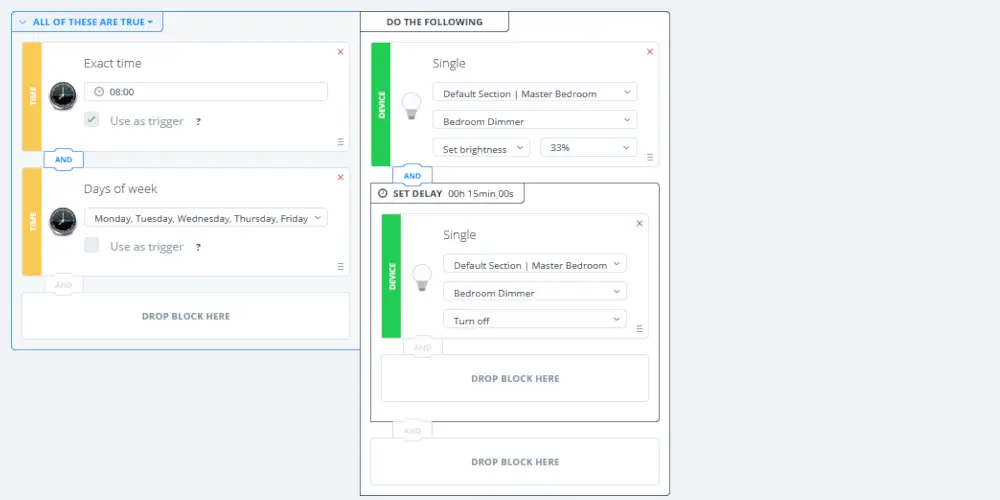 Master bedroom scenes
We've created 3 scenes for our master bedroom. But we only activate 2 using a controller or the app. The third scene works automatically. Using a Z-Push with 4 buttons allows us to control these scenes and the all off scene.
The first scene is wake up and actually runs automatically. It uses a few devices and makes the morning feel better, and not like you're having a torch light shoved in your eyes!
At 7:30 am every morning, the main pendant light turns on at 29%. 10 minutes later, the brightness increases to 35%. Then 10 minutes after that (7:50 am), the blinds open and the light's brightness increases to 45%. At 8 am, the light turns off automatically.
The second scene is good night activating this scene closes the blinds and turns the main pendant light on at 35%. Ideal for getting into bed and reading without having a bright light in your face. When we're ready to sleep, we activate all off scene from the app on our smartphone.
As we might need to use the pedant light by itself sometimes, the third scene turns it on or off with a single or double tap respectively.
Bedroom scenes
As with your kitchen, it might be best to use local switches to control your dimmer and curtains in any additional bedrooms, especially if you only have 2 or 3 devices. Creating scenes could be overkill. So keep it simple!
Of course, you can incorporate these into a global wake up scene that raises all the blinds or curtains in your home every morning and a global good night scene that lowers them every night.
Living room scenes
This is where the fun begins! You might create a scene for watching TV, another for movies, and one for talking/working.
The TV scene could turn on the television, lower the blinds by 50%, and turn on a pedant light to 45%. It'd create the ideal environment for relaxing with Netflix.
Your movie scene could close the blinds, dim the light to 30% (so it's barely on), turn the TV on, and raise the room's temperature by 5 degrees.
A work scene could turn all the lights on, ensure the blinds are open, and set the room's temperature to 18 degrees.
Again, you can add automated blinds or curtains to the global wake up scene and global good night scene, allowing you to automate them by time. Ideal if you're often away as your home will look lived in.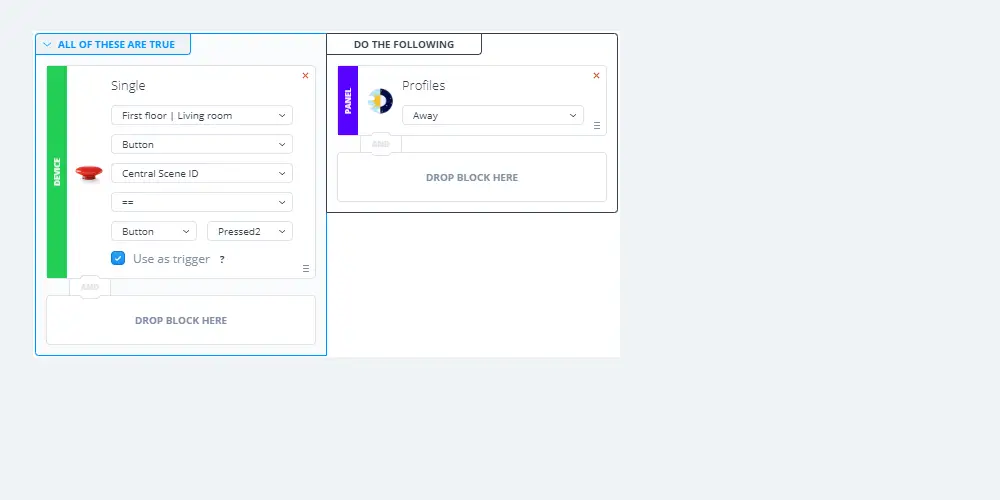 Dining room scenes
The dining room is another fun room to experiment with. You might want to build two scenes: a normal dinner scene and a romantic dinner scene.
The normal dinner scene turns all of the lights to full. While the romantic dinner scene dims the lights to 50%, creating a relaxing atmosphere.
Again, you can add automated window treatments and the room's heating system into these scenes and any global automations.
Study scenes
It could be as simple as using local switches to control devices in the room, or you could create a few simple scenes. Our office is on the first floor and has a large west-facing window, meaning the sun pours into it during the afternoon.
So we have blinds which automatically raise and lower depending on the time of day. And two scenes: work and sun. In the work scene, the main light turns on to 65%, the LED lights in the bookcase turn off, and set the room's temperature to 18%. 
Whereas the sun scene, the blinds lower 50% to block out some of the sun's glare. No lights turn on when this scene is activated as it's already bright enough. 
Both of these Fibaro Block Scenes are simple but reduce the need to fuss around.
W/C scenes
If you worry that guests (or your kids) have left the light on in the downstairs loo, you'll love our advice. You can build a Fibaro Block Scene that's triggered by either a motion sensor or a door/window sensor. We'd recommend using a motion sensor.
When it detects movement, it tells the system to turn the light in the w/c on for 15 minutes, after which it turns off automatically. You can therefore remove the light switch outside (or inside) the toilet, as the automation does the work for you.
You'll never worry again whether the light in the w/c is still on! Plus, if you have an extractor fan in your w/c, you can add this to the automation, ensuring it runs while the light is on and clears any nasty smells!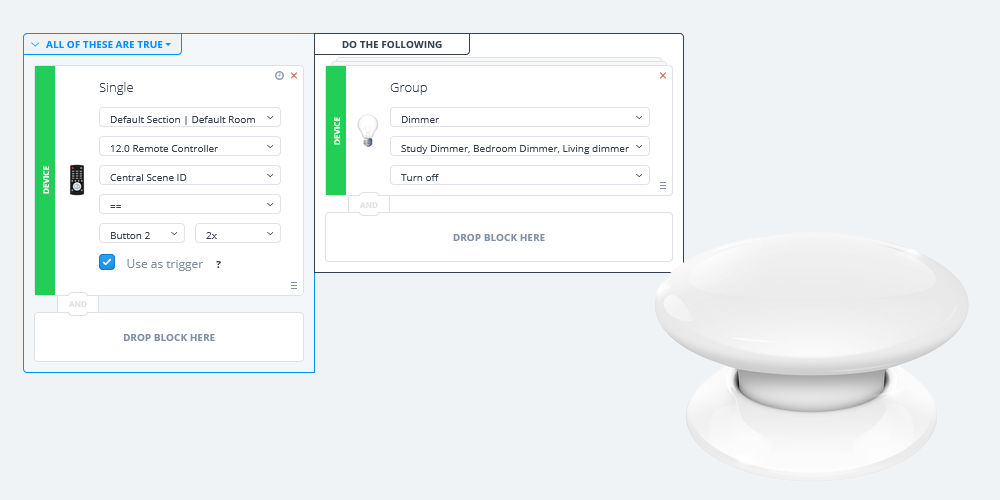 Bathroom scenes
We're massive fans of a mixed approach when automating devices in a bathroom. You might want to build a scene similar to what you use in the w/c that is ideal for using the loo or quickly looking in the mirror.
On top of this automation, you might want to build a scene for taking a bath, where the light dims, and if you have blinds, they also close. You could create another scene for putting on make up or shaving that turns on all the lights to 100%.
If you have an en suite as part of your master bedroom, you might want a bath scene that closes the curtains/blinds and turns on lights in both rooms, allowing you to get changed in peace without worrying if the neighbours can see you in the buff!
That's how to use Fibaro Block Scenes in your home
You should now have a clearer idea of how to use Fibaro Block Scenes in your home to make life easier. You don't spend your life trying to remember multiple different settings when you can use scenes.
All of these scenes are simple to build and will evolve as you get to grips with your system and devices. They won't stay still. But that's part of the fun with building and using Block Scenes with your Fibaro smart home.