Normal vs portable projectors: What's the difference?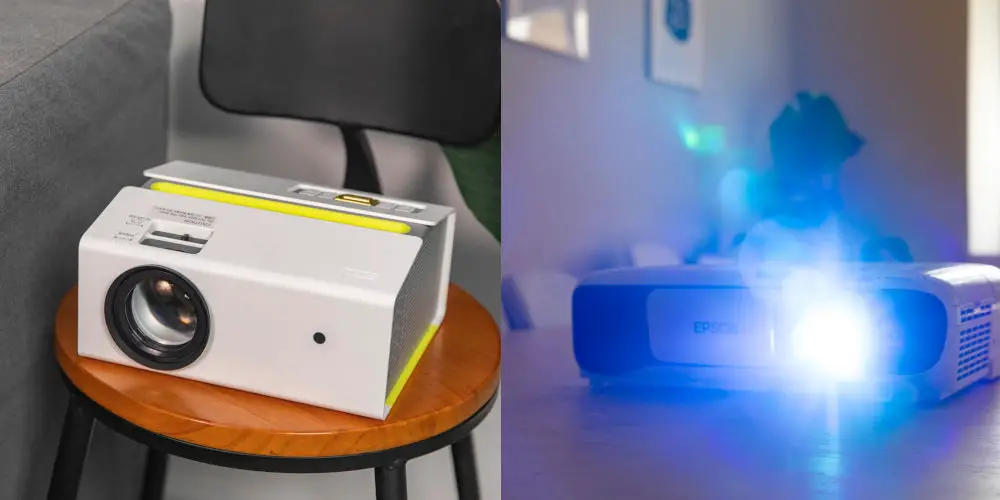 When researching a new projector to buy, you'll find hundreds of possible options. You could buy a £50,000 top of the range unit ideal for a home cinema room or a £50 portable device. They do the same thing, yet there are many differences between normal vs portable projectors.
You might feel that the whole subject is so confusing that you instead wonder how a TV compares to a projector. And while that is another topic we've already covered, for the best movie watching experience, only a projector will do.
Comparing normal vs portable projectors might seem simple, but it's actually a nuanced discussion. You'd use a full-sized home cinema project in your home, maybe in a dedicated room. A portable projector is easy to move and configure, allowing you to use it in the garden or travelling.
Let's explore why and when you might use the traditional home cinema projector compared to a mini portable projector.
What are home cinema projectors?
When you imagine the typical home cinema projector, you think of it being mounted in a dedicated media room and configured for that space. Along with the speakers, the projector will be optimised for that room, and the overall set up to provide the best viewing experience.
You might think of projectors in a classroom, conference room, or a local cinema, amongst other uses. But many homes feature them too.
The typical home cinema projector is bulky, heavy, and designed to create high-quality images. Plus, they have multiple inputs and outputs, allowing you to connect them to multiple AV devices. You can buy a basic projector for £300, but some cost over £50,000.
These type of projectors uses a lamp with a bulb to create images. The average bulb lasts about 2,000 hours or around 200 films. If you watched a film a week, it would be 4 years before the bulb would need replacing.
Some projectors use LEDs as a light source. LED projectors generally have a life of 50,000 hours. However, once the bulb dies, you'll need to replace the unit as you can't usually just replace the light source. However, they are brighter, last longer, and require less maintenance.
XGIMI has recently released Dual Light technology that combines LED and bulbs. So, we're excited to see this technology in their future projectors.
There is one more type: Laser. Historically, laser projectors were very expensive. However, they are becoming more affordable and available to the general consumer.
Unlike mini/portable projectors and TV, full-size projectors reproduce images with fantastic colours and contrast. You'll feel like you're there in the movie as the overall experience is fully immersive!
Pros
Home cinema projectors offer:
Bright, large images
High-quality resolution
superior contrast
Detailed image control settings
Several different inputs (such as RCA, HDMI, USB, VGA)
Multiple outputs (such as Optical, Mini-jack, HDMI ARC)
Easy to mount, allowing you to configure it once for the best image
Longer life
Larger components and bulb replacement for easy maintenance 
Better for your eyes as projectors cause less strain on your eyes.
Cons
There are some drawbacks to the traditional projector, including:
Hard to move once installed
Requires wiring
Lack of wireless input options
Requires a fixed screen 
Speaker system is also required
Bulky
Maintenance costs can be high (for example, new bulbs can cost £300 plus)
Large upfront investment.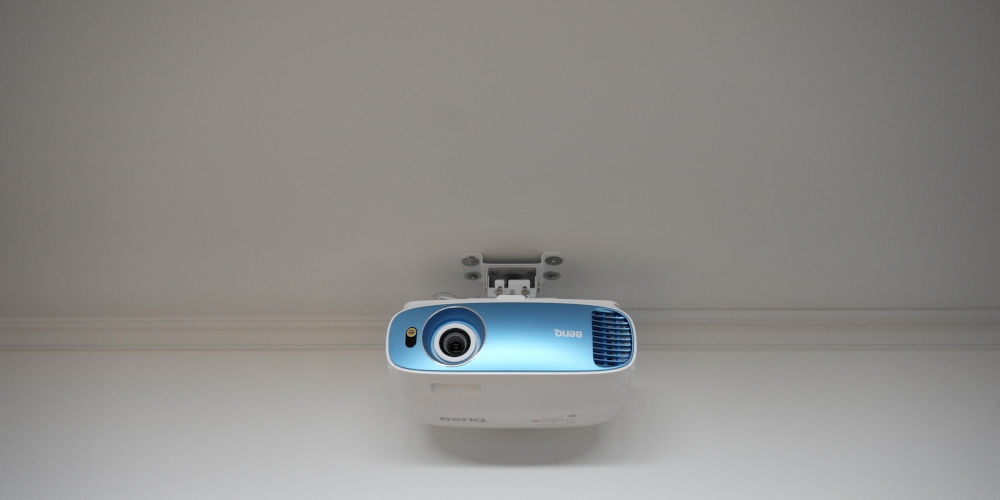 Are portable projectors wildly different?
A mini or portable projector is typically a smaller affair. They are easy to carry, simple to configure, and have just the essential inputs/outputs you'll need. You can mount them on a tabletop or use some kind of stand. Plus, you can use a wall or sheet for the screen.
When comparing normal vs portable projectors, it can be tricky to understand why you'd invest in a mini projector, but there are many reasons. You might not have a cinema room or the extra space for one. So having a mini projector you can use occasionally would be ideal.
Portable projectors are ideal for travelling or using them in the garden. If you haven't watched your favourite movie as day turns to night, you're missing out! Another reason is they are highly affordable, with plenty of decent options under £1,000, including the XGIMI Elfin.
You might not have the range of inputs/outputs found on a normal projector. And the image might not be as crisp, but a portable projector will be good enough for watching the odd movie, sports, or gaming at home.
Many mini projectors have a built-in battery, allowing you to easily travel with them. And they all have a mains power input too.
Pros
Mini Projectors commonly feature:
Lightweight and slim design
Portable
Rechargeable battery
Highly affordable
Built-in Chromecast/Fire TV/Alexa etc.
Easy to configure
LED bulb for longer life (10 times the life of a normal projector bulb)
Built-in speakers.
Cons
Some drawbacks mini projector models have include:
Lacks high brightness
Smaller images
Less contrast
Need to recharge the battery
Fewer inputs
Limited controls and settings.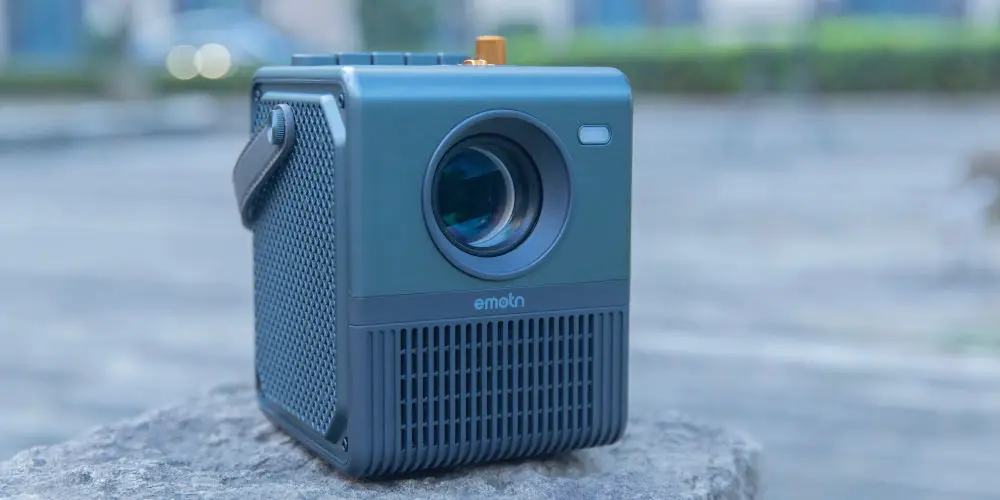 Normal vs Portable Projectors: Which Type is Right for You?
Now you have a better idea of home cinema equipment and portable projectors, it's worth directly comparing them.
If you care about image quality, including size, colour depth, and contrast, you'll want a full-sized projector. A portable unit won't produce an image as good or crisp.
As portable projectors use LED, they are very easy to maintain. Other than the odd software update, you don't need to do much to them. Full-sized projectors require more maintenance, including changing the bulb. You can do this yourself, but some prefer their installer change the bulb.
Units that use LEDs as their light source are quieter than units using a bulb. This is because bulbs heat up and need a fan to keep them cool, making the projector create more noise.
Portable projectors are easy to set up and only have the essential inputs and outputs. While you can use them with minimal effort, you might be frustrated by the limited settings or connectivity options only offered by a full-sized projector.
Home cinema projectors are designed to be mounted in one place and configured for that room. They have extensive settings menus, making it clunky to reconfigure on each use. Portable projectors may lack the depth of settings but only take minutes to configure.
If you're a fan of 3D movies, you'll need a normal vs portable projector as the mini variety won't be able to handle that format, despite some claiming they can!
It's best to think of portable projectors as a slimmed down version of the full-sized units. You'll get a good array of features, the latest tech, and a built-in battery. But you don't get an extensive array of options. Mini projectors weigh a fraction of the full-sized variety, so are easy to move.
Having a battery-powered unit is a two-sided sword. On the one hand, it makes it easy to use the projector anywhere. However, it does mean you have a limit on the time it will be useable. As the battery runs down, you'll notice a loss in picture quality and internet connectivity.
Hopefully, you now have a clearer idea of the difference between normal vs portable projectors.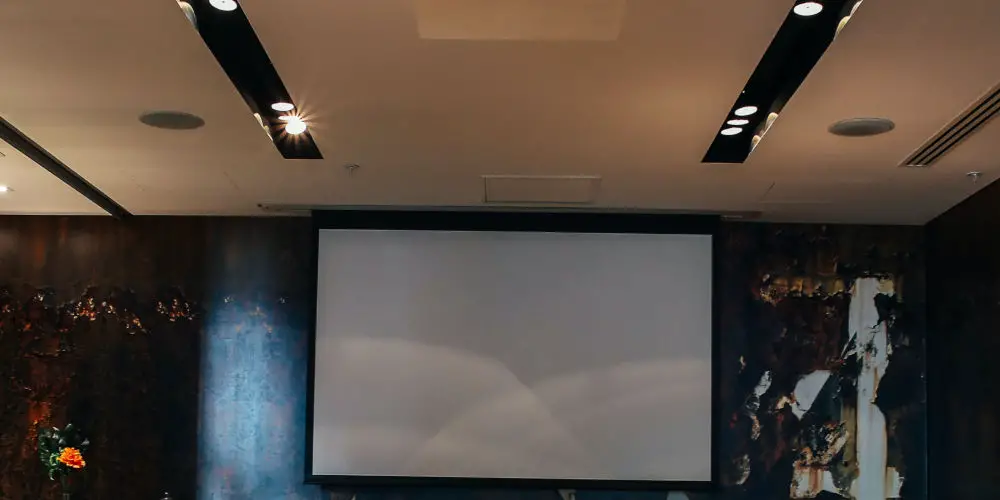 Where to start when deciding between normal vs portable projectors?
You should now better understand the difference between normal vs portable projectors. If you have or are considering building a dedicated cinema room, a traditional projector will be your best option.
However, if you like travelling or want a projector for the odd movie night, a portable mini projector is ideal. It won't have as many inputs and outputs as a full-sized unit nor the depth of settings, but it'll be more affordable and easier to set up.
Typically, with a portable projector, you can connect to Wi-Fi and stream content directly or at worse, plug in a Chromecast or Fire TV Stick. You don't need to worry about connecting devices to an AV receiver and wiring that to a speaker set up and the projector.
If you buy a portable projector, consider purchasing a soundbar such as the Groov-e 160, as this will improve the sound quality massively and only requires a single mini-jack cable.