Sony BDP-S6700 Blu-ray player review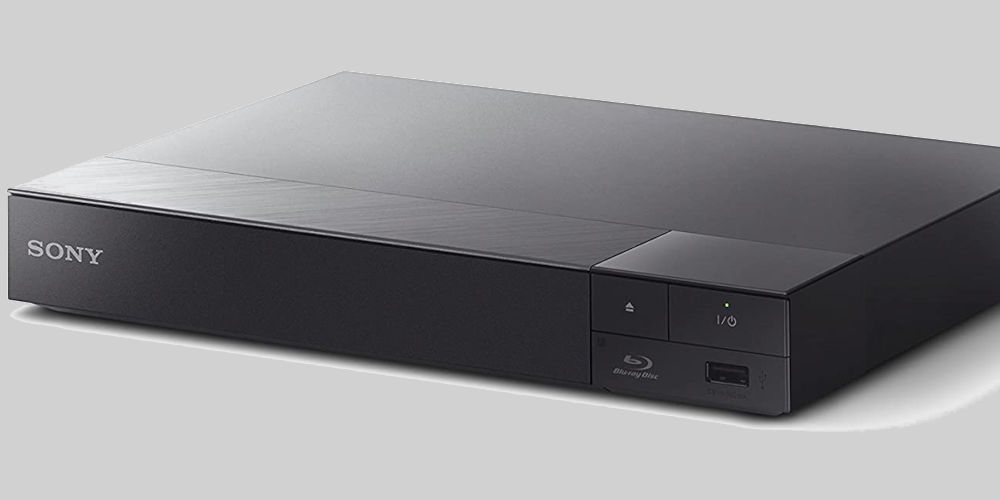 PUBLISHED: 20th August 2020 | LAST UPDATE: 10th July 2023
It would be easy to dismiss the competitively priced Sony BDP-S6700 Blu-ray player as yet another entry-level unit. Such a conclusion, while easy to reach misses the point as the BDP-S6700 is excellent value for money.
While not a true 4K Blu-ray player, the Sony BDP-S6700 will upscale standard Blu-ray and DVDs to near-4K quality for playback on your Ultra HD TV. You'll notice an improvement in quality thanks to Sony's software and the chips they've used.
In addition to playing 3D and standard Blu-ray discs, DVDs, and CDs, it will also play CDs, SACDs, and music files from a thumb drive. The BDP-S6700 supports high-resolution movie sound formats, like Dolby® TrueHD and DTS® HD.
As a versatile Sony Blu-ray player, it has built-in dual-band Wi-Fi, allowing you to enjoy popular streaming video and music services and apps. Mirror what you see on your smartphone or tablet on your TV's big screen with Miracast.
If you prefer to watch with headphones, it takes seconds to pair to any Bluetooth wireless device. Plus, with LDAC technology built-in, you can stream without compromising on quality.
With an intuitive menu and interface, apps and features, you can always find what you're looking for. Spend more time watching content with the Sony BDP-S6700 Blu-ray player. 8/10
Pros
Highly affordable
Supports high-resolution movie sound formats
Built-in Wi-Fi for fast content streaming
Cons
Only HD quality (not a true 4K Blu-ray player)
Unable to play UHD 4K Blu-rays and NTSC discs
Design
Sporting a vintage look, the Sony BDP-S6700 Blu-ray player is surprisingly compact and light, measuring 25 cm wide and 19 cm deep. It'll fit into even the smallest space. Great if you plan to use it in your bedroom or kitchen. Despite the slightly dated look, BDP-S6700 is easy to use.
Starting with the front. There is a large door that hides the disc tray. On the right-hand side, there are tray release and power buttons. The USB port jumps out at you and is a nice addition to the unit.
Sony has included a child lock to the disc tray, meaning you can avoid accidentally opening the tray.
The rear is equally as sparse with power input, HDMI output, digital audio output and a LAN port.
The vintage styling continues to the remote. In classic Sony style, it's busy with more options than you'll ever need. In addition to the basic controls you'd expect, it has buttons to operate your TV, Netflix, Bluetooth and subtitles. The remote makes up for the lack of controls on the unit.
Features
Enjoy a range of disc forms with the BDP-S6700, including 3D and standard Blu-ray discs, DVDs, and, CDs with a selectable video resolution of up to 1080p. The Sony BDP-S6700 offers 4K video upscaling for use with Ultra HD TVs creating an even more immersive viewing experience.
It has built-in audio decoding for Dolby® Digital, Dolby TrueHD, DTS®, and DTS-HD Master Audio. Plus, it can play AIFF, FLAC, MP3, WAV and more, audio file formats. Use the front-panel USB port to play music, movies, and images from external hard drives and thumb drives.
Using Sony's exclusive TRILUMINOS™ colour technology, the BDP-S6700 brings your viewing experience to life with a vivid palette of colours, which makes every image appear more realistic.
The built-in dual-band Wi-Fi allows for fast, smooth wireless streaming. Easily stream video and music apps for playing TV shows, movies, and music, including Netflix, Amazon Prime and, YouTube.
As a Miracast-compatible device, easily stream content from your smartphone or tablet to your TV. You can even control the unit using an app. The Sony SongPAL app allows you to feed compatible Sony speakers in a multi-room music system.
A built-in Bluetooth transmitter sends audio from the Blu-ray player to Bluetooth-compatible headphones, soundbars or speakers, allowing you total control. Plus, with LDAC technology, you can stream content up to three times the bandwidth of regular Bluetooth.
Set-up
Getting set up is easy, and unlike some entry-level Blu-ray players, the Sony BDP-S6700 is more flexible than most. However, it's worth noting that only a power cable comes in the box. You'll want to order an HDMI cable or two, and maybe a digital coaxial cable when you buy the Sony.
If you're using the BDP-S6700 with just a TV, simply connect them with an HDMI cable. You might want to use the unit with an AV receiver, again, you'd only need an HDMI cable to hook them together.
Things get a little more complicated if you plan to use the digital coaxial output to feed a speaker set up as you'll need an additional cable. But again, this isn't brain surgery!
Sony, thankfully have included batteries, so you can get the Blu-ray player configured and working in minutes. As there are no control buttons on the unit, you'll need the remote to complete the set up wizard and then operate your BDP-S6700.
Once you're up and running, it's worth connecting to the internet and having a go at streaming content using the built-in apps and Miracast if you have a compatible phone or tablet.
From there, you can experiment with other features such as multi-room audio, connecting Bluetooth headphones, and viewing content saved on a USB drive. There are plenty of features to try out over and above playing Blu-rays, DVDs and CDs.
Performance
Ideal for DVDs and older Blu-rays, the built-in software used by Sony BDP-S6700 effortlessly upscales every image to nearly 4K quality. Even on an HD TV, you'll notice an improvement. That said, it can be fussy with some Blu-ray discs and a little noisy when operating.
It can take a bit of time to get connected to the internet. But once up and running, there's access to virtually unlimited content. Even when streaming content, it still offers an excellent picture quality with vibrant colours.
As Sony has tried to create a basic Blu-ray player with the best picture and sound possible, it has cut corners on the design. For example, the disc tray is very flimsy. So you'll need to handle it with care.
The Sony BDP-S6700 Blu-ray player doesn't seem to have a resume feature. Bad news if you watch just part of a film and want to finish it later.
As the unit has no controls, you'll need to keep the remote handy or install the app on your phone. And while the remote is smaller than most, the functions are clearly marked, making it easy to use.
Is the Sony BDP-S6700 Blu-ray player worth buying?
It might not be as feature-rich as the Sony UBP-X800M2 4K Blu-ray player, but it is superior to the more expensive Onkyo BD-SP809 Blu-ray player. Considering the price, the Sony BDP-S6700 Blu-ray player is a great little unit that offers a range of features.
Enjoy content using multiple sources, including discs, USB drives and streaming services with superb picture and audio quality. It's ideal as a second Blu-ray player for your home or as your first exploration into the world of Blu-rays.
The BDP-S6700 offers many extra features such as SACD playback, Bluetooth, apps, and Miracast. It also can be used as part of a Sony multi-room audio set up. The remote is pleasing to use with plenty of nice extras such as the Netflix and Bluetooth buttons.
Overall, the Sony BDP-S6700 Blu-ray player is a great little player for the money. It seems Sony has focused on the electronics, hence the flimsy tray and missing control buttons on the unit. But these are easy to forgive, especially as it's a great unit overall. 8/10