Pioneer VSX-934 7.2 channel AV receiver review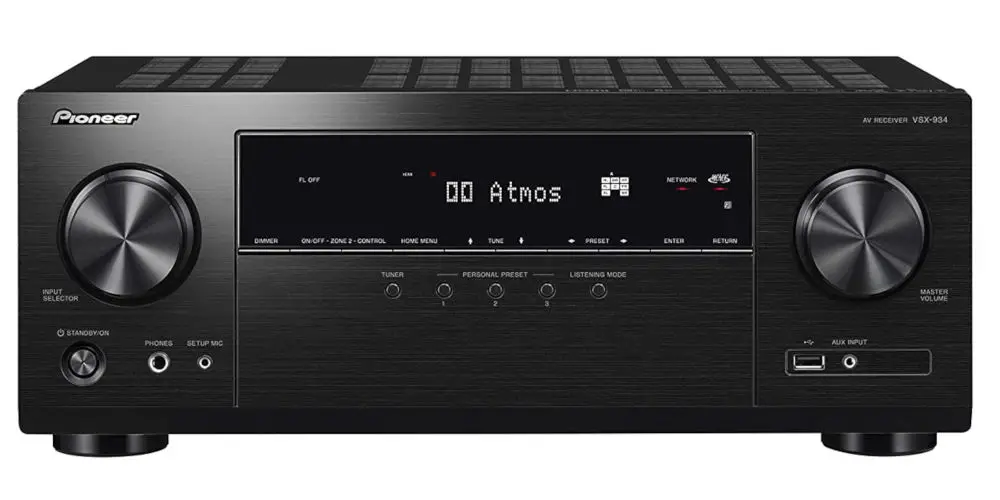 Packed full of features the Pioneer VSX-934 7.2 channel AV receiver is offers a superb range of audio options, 4k picture quality and built-in Wi-Fi.
With an excellent range of HDMI and phono inputs, the VSX-934 seamlessly combines and distributes content. You can easily connect Blu-ray players, game consoles and record players.
In addition to these options, the Pioneer VSX-934 has built-in Wi-Fi and Bluetooth allowing you to stream music from your favourite services and any smart device. It also works with Sonos and Apple AirPlay 2.
Each of its 7 amplifier channels provides 170 watts of power. You have plenty of volume on tap whether you're listening to your favourite album, watching a movie or gaming.
Built to support Dolby Atmos and DTS:X, the VSX-934 faithfully recreates audio while creating an immersive 3D surround sound experience. If you lack space to run all 7.2 speakers effectively, the VSX-934 still delivers excellent sound thanks to Dolby Atmos Height Virtualiser and DTS Virtual:X.
The visuals are equally impressive with native 4k resolution. The Pioneer VSX-934 features Ultra HD, HDR10, HLG, and Dolby Vision pass-through with support for HDCP 2.2.
As one of the best AV receivers currently available, we rate the Pioneer VSX-934 as 9/10.
Pros
Supports several audio decoders (including Dolby Atmos /DTS:X / DTS Neural:X Upmixing)
Automatically upscales picture to 4K quality
7 channels of 160 Watts
Cons
No RGA (Audio and Video) phonos input
Limited remote range
Design
The well-designed Pioneer VSX-934 measures a sizeable 43.5 cm by 17 cm by 37 cm, making it easy to slot into any home cinema rack.
Front panel
The front panel has three sections with the first (left-hand side), containing a power button, input selection knob and headphone jack. Also, there is a mini-jack input for the set-up microphone.
The middle section features the screen and bulk of the controls. As Pioneer has tried to maintain a sleek design, most buttons are quite small. And while we'd like slightly larger buttons, it not a deal-breaker.
Sitting in the middle is a large LCD screen display, which is used to display a range of information. The row of buttons below covers the radio tuner, Zone 2 function, menu and a screen dimmer button.
Below this row are preset buttons which allow you to recall settings, FM/AM tuner button, and a button to activate the listening mode.
The final section on the right contains the master volume knob as well as a USB port and AUX mini-jack input.
Rear panel
Moving to the rear, there are two antennae for Bluetooth and Wi-Fi. 6 HDMI inputs, 5 stereo phonos inputs, 2 digital inputs (coaxial and optical) and 2 antenna inputs (FM and AM). Also, there is a second USB port and a LAN port for wired internet.
In terms of outputs, the rear has 7 powered outputs for speakers, 2 passive sub-woofer outputs and stereo phonos for Zone B. There are 2 HDMI outputs with the main one being ARC enabled.
Remote
Finally, the remote, which covers a lot of ground yet is well-designed. There are buttons for selecting the input, between the 3 presets, and track controls.
A mute button sits above the volume control. Next to this is a subwoofer volume control and DSP mode buttons. Below these volume controls are buttons covering a range of system options.
Features
The HDMI and audio phono inputs enable you to connect a range of devices including game consoles, Blu-ray players, set-top boxes, and record players. The built-in FM and AM radio allow you to listen to your favourite terrestrial radio stations.
The 2 USB ports (front and rear) are ideal for playing many file formats. An AUX mini-jack on the front for easy connection of media players. These all allow you to quickly and painless watch or listen to a range of media.
In terms of digital inputs, the Pioneer VSX-934 offer both Bluetooth and access to streaming service using the onboard Wi-Fi (you can hardwire using the LAN port. Enjoy music from your smartphone or favourite streaming service (such as Spotify, TIGAL, Prime Music and TuneIn Internet Radio).
Each of the 7 speaker channels offers 160 watts of power. The Pioneer VSX-934 supports the latest audio formats including Dolby Digital and DTS as well as Dolby Atmos and DTS: X.
If you can't run a 7.1 speaker set-up, you have the option to use 3.1 or 5.1 speaker set-up combined with either Dolby Atmos Height Virtualizer and DTS Virtual: X. Both faithfully recreate a 3D sound experience without the need for treble or surround speakers.
The picture quality is as impressive as the VSX-934 supports pass-through for HDR10, Hybrid Log-Gamma, and Dolby Vision. All HDMI sockets are 4K compatible, allowing you to enjoy content in the latest and highest possible quality, even when upgrading to the latest devices.
The VSX-934 works with Sonos enabling you to play any music or audio from the app. You can even add the Pioneer receiver into your existing Sonos smart speakers.
The Pioneer VSX-934 can also power a set of speakers in the next room without needing a separate power amp.
Set-up
As with any AV receiver, the Pioneer VSX-934 requires an hour or so to get it properly set-up and optimized for your room. If you've set up an Pioneer AV receiver before, you'll know they aren't the easiest to configure.
Start by plugging in your media players and any other device you want to use into the inputs. Next, connect the main HDMI output to either your TV or projector. Finally, wire in each speaker in your set-up. If you need help, start with our guide to home cinema speaker placement.
With the unit wired in, it's time to get the connect the internet and radio. The VSX-934 can connect to the internet in two ways. The first is using the built-in Wi-Fi which uses one of the rear antennae (the other is used by the Bluetooth function) to send and receive data. A rear LAN port enables you to hard-wire the unit into your router.
There's one final step. Plug the included microphone into the mini-jack on the front panel and enter the MCACC (Multi-Channel Acoustic Calibration System) mode. This will optimise your Pioneer VSX-934 for the room and speaker set-up.
If you're not happy with the result or want to tweak further, there are plenty of options which allow you to fine-tune the unit's performance including 3 DSP modes and subwoofer volume on the remote.
Performance
As a flexible unit, the Pioneer VSX-934 can handle a range of speaker set-ups and can even replicate a surround sound experience with only minimal home cinema speakers.
There's plenty of HDMI inputs and outputs to connect a plethora of devices. The multiple phonos inputs are of limited use and we'd prefer an RGA input and even a VGA input. However, the HDMI inputs should be sufficient.
Where the Pioneer VSX-934 excels is decoders. Both audio and visual are processed using the latest decoders ensuring your purchase is future proof.
The multiple Dolby decoders produce an immersive sound and as a 4K ready unit, the picture quality is excellent. Even older formats shine as they are upscaled to the best possible quality.
Even if you only use the unit as an AV receiver, it's still a fantastic investment. Of course, we'd encourage you to try the Bluetooth function, built-in Apps, and radio!
Is the Pioneer VSX-934 worth buying?
If you're looking for an affordable AV receiver that's packed full of features, then you should consider the Pioneer VSX-934.
Getting the unit set-up can be quite painful, but this is to be expected. That said, after the pain of getting it set-up, it works faultless and is virtually silent.
We would like to see a more diverse set of input as while the HDMI connection is used on the vast majority of devices, there are still some devices that require an RGA input. It's likely the phonos inputs will gather dust and could have made way for an RGA or VGA input.
The apps and user interface can be best described as clunky and so you might want to invest in a streaming stick and play media via your smartphone. Another control issue is with the remote, which has a limited range. You have to point it directly at the sensor for it to work.
The audio side is impressive using several Dolby decoders including Dolby Atmos and DTS Virtual:X which is ideal if you can only run a few speakers. While this mode won't completely replicate the surround sound experience, it does get close.
The picture quality is equally grand with native 4k resolution pass-through, meaning you can enjoy watching the latest releases in exceptional detail. If you're not quite running a 4k Blu-ray player, the VSX-934 will display the highest possible image quality.
Overall the Pioneer VSX-934 is an exciting AV receiver which is ideal for any home cinema room and set-up. 9/10