ViewSonic PG706HD home cinema projector review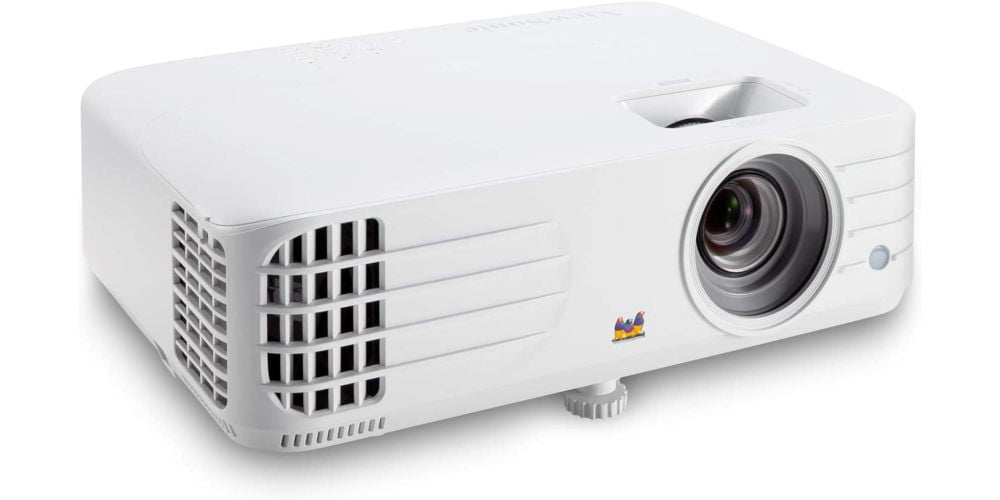 As a super bright home cinema projector, the ViewSonic PG706HD is perfect for recreating movies, games and sports on a big screen at home with realistic colours and superb depth.
Producing an impressive 4,000 ANSI lumens of brightness, the ViewSonic PG706HD ensure bight images regardless of ambient light present in the room. Pictures are reproduced in Full HD 1080p on a screen up to 300-inches.
Designed around ViewSonic's SuperColor technology, which ensures a true-to-life colour performance in both bright and dark environments without sacrificing image quality. It even handles 3D content with ease.
Cheap to run and maintain, the PG706HD offers an energy-saving SuperEco+ mode that reduces power consumption and extends lamp life to 20,000 hours. Even if you watched a movie per day, it would be at least a decade before the lamp finally needs changing!
For a budget-friendly projector, it offers fantastic connectivity with dual HDMI, video, S-Video, and VGA inputs, among others. A mini-jack audio output allows you to easily connect external speakers, while the built-in 5V/1.5A USB power output is ideal for powering HDMI wireless dongles.
In short, you can painlessly connect all of your favourite media players, gaming consoles, PCs, Macs, mobile devices, and more.
Seven preset colour modes are available including two user presets, allowing you to save and recall your preferred settings for even more immersive experience.
Whether you're using it in a purpose-built cinema room, lounge or in the garden, getting the ViewSonic PG706HD set-up is straight forward thanks to a built-in 1.1x optical zoom and Digital Vertical Lens Shift. A built-in 10-watt speaker means you can connect a media player and go.
As one of the best home cinema projectors under £1,000, the ViewSonic PG706HD scores 8/10.
Pros
4,000 ANSI lumens brightness
Lamp life of up to 20,000 hours
Superb connectivity
Cons
Doesn't support 4K
Poor speakers
Design
Available in a soft white tone, the ViewSonic PG706HD has a sleek design which covers a lot of ground. Looking at the front, you'll see the lens, an IR remote sensor and a vent which extends around the side. A speaker sits behind a grille on the other side.
Above the lens are controls for the optical zoom and focus. A basic control panel is also present on the top and includes options to change sources, volume +/-, colour mode selection and three status LEDs.
The rear panel is full of options yet doesn't feel busy. It includes 2 HDMI ports, S-video and compost video inputs, PC input and output, and a USB power port. There are also an RS-232 control port, LAN port and mains power input.
There are pre-drilled holes on the bottom for easy ceiling mounting (mount sold separately) and 3 feet for table projector. The front foot one is adjustable.
If the controls on the ViewSonic PG706HD aren't enough, the remote offers all you could want. It covers the basics such as input source selection, volume up and down, settings menus and power mode. There are also buttons to activate the test screen, zoom controls and buttons for manual keystone correction.
Features
As a DLP projector, the ViewSonic PG706HD uses a DMD Type: DC3 chip, which offers multiple benefits including a brighter display, longer lamp life and deeper colours. Able to produce an image size between 30 and 300-inches, it's also highly flexibly.
Providing 4000 ANSI lumens of brightness, the PG706HD is far brighter than most projectors who average around 2,500 lumens. This sheer brightness allows the unit to compete with ambient light and still produce a bright, vibrant coloured image in Full HD 1080p resolution.
This resolution projection delivers clear and ultra-sharp image quality. Using ViewSonic's proprietary SuperColor™ Technology, the unit displays a wide colour range, ensuring true-to-life colour performance in both bright and dark environments without sacrificing image quality.
Primarily designed for 2D content, ViewSonic has also tweaked the performance of PG706HD to ensure 3D content creates an equally immersive experience. Although, you'll have to supply the 3D glasses!
In the past, having to maintain lamps was painful and expensive. Thankfully, this is no longer the case as the PG706HD offers superb energy performance ensuring a long lamp life. In standard mode, the lamp provides around 4,000 hours of use.
While this isn't bad, switching the ViewSonic PG706HD to SuperEco extends the lamp's life to 15,000. SuperEco+ mode extends it to 20,000 hours. You could watch a movie for at least 13 years before you need to change the lamp, or more likely, upgrade to a newer model while still using the original lamp!
A total of 7 colour mode are available allowing you to tweak the projector's performance to the activity. Two of these modes are user presets, allowing you to save customised settings and recall them with ease.
A built-in 10-watt speaker offers flexibility, especially if you're looking for a grab and go unit. If you already have external speakers, then the audio output makes connecting them simple.
As software updates for the ViewSonic home cinema projector range are available online, you can easily keep your projector firmware up to date either using a USB stick or via LAN.
Set-up
As a flexible projector, you can position the ViewSonic PG706HD in one of four ways. You can angle it up, using the adjustable front foot, from a table either from in front or behind the screen. You can ceiling mount the unit and project forward on to a screen or from behind it.
To fill a 100-inch projection screen, the PG706HD needs to be at least 3 metres away. That said, it can comfortably fill a screen between 30 and 300 inches with the right distance. Part of setting up the projector is experimenting with it.
After positioning your ViewSonic PG706HD at a suitable distance from the screen, connect the mains power and complete the basic set-up wizard. On the remote, select the test screen and use it to adjust the zoom, focus and keystone correction settings.
Don't use an image or a movie still to optimise your PG706HD. Doing so will lead to substandard result as your not correctly optimising for the set-up, but the media presented. So only make setting adjustments with a test screen.
With the basic set-up complete, you can plug in media players and speakers. If you don't yet have an AV receiver, you'll need to plug your Blu-ray player, game console and streaming sticks (such as Amazon Fire TV or Google Chromecast) directly into the PG706HD.
Also depending on your speaker set-up, you'll want to connect any external speaker set-up to the audio output of the projector. Of course, if you have an AV receiver, then all you need is to run an HDMI cable between the two, and you're good to go!
With your ViewSonic PG706HD optimised and set-up, you can either tweak the settings further or you can sit back and relax with a movie or game!
Performance
As a super bright projector you'll enjoy sharp pictures whether you're in a complete dark, purpose-built cinema room or out in the garden BBQ with footie on the big screen. Most projectors struggle with some ambient light, but the image produced by the ViewSonic PG706HD remain vivid.
A problem with most older DLP projectors is that colours soften at the edges and slightly blur. Thankfully, the PG706HD produces a bright, consistent picture with fantastic colours from deep blacks to sparkling whites and all in 1080p resolution.
Another aspect that the ViewSonic PG706HD excels at is noise, or should that be the lack of it! In normal mode, it produces 32dB and this drops to 27dB in SuperEco mode. You'll bearly notice it running.
What the PG706HD does suffer from like most projectors are poor speakers. They might be fine for watching TV or sports, but for serious movie watching or gaming, you'll want to invest in an equally good speaker set-up. That said, this shouldn't surprise you!
If you enjoy gaming, you'll be delighted to know that the input lag is a tiny 16 ms. You'll notice how reactive games are, even fast-moving sequences are smoother and more enjoyable to play.
Finally, the remote is illuminated, which is uncommon for projectors in this price range, and so allows for easy operation even in a pitch-black room.
Is the ViewSonic PG706HD worth buying?
As an affordable projector, the ViewSonic PG706HD offers a lot that many similarly priced units don't.
It offers superb connectivity, far more option than other units, which typically only include dual HDMI and a USB. We especially like the PC input and the audio in/out as this makes connecting speakers very easy!
Add to these fantastic options control via LAN and PC (the PG706HD is Creston, AMX, Extron, and PJLink certified), and you have many excellent options at your fingertips. Sadly, it's missing built-in Wi-Fi but at least the LAN port can be used to add internet functions.
As a super-bright projector, the PG706HD still offers a great lamp life length even in normal mode plus it's also near silent. Of course, you'll want to experiment with the different operating modes to find the most suitable for you.
The only thing we'd change is the speakers, but that's easy to upgrade and a problem with almost all projectors. That said you could have decent speakers or they could be next on your list.
It handles 2D and 3D content well in Full HD 1080p resolution with movies, games and TV all display in stunning detail with vivid colours. That said, is not a 4K projector and so you'll struggle to match a 4K TV with the PG706HD.
Overall, if you're looking for an excellent projector that's bright and you're not concerned about 4K content, then consider the ViewSonic PG706HD. 8/10