ViewSonic X10-4K projector review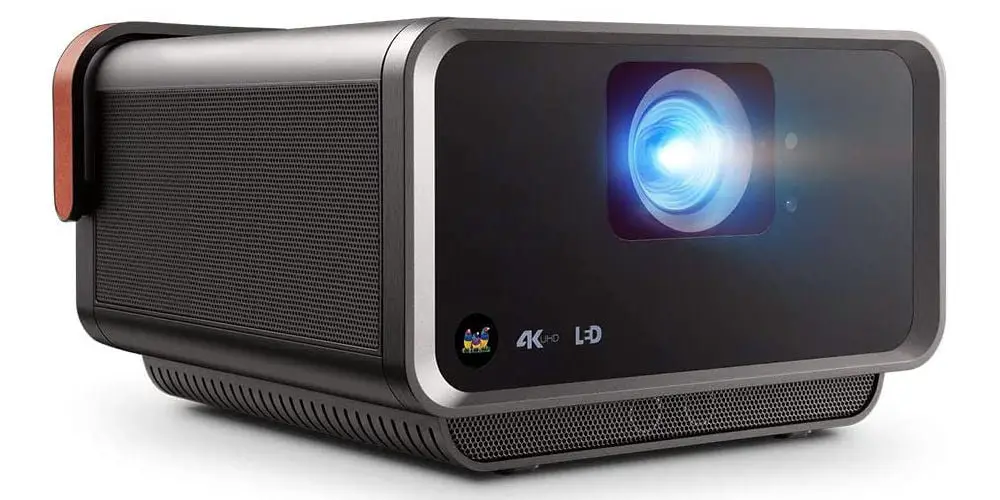 Ideal for in the home, garden and even camping (as long as you have power!), the ViewSonic X10-4K Projector is a portal unit packed full of features. Offering 4K picture quality, built-in Wi-Fi and Bluetooth, and onboard Harman Kardon Audio speakers.
It may look like every other projector but the X10-4K is a complete entertainment solution which offers a professional cinema experience in a single package. The easy-carry handle and lightweight design allow you to take the cinema experience with you, no matter where you're going!
Delivery 2,400 LED lumens of brightness ensuring even with some ambient daylight, pictures appear vivid and crisp. The short-throw lens projects a 100-inch image at 1.77 metres. This impressive feature means you can enjoy movies, TV, sports and games wherever and whenever!
Playing media in 4K with onboard upscaling, you can enjoy the latest releases, favourite DVDs and even 3D films. The ViewSonic x10-4K also supports HDR and is Rec. 709 compatible.
Built-in Harmon Kardon speakers ensure superb audio. Stream the latest music using the built-in Bluetooth function and watch your favourite show thanks to built-in Wi-Fi. Both Amazon Alexa and Google Assistant are supported and allow for voice control.
As one of the best 4K home cinema projector available, ViewSonic X10-4K Projector is the ideal portal projector. 8/10
Pros
30,000-hour lamp life
Wi-Fi dongle included
Voice control ready (Amazon Alexa and Google Assistant)
Cons
Only vertical keystone correction
Most Apps require a mouse
Design
Sporting a lightweight design, the ViewSonic X10-4K Projector weighs only 4.1 kg making it very easy to move. The cool Metallic Charcoal colour case is subtle. An aesthetically pleasing handle with leather inlay makes light work of moving the unit around.
Looking at the X10-4K, the front contains two sensors, the lens and an auto-focus camera. Moving down each side reveals a metal mesh, below which sits a speaker. The top continues the uncluttered look with a volume knob, doubling also as a power switch and 2 LEDs (power and Bluetooth).
Underneath, there are already mounting hole, making it easy to attach to a ceiling bracket. There's also an adjustable foot with two positions, which is ideal if you're using the X10-4K on a table in front of the screen.
Finally, the rear panel, which includes a power socket, 3 USB, 2 HDMI, mini-jack audio in and out, an S/PDIF output and LAN port. There is a slot for the included Wi-Fi dongle, a Micro SD socket and reset button. A leather cover protects these sockets when not being used yet folds down for easy access.
A remote completes the package and contains all of the best controls you'd expect including volume, power, source and audio mode. It also has a range of buttons for menus, settings, and an app button.
Features
Don't be fooled by the minimalistic look of this ViewSonic home cinema projector as the X10-4K is packed full of features, making watching TV shows, films and gaming far more enjoyable than using a TV.
Unlike many projectors, the X10-4K doesn't use a bulb. Instead, it uses LEDs which put out 2,400 lumens of brightness and offers a life span of 30,000 hours. An impressive feat meaning you can enjoy years of uses.
By using 2nd Generation LED Technology, the X10-4K integrates red, green, and double blue LED light sources, which efficiently enhance luminance and colour saturation.
Displaying content in 4K and projecting 8.3 million pixels on your screen, the X10-4K brings media to life with sharp details and vivid colours.
With support for HDR10 (High Dynamic Range), images have enhanced colours and contrast ratios. Plus the onboard Cinema SuperColor+ technology reaches over 125% of Rec.709 wide colour range. That's not all, as the X10-4K supports also 3D content.
More than a projector, the dual integrated speakers by Harman Kardon create an impactful sound and put out a combined 16 watts of power, whether you're watching a movie or using Bluetooth to stream a favourite song. The built-in speakers make using the Viewsonic X10-4K superb as a stand alone unit.
With built-in 5Ghz speed Wi-Fi, you're able to stream your favourite movies or cast media from your smart device. If you're already using Amazon Alexa or Google Assistant for voice control, then you can sync your device to the Viewsonic X10-4K and control that as well.
Set-up
As a portable projector, we'll demonstrate how versatile the Viewsonic X10-4K is but exploring two different set-ups.
Cinema room set-up
Firstly, a traditional set-up in a cinema room. Thankfully, the X10-4K come pre-drilled with mounting holes, make it very easy to attach it to an existing ceiling mount.
The X10-4K can be set for both front and rear projection, allowing you to maximise your space. That said, as a short-throw projector, you don't need much space to produce a decent image size. At a lens to screen distance of 1.77 metres, the X10-4K produces a 100-inch sized picture.
If you're buying for a home cinema, you probably will be feeding the X10-4K from an AV receiver which will be doing the heavy lifting. So getting started will take minutes as you simply need to mount the projector and attach power and HDMI cables.
The onboard set-up wizard takes you through all of the basic such as projector placement, Wi-Fi set-up and will automatically adjust the lens to ensure the best picture. Of course, you can easily tweak the picture using the settings menu.
Portable set-up
You could be buying the Viewsonic X10-4K as a portable projector for use in your home, garden and elsewhere. While the basic set-up is similar, how you intend to use it will be different.
For occasional use, you'll probably be relying on the built-in speakers, which limits the positioning. Ideally, you'd place the Viewsonic X10-4K on a table and sit behind it. Placing it further back will produce a muffled sound as sound waves have to bounce off the rear wall first.
Next, connect the power and an HDMI cable between the projector and media player. You'll want to select autofocus mode to ensure your X10-4K rebalances and focus every time it's turned on. This is ideal if you're regularly moving it and don't want to have to keep reconfiguring it.
Smart set-up
Regardless of your intended use, we'd recommend plugging in the Wi-Fi dongle and setting up the internet function. This allows you to stream content from the internet and any smart device. It's also worth downloading the Viewsonic app as it replaces the remote.
Performance
One of the first things you'll notice about the Viewsonic X10-4K Projector is how quiet it is. Most projectors operate with a noise level of around 60 dB, due in part to the fan. The X10-4K has a base noise level of 30 dB (normal mode) as it uses a tri-axis flow fan, which reduces noise.
Another performance factor that is important but often overlooked is power consumption. By combining LEDs, a well-designed fan and cooling system, the X10-4K consumes 35% of the power of the typical 4K UHD TV. Not only is it more eco-friendly, but it's far cheaper to run.
In terms of user safety, a built-in ultrasonic sensor automatically cuts power to the projection beam when objects are too close to the lens. This is ideal if you're using the projector around kids.
Operating and using the Viewsonic X10-4K is simple as it's packed full of features yet is easy to control. Whether you're watching the latest Blu-ray or streaming content, the onboard 4 core processors with 2 GB of memory and 16 GB of storage ensure the ultimate video playback.
Whether you plan to use it as part of a wider system or a stand alone unit, the X10-4K will provide years of use. It's a solid projector with several fantastic extras.
Is the Viewsonic X10-4K worth buying?
Ideal for a range of situations, the Viewsonic X10-4K Projector is a fantastic unit. It combines a lightweight design, a bright LED light source with superb connectivity, built-in speakers and onboard Wi-Fi. Not to mention it's short-throw lens and automatic configuration.
While advertised as a 4K projector, it achieves this with some technological trickery. It uses pixel-shifting technology to split pixels into 8 million-plus pixels, thus giving a 4K image. That said, for the price and considering all the features, it's easy to get past this marketing hype.
It does display 3D images well and even though the HDR is somewhat limited, it does create a rich picture quality with vibrant colours and nice contrast.
Several features push the Viewsonic X10-4K into a different league. Firstly, it's super quiet (only 30 dB in normal mode). As a lampless projector, the LED create a super bright picture putting out a comparable 2,400 Lumens which again for the price is impressive.
Offering excellent connectivity, if you're not using an AV receiver then you can easily hook up a few different sources and painlessly switch between them. Plus with multiple audio outputs, if you're not a fan of the built-in speakers or need more power, you can easily hook up external speakers.
The Viewsonic X10-4K Projector is a fantastic option if you're just starting to build a home cinema or are looking for a portable solution you can easily use around your property. You can start without needing a lot of other equipment and all for an affordable price. 8/10