WORX WR153E L1500 landroid robotic mower review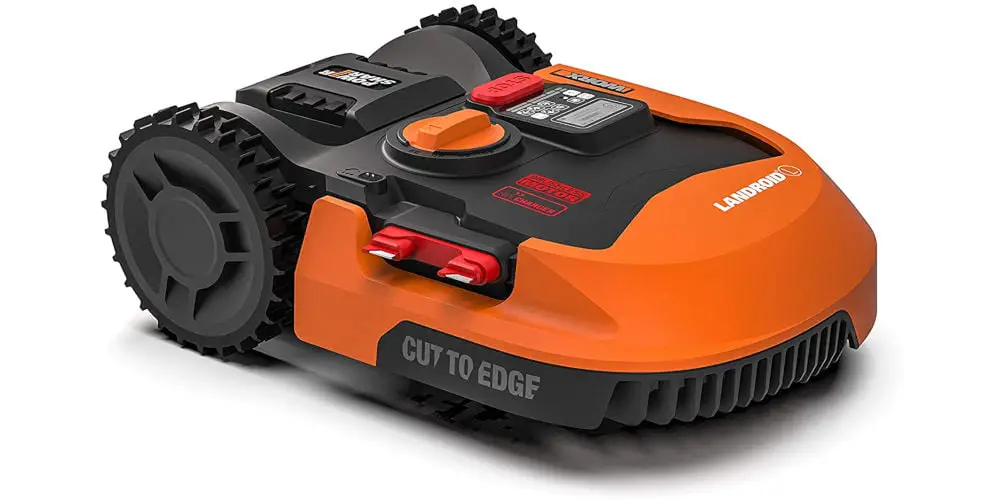 PUBLISHED: 7th June 2020 | LAST UPDATE: 15th August 2023
Featuring intelligent navigation and cut to edge technology, the WORX WR153E L1500 Landroid Robotic Mower is a highly advanced robotic lawnmower. Designed to cover an impressive 1,500 m2, the WR153E is ideal for gardens of all shapes and sizes.
It uses the same battery found in all WORX 20V cordless tools. This transferable battery system is excellent for cutting the cost of buying DIY tools. Of course, you can affordable purchase battery separately.
Offering a range of cutting depths (between 3 and 6 cm) and a wide 22 cm cutting width, regardless of how large your lawn is, the WORX WR153E will maintain it with precision. It will even cut right up to the edges ensuring your borders are kept neat and tidy.
One of the major downsides of a tradition mower is that they are noise with some petrol mower as loud as 100dB, requiring ear protection. If that's not bad enough, these noises easily spread annoying neighbours. All WORK Landroid mowers are virtually silent allowing you to enjoy your garden while it works.
A common problem with both robomowers and robovacs is they navigate blindly. They don't remember where has been covered and where is still to be cut. WORX has developed a unique AIA technology that ensures your robomower tracks which areas it's cut and where still needs to be done.
5 unique add-on modules make this WORK robotic mower unique. Sold separately, these modules allow you to customise your mower to meet your individual needs.
As one of the best robotic lawn mower currently on the market, the WORX WR153E L1500 Landroid Robotic Mower scores a solid 9/10.
Pros
Can be controlled via Wifi
Patented navigation technology
Quiet 57dB operation, enjoy your garden while it works
Cons
Top controls are open to the elements
Design
The WORX WR153E uses striking colours to great effect and features a charcoal grey base with a bold orange top and red markings. These ensure it's easily spotted in your garden despite its fairly compact design.
Starting on the underneath, there are two small wheels at the front which work with the two larger rear one to navigate your lawn and to its dock. At the centre is the adjustable cutting disc which uses 3 blades which are screwed into place.
You notice the charging point is located on the right-hand-size and is mirrored by the dock. Of course, you can easily remove the battery and charge it using the normal tabletop charger that comes with other 20V WORX tools.
On the top of the WORX WR153E L1500 is a control panel complete with LCD screen, a large red safety top button and a knob to adjust the cutting height of the blades. On the right-hand side behind the charging points is a rain sensor.
In between the rear large wheels sits the battery and a USB port. These sit under an easy to move and waterproof cover.
The charging dock, while simplistic looking ensures the robotic lawnmower has somewhere safe to store itself when not in use or charging and also in adverse weather conditions. As you might expect, it does require mains power and so needs to be located near your property.
Features
Many features of the WORX WR153E make lawn care far easier and while it doesn't completely replace you, your future involvement is cut significantly.
Battery
The most important element of any cordless DIY tool is the battery. Thankfully the WORX WR153E comes with a 20 V 4,0 Ah lithium-ion battery which charges in 72 minutes and provides up to 90 minutes of operation time.
As a smart device, it is constantly monitoring the battery level and is programmed to automatically dock and recharge when running low or when it's finished mowing. If recharging part way though mowing, the WR153E will remember where it's mowed and will restart precisely on it last spot to ensure the lawn is uniformly covered.
The cut
Able to cover an area of up to 1,500 m2, you can easily use the WORX WR153E to cut most small and medium-sized lawns. It's designed to work on inclines of up to 35% (20°), which is ideal if your garden is less than perfectly flat garden.
The three blades are strategically placed to ensure a uniform cut even when tackling edges. Together they cover a diameter of 22 cm in a single rotation. This reduces the time it takes to mow your lawn. The blades sit on an adjustable plate which can between 3 and 6 cm with 4 positions available.
Smart operation
As the UK's weather can be, at best described as temperamental, you'll be happy to know that WORX has built-in a rain sensor to the WR153E. If it senses rain, the WORX WR153E will return to its dock and wait for better weather before restarting where it stopped.
The onboard navigation system combines WORX's AIA technology and an anti-collision system. These systems empower the unit to sense and avoid obstacles, operate within the boundary wire and work smart when cutting a lawn.
Safety
In terms of safety, there are multiple features which prevent theft including onboard sensors and PIN code operation.
Control
Several control options are available including controls on the unit and an app. Using the built-in Wi-Fi, the WORX WR153E can communicate directly with your smart device.
You can use the app (free to download, iOS and Andriod versions) to control the operation and check on vital stats such as battery level and programme.
Set-up
Before you can sit back and let your WORX W153E mow your lawn, there's quite a bit of set up work. Thankfully, getting set up is simple and quick to complete. The process is similar to buying any other robomower.
Installing the boundary wire
As the onboard navigation system relies in part on having a solid border around the area you want to be mowed, you need to lay the included boundary wire. Depending on how large your lawn is and if any areas need blocking off, laying and securing the wire could take an hour or two.
We'd recommend taking your time as once it's correctly laid, you shouldn't need to touch it. For most gardens, you'll need to lay the boundary wire so that it's 26 cm from the edge. As a thin wire, it can lay on top of the grass as when it's secured using the included pegs, it blends in.
Secure the dock
With the boundary wire secured, next, you'll want to set up the dock. As the charging dock requires mains power, it needs to be placed close to your property and within the boundary wire. There are 8 screws in the pack which can be used to anchor the dock into the ground.
First charge
We're nearly ready to set the WORX WR153E off and sit back and relax while it cuts the lawn. The final step is to install the battery and move the unit on the charging dock so that it can begin charging. When it's ready you'll see a solid green LED.
It's worth running the update module, while it charges to see if any newer software is available and using this downtime to install it.
First mow
Now, it gets exciting! The control panel on the top is logically designed. You can simply turn it on, press the start button and it'll jump into action. Stopping and docking the unit is equally as easy. Simply press the corresponding button to action your request.
Using the app
We'd suggest running it a few times using the manual controls to ensure it works to your standards before downloading and installing the app on your smart device. While the app offers all of the basic controls you'd expect, it goes beyond this and includes many useful features, and so it worth experimenting with.
Performance
Battery performance
With any battery-powered tool, we're always mindful of how much we can achieve on a single charge and how long it takes for the battery to charge. We called this charge to use ratio. Sometimes this ratio can be horrible to the point where you'd consider using a mains-powered unit!
Luckily, this WORX robomower has a fantastic charge to use ratio. It takes 72 minutes to be precise to charge but offers 90 minutes of operation time. For most small and medium lawns, your WR153E should be able to mow it on a single charge.
Whereas Larger lawns will probably require it to recharge half-way through. So in this regard, we're off to a great start.
Quality cut
No amount of fancy technology or smart-sounding extras are worth it if the basic function doesn't delivery. In terms of cut, the WORX WR153E performs well, it easy to adjust the cutting height for different seasons and it covers a sizeable area with each rotation of the blades.
As it moves quickly, uniformly cutting the grass as it goes, it blends into the environment as it near silent. Gone are the days when you had to wait for a suitable time to mow your lawn as to not disturb the neighbours.
Correct storage
The only small issue we could find is the controls on top are exposed to the elements. While they sit under plastic, you'll want to cover the dock by a structure such as a robomower garage to protect the unit. Of course, during the winter, you'll want to move the unit and dock inside.
Maintainance
Even though the WORX WR153E L1500 has no bin to empty as cutting are fed back to the lawn and thus provide nutrients, it is worth cleaning it monthly and changing the blades twice a year.
Is the WORX WR153E L1500 worth buying?
If you're expecting the WORX WR153E L1500 Landroid Robotic Mower to be complete hands-off then you'll be disappointed. That said it removes 95% of the work involved in cutting a lawn.
As it cuts close to borders and handles the main lawn area with ease, at worse you'll need to tidy the odd edge. Of course, you'll need to monitor that it has been working and give a monthly clean to ensure it performs at it's best. However, that's pretty much your total involvement.
For the most part, you can set it and let it run, safe in the knowledge that it will handle its task with ease and will let you know if it encounters any issues. Even the app is easy to use and provide an additional level of control.
The WORX WR153E Robomower is expensive and does require a few hours to set up. However, it's covered by a 5-year warranty and WORX continue to offer new updates to improve the unit's performance. If we had to choose between upgrading our small 2-door car and the WORX WR153E, we'd happily buy the robomower! 9/10