Yamaha YAS-109 soundbar review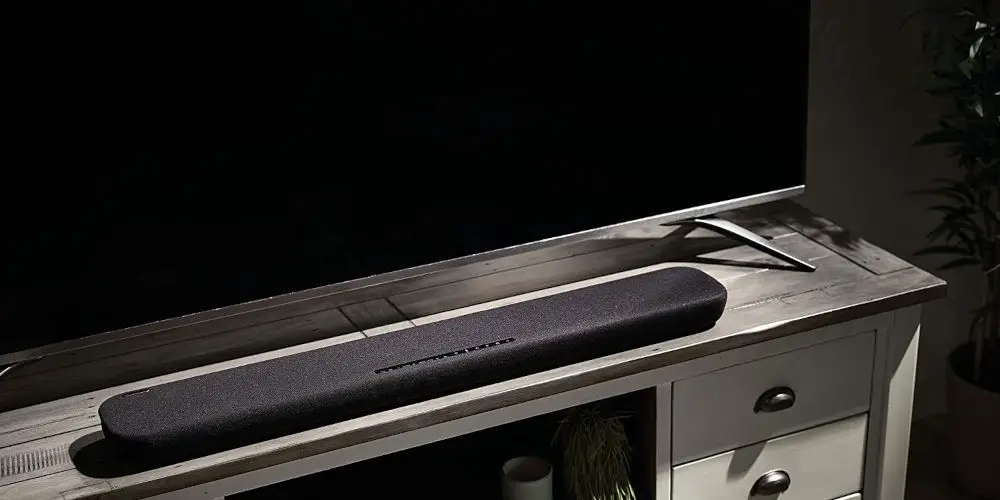 Under the sleek exterior of the Yamaha YAS-109 soundbar is a powerful speaker system that elevates the audio you hear from your TV or projector. Ideal for placing on a TV cabinet or wall mounting, it's a versatile unit.
It features built-in Alexa voice control, DTS Virtual:X virtual 3D surround sound, and built-in subwoofers. Experience and enjoy TV shows, movies, games and music like never before, thanks to Yamaha's trademark sound quality.
Powered by a 120-watt amplifier, there is plenty of headroom and volume on tap. The speakers deliver a rich, balanced sound with a punchy low end. Thanks to its enhanced dialogue mode, Even the news sounds far better!
A range of inputs are available. So, getting set up takes minutes. The rear HDMI ARC port can help streamline your set up. Connect older TVs and DVD players with the optical input. With built-in Wi-Fi and Bluetooth, you can also enjoy a variety of audio sources.
With multiple ways to operate the unit, control it as you want. Either use the built-in controls, a remote, Alexa or the Yamaha free Sound Bar Controller app. Of course, Alexa is our favourite method, as who wants to search for remotes when you can say your command!
For the best audio experience, add a separate subwoofer using the sub output. In seconds, you can connect an active subwoofer. Movies, TV, and sports sound better with a soundbar and subwoofer package!
Ideal for many uses, including with a projector or TV, the Yamaha YAS-109 supplies superior audio with plenty of smart options. 9/10
Pros
Integrated Alexa Voice Control
In and Out HDMI ARC ports
DTS Virtual:X
Cons
Limited Alexa integration
Design
At first glance, the Yamaha YAS-109 might not appear wildly different from other soundbars, but you'd be mistaken. Look closer, and you'll see the YAS-109 has a slimmer and more rounded profile, allowing it to blend in better with both TVs and projector screens.
Let's start with the rear panel, which maintains a minimalistic look, despite the myriad of connections. You'll probably spot the power input first, as it's separate from the others.
The main rear panel contains a subwoofer out, HDMI input and output (ARC) ports and an optical input. There is also an Ethernet port and service USB port that allows you to update the unit's firmware.
On the top, a series of LEDs that flash or glow depending on the operation and setting status. Each input source has a dedicated LED, so you can easily see which is selected. There are LEDs for Wi-Fi, Alexa, Clear voice mode and surround sound mode.
Next to the LEDs is a row of buttons and a mic for Alexa. There are buttons for muting the Alexa mic, volume up and down, source selection and power.
Under the grille is multiple speakers, including two specially designed subwoofers. You'll notice the ports at each end, which enhances the bass frequencies the YAS-109 produces.
If you prefer to use a remote and don't have HDMI ARC, you can use the remote that comes with the unit. It might be small, but it covers a lot. If you have HDMI ARC, your TV remote can control your soundbar.
The remote contains buttons for selecting an input source, adjusting the volume, power on/off, and mute. There are also buttons for selecting different surround sound modes, including 3D surround and clear voice. Plus, if you add a subwoofer, the remote includes a volume control.
Features
As an advanced soundbar, the Yamaha YAS-109 does more than amplify audio. It delivers 120 watts of power between the speaker (Front L/R: 30 W × 2-ch, Built-in subwoofer: 60 W). Regardless of what you're using this soundbar for, you'll have plenty of volume on tap.
As with other Yamaha soundbars, there are several ways to customise the audio the YAS-109 produces. If you're watching the news, for example, using the clear dialogue mode will boost the frequencies responsible for speech, making it easier to hear.
Offering multiple DTS Virtual:X surround sound modes, you can fine-tune the audio for movies, TV, music, sports and gaming. Make films feel even more life-like with the 3D sound mode. A built-in subwoofer adds even more warmth to the sound.
Enjoy streaming music from your phone or tablet using the built-in Bluetooth, or ask Alexa to stream your favourite tunes from Spotify and Amazon Music.
Use the built-in Alexa voice control to operate your Yamaha YAS-109 soundbar. You can adjust the volume, change the input source, mute, and select streaming services such as Amazon Music. Do these and more, all be speaking. No remote needed!
Alexa has plenty of additional uses, such as controlling smart home devices, helping you complete daily tasks and telling you today's weather. If you prefer not to use Alexa, a microphone mute feature ensures your privacy when needed.
If you prefer, you can control your  Yamaha YAS-109 soundbar using a remote or download the free Sound Bar Controller app.
Set-up
As you might expect, setting up the Yamaha YAS-109 takes a few minutes. It's a little longer if you decide to wall-mount the unit. As no audio cables come with it, you'll need to supply your own. Thankfully, Yamaha has included some batteries for the remote!
With a fairly modern TV, you should be able to use an HDMI cable to connect them. Failing that, use an optical cable. Both these options also work with a projector. Lastly, connect the power cable.
If you buy an active subwoofer or already have one, you'll need a phono cable to connect it to the soundbar. As an active sub, it'll also require mains power.
After placing or wall mounting the unit and connecting it up, now we can have some fun exploring the different modes. Spend time getting used to using your YAS-109 before you attempt to use Alexa, Bluetooth, or trying the app.
Some sound modes will work better depending on what you're watching. For example, the 3D virtual surround sound mode probably isn't ideal for listening to music. However, it could be excellent for gaming. If you're using a subwoofer, you might need to adjust the subwoofer to each mode.
When you're happy with the basics, you can experiment with Bluetooth and Alexa. Try streaming music from your phone to the soundbar using Bluetooth or ask Alexa to play it (you might need an Amazon Prime membership).
If you're happy with the remote and plan to use Alexa for other things, then you're good to go. Otherwise, it's worth asking Alexa to control the soundbar and trying a few different commands to see how it reacts. If you're not a big fan of Alexa but don't like remote, download the app!
Performance
Focusing on the basics for a moment, the Yamaha YAS-109 sounds very good, especially for the price. You'll notice a massive improvement over the TV's default speakers. If you're using it with a projector, it provides a balanced sound for movies, sports and gaming.
You'll be disappointed if you're expecting a world-changing surround sound experience despite the built-in DTS Virtual: X. We're yet to find a soundbar that offers a believable but virtual surround sound.
While the YAS-109 is a great starting point, it's no substitute for a proper 5.1 or 7.1 system. If you're eager to buy a basic 5.1 surround sound system, read our review of the highly affordable Sony HT-S20R.
We found the 3D sound mode slightly flat, but it is marginally better than the standard surround sound mode. The clear voice mode provides a noticeable improvement to dialogue whether watching TV or a movie.
Listening to music using Bluetooth is pleasing, and syncing a smartphone is very easy. While some will love Alexa, others will consider it a gimmick. Only you can decide where you fit on that scale!
Pairing it with a subwoofer provides an additional sound lift, making everything feel complete. That said, you can use any powered subwoofer with this soundbar. It doesn't need to be a Yamaha product.
Yamaha YAS-109 soundbar review: Is it worth buying?
The Yamaha YAS-109 soundbar is a feature-packed unit that provides superb sound for TV, movies, gaming and sports. Offering 120 watts of power, it can easily handle everything from a small snug to a media room.
As more than just a soundbar, the YAS-109 has a built-in subwoofer, Wi-Fi and Alexa. All on top of the HDMI, optical and Bluetooth inputs. It's highly flexible. Some might complain about the lack of an AUX mini-jack input or USB media players, but these are tiny issues.
The basic sound is balanced yet punchy, with different modes adding further refinements. That said, the Yamaha YAS-109's virtual surround sound mode can't compete with a proper 5.1 system. It is an excellent stepping stone for a home cinema room.
The app and Alexa are both nice extras that some will enjoy using. However, the included remote is well designed and easy to use. Overall, the Yamaha YAS-109 is super for any home or cinema room. 9/10