Onkyo BD-SP809 Blu-ray player review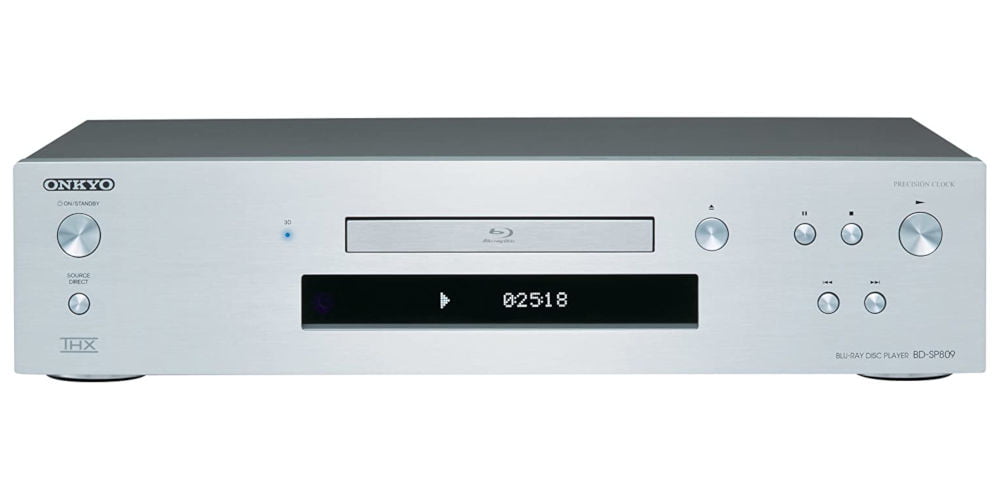 PUBLISHED: 29th January 2022 | LAST UPDATE: 10th July 2023
Faithfully reproducing Blu-rays and DVDs in 1080p, The Onkyo BD-SP809 Blu-ray disc player is a THX® certified unit. Built with the attention to detail that we've come to expect from Onkyo, it's constructed to reduce vibration and machine noise.
Offering superior connectivity, the BD-SP809 uses gold-plated audio and video outputs. Featuring 2 HDMI output, you can easily run two displays (for example a TV and Projector). The unit also offers multiple audio outputs including stereo phono and optical.
Enjoy watching standard Blu-rays, 3D Blu-rays and DVDs as well as listening to CDs. But that's not all, the BD-SP809 also features a USB port, allowing you to enjoy several audio and video formats. Able to play DTS and Dolby formats, it produces stunning audio quality.
Older formats are reinvigorated thanks to the onboard upscaling software which instantly upgrades frames to 1080p ensuring they look as vibrant as the latest releases.
As a THX® certified unit, the BD-SP809 meets the world's most demanding standards for home theatre playback, guaranteeing a superior A/V performance. Enjoy the same quality as a professional cinema without leaving home.
The Onkyo BD-SP809 Blu-ray disc player is one of the best Blu-ray players under £500 and scores a respectable 7/10.
Pros
Offers 1080p upscaling
Great connectivity
THX® certification
Cons
Lacks streaming support
No hi-res audio
Design
Before we jump in and look at the unit's features, it's worth discussing the build quality of the Onkyo BD-SP809. At 4.7 Kg, it fairly heavy and measure 43 cm (w) by 31 cm (d) by 10 cm (h). So you'll want to check you have adequate space for the unit in your set-up.
What makes the BD-SP809 unique is the build quality. Any component that is likely to cause vibrations is fixed directly to the chassis to restrict movement. The unit's large feet provide further protection from vibrations.
A final design element worth noting is that the BD-SP809 features independent digital and analogue block designs, which reduces electromagnetic interference.
Starting with the front panel, you'll notice the disc tray with an LCD display below. Surrounding these to the left is a power button and source selector. While to the right, are basic controls including tray open/close, play, pause and stop.
Moving to the rear panel, which unlike most Blu-ray is packed full of options. There are power input, LAN port, IR control ports (in and out), and an RS-232 port. The two gold plated HDMI outputs are central with the USB input close by.
Also available are 3 audio output (optical, coaxial, and stereo phonos) as well as a component video (3 phonos) output and a separate video (phono) output.
Finally, the vintage-looking remote isn't the most aesthetically pleasing but does cover a lot of ground including all of the basic control you'd expect. Also, it has buttons for scene selection, BD-video options, several disc menus and HDMI output resolution.
Features
As you might expect the Onkyo BD-SP809 handles a range of disc formats with ease including standard Blu-rays, 3D Blu-rays, DVDs and CDs. The rear USB port extends this further, allowing you to enjoy even more formats in Full HD.
With 1080p upscaling software built-in, the BD-SP809 brings all media to life with superior details and colours. Powered by high-quality Qdeo technology from Marvell, the versatile video processor erases video noise and artefacts such as jaggies and feathering.
These features and more means that the Onkyo BD-SP809 is THX® certified, ensuring it meets the world's most demanding standards for home theatre playback. Your guarantee superior A/V performance with an accurate reproduction of the full cinema experience in your home.
The audio side is equally as impressive with support for high-definition audio formats including DTS and Dolby Digital. Whether you're watching a movie or listening to MP3s, the audio sound rich with excellent frequency response.
As well as enjoying a range of media formats, the rear LAN port allows you to access further content via BD-Live. This includes director commentary, internet games, movie trailers and more.
Using a JAVA based operating system, the Onkyo BD-SP809 offers a pleasant user interface that's fast and easy to navigate.
Set-up
As the Onkyo BD-SP809 offers fantastic connectivity, it can easily be added to any set-up. That aid, you'll need to supply cables as only a power cable is included. If you're using with a TV, then you can either use one of the HDMI outputs or the component video and stereo audio port.
If you're planning to use the BD-SP809 in a home cinema then you could plug it directly into an AV receiver (such as the Onkyo TX-SR373). You could feed a TV or projector using one of the HDMI outputs and use the optical audio output to feed a soundbar or speakers.
You still have plenty of outputs on the Onkyo BD-SP809, allowing you to run a second or third screen in another room. It's highly flexible and you might be able to get away powered speakers rather than a 5.1 or 7.1 AV receiver and speaker set-up.
With it plugged in, next it's worth wiring it into your Wi-Fi router and updating the firmware. Unless you plan to use BD-live, you don't need to keep it wired into your Wi-Fi router but it's worth a few times a year checking to see if any downloads are available.
The set-up wizard will appear the first time you turn the unit on and will painlessly help you to configure the basics. Next, place the batteries in the remote and you're ready to go.
There are plenty of settings to tweak, however, out of the box it's pretty good. It's worth playing a favourite DVD or Blu-ray before starting to tweak settings. While you're sat watching content, don't forget you can also content from a USB memory stick.
Performance
If you plan to use the Onkyo BD-SP809 for playing Blu-rays, DVDs and CDs, then you'll be excited to upgrade. Likewise, if you have content saved on a USB memory stick. It can play MP3, WMA, JPEG, LPCM, MPEG-1 and MPEG-2, as well as DivX HD files and AVCHD.
It won't play WAV or AAC. So you'll need to convert to MP3 or WMA to listen to them. Unless you're an audiophile, you'll be happy to listen to music using the BD-SP809.
The Marvell QDEO upscaling software is excellent, especially on older formats. Disappointing, it's not 4K, however, at 1080p should be sufficient for most home cinemas or living rooms. Even in Full HD, pictures appear crisp with good colour contrast and it performs well playing 3D Blu-rays.
As a unit, the Onkyo BD-SP809 covers the basics well with support for BD-Live, Dolby True HD and DTS HD Master Audio decoding and HDMI CEC compatibility.
It doesn't seem in a rush to load discs, often taking up to a minute to jump into action once the disc tray is closed. Even as a small issue, it's likely to annoy you over time.
Some will find the JAVA based operating system basic or even clunky. And while this might not surprise you, it does lack some of the niceties we'd expect. That said, it is fairly fast and reactive.
Finally, the remote feels cheap and frankly looks nasty! Sorry, and while it covers a lot of ground, it could do with a new sleeker design. Sadly, the other units in the Onkyo Blu-ray player range also suffer from poor remotes.
Is the Onkyo BD-SP809 worth buying?
Overall it's a mixed bag with the Onkyo BD-SP809 Blu-ray disc player. The basics are well and truly covered, and it does offer superb connectivity. However, it lacks any real internet capabilities other than BD-Live, which will only ever have limited appeal.
It's also doesn't support 4K resolution and the USB port is on the rear, making it harder to use it quickly as you would with a disc.
In terms of the market, there are plenty of better options including the Panasonic DP-UB820, Sony UBP-X800M2 and the highly affordable Sony BDP-S6700 Blu-ray player. All offer more internet options including watching content from streaming services.
That said, the Onkyo BD-SP809 features rock-solid construction. While it doesn't offer 4K support, it does reproduce an exception picture across 2D and 3D content, with plenty of tweakable options. The unit's excellent specifications include THX® certification and Marvell upscaling.
If you're looking for a solid yet simplified Blu-ray player with excellent performance, extensive connectivity and superior build quality, then the Onkyo BD-SP809 might be ideal. 7/10