Can I install Crestron myself or do I need a pro?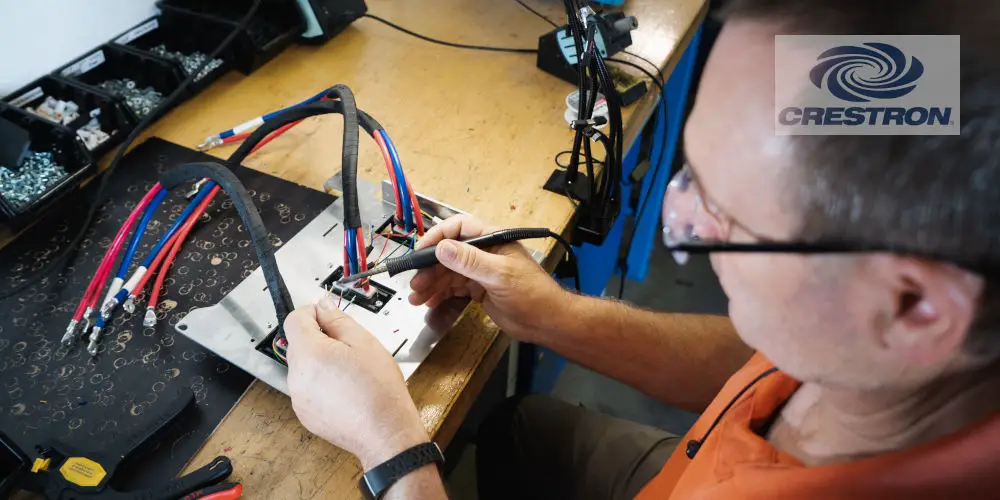 As one of the leading high-end home automation systems, Crestron has multiple applications from the home and office to hotels and hospitals. It's a popular way to create a smart home. However, it can cost a small fortune, leading many to consider: Can I install Crestron myself?
Crestron uses a dealer network to sell, install and configure devices. Crestron devices aren't widely available from retail shops or even from eBay. Plus, as a wired system, you need to run cables between devices, which can be time consuming and expensive.
After installing devices, programming them involves understanding the Crestron programming logic and software tools. Without significant training, you're unlike to get your Crestron system installed and working.
Overall, the picture isn't bright. So you'll always need to work with a dealer from conception to installation. You can update software and firmware. However, you can't programme basic actions and scenes without paying a dealer or engineer.
Let's explore the question: Can I install Crestron myself?
Can I install Crestron myself? or is it impossible?
Crestron, by design, is easy to operate, whether you're using a remote, wall switch or tablet. That said, designing and installing a system is complex as they use a wired network infrastructure and custom programming logic.
To successfully implement a system, you need the correct training and experience. You can't wire a few devices together and learn to programme your Crestron system as you go.
It's simply cheaper to hire an Crestron trained engineer than waste your time trying to master the system's intricacies.
We can compare Crestron and Z-Wave as both achieve similar outcomes but use different methods. A Z-Wave home automation system is DIY-friendly, affordable and easy to install and programme. Devices use low-powered wireless signals to send and receive commands.
As already stated, you can only purchase Crestron products from a dealer, and many will insist you use them to install the device. By tightly controlling who can sell products, Crestron can ensure an excellent customer experience and are free to set the pricing to reflect.
Should the dealer also programme my Crestron system?
Your Crestron system is unique to you and your home, which is the main benefit of working with a dealer. They will ensure the wired infrastructure is more than adequate for the features you want to automate and that the system reacts as you want it to.
That said, you could spend countless hours learning the Crestron SIMPL™ Windows® Software [PDF]. However, there is one minor problem. The software is exclusively available to Crestron dealers, you'll either need to find one willing to sell you a copy or a cracked version from the web.
Even if you're lucky enough to get a copy of the Crestron Software, you'll still have to figure it out for yourself and won't be able to call a dealer for some friendly advice. When you do run into problems, you'll need to hire an engineer who might insist on reprogramming the whole system.
If you've purchased a home with a Crestron system and the system needs updating, you should be able to find a freelance engineer who you can hire by the hour, half-day or full-day, rather than employing your nearest dealer. You could, of course, use your local dealer.
As Crestron owner, you only have access to limited programming options, including software and firmware updates. That said, you can easily integrate Google Assistant or Alexa enabled devices and use voice commands to control your set up.
Is it expensive to hire an engineer to programme the system?
Crestron set recommended prices for devices, installation, and configuration. However, each dealer is able to price each project as they see fit. You'll end up paying more if your project is complex and has a fixed deadline, over a simple system that can be installed in an afternoon.
Frustratingly, most Crestron dealers are unwilling to give even rough estimates of cost or timescales. Some may offer a free quote service to entice you to use them for a new install. Others will charge a flat price for quotations (both for new installs and maintenance work).
One of the few UK Control4 dealers that list prices is London based, Smart Space Group. Their prices start around £85 per hour, for over the phone assistance and up to £600 per 7-hour day for installation. They charge around £150 per hour.
Crestron dealers can operate across the country and aren't limited by area. So, you can always try to play one dealer off another as they are competing for your business and should be willing to negotiate a fair price.
Many who install a high-end home automation system feel rude asking the dealer to sweeten the deal. There's nothing wrong with asking for a year or two of support and updates as part of the package. Sometimes being a little cheeky pays off!
Finding a freelance Crestron engineer to help you integrate a new device, update the system or install new software/firmware is easy. Plus, they'll be highly trained and probably works for a dealer by day. Not to mention slightly cheaper than going to a dealer.
That said, a freelancer engineer won't have access to all the resources, product knowledge or support that a dealer can offer. They also only be interested in simple projects or tasks and not in installing a complete system.
Can I update my Crestron system?
You should be able to keep your Crestron system up to date as you can log-in to the online portal and download the latest firmware. Of course, if you're not comfortable, a dealer can update your system, but they might charge you for an hour of programming support.
As a dealer can update your system remotely, an engineer doesn't need to visit you. Most dealers charge less for remote work, so it pays to shop around.
Bear in mind, major updates could cause a chain reaction of issues that only a dealer can solve. You might be able to solve an issue or two caused by an update, but it's unlikely you can troubleshoot and solve an entire Crestron system. So you'll need to hire an engineer.
Before attempting to update your system, it's best to talk to a dealer or an engineer. They work with Crestron systems every day and will be able to advise you.
Does Crestron allow user programming?
There's very little you can programme, so you'll need to work with a Crestron dealer. Compared to Control4, this situation is dire for the user. Control4 offers Composer Home Edition (Composer HE) software, which allows the end-user some programming capabilities.
If you're struggling with your Crestron system or want to add a new device, you can try asking members of online forums such as Reddit and AVS Forum. That said, these DIY solutions are not endorsed or supported by Crestron, and so you risk damaging your system.
Don't try installing or programme Crestron yourself!
So, can I install Crestron myself, or do I need a pro? You must work with a dealer to design, install and configure your Crestron smart home system. There's no other sensible way of doing it.