Crestron vs Z-Wave: Choosing a home automation system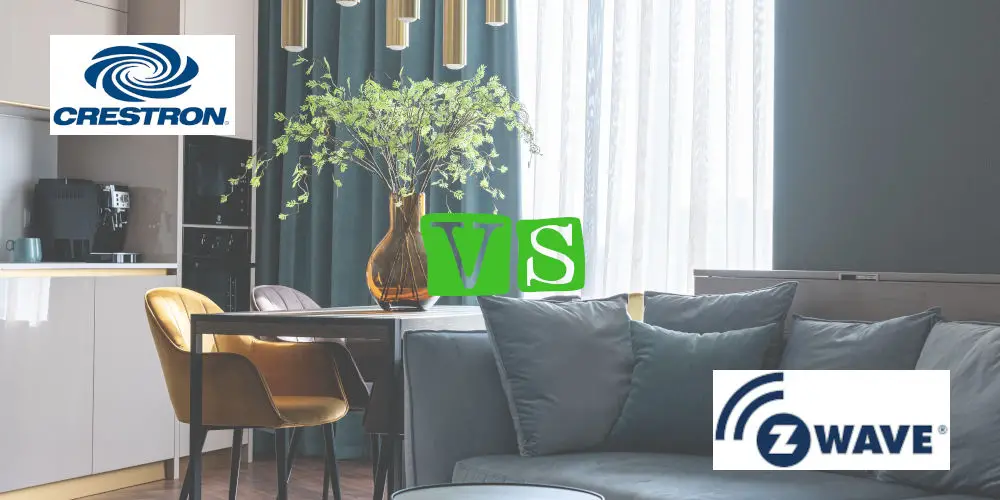 Comparing Crestron vs Z-Wave may seem strange, especially at the beginning. Crestron is a leading professional level home automation system, whereas Z-Wave is a far more affordable DIY option. However, when building a smart home, you'll want to consider every solution.
While they achieve similar outcomes, these smart home systems use completely different frameworks and ideas.
Only available from dealers, Crestron is a wired system that's complex to install and configure, hence the need to work with an approved installer. On the other hand, Z-Wave products are widely available, easy to install and highly affordable.
Even with this brief outline, you should be able to appreciate some of the main differences between Crestron and Z-Wave.
As we explore each system in detail, we'll look at what makes them unique and how they help us achieve our goal of automating our home.
Finally, we'll do our best to draw a fair comparison between the two, enabling you to make an informed buying decision when choosing between Crestron vs Z-Wave.
Crestron home automation
History
Founded in 1971 by inventor and engineer George Feldstein, Crestron Electronics is one of the oldest home automation companies in the world. Based in New Jersey, USA, the company designs, manufactures, and distributes smart home and audiovisual equipment using a global dealer network.
Much like other professional-level home automation systems, you can't buy products directly from Crestron. Instead, they use a global network of dealers to design, install and configure automation systems.
There are many uses for Crestron home automation products, with luxury homes only being a small part of their business. They also supply the US government, Microsoft, hotels, hospitals and schools.
Crestron provides complete control of every element, both within the home and office. Easily operate lights, heating, gates, TVs and a home cinema room, both in person and remotely using Wi-Fi.
How does Crestron works?
Using a wired network, Crestron requires your home to be rewired. At the heart of the system is rack-mounted modules that control the system and devices are wired into these. That said, the majority of the controllers are battery-powered, wireless units.
Despite its wired network, integrating wireless devices, including Sonos smart speakers and Amazon Alexa, into a system is effortless. These add-ons increase the number of functions the user can control.
Unless you know what your doing, installing and configuring Crestron devices isn't possible. Hence the need to work with an approved highly trained dealer. That said, once installed, a Crestron system is rock solid.
One downside of having to buy devices using a dealer is they are free to set the price. That said, you might be able to negotiate a good deal by playing two dealers off each other! The buying experience is completely different from asking a local electrician to install a few smart sockets!
Each system is unique to the client, their home and their requirements. If you compared two homes that use a Crestron system, you'd quickly realise that each will act, look and feel differently.
Is it DIY friendly?
Designed for performance, not ease of installation, unless you've worked with Crestron devices before, you'll want to hire a dealer. Of course, they aren't cheap as they are highly trained and work with the Crestron ecosystem daily.
Many wrongly believe they can watch eBay for second-hand devices and try to cobble a system together. While devices occasionally appear on online marketplaces, you'd be waiting years for every device that you need to be available for sale.
You'll, therefore, need to work with a dealer from conception to installation and configuration to ensure you have a system that aligns with your requirements.
Current product range
Crestron provides a range of products and solutions to build a fully automated home. They offer sophisticated lighting control, including options to program complex scenes and sequences, controllable by a single button.
Automate your blinds and curtains, so they close on cue whether you're at home or away. Enjoy superior multi-room audio and video, thanks to Crestron DigitalMedia™ technology, and a range of switchers, amplifiers and speakers. Even Sonos products seamlessly integrate into the system.
The system offers flexible temperature control that uses data from multiple sensors placed around the property. Your home's temperature will be constant, ensuring you are always warm.
Crestron provides a range of solutions to keep your home safe and secure. Secure your front door with a Yale lock and video intercom, and control your garage and gate using the system. You can even add a range of security cameras.
The current Crestron Home™ OS 3 delivers a simple, clean, and sophisticated user experience. Control your entire system from a single point using a remote, touch screen or app.
Any downsides?
As your property need to be rewired as part of the installation process, Crestron isn't designed for historic or listed buildings. Ideally, the system is best for new builds. As you might expect, running new cables around your home isn't cheap, and labour costs can quickly add up.
Most homeowners spend £75,000 plus when adding a Crestron system. So, it's hardly a system you would install on a whim or try to DIY. As you have to work with a dealer, it takes time to install and configure a system. You can't get up and running overnight.
As devices are only available from dealers, Crestron devices are costly, and finding a price list can be tricky. Dealers don't want to be knocked down on price or have clients trying to remove features to save money.
As new software and firmware updates become available, you'll need to pay your dealer to send their engineer out to apply the latest updates as you can't do this yourself.
Z-Wave
History
Dating way back to 2001, Z-Wave is 20 years young! Created by a Danish company named Zensys, the Z-Wave protocol is a unique way to control the home.
Zensys started building a lighting control using the protocol. Over the years they developed a proprietary chip that enables control via a Z-Wave system. Then they set about to licence the chips, which is now used by hundreds of brands.
To put into perspective how impressive Z-Wave is. In 2005, only 6 products used this technology. Fast forward to 2018, and the number is well over 2000. Just a few short years later, and the number is closer to 4,000.
How Z-Wave works
At the heart of the system is a proprietary system on a chip (SoC). This uses an unlicensed frequency band in the 900 MHz range. The protocol has a much bigger range than Bluetooth and is a lower power alternative to Wi-Fi.
In simple terms, Z-Wave uses a mesh network where each device can talk to each other. As devices talk to each other, they can repeat messages and also acknowledge they've received messages.
As devices have a 30-metre range, the network can adapt itself to ensure signals are routed in the best possible way to avoid any 'dead-spots'.
Is it DIY friendly?
While there are some retrofit products on the market, most devices are plug-in and play. This means anyone can easily install and configure a Z-Wave system. Although you do need to pair devices to allow them to work as part of a system.
Current products
With over 3000 products, there's likely a product to control almost every function in your home and garden!
Some brands, for example, Fibaro offer a complete solution with a hub, app, sockets, and heating control that's built around the Z-Wave framework yet operates as a complete stand-alone system.
There's a range of controllable light bulbs that work with Z-Wave. These include screw-in lighting and dimmer sockets. Fibaro, for example, produces modules that sit behind the existing light switch in its backbox.
Also, there's several Z-Wave plug sockets. You can even buy a range of sensors, relays and controllers. There's even a Yale Z-Wave door lock that uses both traditional keys and a keypad.
If you're looking to control heating, there's a range of products for that. You can replace your thermostat with a smart one or upgrade your TRVs to smart devices, allowing you full control over the heating in each room.
There are even robotic vacuum cleaners, robomowers and a few smart appliances that work with Z-Wave!
Downsides
There are very few downsides to Z-Wave. While only limited retrofittable products are available, the market does seem to be shifting in this direction. Plug-in-and-play devices are easy to install but stick out and can look quite ugly.
In theory, the Z-Wave protocol ensures all devices with the chip play nicely with each other. However, some can require a bit of work to get them working nicely together. So, you might end up having research and experiment.
Crestron vs Z-Wave
Having looked at both of the systems in detail, you might wonder how Crestron vs Z-Wave compares. Let's take a look.
Crestron
Only available from approved dealers, Crestron is a highly flexible system initially designed for commercial uses. To become a Crestron dealer, you have to complete extensive training to ensure the customer receives an unrivalled buying experience and support.
One of the benefits of buying a Crestron system is they rigorously test products before releasing them. They also evaluate numerous third party products using the same extensive process to ensure they work faultlessly with Crestron.
Using a wired network means the system doesn't rely on Wi-Fi to operate. There is only a minimal risk of dropouts or connection issues. That said, many wireless devices work with the system, including the Crestron app that's available for phones and tablets.
Arguably the biggest unique selling point is the dealer takes care of designing, installing and configuring the system. Once you've agreed on the features the system will control, the dealer will manage the project until completion.
Of course, having someone else design, install and configure your system comes at a high price. It can also be quite expensive to keep a Crestron system up to date and running smoothly.
Z-Wave
As an open system with over 3,000 products available, Z-Wave can be as simple or complex as you need to. These affordable products are available worldwide. So, no matter where you are, you can use Z-Wave in your home.
As the system uses two-way communication forming a mesh, the system range is good. It's superior to other DIY home automation systems. And as Z-Wave uses a unique protocol, it doesn't slow down your Wi-Fi.
Z-Wave largely uses plug-in and play devices, a factor we dislike purely from an aesthetic point. However, more companies are releasing devices that can replace existing ones, creating a more attractive finish.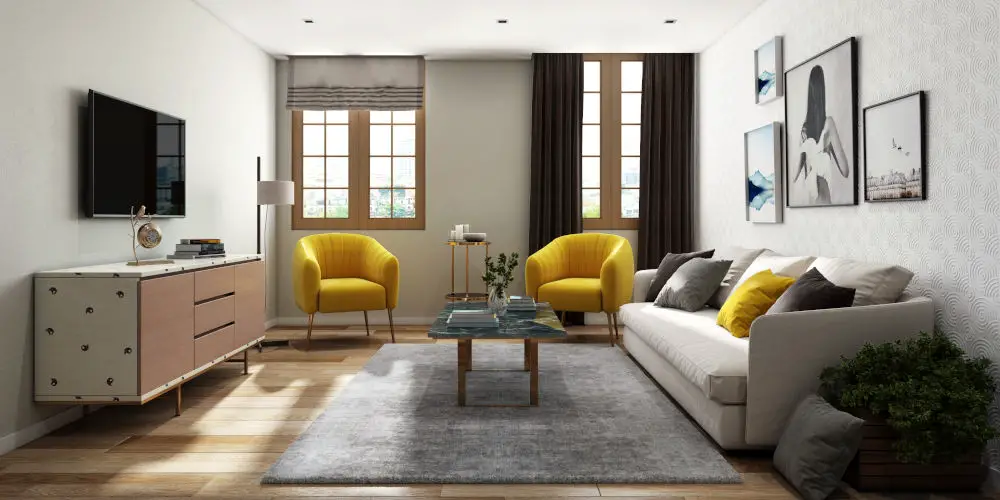 Picking a winner: Crestron vs Z-Wave!
While on the surface, both Z-Wave and Crestron help you achieve the goal of regaining full control over your home. That said, they each use a completely different method to automate a property. One way to settle the Crestron vs Z-Wave debate is to consider the value of your home.
You'll probably have the budget to install Crestron if you live in a modern property worth over £1,000,000. If your home costs less than a million, Z-Wave will probably be ideal. Z-Wave is a good option if you own a historic building that would be difficult to rewire.
Not completely sold on the idea of home automation but want to dip your toe in? Try Z-Wave and look for used products on eBay to kick start your smart home journey. You'll be able to build at your own pace as your budget and requirements develop.
As you should ideally install Crestron all at once, you need a large budget upfront. You'll also need clarity on what feature you want to automate and work with a dealer to make this a reality. Part of the cost is having someone else install and configure your Crestron system.
Hopefully, that gives you a clearer idea when choosing between Crestron vs Z-Wave.