7 Tps for the ideal AV receiver placement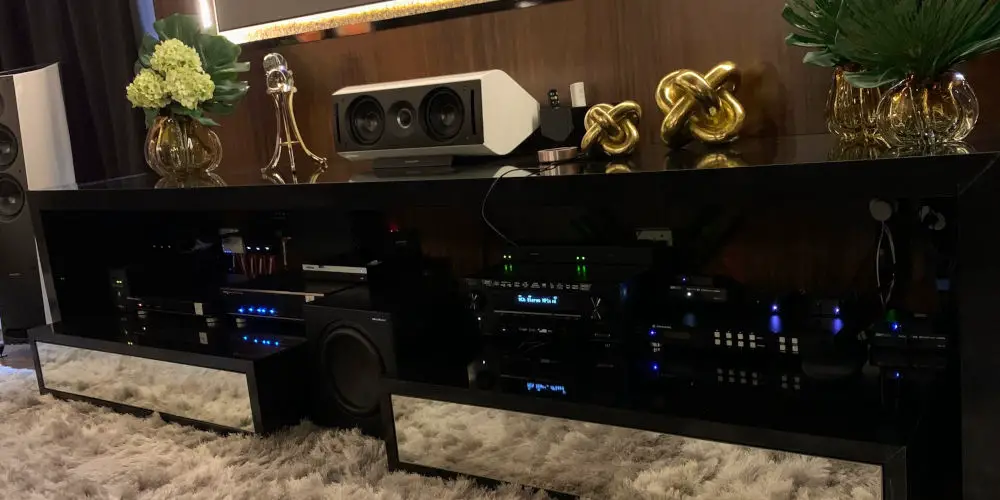 Part of building a home cinema is figuring out where the components go. Some are easier than others. If you haven't had to wire AV equipment together before, you probably want a few tips. Thankfully, finding the correct AV receiver placement is simple, especially when you know how!
But there are several factors to consider. Your AV receiver is the hub of your home cinema system with everything from the speakers, display and media players all connecting to it.
Here's what you need to know before you set up your receiver in your home cinema, including the right AV receiver placement. Don't worry it's simpler than you think!
Basic AV receiver placement ideas
Depending on your room, budget, and design, you probably use either a cabinet, TV stand or AV rack. There are positives and negatives to these home cinema furniture options.
Cabinets are fantastic for hiding equipment or at least storing them neatly while providing plenty of storage. TV stands are similar, but are usually open and don't have hidden storage for things like spare cables, Blu-ray collection, and remotes.
AV racks are typically hidden from view or at least sit behind a glass door making them less obvious. Again you can secure all your AV equipment in an AV rack and keep things neat and accessible.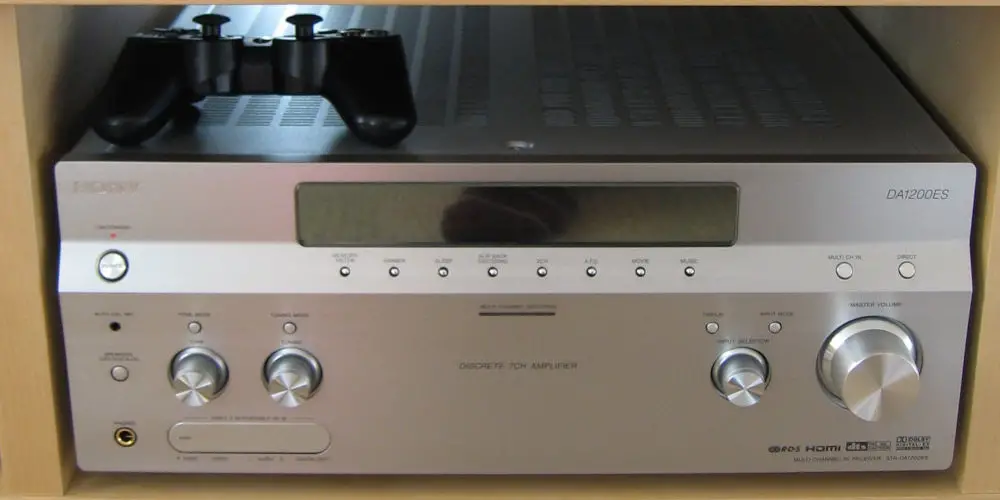 Cabinets and TV stands
Let's start with cabinets and TV stands as they are the most popular options.
How much space do you need in your cabinet or stand?
Just because your AV receiver fits into the shelf space, doesn't mean you should place it there. Powered receivers produce a lot of heat and need adequate room for ventilation around the unit. 
Furniture specifically designed for home cinema equipment will have large openings on the sides or back to permit airflow. You can't simply plonk your receiver down anywhere and hope for the best!
You need proper ventilation
All receivers have a vented top panel to allow the heat generated by the amplifiers to dissipate. This is an important function for any amp to run safely. By cramming your receiver into a tight shelf space, you also trap the heat, which can have disastrous effects.
If you have too much heat build-up, your receiver can shut down. So, you should leave at least 8 cm (3 inches) of space above the top of your receiver.
Leave room for connections
Another element to consider with AV receiver placement is cabling. As you will connect cables to the back of your receiver, you'll need to leave some extra room at the back. Otherwise, it'll be a pain to wire it in, fault find or change components.
You should add at least 10 cm (4 inches) to the manufactures depth dimension to ensure you have plenty of room to play with cables.
Cable routing
It's worth taking AV cable management seriously. With so many cables, it can easily become a tangled mess of wires. Thankfully, it's easy to avoid this. Keeping cables tidy makes it easier to find which is going where if you need to troubleshoot a problem or swap out a component.
There are a few things you can do to manage cables correctly. First, label them at each end with the purpose, such as Blu-ray Player or centre speaker. Next, use cable ties to hold multiple wires together.
Consider cable routing when buying home cinema furniture. Well-designed furniture will have built-in cable management features, such as multiple rear-panel exit points, internal gaps, holes for running cables between components, and easy rear access for making connections.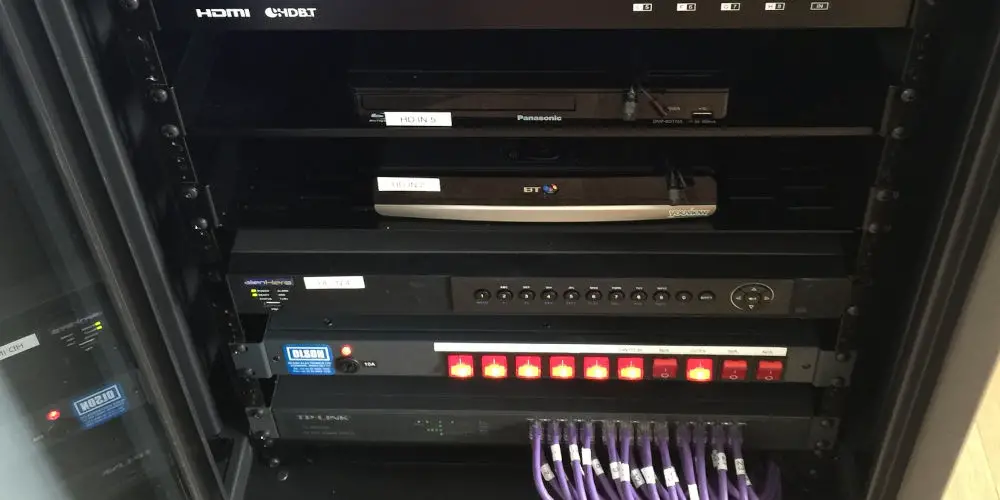 Using a hidden component rack
Some of us prefer to keep gear out of the way and so use a cupboard outside the room to store the component rack. An AV rack is ideal for keeping all the gear you need to run your home cinema out of sight and neat.
However, you might wonder if your remotes will still work, especially with your AV receiver. Most use IR and so require line of sight to work. If you can't point the remote at the unit, what can you do?
We have two solutions: An infrared repeater system and a smartphone app.
Infrared repeater system
You could use an infrared repeater system, which extends a remote's reach to components hidden behind cabinet doors or in another room. These devices use an infrared receiver and wired transmitters to pass your remote's IR signal to your receiver and other components.
A small IR receiver picks up remote control commands and sends them to the hidden hub. The hub relays the commands to IR repeaters, which you attach to your hidden components, such as your AV receiver.
Wi-Fi control with your smartphone or tablet
Most modern AV receivers offer wireless or wired network connectivity and control using a free remote app. So, you don't need to use a remote. Instead, you can use a single home cinema app to control the entire show!
You first need to download the app to your smartphone or tablet (it's likely iOS and Android apps are available). Next, set up the app and use it to control your AV receiver.
Finally, sit back and relax as you can select sources, adjust the volume, choose listening modes, and listen to internet radio stations. No remotes needed.
Protect your investment
When considering the ideal AV receiver placement, you should use the right power protection device. Even the best equipment will be useless if there's a power surge that fries the receiver. 
So you want to invest in a good quality power protection device, such as the Furman M-10Lx E and keep your equipment safe and performing at its peak.