Should you use a home cinema app for control?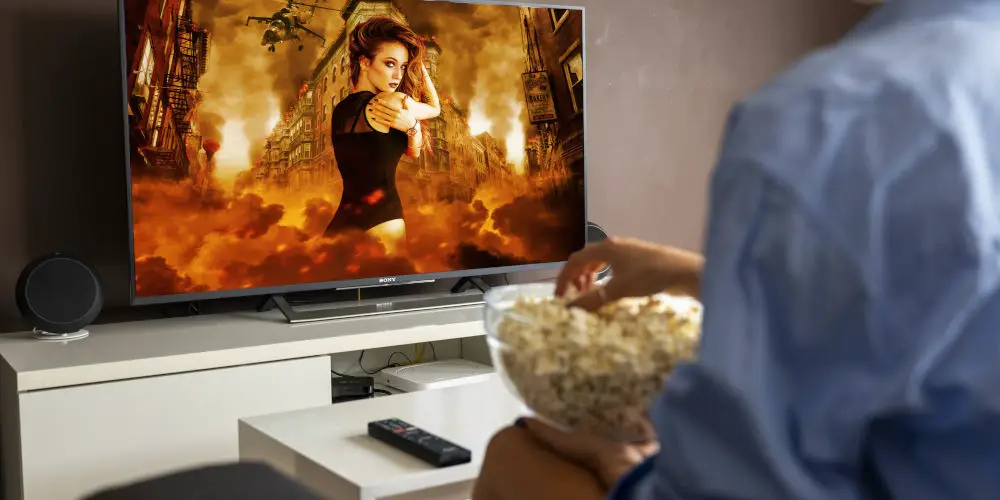 After buying the latest 4K projector and Blu-ray player for your new home cinema room, you notice a pile of 80s-style ugly plastic remotes. Your sleek, minimalist room design is over. There must be a better option than a pile of remotes. Thankfully, a range of home cinema apps are available.
I've yet to meet someone who enjoys using remotes or even likes having to remember which remote controls each piece of equipment. The more remotes you have, the more miserable you'll feel.
Thankfully, as smartphones have become central to life, it makes sense to dump the confusing pile of plastic. Plus, with home cinema apps for iPhone, iPad, or Android phone or tablet, you can control every piece of gear in your home theatre from a single device.
If you have an Android phone, use infrared (IR)
The majority of Android smartphones have infrared emitters built-in. So, you can easily use your smartphone to control and automate your home cinema set up using IR.
Many of the top of the line Android phones from Samsung, LG, or HTC have a built-in IR blaster that can communicate directly with your home theatre components. You can install and use the different manufacturer's remote control apps.
While this is an improvement over remotes, you have effectively swapped your multiple remotes for many apps. So a better idea is to download a third-party universal remote app such as Universal Smart TV / IR TV Remote Control.
These types of apps support thousands of devices and are far superior to the remote that came with each unit. The right universal remote app can be useful for years and save you plenty of time.
If you have an older Android device without an integrated IR transmitter, you'll need an adapter like the Irdroid. These modules allow you to wirelessly control infrared components over your network. After purchasing one, download the free Irdroid app.
Solution for Apple devices (non-IR)
iOS devices don't have IR blasters. However, a few universal TV remote apps are available, including TV Remote – Universal Remote by Adam Foot that works with a range of devices. You'll need to try a few different apps to find one that works with all of your devices.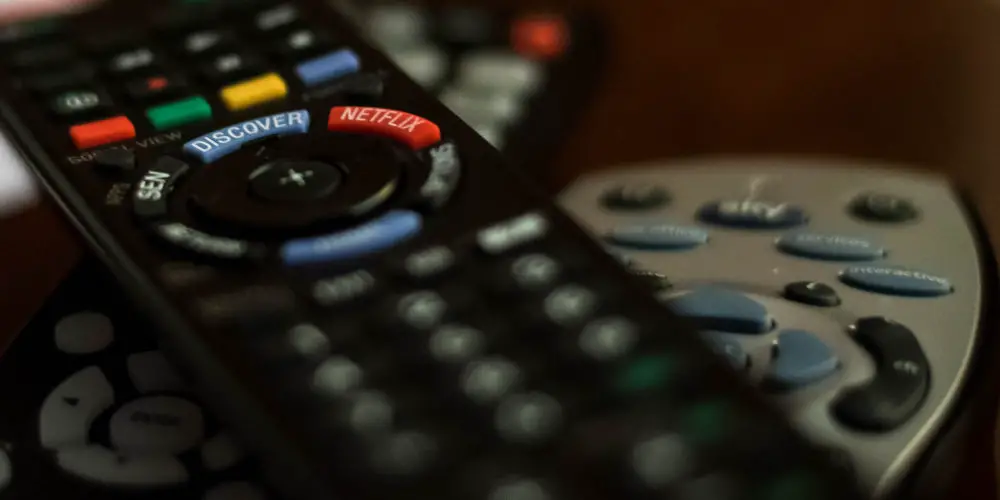 Use Wi-Fi
If you don't want the expense and hassle of adding hardware, you can rely solely on apps to get the job done. However, you'll probably need to download a separate remote-control app for each component in your home theatre system. These apps are usually free and feature-rich.
Unlike IR, which need line-of-sight to your components to use them, apps use your Wi-Fi network. Plus, as each manufacturer has developed apps for their devices, they're usually far less buggy than third-party apps.
However, if you're not happy to swap multiple remotes for apps and want a single home cinema app, you're in luck as plenty of third-party solutions are available.
Logitech Harmony Hub
While sadly discontinued, you can still buy a Logitech Harmony Hub on eBay and it will still work with your home cinema set up.
The Harmony Hub combines IR and Wi-Fi control hardware with an iOS app and an Android app. Using the system, you can control multiple audio-video devices and other smart home devices.
Using the Harmony Control app, you can control devices individually or combine them into "activities." For example, you can program a "Watch TV" scene, which turns on your TV and Blu-ray player, turns off the lights, and closes the blinds.
The app has access to the Harmony Remote Control Database, which includes codes for over 270,000+ consumer electronics and smart home devices. Be warned, there is a steep learning curve and getting the system working as you want will take time.
Broadlink RM4 Mini Universal IR Audio Video Remote Control
Filling the gap left by the Harmony remotes and Hubs; is the Broadlink RM4 Mini Universal IR Audio Video Remote Control, which is also far more affordable. It works with 50,000+ IR controlled devices, including TVs, Blu-ray players, smart home devices and more.
As a cloud-based system, they are continually adding new devices. There's even the option to program your devices and learn buttons if certain cloud data is unavailable.
There are apps for both Android and iOS devices, which allow you to control devices and create scenes. If you prefer to use voice commands, link the Broadlink RM4 with either Amazon Alexa or Google Home. It even works with IFTTT, meaning it's highly flexible.
Again, not for the faint-hearted as it does require you to program devices to work with the RM4, which can take time.
Roomie Remote (for iOS)
Only available for iOS, Roomie Remote manages all of your home and A/V devices. Using Wi-Fi, you can run the app on your iPhones, iPads, and Macs. Even if you opt for the lifetime price, it's still affordable. That said, monthly and yearly plans are available. But start with the free trial.
Roomie Remote integrates with popular home platforms like Apple HomeKit, Siri, Amazon Alexa, Roku, and more. It also integrates with Sonos, Denon HEOS, Bose SoundTouch, Yamaha MusicCast, AV receivers, iTunes and other multi-zone systems.
Offering some home automation functions, you can create event timers and triggers in the app. If you're looking to change from Logitech's Harmony system, Roomie is the perfect transition as activities synchronize automatically between the two systems.
As an Apple-only entertainment and home cinema app, it offers deep integration, meaning it's the only home control app you'll ever need. It can also be used with multiple devices in the home, allowing you to use a single app to control the TV in your lounge and your home cinema set up.
Onkyo Controller
If you're using an Onkyo AV receiver that was released after 2016, you can use the Onkyo Controller app for iOS or Android. For earlier models (2009-2016), you'll need to use the Onkyo Remote (Android) or Remote 3 (iOS) app.
These home cinema apps allow you control over a variety of functions on select Onkyo receivers, including volume, input selection, radio tuning, navigating internet radio, streaming services, and more. You can also use the apps to operate Blu-ray Disc players and TVs connected to an Onkyo network receiver via HDMI-CEC.
Use the app to stream music from your smartphone or audio files from DLNA-compatible servers (such as a PC or NAS).
While the apps offer more functionality than the Onkyo remotes, there is only limited device compatibility. Installation can be confusing and tricky. However, Onkyo releases frequent updates.
Yamaha Network A/V Control App
Easy to navigate, the Yamaha Network A/V Control App is available for both iOS and Android. It works with several Yamaha AV receivers to offer basic control such as input selection, volume, listening mode selection, zone power, and settings for connected Bluetooth devices.
You can also use the app to control internet radio, FM/AM, and playback from a connected USB flash drive. The Music Play function also allows you to stream music from your phone to Yamaha Network receivers.
As with the Onkyo app above, it only offers limited compatibility and so is only ideal if you're using Yamaha products in your home cinema room.
Fibaro
If you're looking to control your whole home from an app, you'll want to invest in a Fibaro home automation system. Using Z-wave technology that's found in thousands of products, Fibaro uses Quick Apps and Virtual Devices to allow the seamless integration of third-party products.
As an affordable DIY-friendly system, you will need to install and configure the system yourself. While not the most flexible home cinema app as it's not solely designed for this function, Fibaro is a very powerful system.
Control4
If you're building a home cinema from scratch and have a large budget, consider Control4. Like Fibaro, Control4 is a whole home automation system, albeit one that's only available from dealers. It's not at all DIY-friendly and uses a wired infrastructure.
Even as a stand-alone home cinema system, Control4 can control lights, audio and video components, navigate and manage content access, and much more. And all from a single app, which is available for iPhone, iPad, Android devices, PCs, and Macs.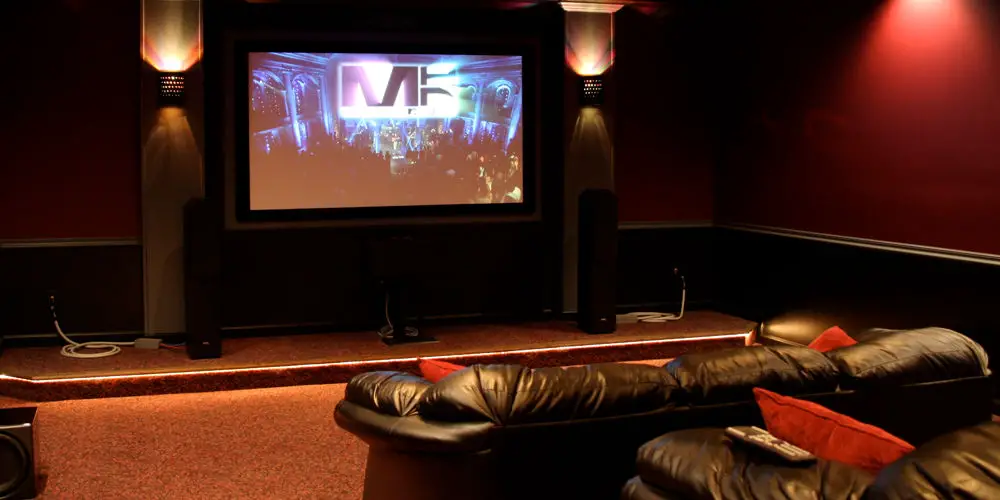 Choosing the best home cinema app
If you want to bin your pile of remotes and use a single home cinema app to control your set up, you now have a range of options to choose from. Each offers something different, and they all have downsides. So pick wisely based on what you need from an app and not what might seem cool.