Should I use eufy wireless security cameras?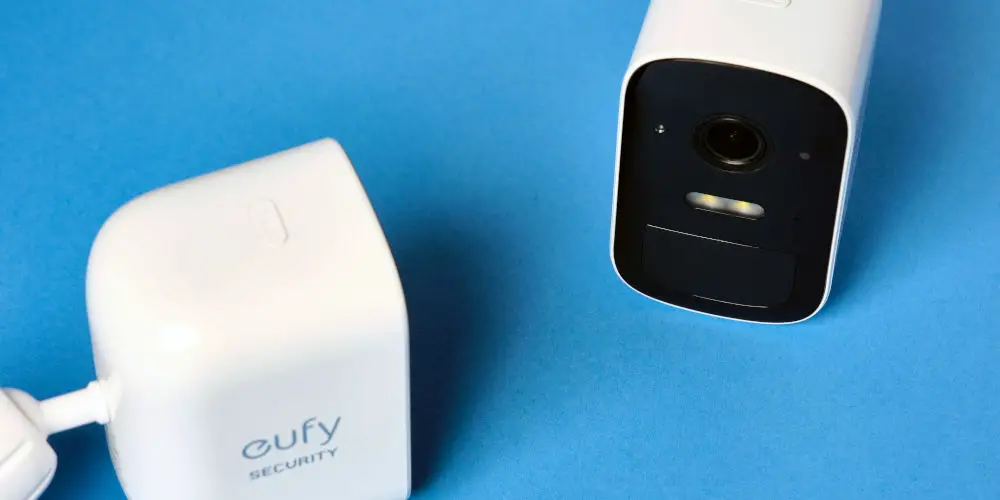 Adding security cameras to your property is a simple and affordable way to ensure your home is kept safe. Even with a quick internet search, the eufy brand continually pops up. Offering multiple options, the range of eufy wireless security cameras will keep you and your home safe.
You might know the eufy brand from its robot vacuum cleaners, smart home products, smart scales and, of course, security cameras. The brand is a division of electronics company Anker.
The eufy wireless security cameras are ideal for DIY-friendly installation and allow you to easily monitor what's happening at home from anywhere with Wi-Fi. They are simple to set up and operate, effective, feature-packed and reliable.
An element most overlook when buying security cameras is the ongoing cost. And while eufy doesn't offer the cheapest security cameras available, there are no monthly subscription fees. Of course, you can buy one of their storage plans, but it's not required.
Let's explore how eufy wireless security cameras can help protect our homes and loved ones.
What makes eufy security cameras different?
There are plenty of reasons to choose eufy wireless security cameras as they are feature-packed, affordable and highly controllable.
Different Camera bundles are available
eufy understands that might want to purchase more than one camera at once. And while they don't have a large bundle that resembles a full home security system, they do offer a few different bundle options that are cheaper than buying the separate components.
Of course, you can buy a single camera or sensor, the best option if you're just starting or need to add another device to fully protect your home.
Flexible app
The eufy app is simple to install, versatile and intuitive to use. It guides you through installing cameras with straightforward, easy-to-follow steps. After installing your cameras, you can use the app to view live footage from each, talk to people through them and control various settings.
You can also add family and guests to your account, allowing them access to the footage as well.
For each camera, you can control a wide array of settings, including turning on automatic night vision, adjusting the video quality, setting human and pet detection zones and facial detection. By adjusting these settings, you'll be able to better hone the alerts you receive.
The app even allows you to record a message for your pet that will play for them each time they enter one of the preset activity zones. Your pet might be a little startled at first, but they'll get to use it quickly.
You can also view footage from the cameras using the EufyLife web portal. While not as advanced as the app, the online portal does provide another way to monitor things when you're in front of a computer.
Voice assistant compatibility
eufy cameras are compatible with Apple HomeKit, Google Assistant and Amazon Alexa. So, you can control them through any of those home assistants.
Plenty of built-in storage
The eufy camera home base includes a 16GB storage card that can store up to three months' worth of footage. For longer storage or continuous recordings, you can opt for one of the eufy cloud storage plans. Confusingly, these are sold in $, not £ but are highly affordable.
The Basic plan costs $3/month and provides 30 days of storage for one camera, while the Premier plan covers up to 10 cameras with 30 days of storage and costs $10/month or $100/year.
Difficult to hack
eufy uses the best encryption to ensure that only certain users can access information and any saved footage. The cameras use a military-grade AES-256 chip, also used by the US government to safeguard information. So, they are difficult devices to hack.
Are there any downsides to eufy wireless security cameras?
Sadly, eufy wireless security cameras aren't perfect, and they do have a few downsides.
Security plan offerings
eufy doesn't offer the option of professional security monitoring in the way some other competitors do. For the majority of homeowners this isn't a problem, but might be a concern if you travel away a lot.
Installation
As eufy doesn't offer installation services, you'll need to install and configure your camera set up alone.
Not compatible with major home automation protocols
Sadly, eufy products aren't compatible with Z-Wave or Zigbee, so you'll need to have two apps installed on your phone and flick between them. Nor does the system work with IFTTT.
Current eufy wireless security cameras range
eufy offers both indoor and outdoor security cameras as well as several doorbells with built-in cameras. As covering each product in-depth isn't feasible, here are a few to inspire you.
eufyCam 2C
As eufy premier offering, the eufyCam 2C live-streams and records footage in crystal clear 1080p HD. You can see exactly what is happening in and around your home, both day and night. With an IP67 weatherproof case, the 2C is built to withstand the elements.
The built-in battery has a 180-day life from a single charge. You shouldn't need to be continually charging your camera's battery. It's compatible with Amazon Alexa and the eufy 2-Cam Kit.
Built-in human detection technology enables the camera to intelligently detect movement. Ensuring you are only alerted when a person, and not a stray cat, approaches.
eufy SoloCam S40
If you don't fancy charging batteries, you'll want to consider the eufy SoloCam S40. Just 2 hours of direct sunlight each day is enough to continuously power SoloCam S40 around the clock.
An ultra-bright 600 Lumens spotlight switches on as soon as motion is detected, shining a light on any unwanted guests, while the colour night vision picks out details in the darkness up to 8 meters away.
Capture every event that occurs around your home in ultra-clear 2K resolution. The built-in AI ensures SoloCam S40 only records when a person is present, rather than an animal.
eufy Video Doorbell 1080p
The eufy video doorbell allows you to protect your home more discretely. The slim design ensures it can fit seamlessly onto any door frame. It takes minutes to install and there's no complicated wiring.
Watch anyone who approaches your front door in 1080p. The advanced WDR and 4:3 aspect ratio ensures you get a colour accurate, head to toe image every time.
With a single charge, the doorbell and Wi-Fi chime form a closed, low-power wireless connection allowing for 120 days of flawless front door coverage. Every moment captured is stored locally on the Wi-Fi doorbell chime inside your home via advanced encryption.
eufy Solo IndoorCam C24
Whether you want to use indoor cameras for security or to check on children, the eufy Solo IndoorCam C24 will allow you to see what's happening inside your home, 24/7.
The on-device AI determines whether a human or pet is present and only records when an event of interest occurs. Speak in real-time to anyone who passes using the camera's built-in two-way audio.
Connect your Indoor Cam to Apple HomeKit, the Google Assistant, or Amazon Alexa for complete control over your surveillance. Advanced night vision allows you to keep an eye on any room, even in low light settings.
Should I invest in eufy security cameras?
After much testing, our conclusion is simple. eufy offers a range of excellent security cameras. They might not be as affordable as Amazon's Blink range or Arlo cameras, but the range is far more extensive.
eufy offers easy to install cameras that are intuitive to use and offer excellent video quality. That said, there's no professional installation or professional monitoring available.
Overall, if you're looking to invest in a DIY-friendly security system that's highly flexible, eufy is a worthy choice to consider.