Why use the Fibaro Door and Window Sensor?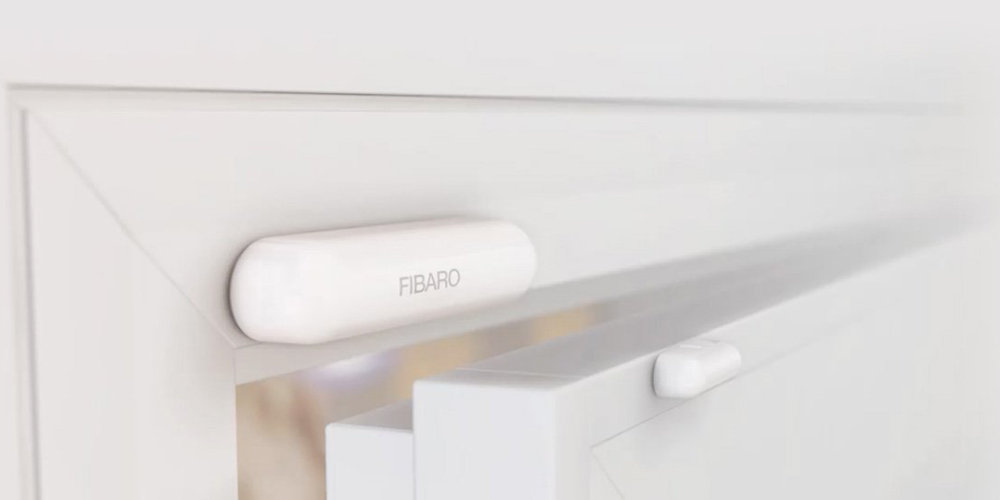 On the surface, the Fibaro Door and Window Sensor isn't that noteworthy. The market is full of Z-Wave sensors, some of which are just as attractive as the Fibaro device. However, dig a little deeper, and you'll see just how powerful this tiny device is.
So what's exciting about the Door and Window Sensor? Quite a few things. It's a Z-Wave Plus device, meaning it updates wirelessly. As a contact sensor, it has multiple uses, including improving home security. Plus, it has a built-in temperature sensor and can detect tampering.
Hopefully, you can see what makes this device unique amongst the sea of Z-Wave contact sensors. Let's explore the Fibaro Door and Window Sensor in more depth and see how we can use it within our home.
What is the Fibaro Door and Window Sensor?
In true Fibaro fashion, the Door and Window Sensor sports a sleek and slender design. As one of the smallest content sensors currently available, it's almost invisible on any window frame or door. Available in seven colours, you can match it to your interior design scheme.
Most contact sensors do a single thing, while the FIBARO Door and Window sensor offers three features that let you increase your comfort and safety.
Firstly, as a contact sensor that will alert you when its status changes. Next, it has built-in tamper protection. So, if someone tries to remove it from the door or window, you'll receive an alert. Finally, it has a built-in temperature sensor that can feed data into your smart home system.
As a battery-powered device, a single battery will last up to 2 years. Also, this Fibaro sensor is a Z-Wave Plus device. It updates wirelessly, has improved range and battery life, and handles more data.
In addition to the Z-Wave version, it's available as an Apple HomeKit device, allowing you to use it with a protocol of your choice.
Will you need a Z-Wave or Fibaro hub?
You'll need a Z-Wave hub or gateway for the Fibaro Door and Window Sensor to work. And while you don't necessarily need to use it with a Fibaro Home Center hub, using one ensures the best user performance.
SmartThings is compatible with Z-Wave and Zigbee, for example. So, if you already have a Samsung SmartThings hub (either a stand-alone gateway or built-in to an appliance) installed in your home, this sensor will work with your system.
Does it work with Apple HomeKit?
Many know of Fibaro due to their use of the Z-Wave protocol. However, they have released an Apple HomeKit version of a few products, including the Flood Sensor, Motion Sensor, and Door and Window Sensor.
Regardless of whether you're using Z-Wave or HomeKit, you can purchase the Door and Window Sensor device for either system, ensuring greater control over your smart home system.
It's worth mentioning that the functionality of the FIBARO devices working with Apple HomeKit may be limited, due to the technical conditions behind the Apple HomeKit platform.
Can you install it yourself?
Before you can use the device, there are a few steps you need to follow. In the package, you'll see a sensor (large item) and a magnet (small item). To get the sensor to work, simply remove the plastic battery blocker strip, activating the battery.
Next, place the sensor near your Z-Wave controller. Set your controller to add mode. Quickly, three times press one of the TMP buttons (while pushing the other button). Wait for the adding process to end. You'll then see a message if adding the device has been successful.
With the device activated and included in your Z-Wave system, you can install it. Installing the Door/Window Sensor part is simple. Peel off the protective layer and stick the device onto the door/window frame.
Next, remove the protective layer on the magnet and stick it on the moving part of the door/window. Ensure the distance between the magnet and sensor is less than 5mm.
How can this Fibaro sensor make your home smarter?
Let's take a look at where we could use this device. There is plenty of places we could install the Fibaro sensor, including the front door, garage door, windows, roof windows, and safety gates.
By installing sensors on your front and back doors, you can monitor when they are opened/closed. If you're often away from home or have kids, these alerts can help protect your home and possessions. While this device might not deter burglars, it will increase your home's security.
Another use is attaching them to windows and using the data to control your heating system. You probably have family members who are always opening windows, even when the boiler is working.
You can set up a trigger for when this sensor is opened that turns off the heating in that room. The moment the window is closed, the sensor tells the system to heat the room, all while using the temperature data provided by the sensor!
If you have a roof conversion, you'll know that windows often get left open. And you might not have the time to check them until it's too late. Using the Fibaro Door and Window Sensor, you can monitor if the roof windows are open or shut, before leaving home.
You can also use the sensor as a scene activator. Imagine when opening your front door, the sensor informs the system to launch a sequence that greets whoever has just walked in. You'll create an unforgettable welcome!
On a more practical note, you can use this sensor in your bathroom to trigger turning the light on when someone opens the door. You'll never be caught short again!
The FIBARO Door/Window Sensor will be ideal in the role of a staircase gate guardian. When a gate is open for a while, the device will remind you to close it.
Plus, if someone tries to remove the sensor or open its case, you'll receive a notification, allowing you to protect your property and family.
Should you add the Fibaro Door and Window Sensor to your smart home?
Adding a few contact sensors to your home might not be the most inspiring ideal. But, the Fibaro Door and Window Sensor is a different breed of device. It can feed multiple data points into your Z-Wave smart home system that activate pre-set automations.
There are cheaper Z-Wave contact sensors available. However, none offer multiple functions or are as well designed as this Fibaro device. Many of the other available units aren't Z-Wave Plus. So, it's worth spending a little extra and buying this future-proof Fibaro product.
Whether you use this sensor to trigger scenes, alerts or sequences, as part of your smart home, it's a powerful device. As an Apple HomeKit version is available, you can use it with multiple systems.
It's an easy device to install, and the battery lasts for around 2 years. You're only limited by your imagination when integrating it with your system.